Which are the 100 travel destinations you want to visit in your life? 
That's the question that my fellow blogger Serena Puosi from Mercoledì tutta la settima asked herself in this post, where she shares her top 100 destinations and invite everybody to do the same.
I thought to write down my own list, choosing my 100 destinations from a Food&Wine point of view.
And you, which destination would you add?
1. New York, to taste an authentic NY Cheesecake, a pastrami at Katz's (yes, the one from When Harry met Sally) and bagels.
2. München, Bayern; to drink a beer at the Hofbräuhaus
3. Modena, Italy; to visit an Acetaia (a balsamic vinegar production) and taste a one century old vinegar (done in 2015)
4. Valle d'Itria, Italy; to see the production of Capocollo di Martina Franca and taste bombette, typical meat rolls (done in 2015)
5. Milano, Italy; to taste a traditional risotto alla milanese with ossobuco at Ratanà restaurant (done in 2016)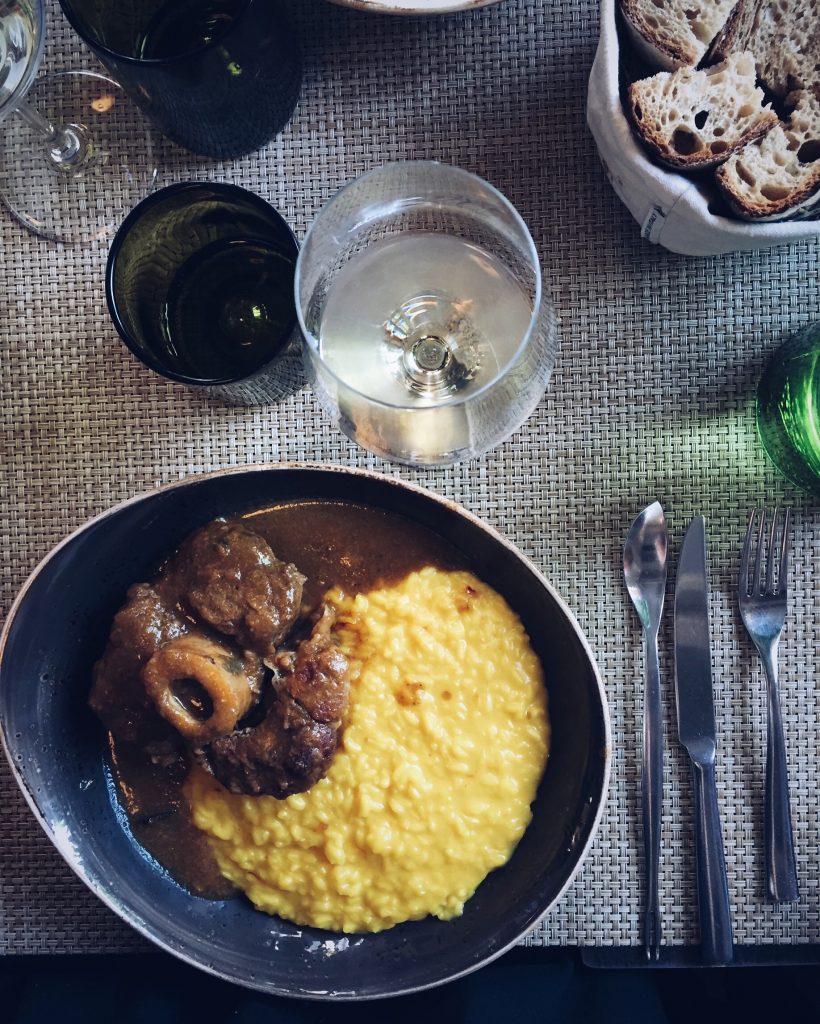 6. Quebec, Canada; to see how maple syrup is produced and overuse it on pancakes
7. Brittany, for the pleasure to eat oysters directly at an oyster farm (pay each one 1 euro)
8. Sardinia, Italy; to see the production of su filindeu (the rarest pasta in the world)  and to taste seadas
9. Torino, Italy; to eat in a piola a typical piedmontese meal: vitello tonnato (veal with a tuna and caper sauce), fassona meat tartare, agnolotti del plin (traditional ravioli) and bollito (boiled meat with different sauces). An marry them with a good Barbera wine.
10. Langhe, Italy; to visit a cellar in Barolo and discover how it is produced one of the best Italian red wines
11. Cambridgeshire, UK; for Stilton,my favourite blue cheese
12. Porto, Portugal; to visit a cellar in Vila Nova de Gaia and discover one of the most appreciated fortified wines in the world (done in 2011)
13. Andalusia, Spain; to try the tapas traditon and discover Sherry in Jerez de la Frontera and Pedro Ximenez in Montilla and Moriles
14. Bergamo, Italy; for a nice polenta taragna, a typical buckwheat polenta with cheese
15. Texas to discover a real Texan barbecue
16. California to pretend to be in Sideways and taste Pinot Noir, Chardonnay and Zinfandel in every opened cellars
17. Tokyo, to have breakfast with sushi at the Tsukiji fish market and try an authentic ramen
18. Indonesia, to see the production of the delicious coconut sugar
19. Singapore, to eat amazing noodles, soups and Hainanese Chicken Rice in one of the one hundread hawker centers in town (done in 2017)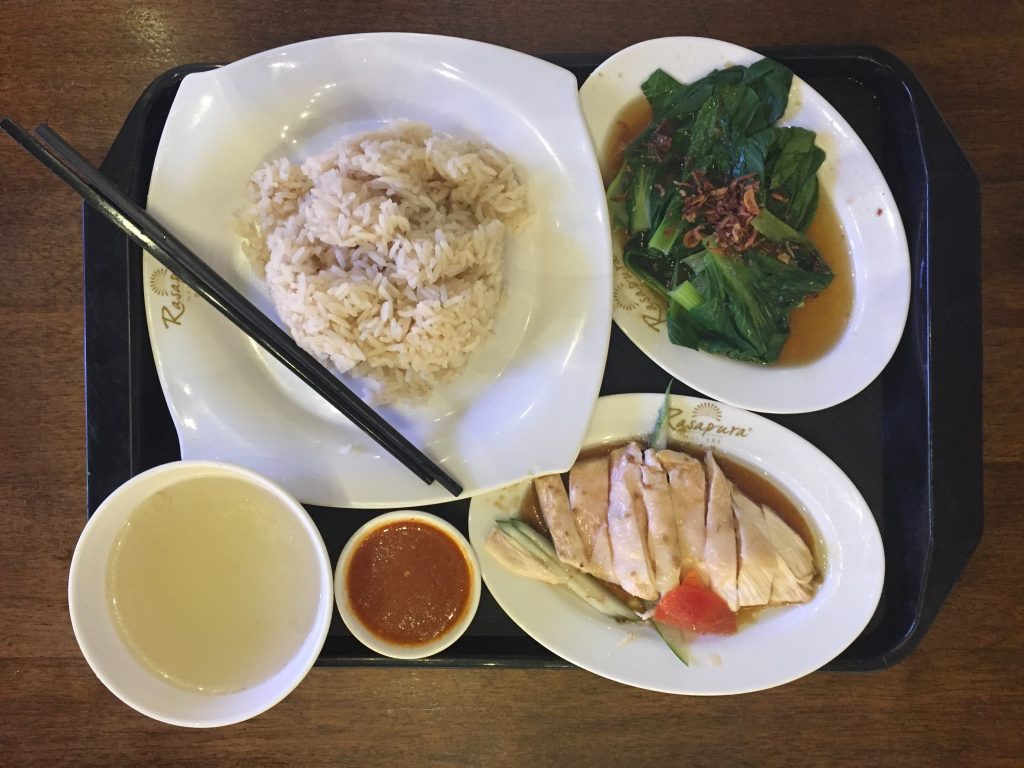 20. Portonovo, Marche, Italy; to eat the typical wild mussels (a Slow Food presidium) with les pied dans l'eau  (done in 2015)
21. Costiera Amalfitana, Italy; to taste the 'ricotta and pear tart' by Salvatore de Riso and as many delizia al limone (typical lemon pastry) as you can  (done in 2015)
22. Trentino, Italy; to see the production of burro di malga, the one made with raw milk in a malga, and eat tons of apple strudel
23. Noto, Sicily, Italy; to go to Caffè Sicilia by Corrado Assenza and taste his granite and hir creative pastries
24. Vietnam, to try one of the best South-East Asian cuisine and finally taste a pho
25. Bali, to see the rice fields and taste Nasi Goreng and Babi Guling, the slow cooked baby pork stuffed with turmeric, ginger and garlic (done in 2017)
26. Kerala, India; to see how they make parotha, the delicious bread slightly flavoured with coconut oil
27. Brasil, to try a real churrasco and drink iced beer, or as they say 'stupidamente gelada' (done in 2009)

28. Havana, Cuba; to drink a real Cuban rhum
29. Lima, Perù; to eat tons of ceviche and learn how to make a good one
30. Gaeta, Lazio, Italy; to taste the typical olives with wine aftertaste and eat the tiella gaetana with scarola sala and olives (done in 2015)
31. Roma, to eat carciofi alla Giudia (fried artichokes) in the ghetto and a good cacio e pepe
32. Elba Island, Italy; to visit a vineyard of Aleatico wine and taste it together with some schiaccia briaca, a typical dessert (I speak about this here)
33. Altamura, Italy; to buy some authentical Altamura bread and taste tette di monaca (a traditional pastry). And visit the cheese maker Di Cecca (partially done in 2015)
34. Nice, France; to make a tour of markets and taste croissants, fougasse and socca (the chickpea flatbread) (done in 2014)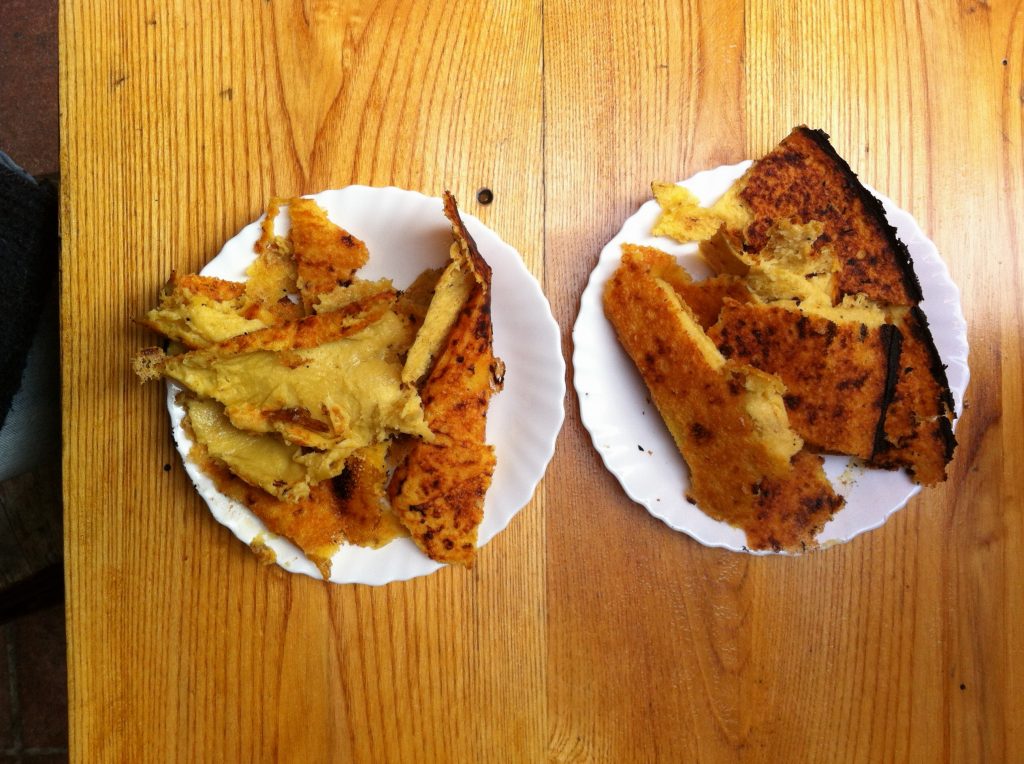 35. Champagne, France; to visit every corner of Montaigne de Reims, Vallée de la Marne and Côte de Blancs and stop at every opened cellars
36. Paris, France; to enjoy a Michelin starred vegetarian meal chez Alain Passard and taste Genin's desserts
37. London, UK; to stroll at the Borough Market and try as many foods as possible
38. Dublin, Irland; to drink lots of Guiness and try the pairing with oysters
39. Wien, Austria; to taste the sacher torte at Café Sacher and at Café Demel and choose which is the best
40. Kampot, Cambodia; to explore the production of Kamport black pepper, one of the finest in the world, and buy a lot of it
41. Madagascar, for the cultivation of vanilla and leave with the luggage full of this spice
42. Buenos Aires, Argentina; to taste asado, empanadas and try the traditional mate, the national drink
43. Cape Cod, USA; to eat lots of lobsters
44. New England, USA; to visit an apple orchard, harvest some apples and then prepare an apple pie (here a list of the best pick-you-own apple orchards)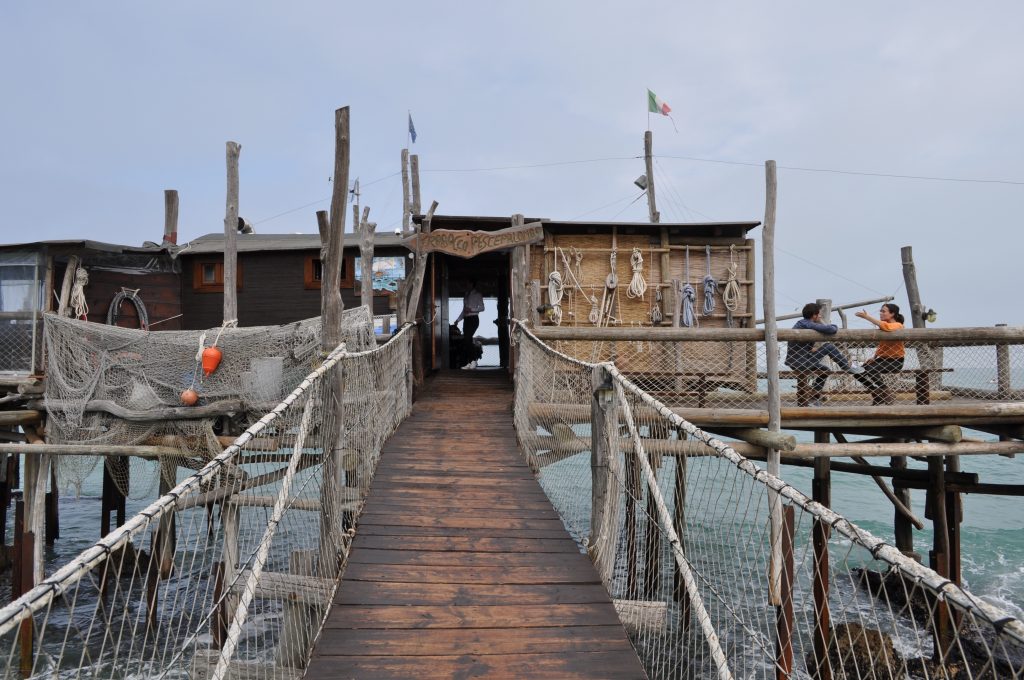 45. Abruzzo, Italy; to try arrosticini and pallotte cacio e ovo, bread and cheese fried balls (done in 2015)
46. Costa dei Trabocchi, Abruzzo; to eat a good brodetto di pesce (fish soup) on a trabucco (see picture above)
47. Piana del Sele, Salerno; to make a mozzarella tour on the real 'strada della mozzarella'
48. Plymouth, UK; to eat at the best Fish and Chips in UK
49. Jerusalem, Israel; to eat falafel, tabouleh, hummus at every hour
50. Florence, Italy; to fall in love with dishes prepared with offals, as trippa alla fiorentina and lampredotto (done frequently since 2009)
51. Mantova, Italy; for the typical zucca and amaretti ravioli and a piace of beloved sbrisolona
52. Lisbon, Portugal; to taste salted codfish in many manners and order tens of Pasteis de Belem (done in 2011)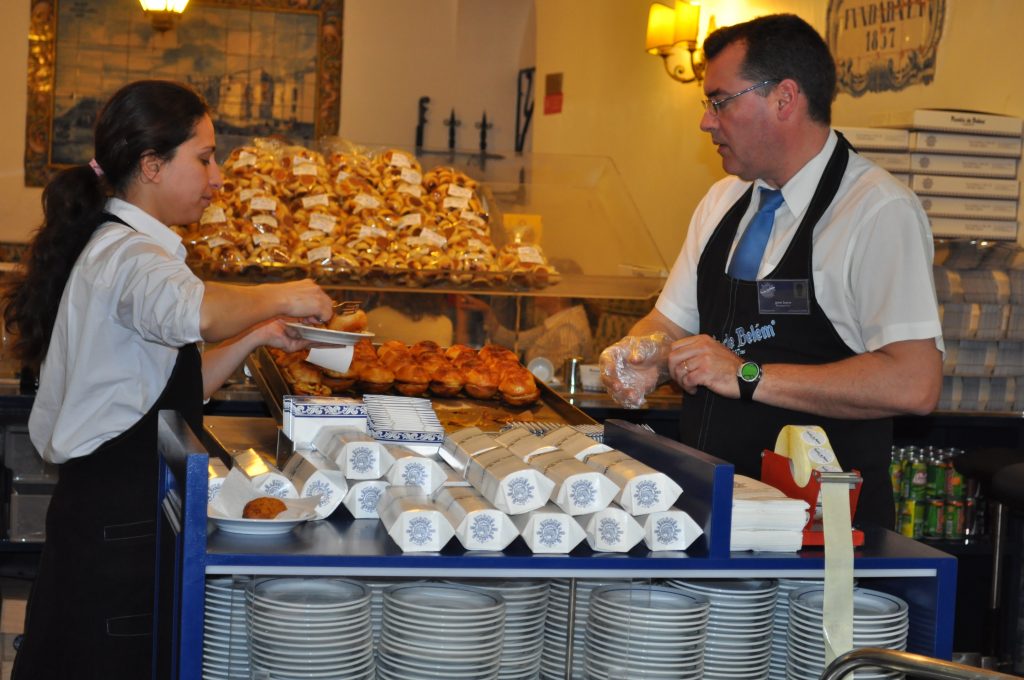 53. Pantelleria, Sicily; for its capers and the best passito wine in Italy, made from grapes Moscato d'Alessandria
54. Trapani, Sicily; for busiate alla trapanese, a traditional pasta with a pesto made with almond, tomatoes and basil (done in 2009)
55. Palermo, Sicily; for a tour at the Ballarò market and pane e panelle (bread with chickpeas pancakes) sitting on the beach in Mondello (done in 2009)
56. Favignana, Sicily; for the delicious tuna and bottarga
57. Ischia, Italy;  for the traditional coniglio all'ischitana (slow cooked rabbit) and a good glass of Forastera and Biancolella white wine
58. Massa Lubrense, Costiera Amalfitana, Italy; for a dish of spaghetti alla Nerano at Mariagrazia or at trattoria da Eughenes (done in 2015)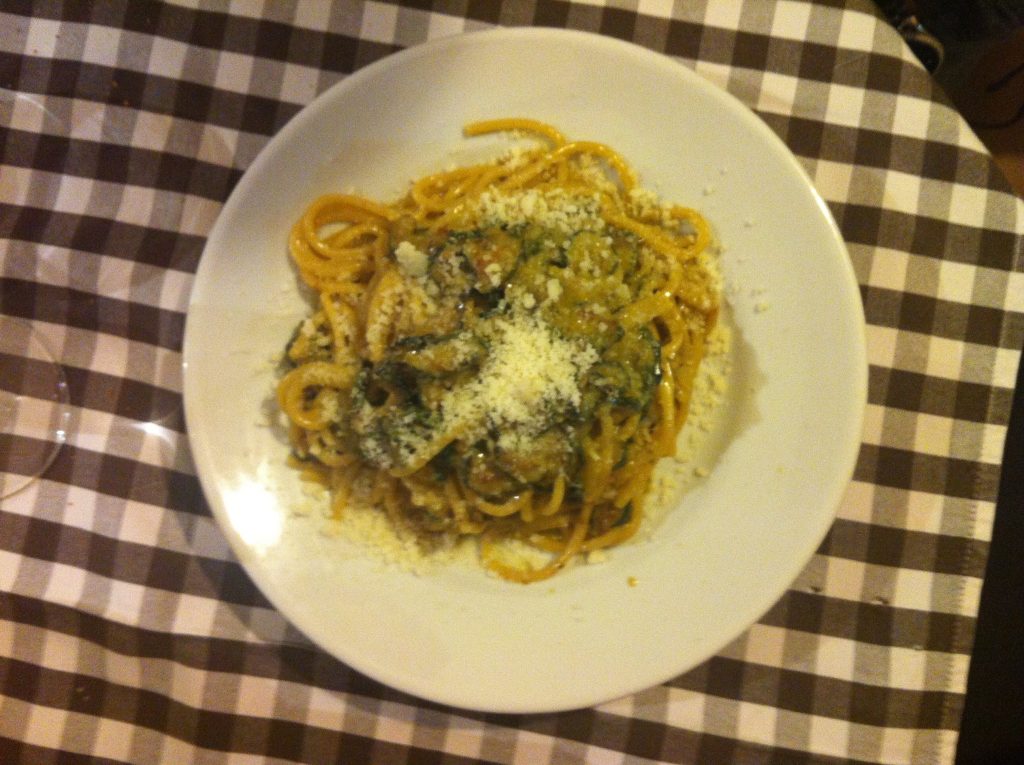 59. Sorrento, Italy; to taste typical cannelloni at O'Parrucchiano, the restaurant where they were originally invented
60. Budapest; for a good gulash and the delicious pastry shops
61. Belgium; to taste a trappist beer directly where it is produced
62. Marseille, France; for a real bouillabaisse, the most famous fish soup of France
63. Livorno, for a real cacciucco and a tour at the covered market (the biggest in Europe)
64. Bangkok, Thailand; for its street food and discover more than pad thai and green curry
65. Java, Indonesia; to taste some vegan traditional dishes, as gado gado, based on tofu and peanut sauce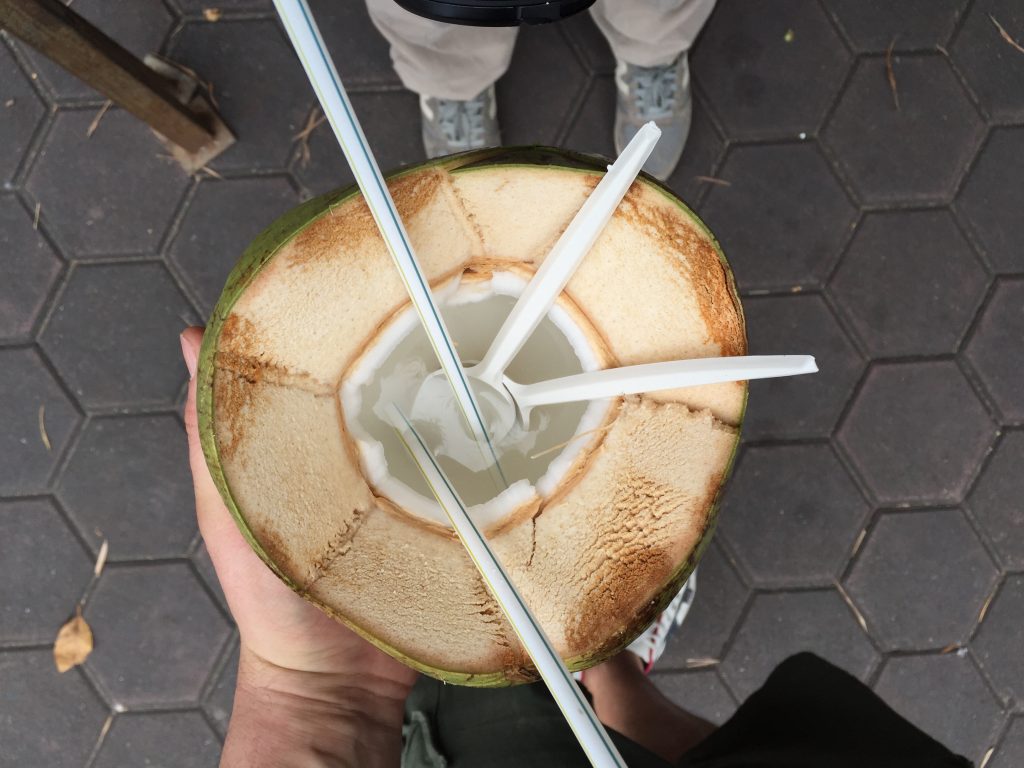 66. Malaysia, to eat some real good fresh coconut and try one of the best Asian cuisine (done in 2017)
67. Jalisco State, Mexico; to visit an agaveria and taste a good tequila
68. Swedenin December; to eat Kanelbullar and Lussekatt, the sweet bread flavoured with saffron prepared for Saint Lucy
69. Lofoten Islands, to eat the best stockfish and learn how it is produced
70. New Zealand, to make a tour in Malbourough for the best Sauvignon Blanc and in Martinborough for the amazing Pinot Noir
71. Australia, East Coast; to eat lots of macadamia nuts and see how a macadamia tree looks
72. Sydney, to taste Lamington, lemon delicious, pavlovas and all the treats I see in every season of Masterchef Australia
73. Beijing, China; to taste the Peking duck and lot of Chinese street food
74. Hong kong, China; for one of the best Chinese cuisine and learn how to make perfect dim sum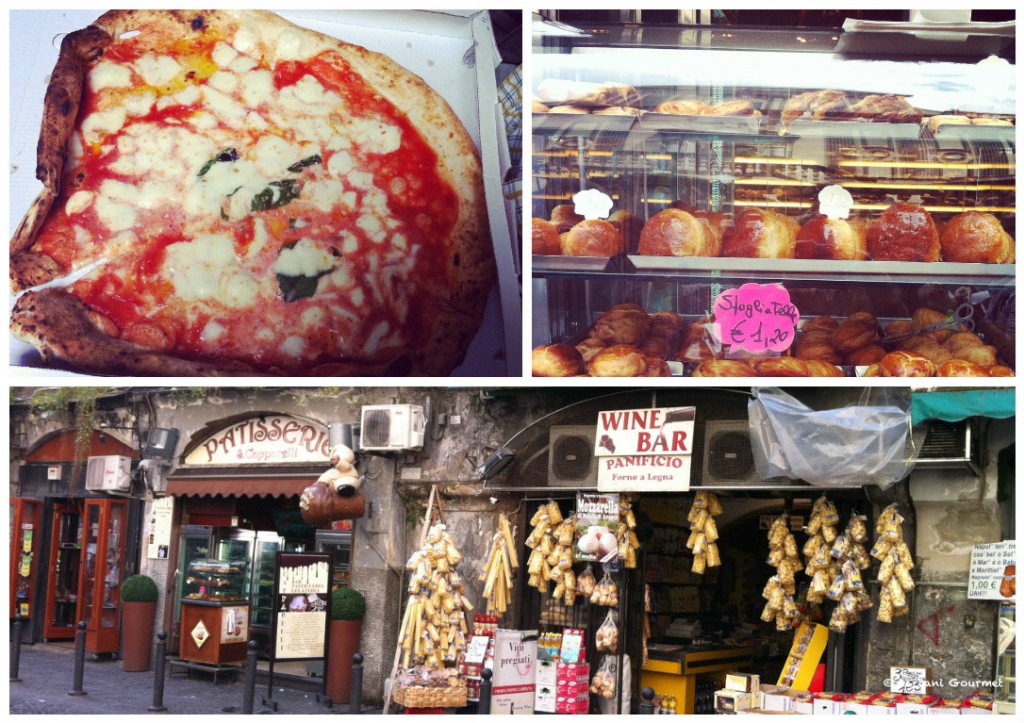 75. Napoli; for babbà, pizza and a complete lunch 'da Nennella' with fried mozzarella and broccoli rabe  (done in 2014)
76. Chiba (East of Tokyo), Japan; to discover the product of soy sauce
77. Kobe, Japan; to the taste the fine meat of Kobe
78. Yucatàn, Mexico; to try the traditional Mexican cuisine: tacos, empanadas, quesedillas and pair everything with a corona beer
79. Coast to Coast, USA; to stop at the best diners in the US and find the best burger
80.Versilia, for a dish 'spaghetti coi nicchi', some tordelli, scarpaccia a lots more (done, manu times)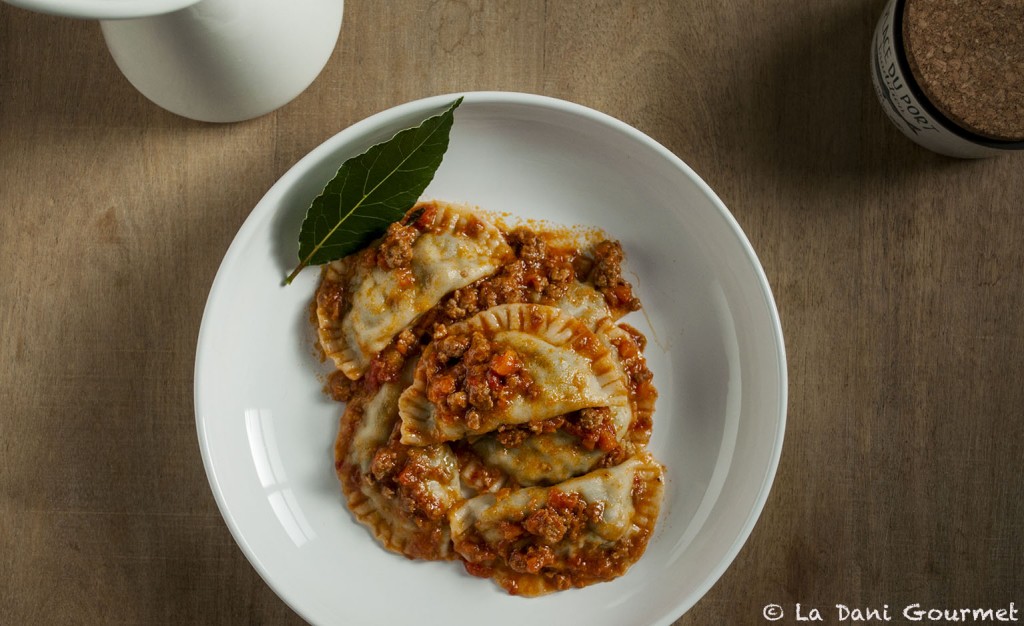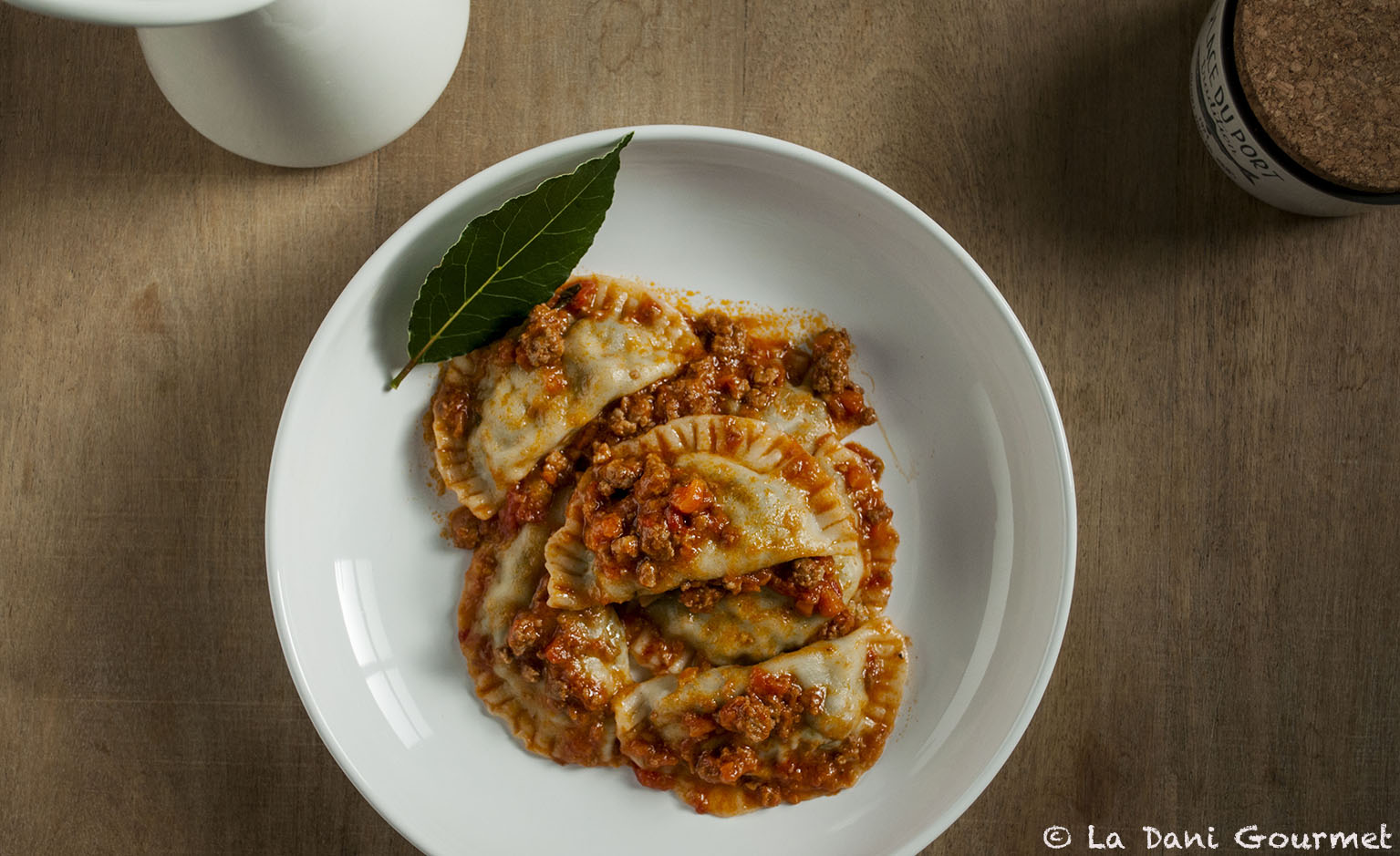 81. Los Angeles, to discover the healthy food of the West Coast
82. Valencia, for a traditional paella
83. Basque Country, for an aperitivo with pintxos (the Basquan version of tapas) and txacolì, the typical white wine
84. Seoul, to taste a real kimchi
85. Sri Lanka, to take to train that run through the rea plantations
86. Sichuan, to the see the production and taste the false pepper of Sichuan
87. Morocco, for a good tajine and buy lots of spices
88. South Africa, for a tour of wine cellars and taste Steen and Pinotage
89. Barcellona, for a tour of Boqueria market
90. Barossa Valley and Coonawarra, Australia; to make a road tour through the vineyards of Shiraz and Cabernet Sauvignon
91. Chile, for a good Carmenere wine and taste Pisco, the chilean brandy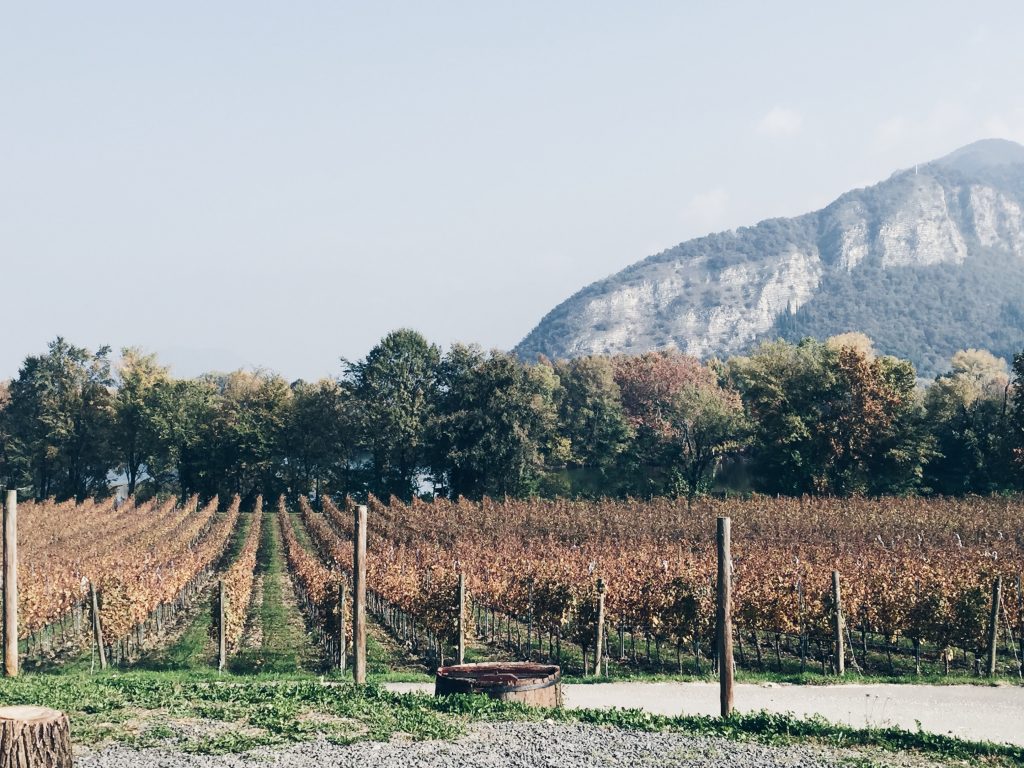 92. Franciacorta, to discover how a sparkling wine is made and why one the best in Italy in right here (done in 2016)
93. Venice, to eat in bacaro and taste schie, the tiny prawns typical of this lagoon
94. New Orleans, to try the creole cuisine of Luisiana
95. Copenhagen, to discover where the New Nordic cuisine was born (even though Noma doesn't exist anymore)
96. Berlin, to try a currywurst in an Imbiss, the typical kiosk or little diners where you can eat something
97. Venezuela, to discover the criollo cacao plantation
98. Instanbul, Turkey; to try a real kebab
99. Northern India, to taste curries in every manner and drink lots of chai
100. Greek islands, to have a taste of one of my favourite food: feta, tzatziki, spanakopita, lots of vegetables and fish
Summary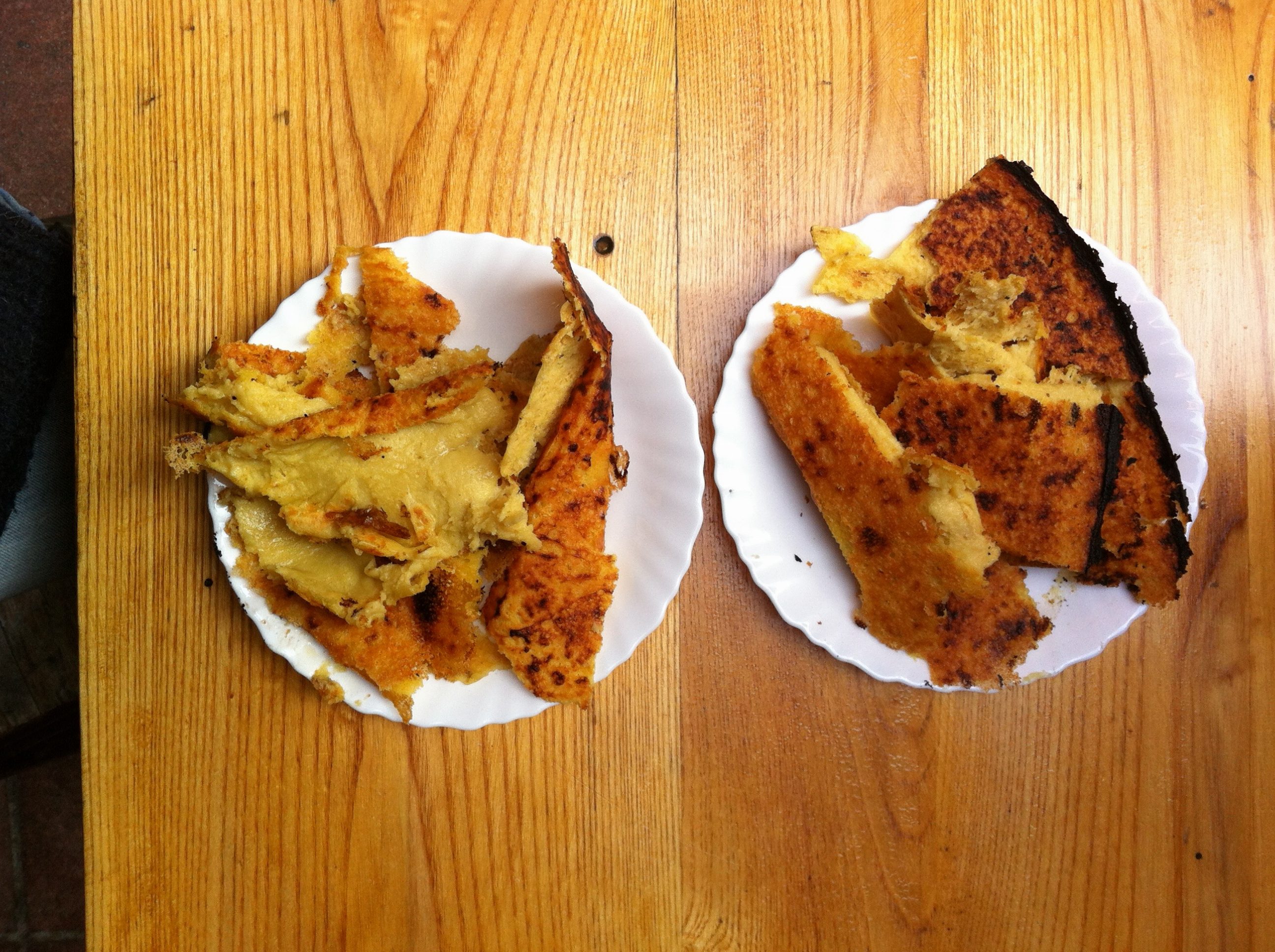 Article Name
100 destinations
Author
Daniela Barutta
This post is also available in: Italian