In my last post, I told you how to visit Singapore on a budget and I introduced you to the world of hawker centers.
Hawker Centers are real food courts in the open-air where you can find tens of stalls preparing different specialties at affordable prices.
You make a queue – because in the best places, it's very frequent to make a queue – you order your dish or the number related to your dish (in case you're unsure about the pronunciation). When it's ready, you'll put your dish on a tray together with the sauces and the chopsticks, available at every stand. Then you look for a seat, sharing the table with other people.
In these places you'll find many local people, frequently alone. In Singapore, but also in Malaysia, I found that it's quite common to eat out, rather thank cooking at home. That's totally understandable, considering how delicious and cheap these dishes are. Every dish will cost you from 3 to 10 S$, more or less from 2 to 6€.
Singapore counts more than one hundred hawker centers and here you'll find my favourites, that I selected before leaving and I tested during my days there.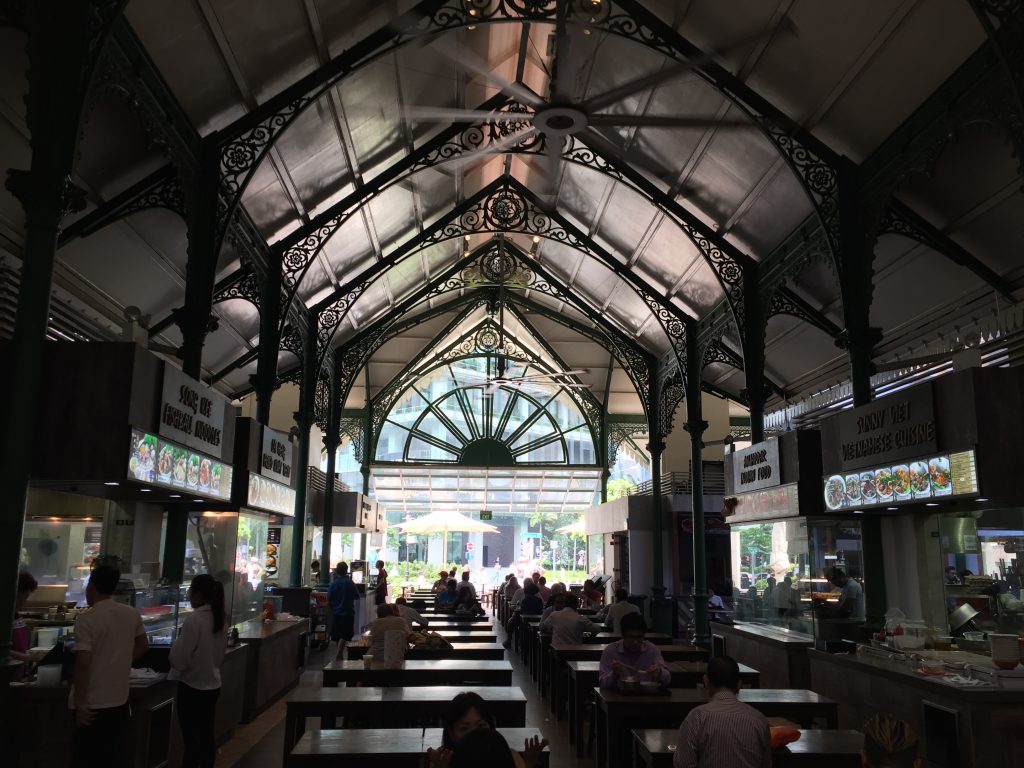 1. LAU PA SAT
18 Raffles Quay, Singapore.
In the Chinese hokkien dialect lau pa sat means 'old market', and that was its function when this iron structure was commissioned to England at the end of the nineteenth century.
We are in the Financial District, a few steps far from Telok Ayer MRT station, not too far from Chinatown.
The structure includes a great variety of food stalls, and I invite you to get inspired by the trays you will see. In case you'll be uncertain about what to order, I suggest you to try a Fried Kway Teow at See Lee Local Delights. Kway Teows are flat noodles, made with flour and water, and typical from Malaysia; in this dish they are cooked in a wok together with a thick dark soy sauce, eggs, vegetables and fish. Maybe they don't look so good, but they taste amazing.
The street at one side of this hawker center (Boon Ta Street) every evenings becomes Satay Street. You will easily recognize it thanks to the smoke raising from grills, where huge quantities of Satays are cooked. Satays are meat skewer – usually chicken, mouton and beef – prepared also in Malaysia and Indonesia, and served with a delicious peanut sauce.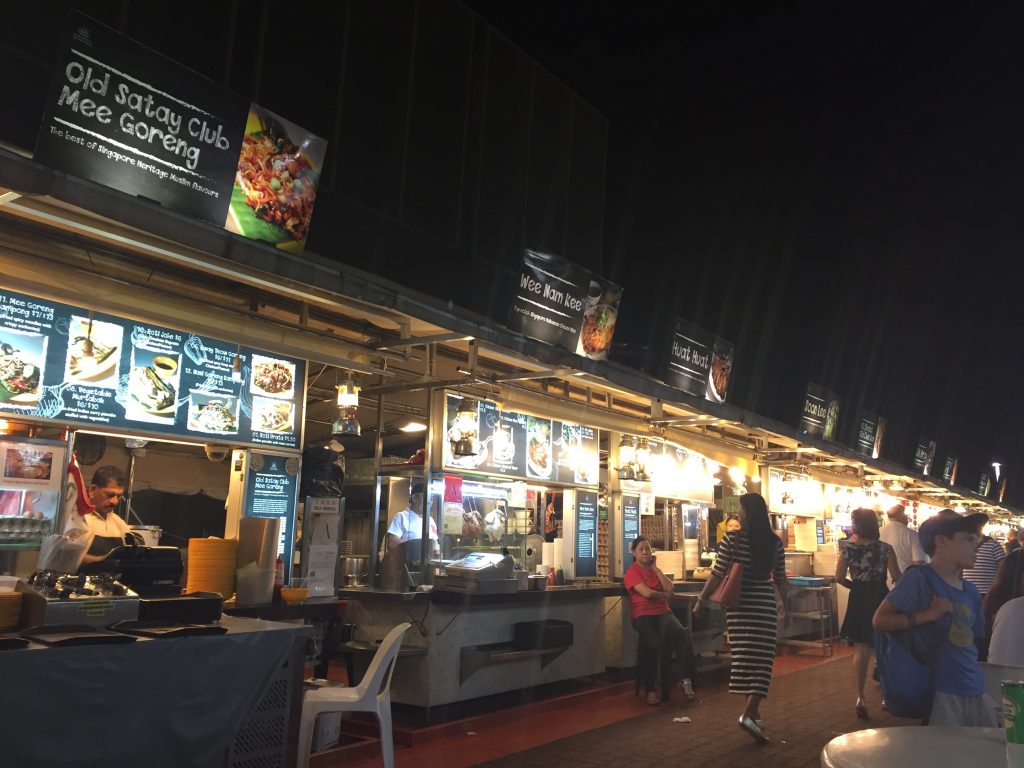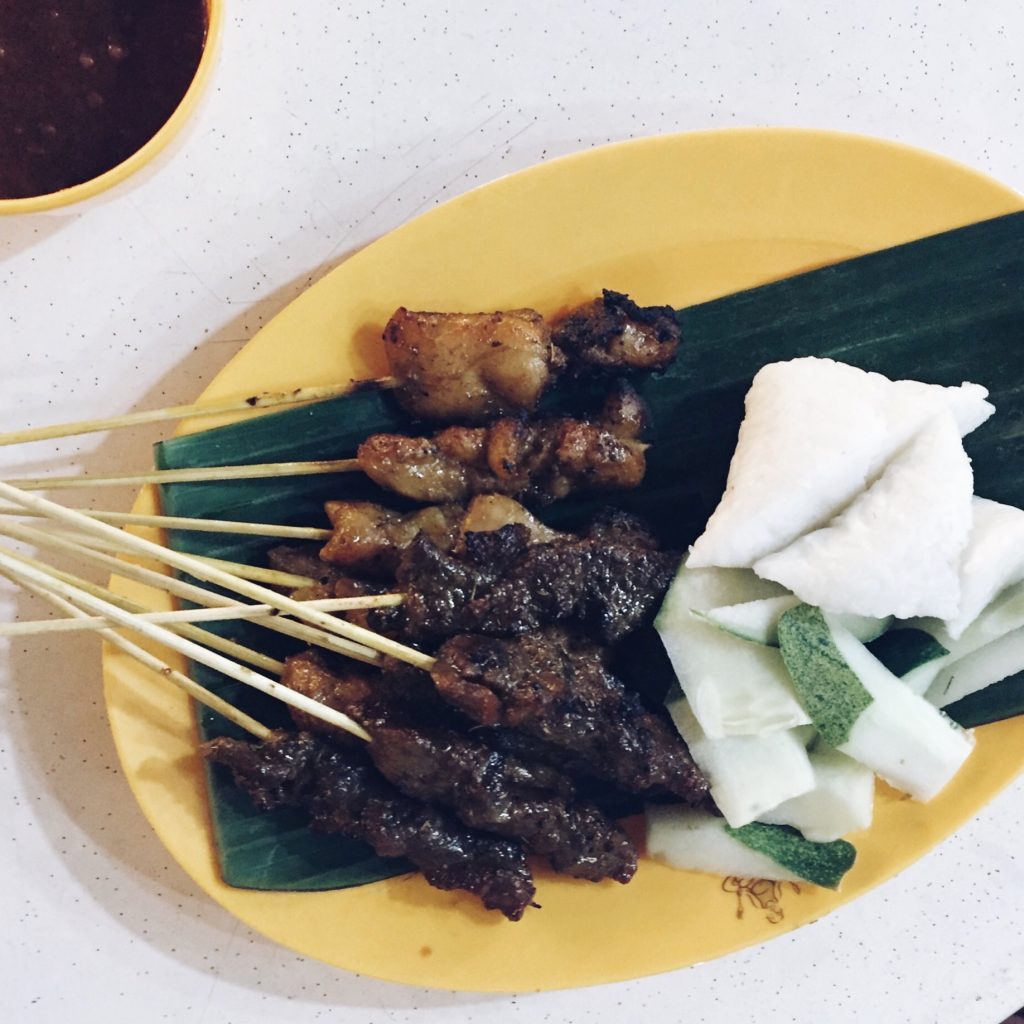 2. MAKANSUTRA at GLUTTONS BAY
8 Raffles Ave, #01-15, Esplanade Mall, Singapore.
This hawker center is completely in the open air and enjoys the best position. It wins the prize for the best view, overlooking the Marina Bay and Singapore's skyline.
Here I had some of the best satays of our entire travel in South-east Asia, but as in every food center you'll have plenty of choices.
Due to its position, dishes here are a bit more expensive. Anyway the food is still really cheap.
3. CHINATOWN COMPLEX
11 New Bridge Road, Singapore.
Chinatown is a district full of authentic and not too touristy hawker centers.
When we were in Singapore I didn't know this, but you shouldn't miss the opportunity to enjoy a Michelin-starred meal for less than 2€. This is not a joke, last year Michelin added into its guide the food stand "Hong Kong Soya Sauce Chicken Rice and Noodle" of Chan Hon Meng, giving him the precious star.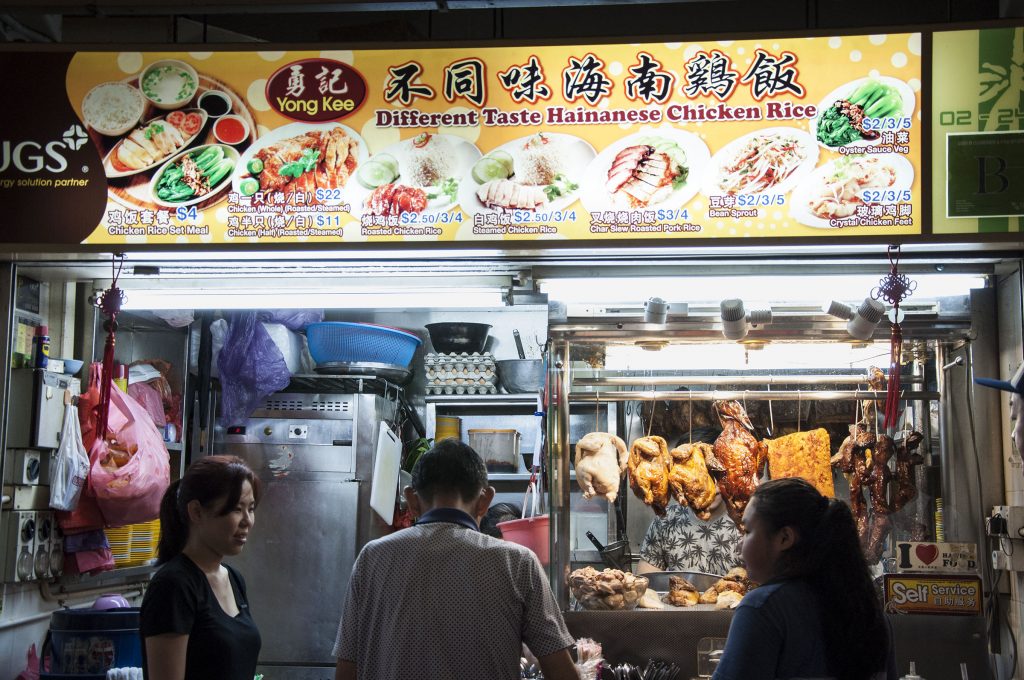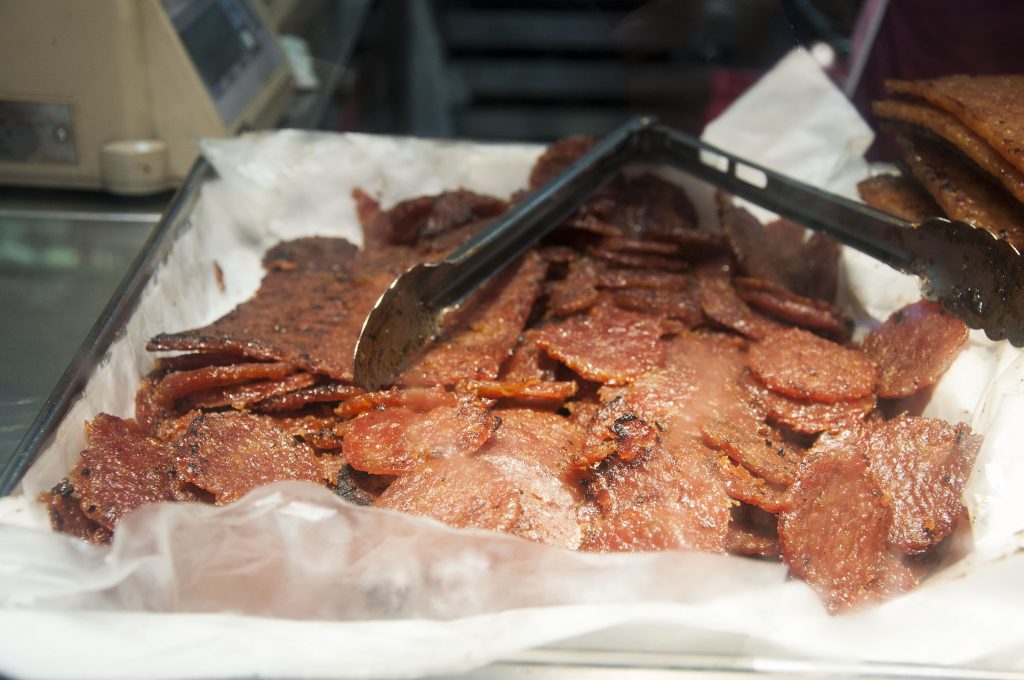 4. HONG LIM FOOD CENTRE
South Bridge Rd & Upper Cross St, Singapore.
Open just during daytime, from about 6 am to 4 pm, Hong Lim is another hawker center you shouldn't miss.
As said, plenty of dishes and specialities available, but I suggest you to try the Char Kway Teow of Outram Park, also indicated in Lonely Planet. For other food advice in this food court, have a look at this article.
In Chinatown, you have to try also Bak Kwa, a smoky-sweet dried pork. I swear it's so scrumptious. Look for bak kwa in food center in this area, or head to the famous Lim Chee Guan, with different shops in Chinatown.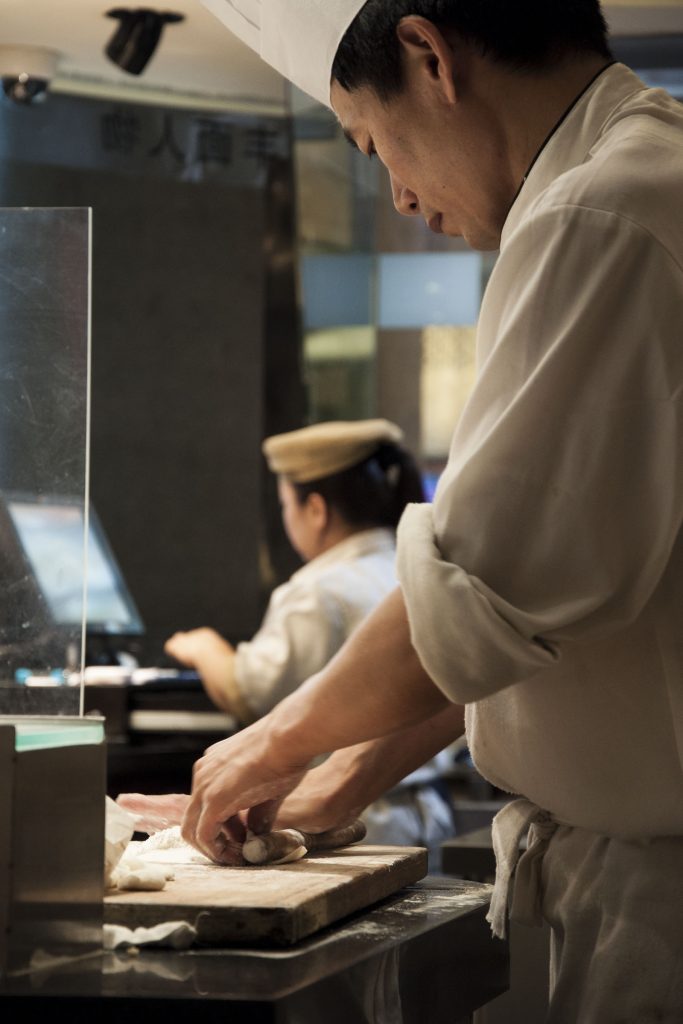 5. RASAPURA MASTERS
2 Bayfront Avenue, B2-50 Canal level ,The Shoppes at Marina Bay Sands, Singapore. 
Rasapura Masters is the food area included in the most famous mall of Singapore: the Marina Bay Sands.
Of course it's very touristy, but I suggest this place, since it enjoys a very good free wi-fi and air-conditioning, which is so appreciated in the tropical heat of Singapore.
Dishes here are a bit more expensive (just a few dollars), but everything we tasted was really nice.
Definitely, you should try the dumplings and the 'la mian' by NoodleStar. 'La mian' are chinese hand-pulled noodles, frequently served in soups. At the end of this post, you can see a short video we made in Singapore, about how these noodles are made.
Curry Beef Noodle Soup – a soup with beef, noodles, coconut milk and curry – and the delicate Hainanese Chicken Rice are other two good options. Hainanese Chicken Rice is Singapore's national dish, and despite to its look, it's really an interesting dish. It is composed, as many Asian foods, of many elements balancing together: the rice with a delicate ginger flavour; the boiled chicken, tasty and juicy; cucumbers, slightly sour; the broth, clear and delicate.
Summary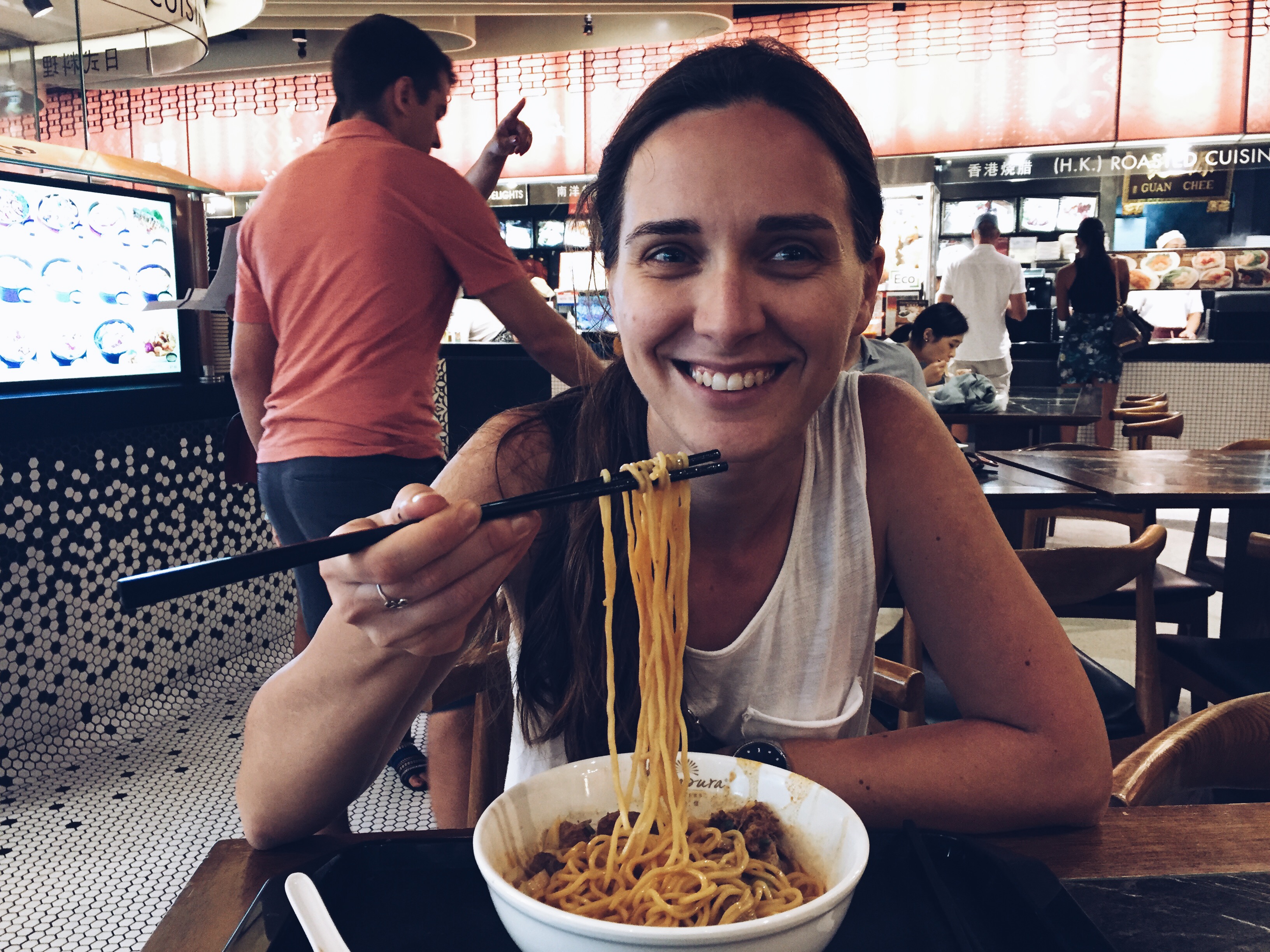 Article Name
Singapore's best Hawker Centers
Author
Daniela Barutta
This post is also available in: Italian