Two months ago Condé Nast Online published an article about the most expensive cities in the world, and for the fourth time Singapore was in the first position.
The fact that Singapore is an expensive destination is something I'm used to, every time in the past years I said I wanted to visit it.
In January I spent five days in Singapore, during a three-weeks trip in South-East Asia, and it turned out to be a city for any budgets. For sure, you need some tricks to spare some money, and in this post I'm going to show you how I managed to visit Singapore for five days with 250€ (flight excluded).
1. OVERNIGHT
The only cost you won't be able to cut too much is the overnight. Singapore is full of hotels, but even the most economic solutions as capsule hotels and hostels here are kind of expensive.
A double room in a good position and with good reviews will cost you no less than 90€ per night. I suggest you have a look on Agoda website and to book your room some weeks before, so you can take advantage of some promotions.
We found an offer for Hotel G, and we paid about 60€ per night and I strongly recommend you this hotel, because of its comforts, as the excellent wi-fi and the free coffee all day long, and because of its good position (near both Rochor and Bugis MRT station).
For us it wasn't a problem, but be aware that rooms were so small you didn't know where to place your luggage, or your backpack as in our case. But this is a common situation in Singapore.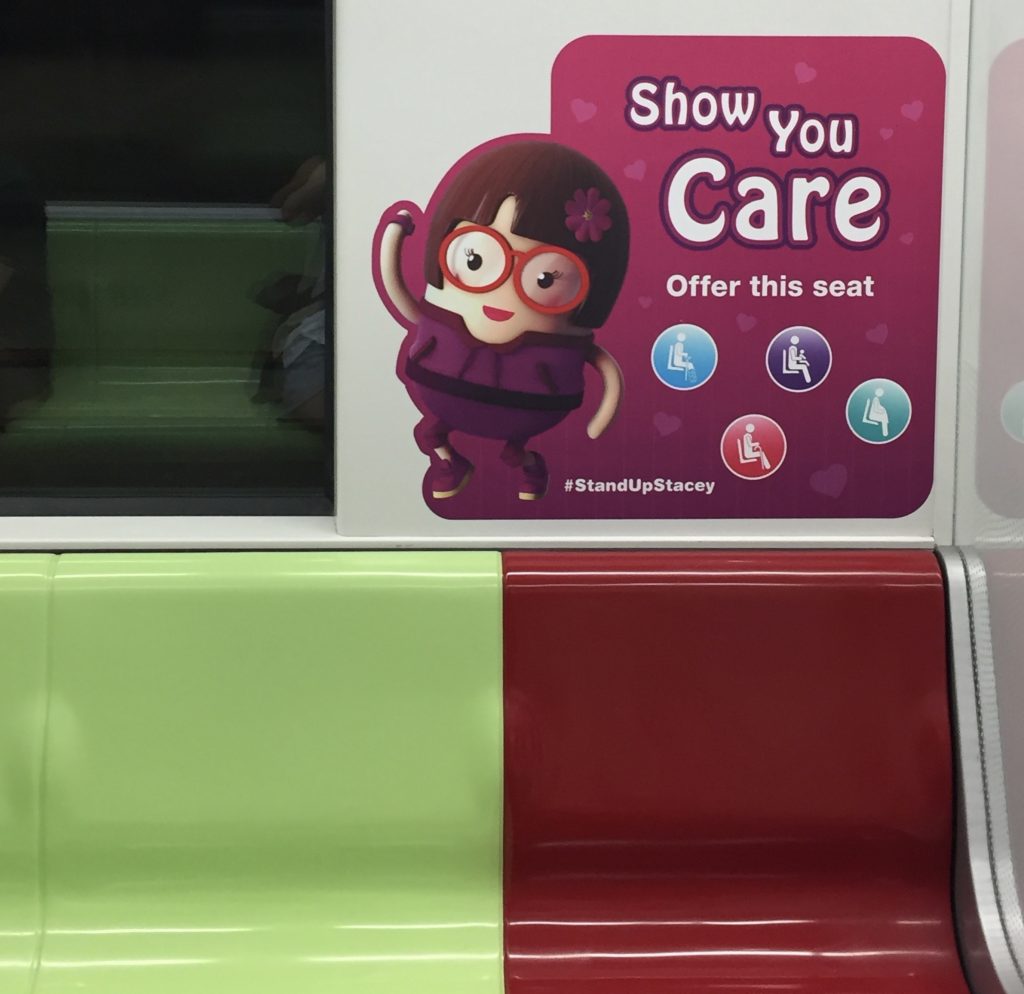 2. TRANSPORTS
I don't know why, but I thought Singapore to be a small city. But I was so-wrong.
Even if you love to discover a town on foot, it's impossible not to use public transports, which are comfortable and cheap.
If you stay two or three days, it's better you make a Tourist Pass, a card which permits you to reach every corner of the city, excluded Sentosa Island, but included the airport.
It costs 16 S$ (for a couple of days) or 20 S$ (for three days), but you will be charged an extra 10 S$ as a deposit, that will be refunded if you give the card back.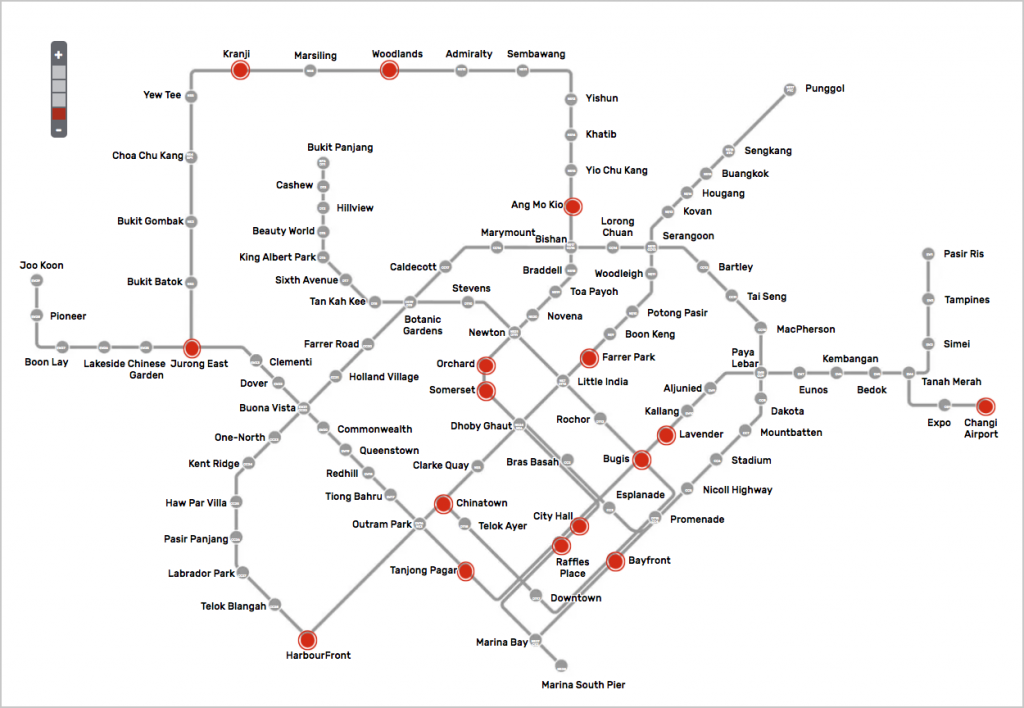 I don't know why, but it is possible to buy it only in some MRT stations – the local name for the underground -, the one which have a dedicated office for Tourist Pass, and that are indicated with a red dot in the above map. We were lucky, since we had Bugis close to our hotel, but the office opened just at 10 a.m. ….

3. FOOD
You need less than one hour in Singapore to realize how food is important here. You'll find it at every hour, at every corner and absolutely for any budgets.
In Singapore you'll have plenty of choices, especially if you like rustic and authentic places where locals usually eat their daily meals.
Just go in one of the more than one hundred hawker centers of the town, and with a few dollars you can eat delicious and local dishes. Hawker centers are food courts in the open-air dedicated to street food and featuring tens and tens of stalls cooking different specialities.
Here as in every corner of the world, where there's a queue, you're sure to eat well. But it's also true that some hawker centers are better, so I will publish soon a post with some advices.
Singapore's food is various and reflects the mix of cultures that live there: the Chinese, the Malaysian and the Indian above all. A dish will cost from 3 to 10 S$ (from about 2 to 6€ ) and it will be enough to satisfy you.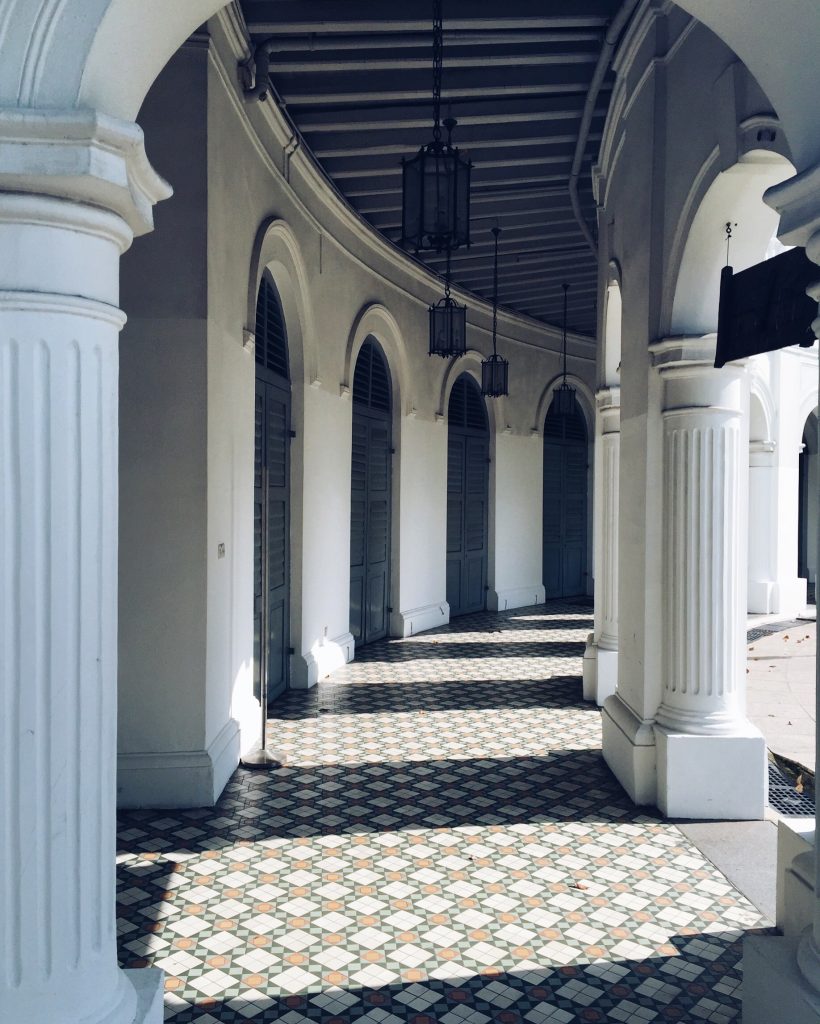 4. VISITS
In my opinion, Singapore is a city to be discovered walking through its districts. But even if you visit a place of worship or a tourist attraction, you won't spend a lot.
As in the case of the Buddha Tooth Relic Temple, the Buddhist temple in Chinatown where the left canine tooth of Buddha is kept, the entrance is totally free. Or in the case of the unmissable Gardens by the Bay, the famous and futuristic botanical gardens opened just in 2012 and already a Singapore symbol, where the entrance is free and the ticket for the Skyway – a stroll at about 20 meters above ground among the Supertrees – is really cheap (8 S$ per person).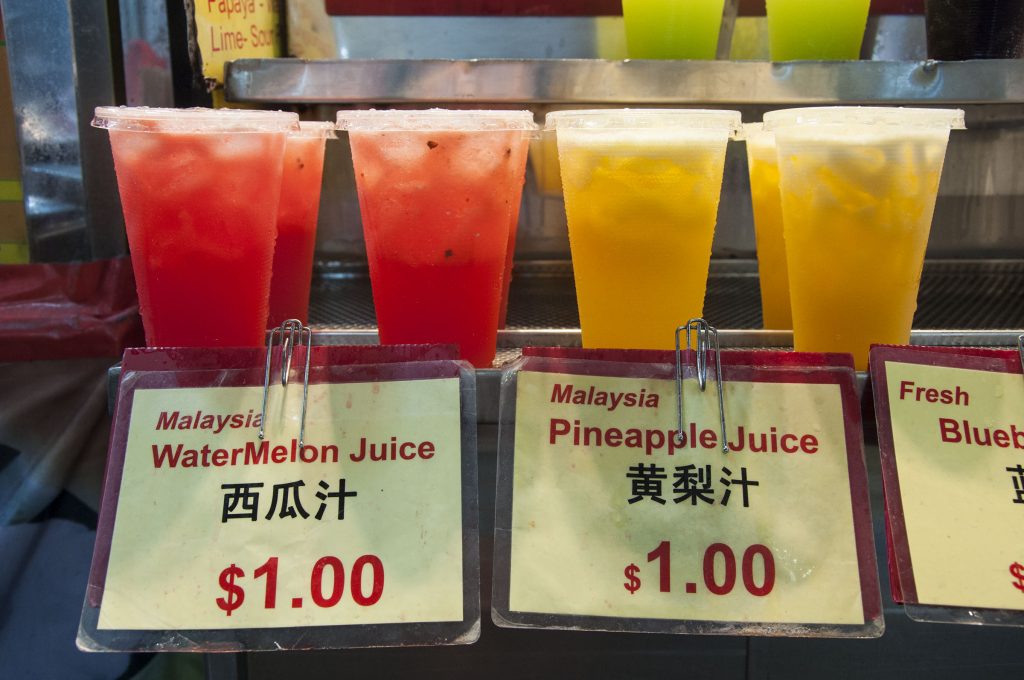 5. WATER AND DRINKS
I always state that before visiting Malaysia and Singapore I had no idea of what "heat" was like. It was so hot and humid that you couldn't help but drinking liters of water per day. I suggest you to buy it at Seven stores (a supermarket common in all South-East Asia) which are opened 24/7, or if you find them, in the small souvenir shops usually managed by Indian people.
Another story is alcohol. Singapore, as also Malaysia and Indonesia, apply high taxes on alcohol and therefore, alcohol is way more expensive than food here.
Beer is usually cheaper in hawker centers where a bottle will cost about 5-6 S$, and frequently it won't be cold enough. In restaurants and pubs it's easy to pay a lot more: if you visit Clarke Quay, a famous area for the nightlife, be prepared to pay a beer even 15 S$.
Summary
Article Name
Singapore Travel Cost: how to spare
Author
Daniela Barutta
This post is also available in: Italian