When I was attending the scuola elementare (primary school), there was a green and huge field near the Hospital in my hometown that turned to be cultivated, just for a couple of years. And this period the whole field was all occupied by peas.
It was right in April and May, that my grandma brought me there, not because she wanted to show me the botanical features of this vegetable, but rather because she wanted to pick them and fill entire bags with peas. I was aware that she wasn't allowed by the owner – moreover I still don't know who was the owner at that time – and every time I felt so embarrassed and I wanted to leave.
Every time I pod peas, I think about those episodes and how cheek my grandma sometimes was.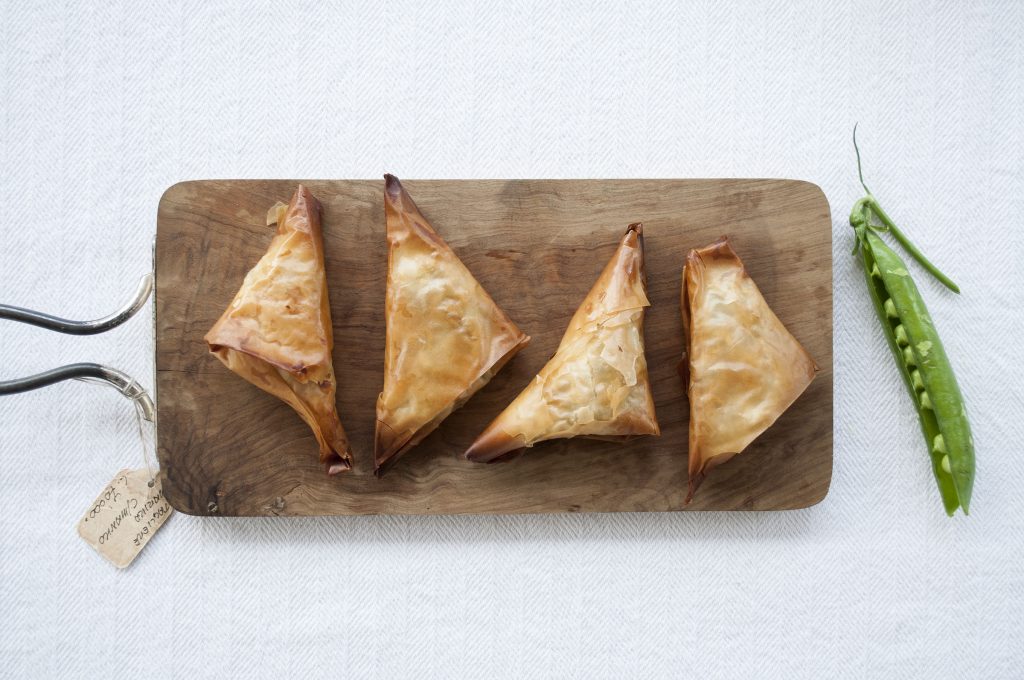 In the past two years, I published two recipes with peas – a risotto and a dip – and this year a I couldn't skip to write a post with this beloved vegetable.
This time I was inspired by the Greek spanakopita, phyllo pies stuffed with spinaches and feta. I substituted spinaches with peas and I added some mint, for a very fragrant springy dish.
The recipe is super simple, the only thing you should pay attention to is the phyllo sheets, which are so delicate. Work one sheet at a time, and brush it immediately with extra virgin olive oil, and cover the other sheets of phyllo, so that they don't dry.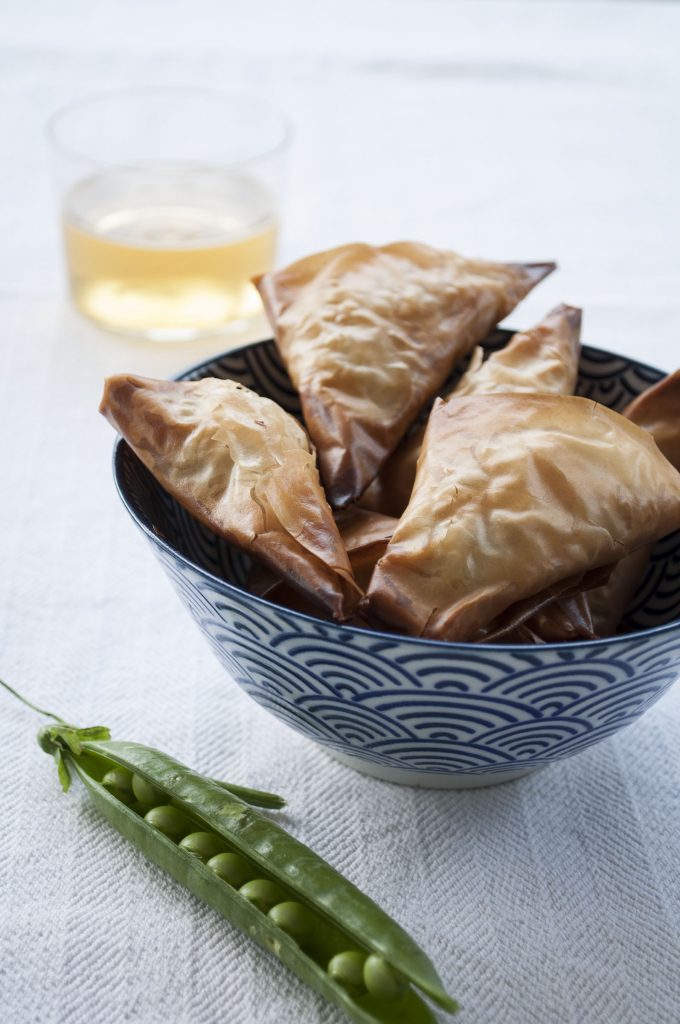 PHYLLO PIES WITH PEAS, FETA AND MINT
ingredients for 10 small pies
450 g of peas in the shell (about 150 g of podded peas)
120 g of feta
a spring onion
salt, pepper
fresh mint
about 6 sheets of phyllo pastry (my sheets were 23 x 36 cm)
evoo
1.Pod the peas. Thinly slice a spring onion and let it sauté in a pan with some evoo. Add the peas and let it cook for about 5-8 minutes. Season with a small pinch of salt and freshly ground pepper.
2.Using a fork, crumble feta cheese and add the peas, you have previously crushed a little bit with a spoon. Add some chopped mint.
3.Take a sheet of phyllo pastry at a time, and cover the other sheets. Cut rectangles of 8 x 23 cm and brush them with evoo. Overlap two rectangles of phyllo and place a tablespoon of filling near one corner of the rectangle and fold so that you get a triangle, or simply roll it. Continue until you finish the ingredients.
4.Place the phyllo pies on a baking tray covered with baking sheets and bake in a preheated oven at 180°C for about 20-25 minutes.
Enjoy!
Summary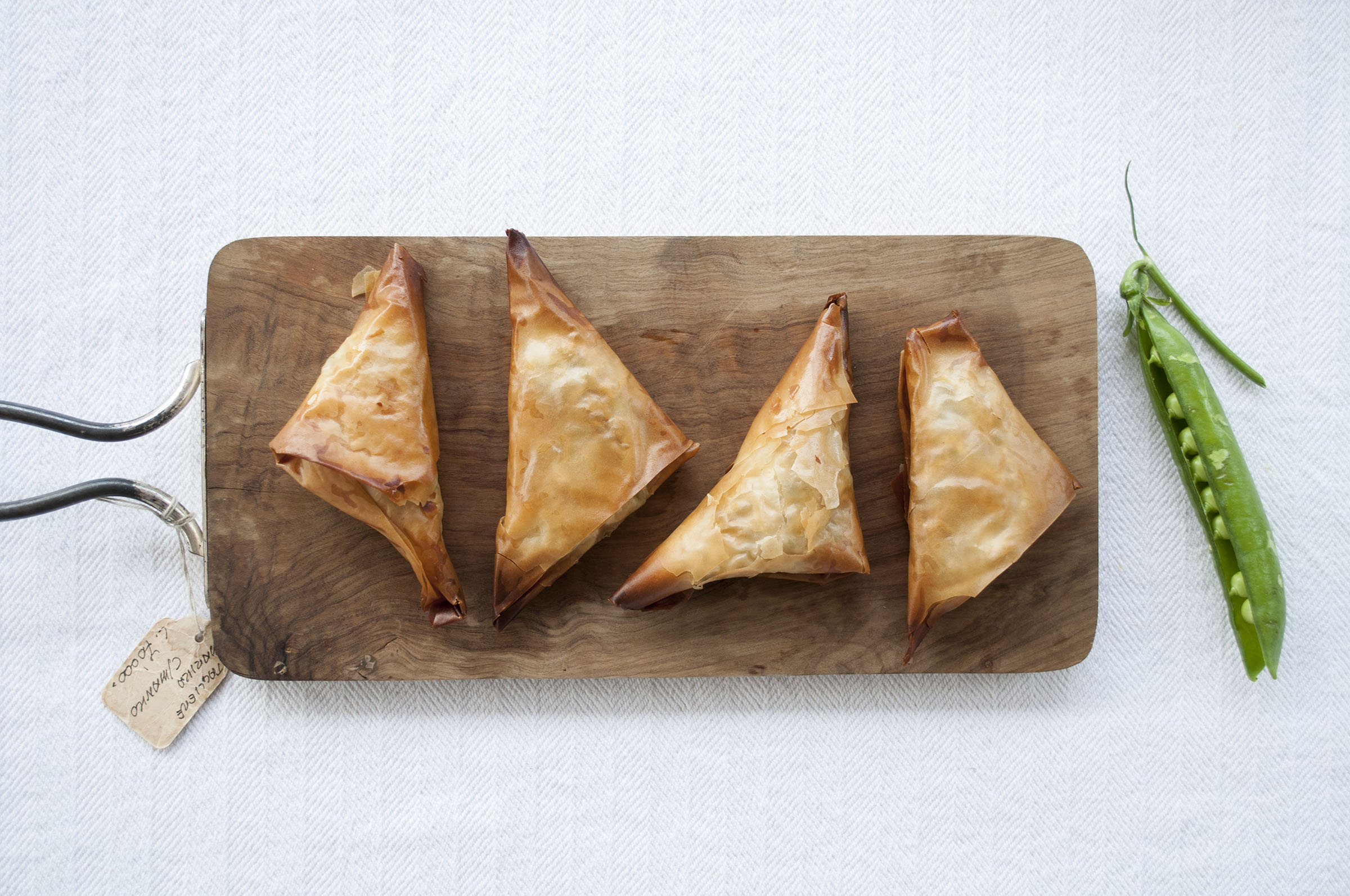 Recipe Name
Phyllo pies with peas, feta and mint
Published On
Average Rating





Based on 0 Review(s)
This post is also available in: Italian