Growing up, I learnt to appreciate every single season. I don't go crazy the first chilly nights of September, and I do not count down to summer in January. (Even though I always suffer the change to solar time and the unavoidable shortening of daylights at the end of October).
But I have to admit that Spring is my favourite. In being unpredictable and changeable, in letting you discover new hues of blue and green, in listening the nature, which slowly awakens after the winter hibernation.
Then in springtime there's my birthday, which is always a special day to me, where bad thoughts and negativity are banned to leave space for lightness and confidence and make good resolutions for my personal New Year.
Since last year, this period is even more special thanks to the blog, which I decided to open right before my birthday to tell my travel around Italy discovering amazing delights and produces. For me, It was a year zero, when I understood that my personal and working path will be bound to food.
The first blog birthday is approaching and I'm planning something special to celebrate it together with all the people reading and supporting my blog.
In the meanwhile, here I share a dip perfect as a starter before a barbecue, a picnic or an informal home dinner with friends. To welcome spring, I chose for this recipe fresh peas, broad beans, finally back in our markets.
Its taste is delicate, fresh and it's delicious still as a sauce for your pasta, both warm or cold!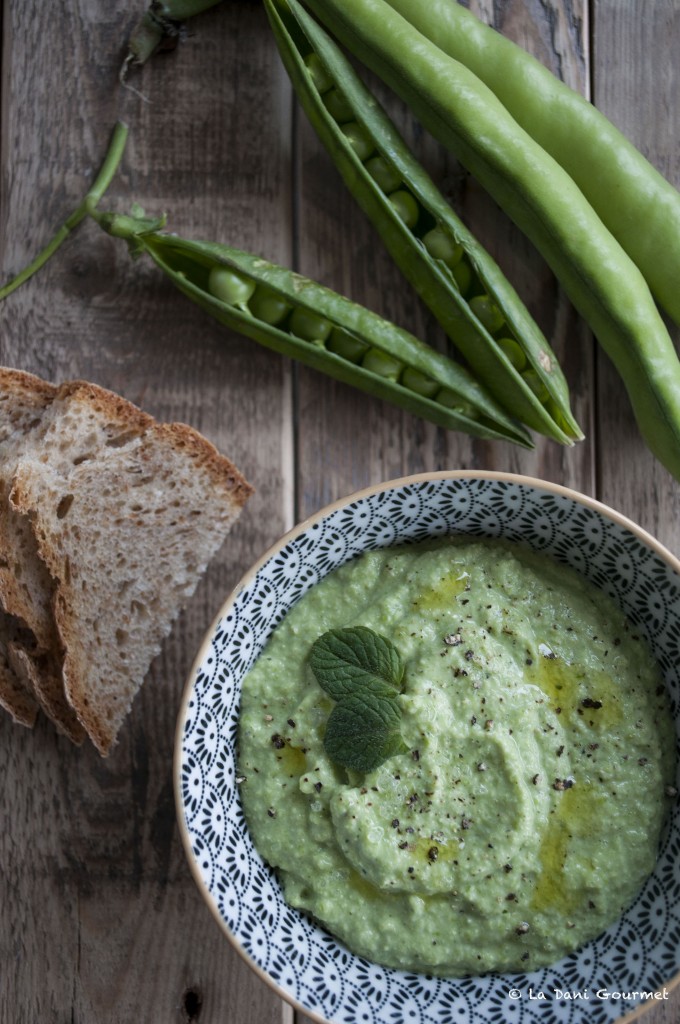 PEA, BROAD BEAN, RICOTTA AND MINT DIP
ingredients for 4 people:
250 g podded peas
400 g podded broad bean
50-60 g good quality – I used I good one from Garfagnana
extravergin olive oil
salt and pepper
mint
Remove the shell from the peas and broad beans and put them in a mixer or a blender together with ricotta cheese, a tablespoon of evoo, some mint leaves (I used 8 small leaves), a pinch of salt and pepper.
Mix well the mixture until it gets smooth. Taste it and eventually add extra mint leaves, salt and pepper.
I love it on simple Tuscan bread or with some homemade crackers. If you want to make it more special, toast some bread slices, spread the dip and sprinkle with some chopped sun-dried tomatoes. A real goodness!
Enjoy!
This post is also available in: Italian