On the post about Valle d'Itria, I haven't told everything about Cisternino, since here there's a nice story to tell.
I came here to discover an incredible cold cut, that has a relation with the territory written in its DNA: Capocollo of Martina Franca. And to get to know it closely I visited a company, passionate and competent not only in producing excellence, but also in communicating their values. The mind behind the Brand Management of Salumificio Santoro is Angela, a young and smart woman, that has been able to build a modern and consistent image of the company created by the know-how of his father Giuseppe and his business partner Piero.
We arrive at lunchtime of a warm and sunny April day, that let us enjoy even more the elegant and authentic charm of this white little town. Cisternino is small and intense in its center and surrounded by an outstanding countryside, a watercolor made of dry stone walls, almond trees and trulli.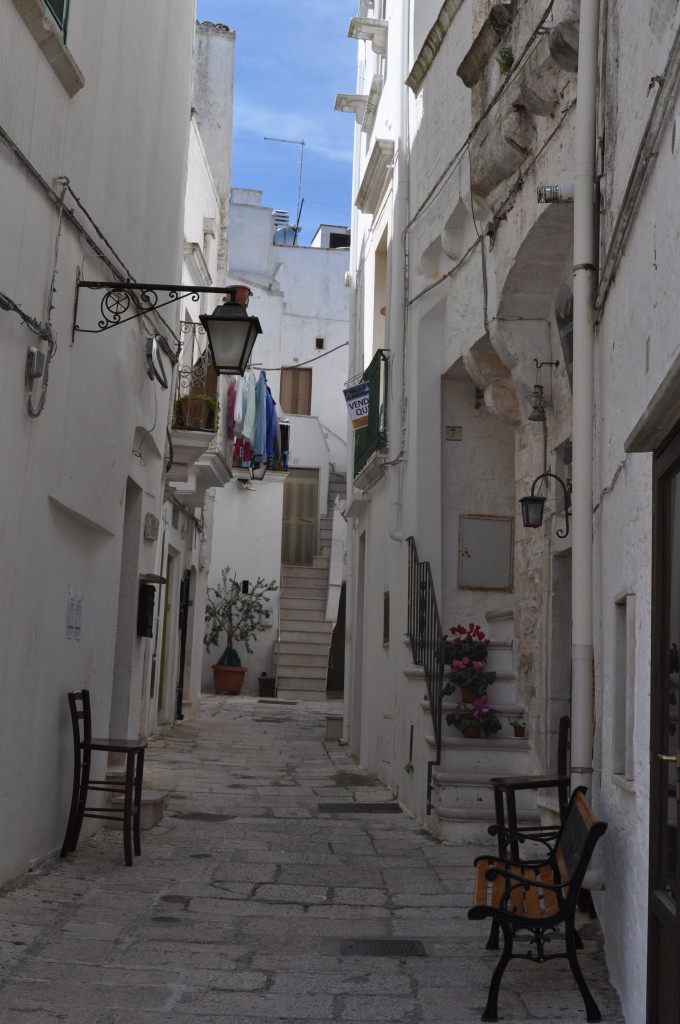 After strolling in town we set the navigator for Contrada Marinelli, where we have an appointment with Angela of Salumificio Santoro.
Capocollo of Martina Franca is Slow Food Presidium since 2000 and it's strongly rooted into the territory of Valle d'Itria, an area covering Martina Franca, Cisternino and Locorotondo. Every single element of the production of this cold cut is able to tell and describe this region, usually known for the Trulli.
Local porks, salt and spices, vino cotto, almond husk and fragno (a local oak). These simple ingredients from the territory, managed by the hands of expert butchers, create the excellence.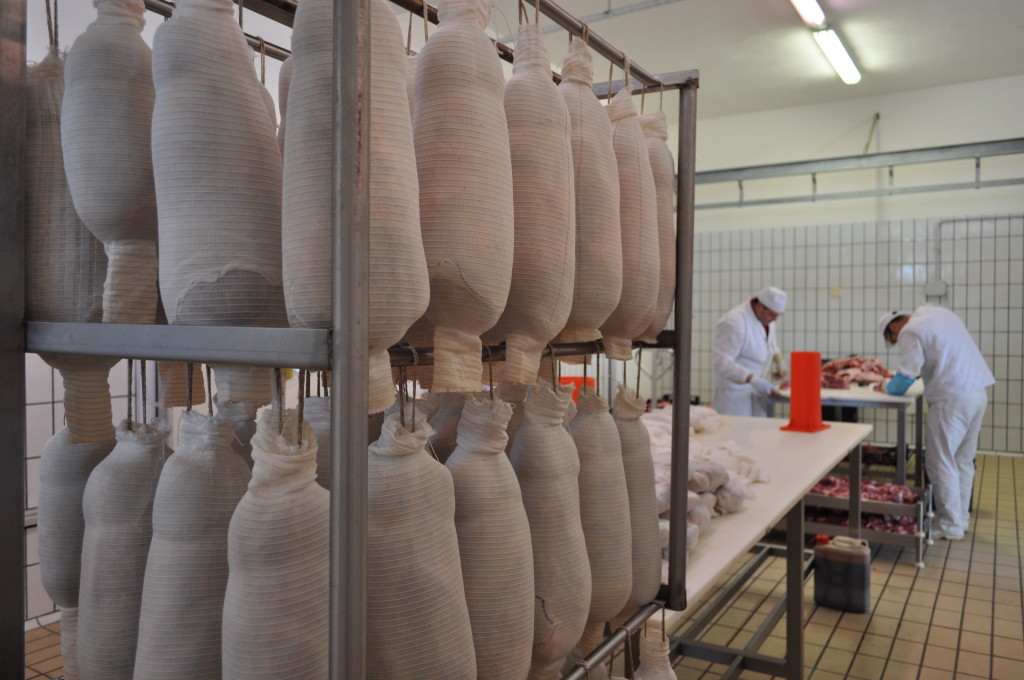 The company tour was based on the stages of production of Capocollo, even though at that moment they were working guanciale, one of the other cold-cut they prepare, together with filetto, pancetta and salami.
At first Angela showed us the room where they choose and cut with care the pork meat. The cut for the Capocollo is the upper part of the loin, usually called capocollo or coppa in Italian. Next stage is the salagione: the capocollo is seasoned with salt and spices, and put in a room at 3°C for a fortnight. Since the meat loses a lot of liquid because of the salt, it's important to turn the meat every three days, so that they marinate evenly.
After this phase, they put the capocollo into vino cotto for some hours. Vino cotto is a typical product, got from the vinification of normal must and cooked must reduced at 90%. It was originally produced to extend the conservation of wine, which here in Valle d'Itria is white and delicate and it was likely to became soon vinegar.
Next, the capocollo is wrapped manually in natural gut and covered by two socks, that replace the rug traditionally used to help the gut to stick to the meat. Once they're wrapped, they are hanged to dry a bit before the smoking stage, where capocollo gets even more the flavour of this land. Indeed, the smoking is made burning almond husks, typical Mediterranean herbs, and pieces of fragno, coming from the pruning of this local oak variety.
After at least four months of aging, it's ready to be tasted. It's not necessary to come to Cisternino to try it out, even though I strongly reccommend this trip, but you can find it at Eataly, where it's available since 2006, and even at Harrods in London, since 2012.
You can just be astonished by a product like this Capocollo, both for its taste and its soul. It seduces because it's a "real" product, entirely made with local ingredients, as it used to be in past, when it was natural to produce something using what the territory offered. The semplicity of authenticity.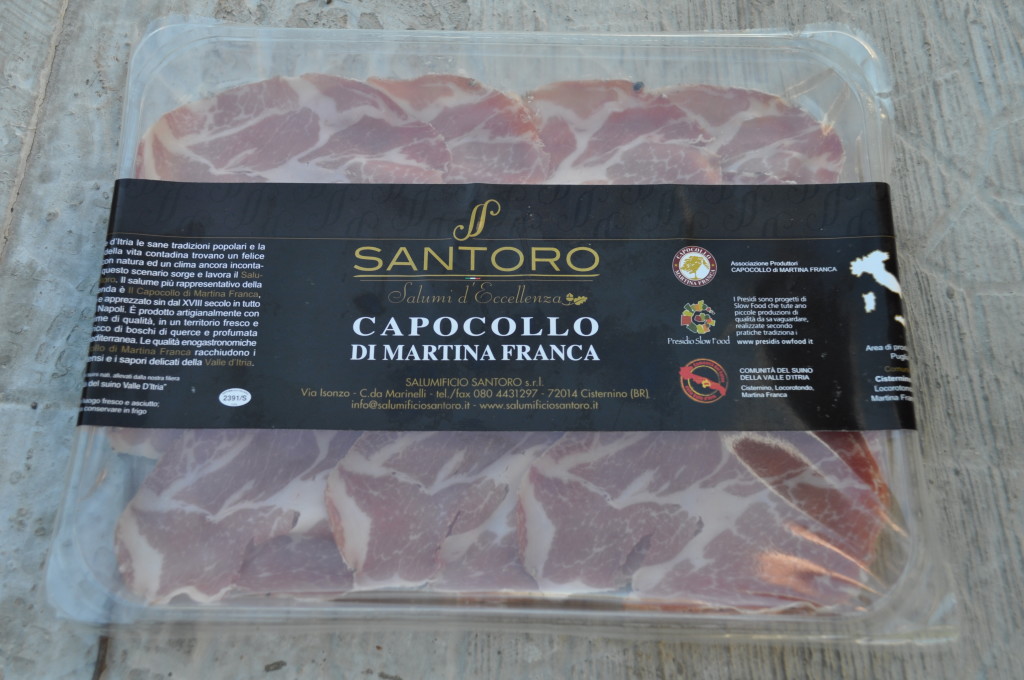 Summary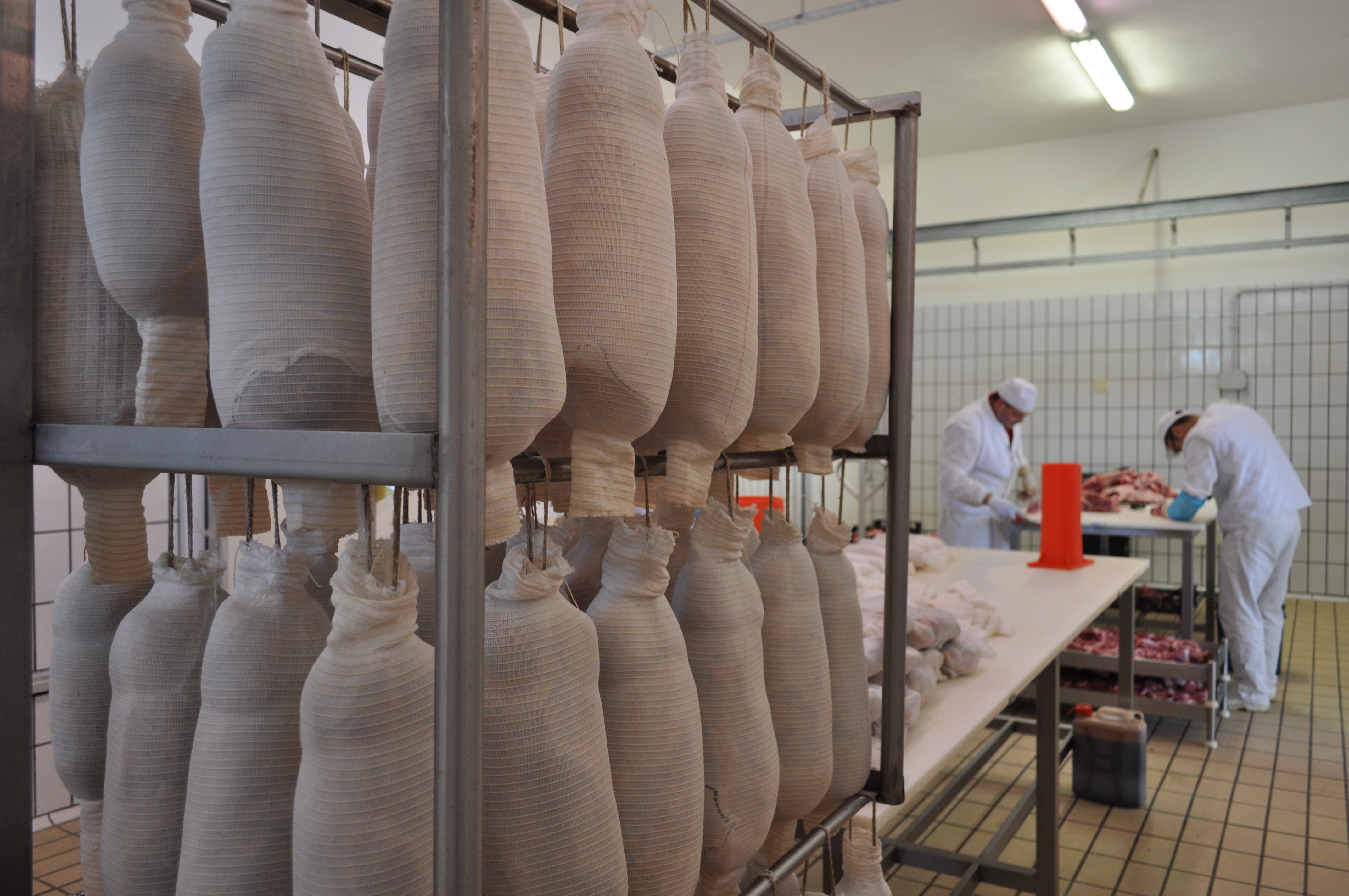 Article Name
Capocollo of Martina Franca from Salumificio Santoro
Author
Daniela Barutta
This post is also available in: Italian