My first journey discovering Italian delights will end in Lazio. 3.500 km along the streets of half Italy, to get closer to the world of high-quality producers of my country. With this travel, the first of many, I've started my path to better understand the value underneath quality food, the #TrueFood (#CiboVero) as I call it.
We leave the area of Napoli and we drive across a territory between Campania and Lazio where female buffalos are again the heros. Besides Valle del Sele, indeed, the area around Caserta and the Agro-Pontino in Lazio (province of Latina) represent the most important areas where female buffalos are raised and mozzarella is produced. A nice benefit for people coming here on holiday.
We head to Gaeta (photo above). We are in Lower Lazio, in a place famous since the Ancient Romans, now touristic and military port, and a NATO quarter.
We walk along the long and beautiful promenade that brings us to the medieval town, developed on a promontory. Here we taste Tiella Gaetana, a local Street Food specialty, which looks like a savoury pie made with a thinly stretched pizza dough, stuffed with different fillings. We try a classic one made with endive and olives of Gaeta.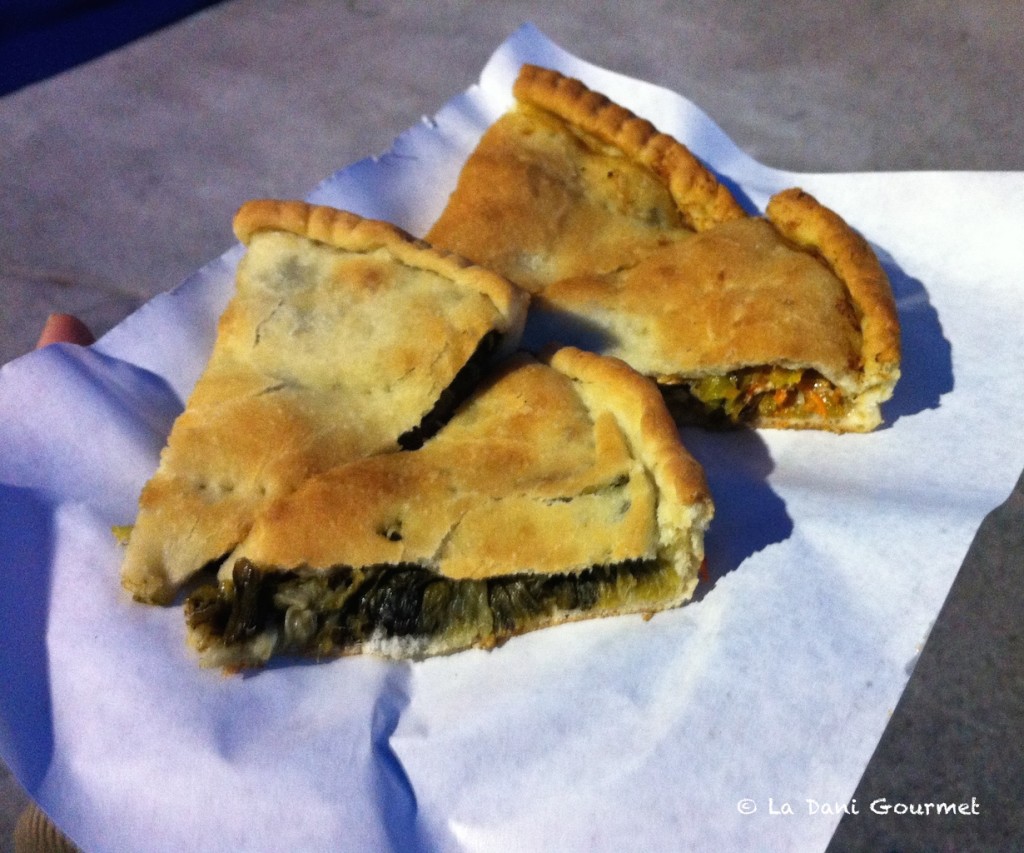 These olives are special because of their purple hue and the typical wine-like aftertaste. They were called "di Gaeta" (of Gaeta) since they had been sold in its port, but actually they are from Itri, a village on the hills a few kilometers from the coast. If you end up in this area of Lazio, visit the Itri hillcountry and drive on the statale towards Sperlonga. The views are amazing (an example here below).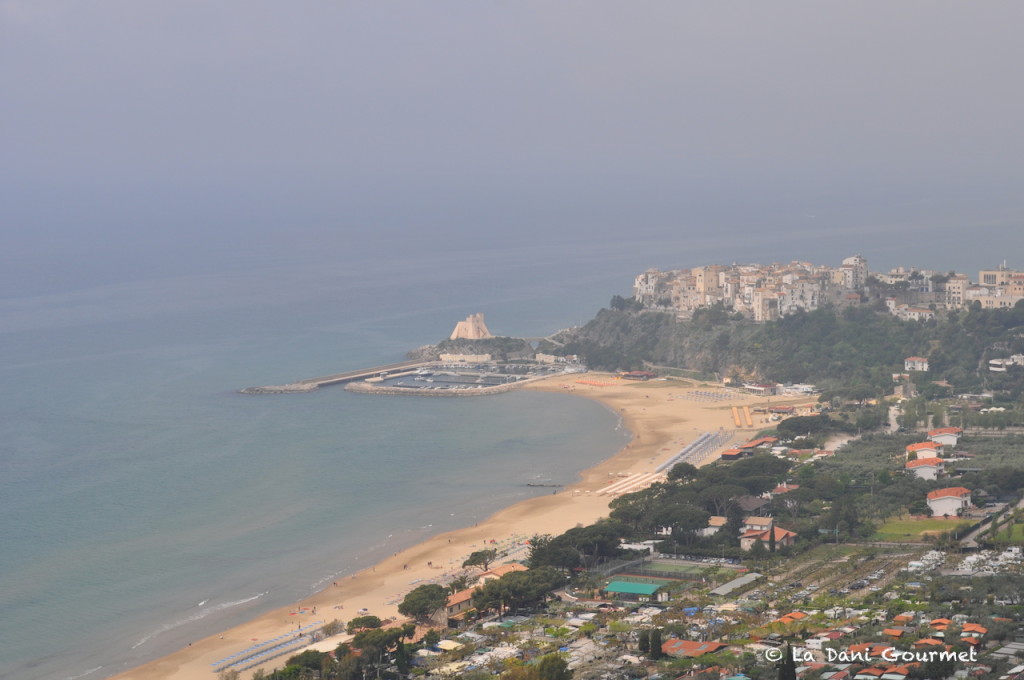 Another typical filling is the one with local mussels. The breeding of Mussels of Gaeta is famous in whole Lazio and they are caught starting from May, when they are sufficiently grown and therefore more tasty.
Last stop will be in Castelli Romani, before coming back home. Charming area, but different from what you could expect from the name.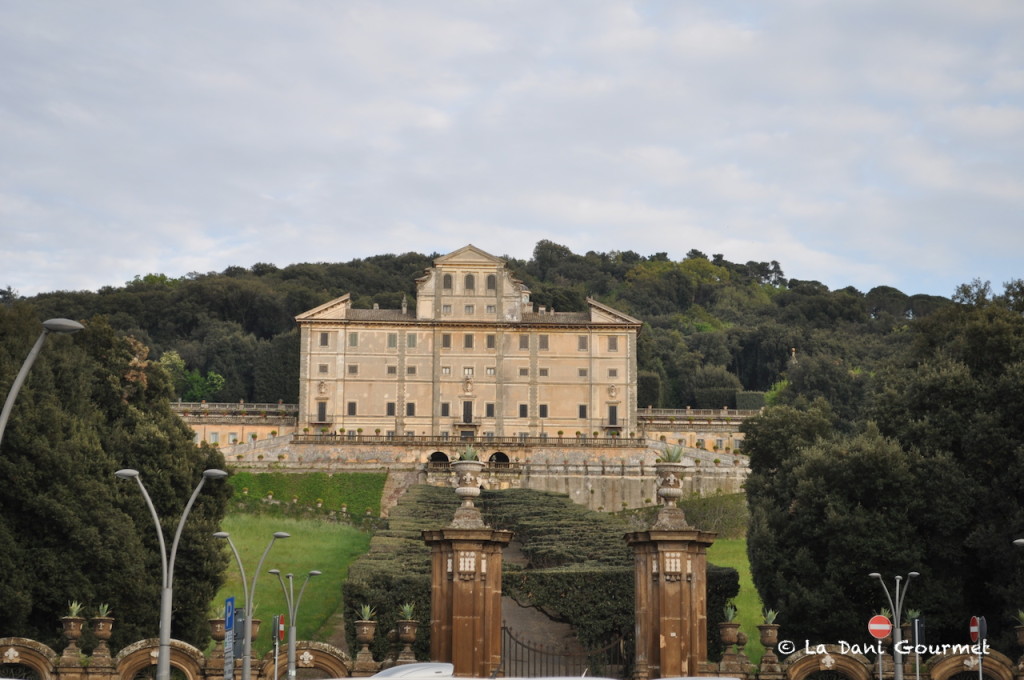 There are no castles, but Frascati, the first town you met arriving from Raccordo Anulare, is a little jem and the view over Rome is amazing. Here we taste the first Porchetta of the day, at La Pizzicheria in Piazza del Mercato. Spiced and fragrant with a humid and tasty flesh, this porchetta was awesome, not as the one coming from the yellow kiosk "L'Angolo del Panino" that left us really disappointed.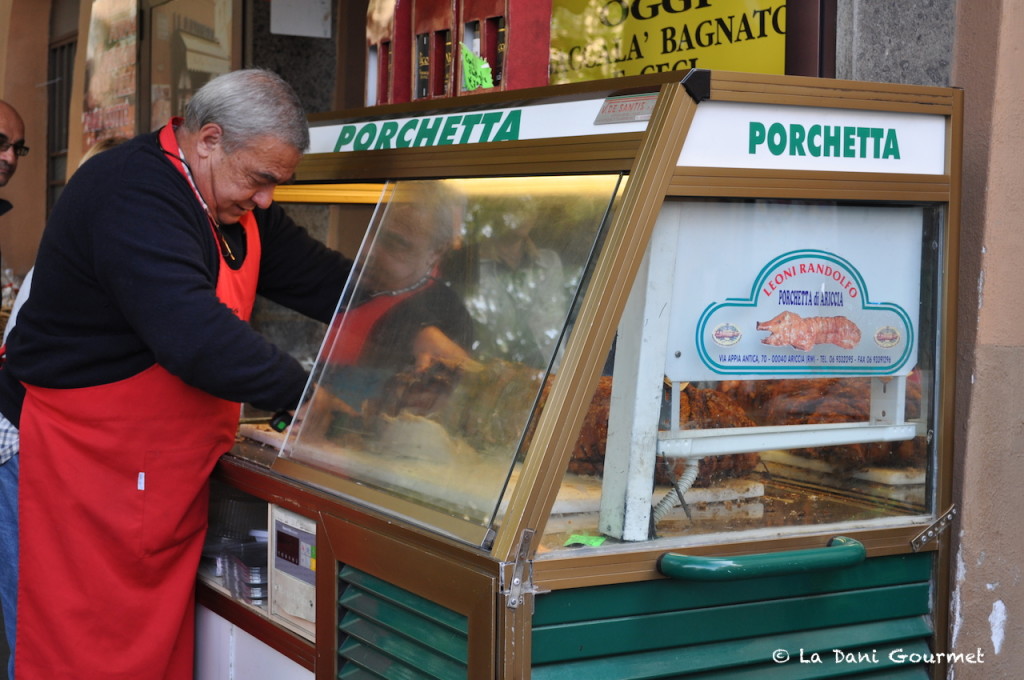 Porchetta is a boneless pork roast typical in many Italian regions, especially in Center of Italy, and a real must-try of Italian Street Food. The paternity is uncertain, but there's no doubt that in Castelli Romani you will get a scrumptious version, that even received the IGP identification.
As indicated on the disciplinary, the Porchetta di Ariccia IGP is made by female porks, deboned manually and spiced with a mixture of salt, pepper, garlic and rosemary. Then tied and cooked between 160° and 280° from 3 to 5 hours. We taste it at Antico Grottino, in Ariccia, the only village where the original IGP could be produced. Cruncy crust, a savoury pale rose flesh that really melts in your mouth. So yum.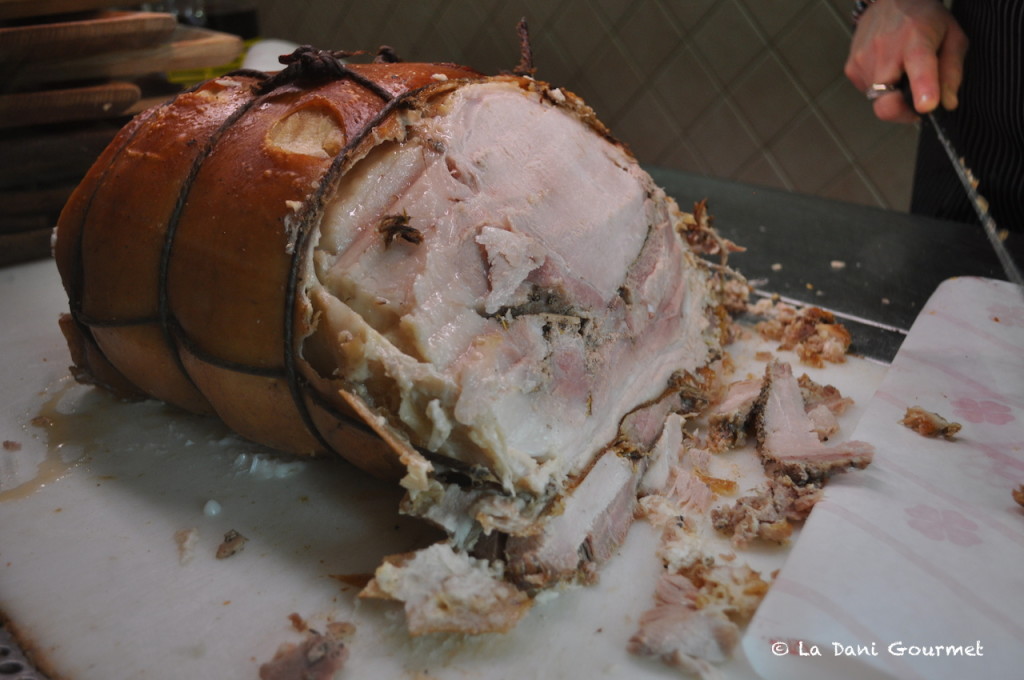 Ariccia is famous also for Fraschette, typical rustic restaurants where you can eat on a budget typical "primi piatti" of the Roman traditions: carbonara, cacio e pepe, amatriciana.
I have to be honest, these kind of pasta dishes are among the ones I love more. They are straightforward, of a sincere goodness and even tough they are simple, they're extremely difficult to be prepared at their best.
We have dinner in Grottaferrata at Taverna Mari, a restaurant famous for the good selection of their ingredients. We eat two versions of tonnarelli, a typical egg pasta thicker than spaghetti: Cacio e Pepe, with the Roman Pecorino of Brunelli DOP and the Black Pepper of Rimbàs (a Slow Food Presidium); and a Gricia, which is made with guanciale (cheek lard) and again pecorino and black pepper. The Cacio e Pepe should be creamier, but I'm fully satisfied by its taste.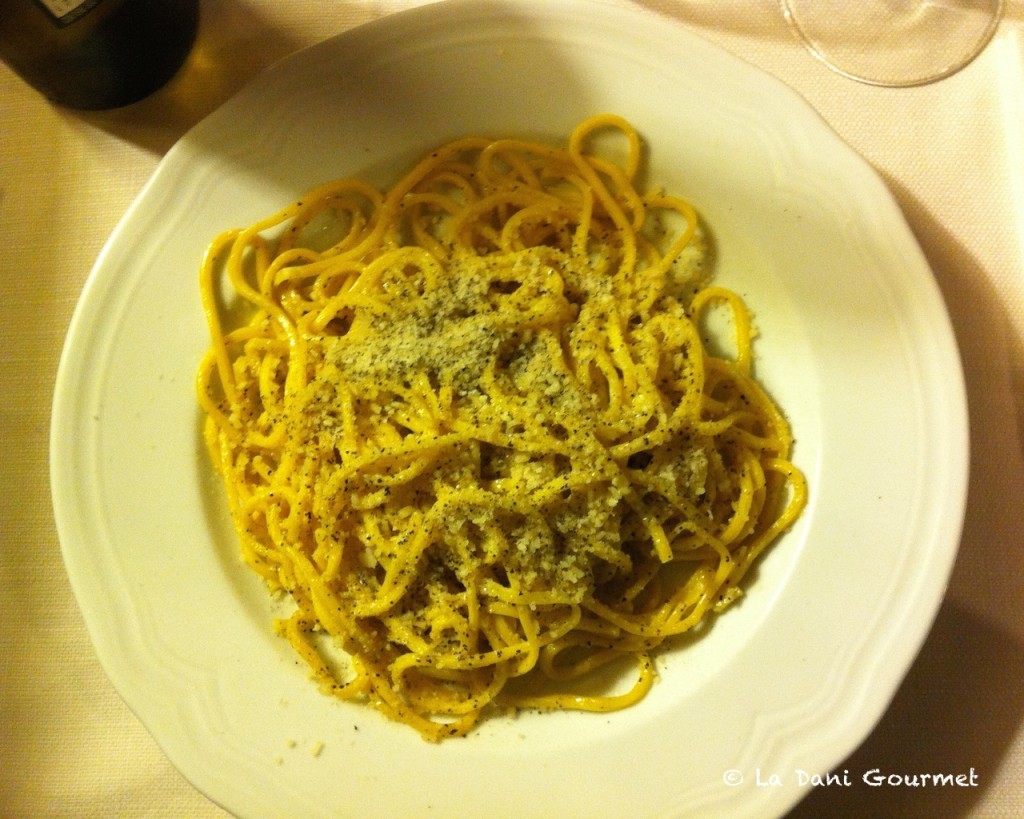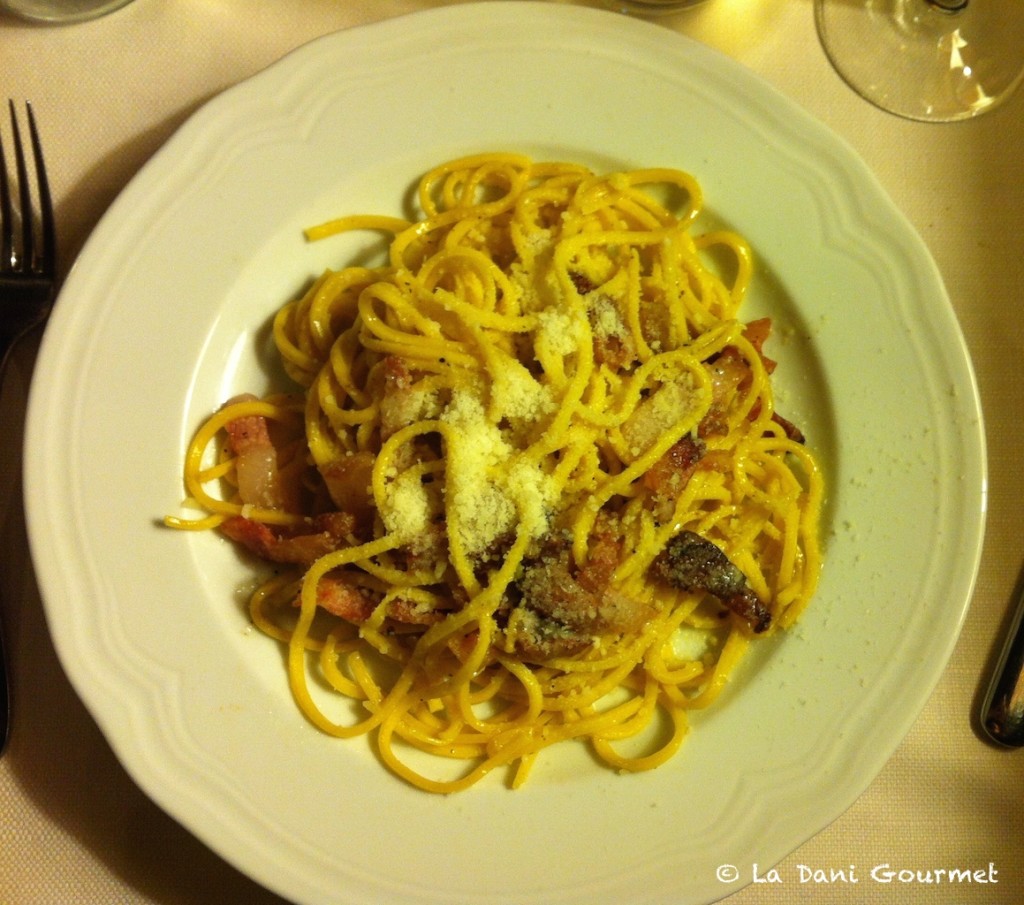 During this travel I consolidated values I already shared. As the importance of the territory, essential element in the determination of identity and quality. Knowing the origin of food, be aware how it is made, it helps us to understand the right value of quality products. It's nice to be able to know and to tell the story of what we eat.
Useful addresses:
Pizzeria del Porto
Via Bausan 40, Gaeta (LT)
Tel. 0771.460067
La Pizzicheria
Piazza del Mercato, Frascati
Antico Grottino
Piazza di Corte 15, Ariccia
Tel. 348.4703483
Taverna Mari
Via Piave 29, Grottaferrata
Tel. 06.93668261
Summary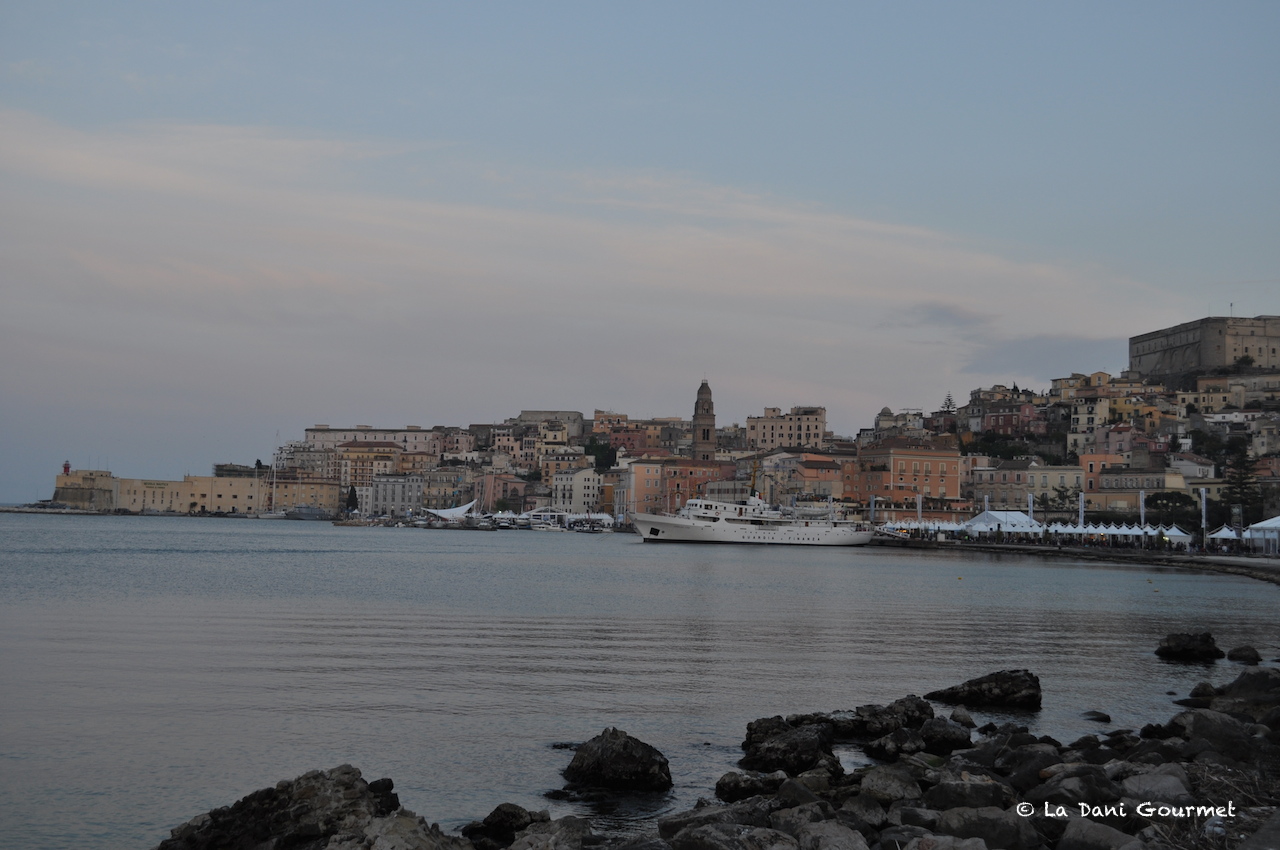 Article Name
Lazio gourmet, Street Food and straightforward "Primi piatti"
Author
Daniela Barutta
This post is also available in: Italian