It was during the first evening in Kuala Lumpur, and I was still affected by the long flight (and by the tranquillizer I had taken; yes, I have fear of flying and I spoke about it here) when I tasted this dish for the first time.
Chicken Satay are chicken swekers, marinated with spices and cooked on super hot grills. They can be made also with beef and mouton, and they are one of the most known street food in Malaysia, Singapore and Indonesia, where they are told to be from Java.
The name satay refers to the delicious sauce they are served with, which is made from crushed peanuts cooked with shallots, garlic, chilies and spices.
During the three weeks we spent in those countries we frequently ate chicken satay, and each one had a slight different taste. Some had a strong turmeric hue, others were all about lemongrass.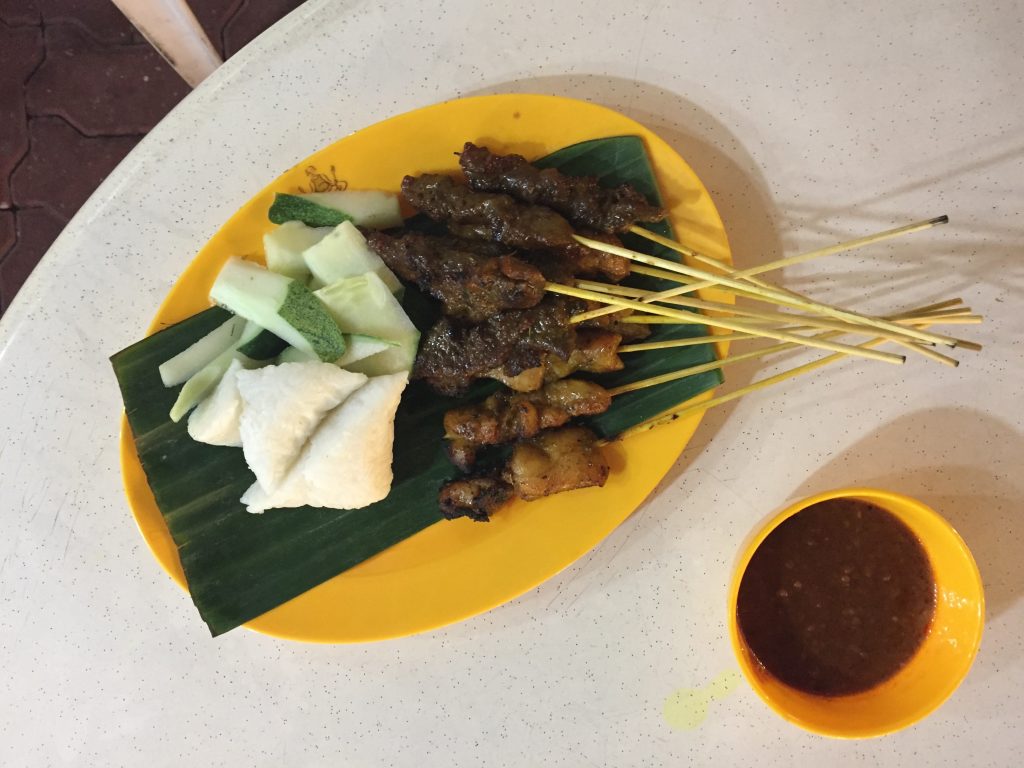 Tender, well marinated and with balanced flavours, the best chicken satay we tasted were in Singapore at Makansutra Gluttons by the Bay, one of the hawker center I suggested in this post.
Don't be scared by the long list of ingredients. Actually it is a fast recipe, you simply have to prepare the sauce and marinate the chicken some hours before (or the morning for the evening) and when it's dinner time, you just have to grill the skewers.
If you live in Versilia, you could find lemongrass and tamarindo paste in an Asian shop in Via Verdi, closed to the market area.
If you can't find these two ingredients where you live, you could just leave out the tamarindo and substitute lemongrass with ginger. You won't get chicken satay, but the result would be tasty and nice either.
The recipe (with some changes) is from the book "Best of Malaysian Cooking" by Betty Saw, I bought with my last ringgit at the KL airport some hours before taking off.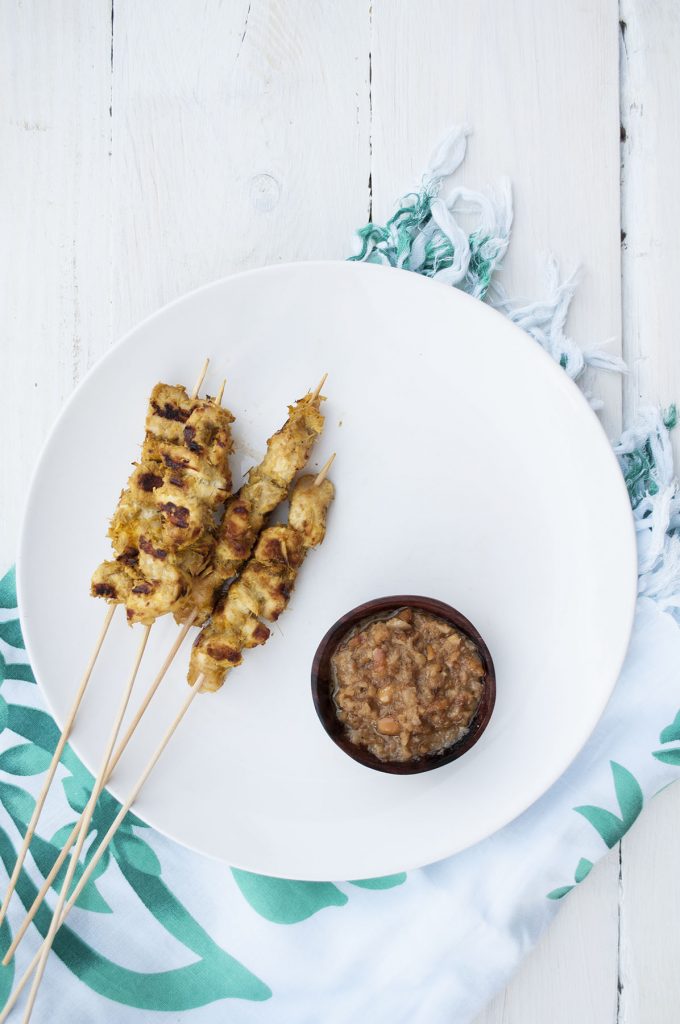 POLLO SATAY
350 g chicken breast
2 lemongrass
1 small garlic clove
1 tsp soy sauce
1 tbsp oil
1 tbsp lime juice
1 tsp turmeric powder
1 tbsp sugar (better coconut sugar)
1 tsp salt
Satay Sauce
80 g toasted peanuts
2 small shallots
1 small garlic clove
½ tsp cumin
½ tsp coriander seeds
½ tsp galangal
½ tsp tamarindo paste
1 tbsp sugar (better coconut sugar)
½ tsp salt
oil
a glass of water
1.First things first: the marinade. In a blender mix the lemongrass chopped into pieces, the garlic clove (you hsve previously removed the inside) together with some oil, some lime juice and soy sauce.
2.Cut the chicken breast into pieces of about 2,5 x 1,5 cm. Put them in a bowl, sprinkle with the marinade, then add turmeric, salt, sugar and mix well. Cover with a plastic wrap and let it rest in the fridge for at least two hours.
3. Let's prepare the satay sauce. Grind the peanuts finely if you want a smooth sauce, roughly if you prefer a more rustic and crunchy sauce (as I did). In a mixer thinly chop shallots, garlic and lemongrass.
4. In a pan, put about four tablespoons of oil, the freshly ground spices and then add the garlic-shallot-lemongrass mixture. Let it sauté over medium heat, then add the peanuts together with a glass of water and bring it to a boil. Add tamarindo paste, sugar and salt and let the sauce thickening for some minutes.
5. Prepare the skewers and cook them on a super hot grill about 6 minutes per side, brushing the chicken from time to time with some oil.
Immediately serve with some satay sauce,
Enjoy!
Summary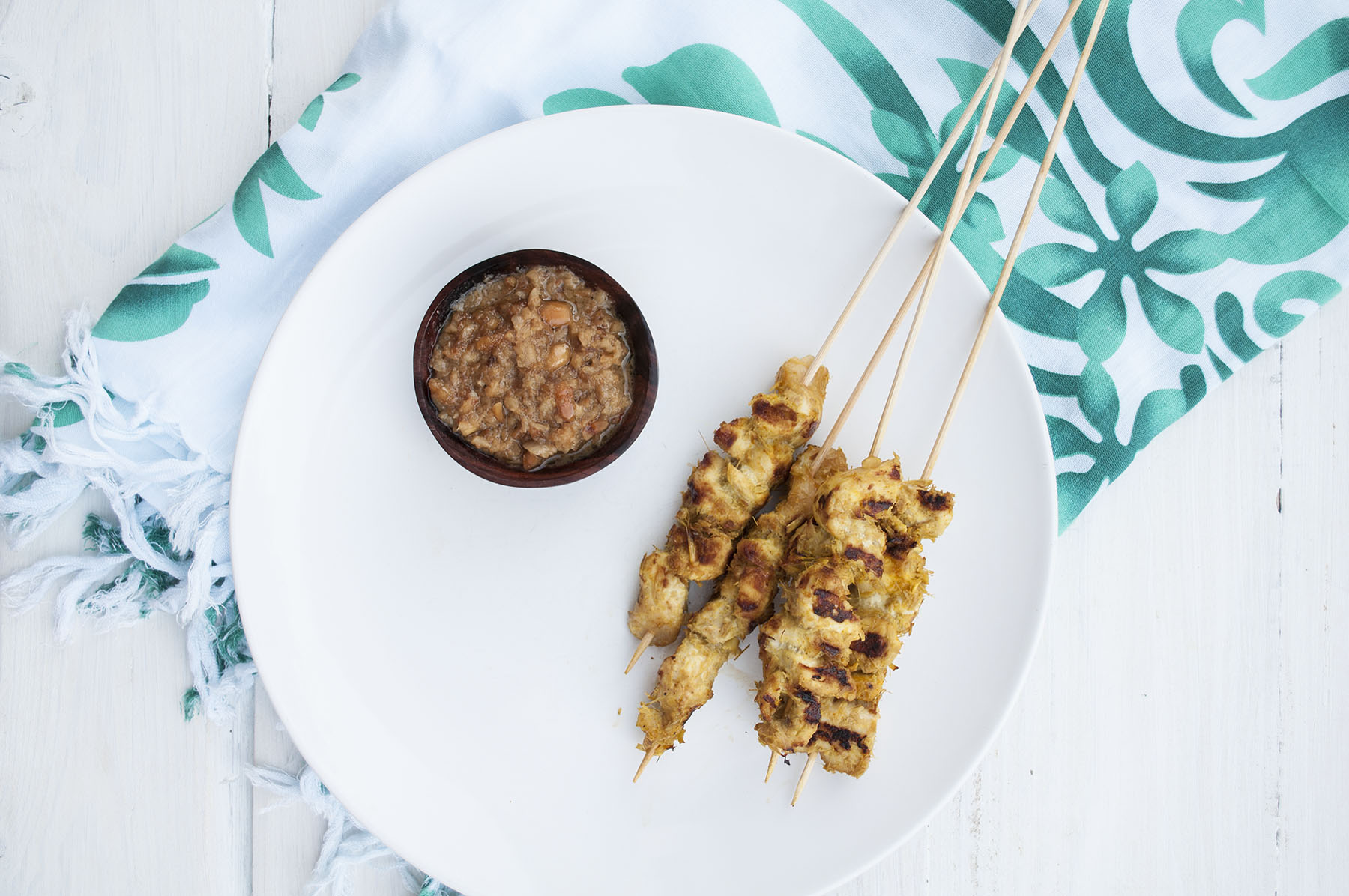 Recipe Name
Chicken Satay
Published On
Average Rating





Based on 0 Review(s)
This post is also available in: Italian