Chickpea flour, water, extra virgin olive oil and salt.
Just four simple ingredients are needed for this delicious food present along the whole coast of Mar Ligure, both in Tuscany and Liguria and even in Côte d'azur.
As the majority of the historical and traditional Italian recipes, its origin is uncertain and it's connected to a legend that took place in the middle of the sea. It was the end of 1200, period of Maritime Republics, and it happened during a battle between Genoa and Pisa: during a storm some sea water infiltrated in the genoese ship, chickpeas bags were shaked and thrown on the ground and olive oil jars were hit and got broken. It come out a mixture that couldn't be wasted. Maybe some sailormen weren't enthusiast with its taste and consistency and left their portion under the sun. It dried and it become much more attractive and tasty.
True or false this legend, it's no surprise that this dish originated on the sea and from genoese hands, that has always claimed the paternity of farinata.
It's unsure if the real origin of this recipe is really genoese, but there's no doubt that the same food is traditionally prepared in many parts of Tuscany, even though it has many different names. Here in Versilia, in Lucca and in Pisa it is called cecina, while in Massa Carrara it is frequently named calda-calda (it means hot-hot). In Livorno it's called torta, or cinque e cinque (five and five) when it served inside a francesino bread, a name originally from the beginning of XX century when people used to order 5 cent of torta and 5 cent of bread.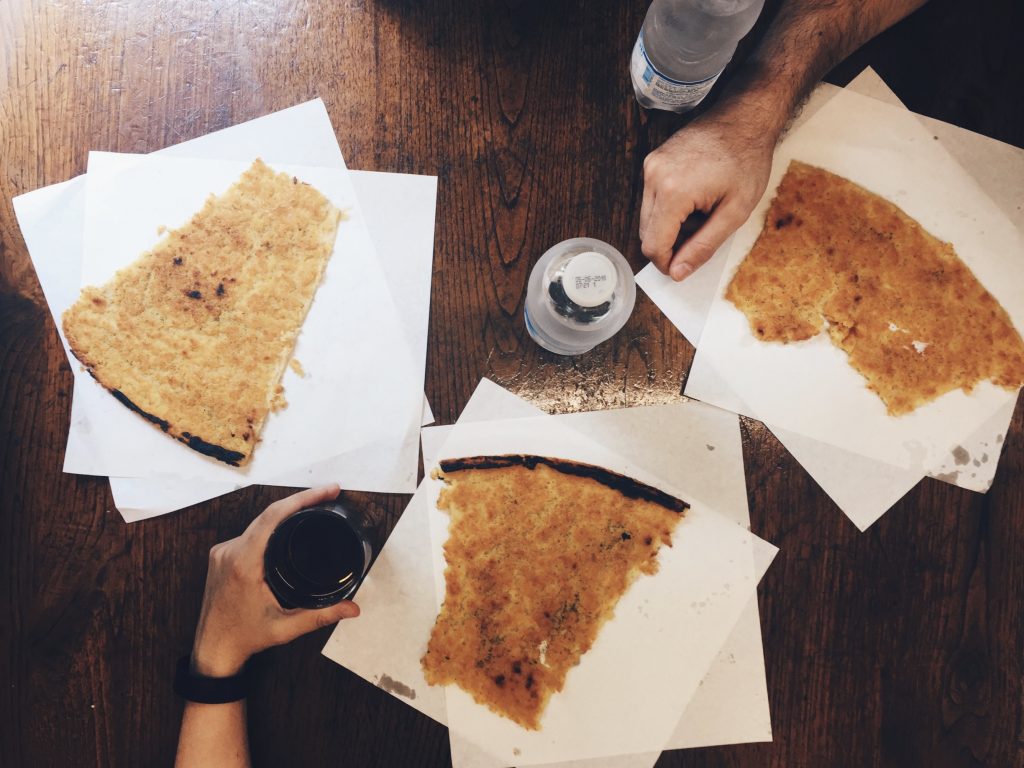 Cecina (as I call it, since I live in Versilia) it's not only delicious, but it's also naturally vegan and gluten free, which makes it a well known and appreciated street food.
If you are traveling around Versilia, I leave you some addresses where you can taste great chickpea flatbread:
• Pizzeria da Rizieri, Via Cesare Battisti 35 Viareggio
If you come to Viareggio, you can't miss a slice a freshly baked cecina at Rizeris's. It is in a centrale road, not too far from the sea. Remember to order a glass of spuma! It is closed on Thrusdays.
• Pizzeria da Felice, Via Buia 12 Lucca
Here you can find my favourite cecina in Lucca. It's placed just a few steps behind Piazza San Michele, and you will easily find a queue. It's closed on Sundays.
• Torteria da Gagarin, Via del Cardinale 24, Livorno
That's the best chickpea flatbread I ever tasted. This historical and well known torteria is placed just next to Mercato Centrale, the biggest cover market in Europe. Order a piece of torta (as they call it here) or cinque e cinque.
• Da Nando, Corso Italia 103 Pisa
To be honest I haven't tasted their cecina yet, buti t is known as the best in Pisa. Moreover it's in Corso Italia, the main shopping street that connect the Central Station to the Arno river.
If you want to try and make it at home, I leave you a delicious recipe, I found on the new Juls Kitchen's book "La cucina dei mercati in Toscana", that will be soon translated also in English.
The quantity of this recipe are for a copper baking tray of 32 cm. I strongly recommend you to use a copper one, because it's the one traditionally used to cook cecina in Italy, and it cooks perfectly. If you're lucky to use wood oven, you'll get the best result.
As you can see the recipe is super easy, but to get a very good cecina, you have to follow it step by step. It means do not reduce the resting time and remember to heat up well the baking tray in the oven.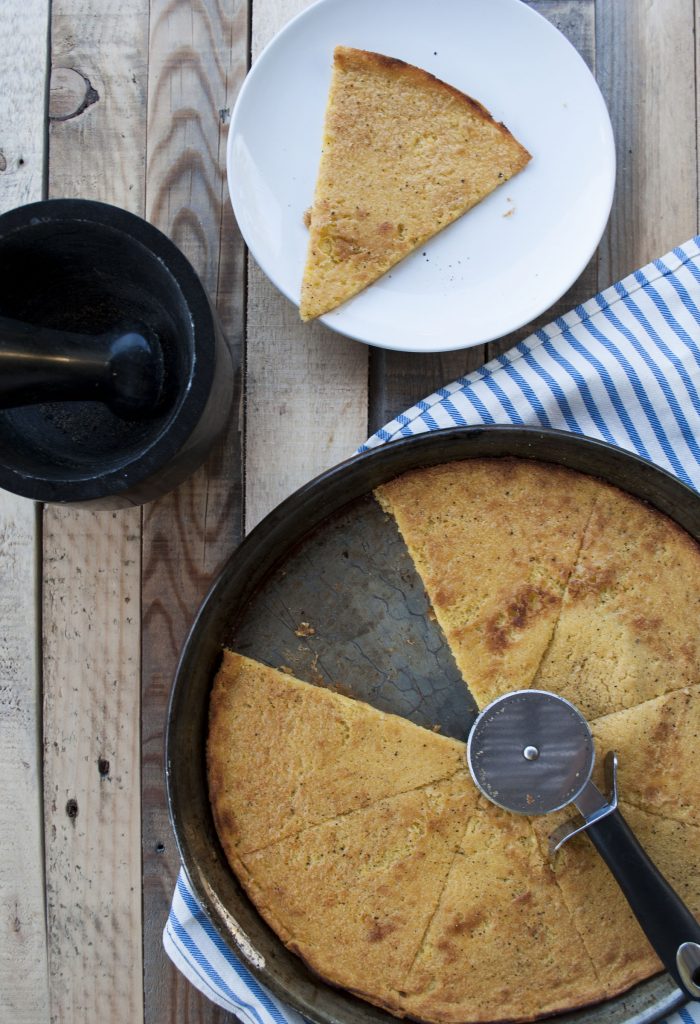 CECINA
Ingredients for a baking tray of about 32 cm
150 g chickpea flour
450 g water
40 g extra virigin olive oil
5 g salt (I used Cervi salt)
sunflower seeds oil
black pepper
1.In a bowl combine chickpea flour with water and mix well, paying attention to get a smooth mixture. Add the evoo, the salt, then cover an make it rest for at least two hours during summer, and even four hours in wintertime.
2.Heat up the oven at 250°C, even more if you can, and place the copper baking tray inside.
3. Remove the foam from the mixture, and give it a stir. When the oven reaches the right temperature, brush the surface of the baking tray with generous oil and quickly pour the batter in it.
4. Close the oven and let it bake for about 20 minutes, or until a nice golden crust will form on the surface.
It has to be eaten hot, rigth from the oven, with a sprikle of freshly ground pepper and a glass of spuma, if you happen to find this drink famous here in Tuscany
This post is also available in: Italian