Every year during winter the space in the garden dedicated to our orto (vegetable garden) remains uncultivated and we frequently throw there vegetables and fruits skins and seeds.
This is the second year in a row that towards April/May pumpkin seeds start to germinate. The first time we saw those little plants we confused them with cucumbers, being very similar (they belong to the same botanical family). When the plants started to grow up, we realized they were something different.
These pumpkins are Delica variety, my favourite, which is similar to kabocha. They have an hard dark green skin and a brilliant orange flesh. When it's cooked, it's super tasty and slightly sweet, and among the squashes I know, it has a floury texture pretty similar to a potato.
I noticed that in Italy pumpkin is living a Renaissance. It appears proudly on the most beautiful photos on Instagram, and it's a guaranteed presence on the food magazines in this season. Despite its success, I still know many people that do not like its sweetness, especially when the pumpkin is combined with other sweet ingredients (as in tortelli con la zucca, a delicious dish from Mantua where ravioli are stuffed with both kabocha and amaretti, crunchy almond biscuits).
I imagined this recipe for those anti-pumpkin people: the spiciness of chili and the smoky flavour of paprika contrast the sweetness of this vegetable.
Smoked paprika is also known as pimentòn and it's a Spanish spice coming from the Extramadura region, and that's the typical flavour of chorizo.
If you can, I strongly suggest you to use dry chickpeas – which you have to soak overnight and then cook with a bay leaf in unsalted water for about two hours – otherwise choose good quality canned chickpeas.
Here below you find the recipe, perfect also for a dinner with vegan friends 😉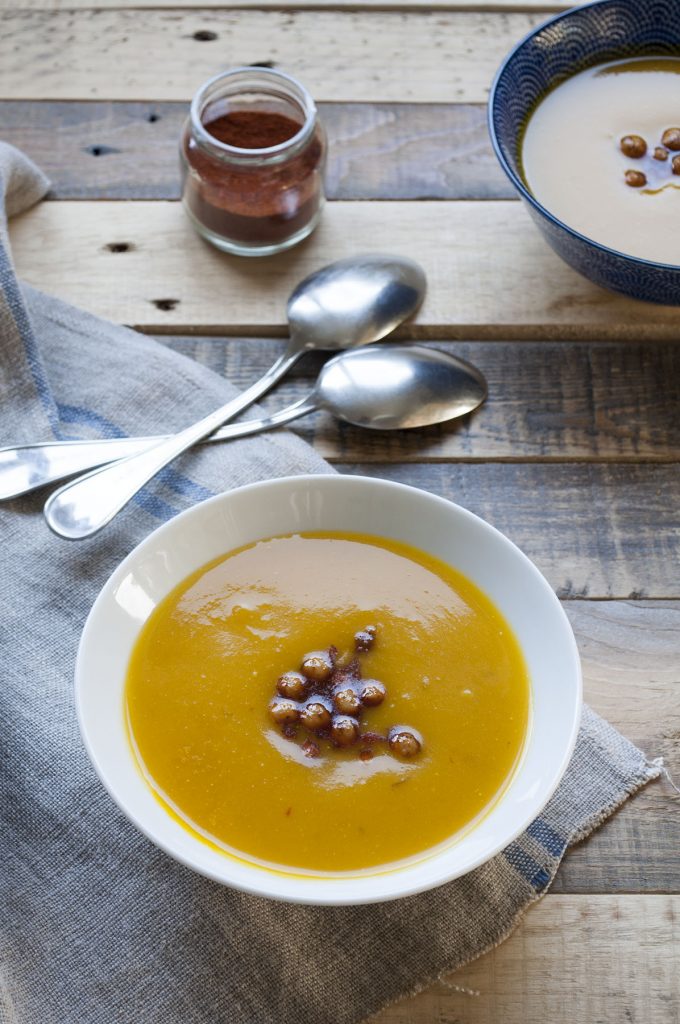 KABOCHA SOUP WITH SMOKED PAPRIKA CHICKPEAS
Ingredients for two people:
650 g kabocha (peeled about 45o g)
1 shallot
evoo
chili
salt
100 g pre-cooked chickpeas
2 teaspoons smoked paprika
1.Halve the kabocha, remove the seeds. Cut into pieces of about 3 cm per side. Peel the potato and cut into smaller pieces.
2.Thinly chop the shallot, and let it sautée together with a couple of tablespoons of evoo and chili. Add the vegetables and toast them for a minute over medium heat. Add enough cold water to cover the kabocha and potato.
3.Bring it to a boil, reduce the heat, and let it simmer for about 45 minutes, or until the vegetables are completely soft. Season with salt and blend everything. If you want a super creamy texture, you could remove a spoonful or two of liquid, before blending.
5.In an another pan, toast a couple of teaspoons of smoked paprika with three generous tablespoons of evoo, add the chickpeas and toast them for a minute over medium-high heat. Season with salt.
6.Pour in each bowl some hot kabocha soup and add two or three tablespoons of spiced chickpeas.
Enjoy!
Summary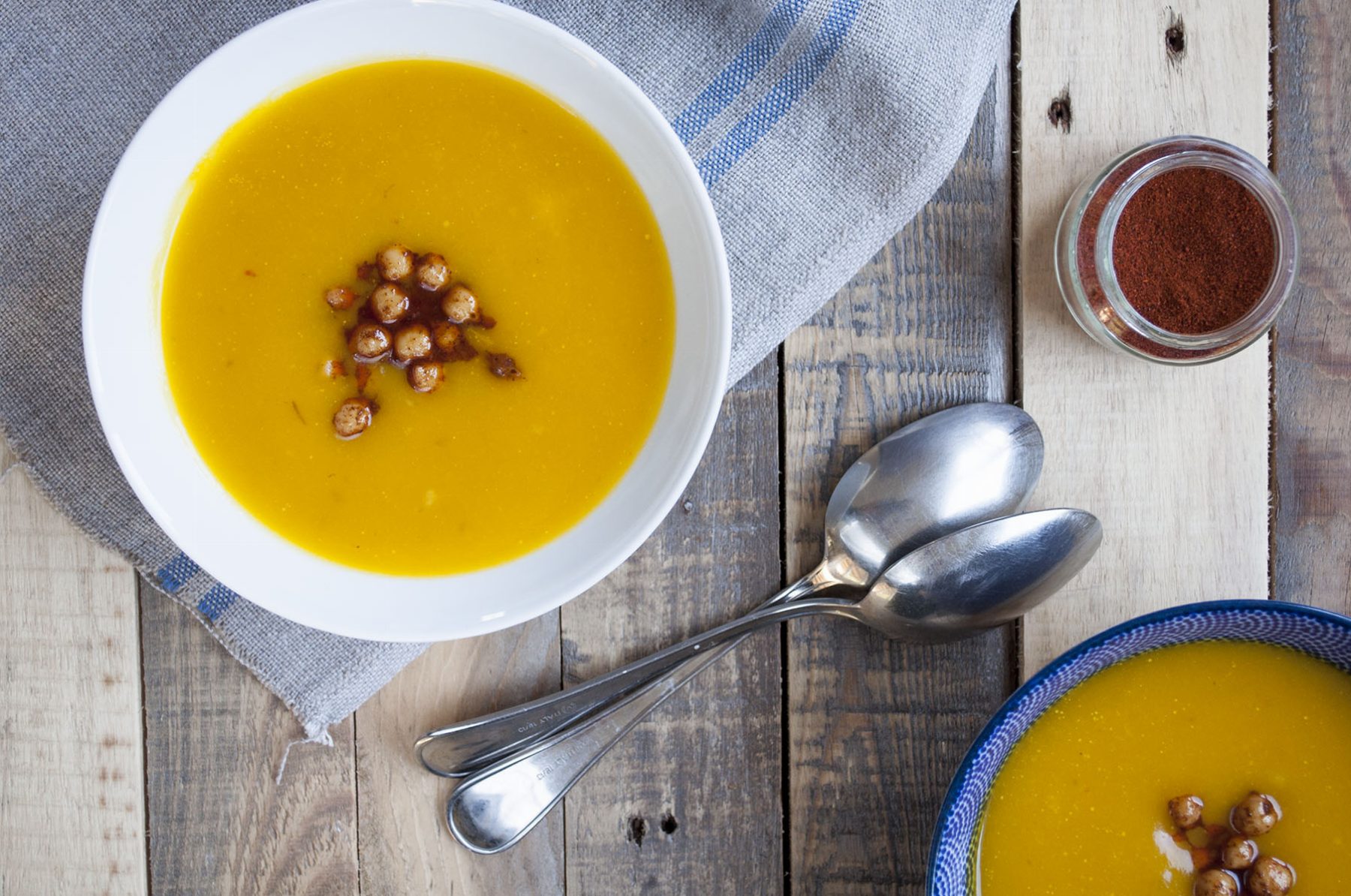 Recipe Name
Kobocha soup with smoked paprika chickpeas
Published On
Total Time
Average Rating





Based on 0 Review(s)
This post is also available in: Italian