I always had a weakness for rice. After all, I come from Lombardia and my grandma was raised in the countryside around Pavia, dominated by paddy fields, and my great-grandma was a mondina (rice weeder).
Rice actually flows in my veins, and It's a kind of dish that has the power to make me feel well, a real comfort food.
There are tens and tens of rice varietals, but reading the blog of Dario Bressanini I learnt something that most Italian people ignore. In 1958 there were established in Italy the so-called "griglie", groups of rices divided according to homogeneous features and cooking method.
Each "griglia" takes the name from the main rice of the group: for example groups "Arborio" and "Carnaroli" are suitable for risotto, while "Originario" is the one used for desserts.
Therefore, when we buy a packet of Carnaroli rice, It doesn't mean we are actually buying Carnaroli, since it could be Karnak, Carnise or Poseidone, the other varietals of the group.
Event though they have similar features, it's logical that different varieties of rice are not the same and they involve different methods and cooking time.
[For a deeper insight into the subject, you could read the article on the blog Dario Bressanini (only in Italian), or the complete analysis on the professor's last book Contro Natura.]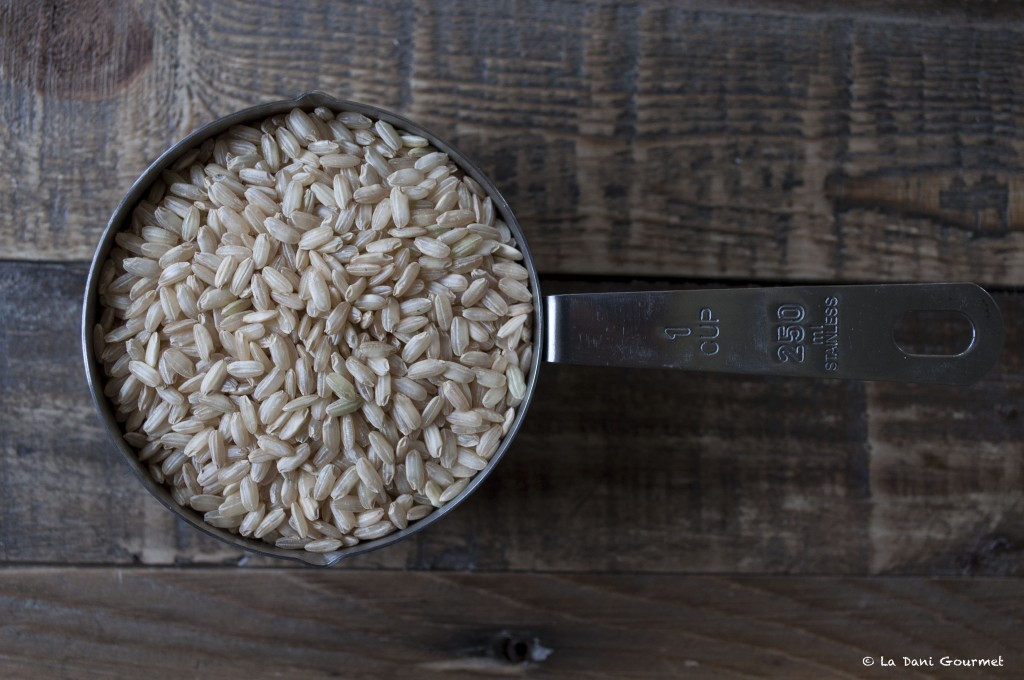 In light of this discovery, for this recipe I chose an authentic Brown Carnaroli, produced by  Riserva San Massimo. For those who don't know this company, you just need to have a look on their Facebook page to realize the biodiversity of this place and the attention the producer Dino Massignani pays on each phase of the rice production.
This Carnaroli is an actual Carnaroli rice and it is chosen by foodies and famous chefs, such as Antonino Cannavacciulo or Cesare Battisti of Ratanà, where you could eat one of the best "risotto alla milanese" in Milan.
Brown Carnaroli rice is less refined; so it keeps part of the bran, and it's perfect in rice salads, remaining "al dente". I combined it with vignarola, a typical and spring side dish from the Roman tradition. In the original recipe, there would be also guanciale (cheek lard), but I preferred to omit it to get a lighter dish.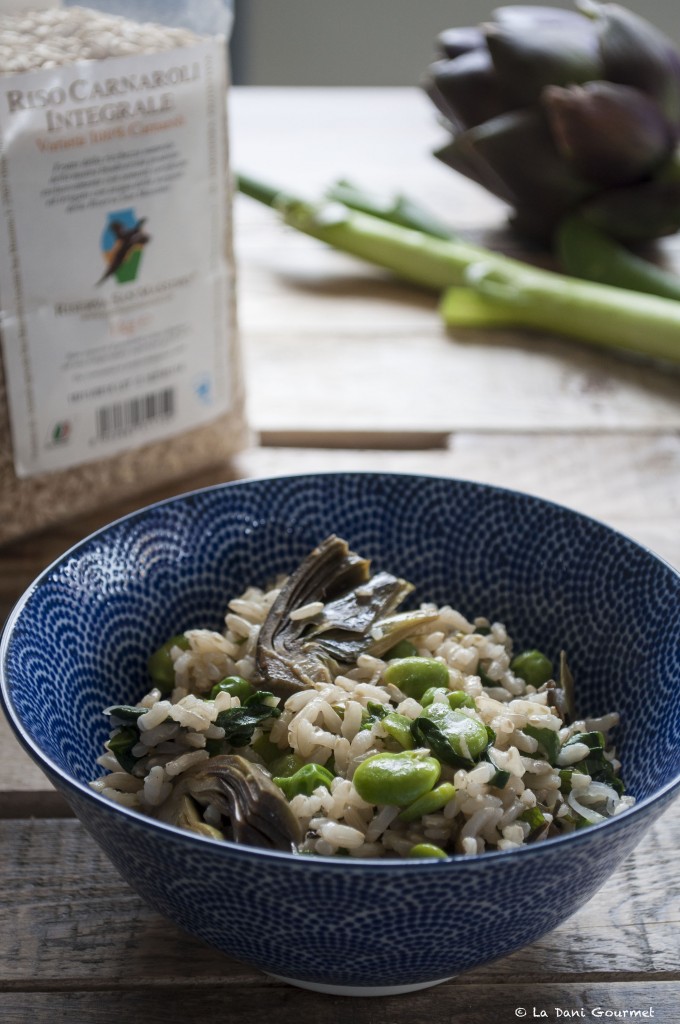 BROWN CARNAROLI RICE WITH ROMAN VIGNAROLA 
Ingredients for 4 people:
400 g fava beans (weight with the shell)
400 g peas (weight with the shell)
3 spring onions
2 artichokes
280 g Brown Carnaroli rice
4 leaves of Roman lettuce
evoo
salt and pepper
8 leaves of fresh mint
broth
Boil up some water, and cook the brown rice for about 30 minutes.
In the meanwhile, prepare vignarola:
Remove the shell from the fresh peas and fava beans. If you have time, remove the skin of each fava bean, they will be more tender and sweeter.
Remove the external leaves and the top of the artichokes, until you get the "heart". Remove the internal beard and cut them into slices, approx. one cm thick. Keep them aside.
Thinly chop the spring onions and let them sautée in evoo for some minutes. At medium-high heat add the artichokes, and after a couple of minutes also peas and fava beans.
Add some broth (or simple water) and let it cook for about 8-10 minutes. Then add the Roman lettuce, cut into slices. I do not cook veggies too much, since they should remain "al dente". Season with salt and pepper.
When rice is cooked, drain the water; add brown rice to the vignarola and mix well.
Before serving, sprinkle with freshly chopped mint leaves and season with some extra vergin olive oil.
It's scrumptious also as a cold dish!
Enjoy!
Summary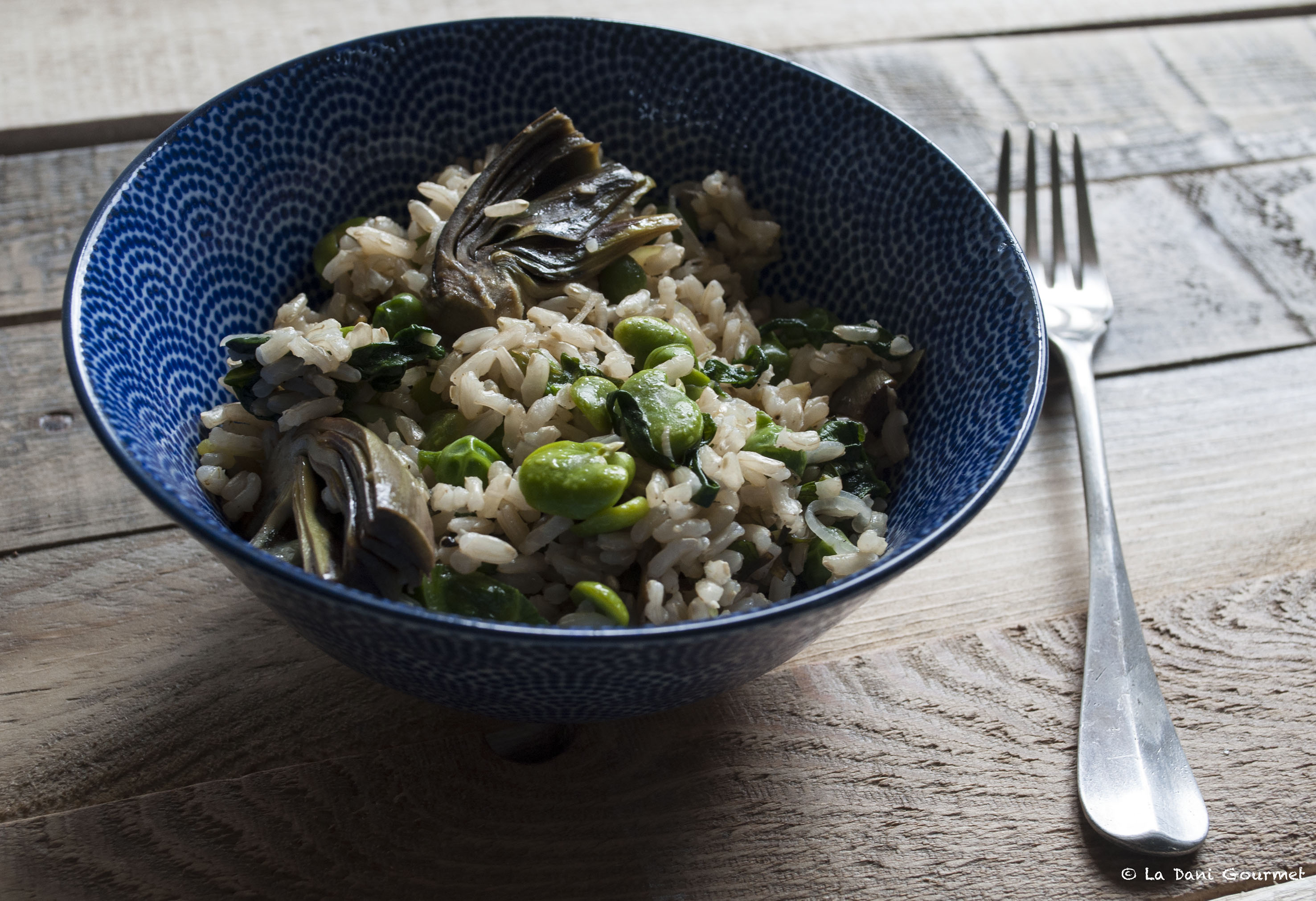 Recipe Name
Brown Carnaroli rice with the Roman Vignarola
Published On
Average Rating





Based on 0 Review(s)
This post is also available in: Italian