Naples is a must-see for every gourmet or foodie.
Giving birth to the most representative Italian dishes, such as pummarola (tomato sauce) and pizza, Naples is a real Mecca for every food-pilgrim.
My travel dates back to spring 2014, far from Easter, but still in time for smelling the pastiera aroma that comes from the bakeries.
We arrive by train, since it's convenient from Tuscany, and also because you should be pretty ruthless to be able to drive into this traffic jam, which you can notice in square Garibaldi and Corso Umberto I. We rent a room in the heart of Naples: San Gregorio Armeno, generally known as the road of presepe, the traditional way to represent Navity scenes in Italy. Here artisans work and sell their little masterpieces, which vary from Nativity scenes, to Italian contemporary celebrities and politicians, to the classic little horns.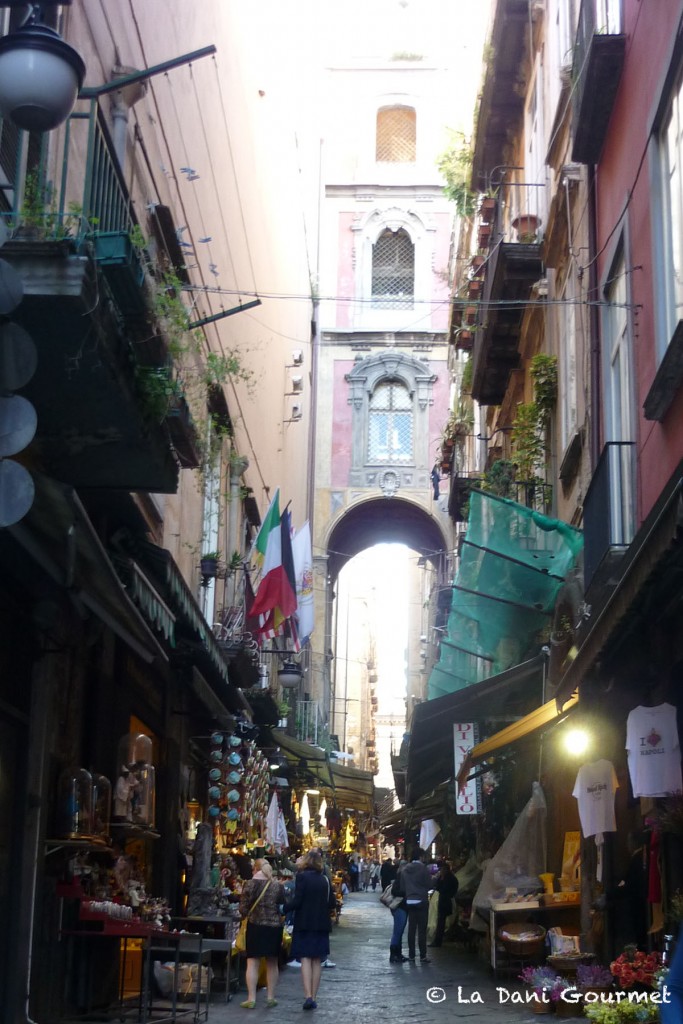 This vicolo (alley) is exactly between Spaccanapoli – the long and straight road which halve the Old Naples – and Via dei Tribunali, two roads which preserve the history and folkrore of this unique town.
Crowded roads crossed by motors and cars at good speed, which master the art of avoiding pedestrians. Tired and hungry, we decided to feed ourselves with the real pizza napoletana at Gino Sorbillo. You can easily recognize the original pizzeria from the white and blue striped awning and from the huge queue at the entrance. Don't be scared by the number of people, the location is pretty big and the waiting is not too long. If you're really in a hurry, and you're not afraid of eating pizza directly from the box, you can skip the lines and ask for a take-away. Soft crust, sweet and tasty tomato sauce, melting and milky mozzarella: this pizza is a goodness and yet so light, digestible and cheap (margherita is 3,5€) that I could easily eat two in a row.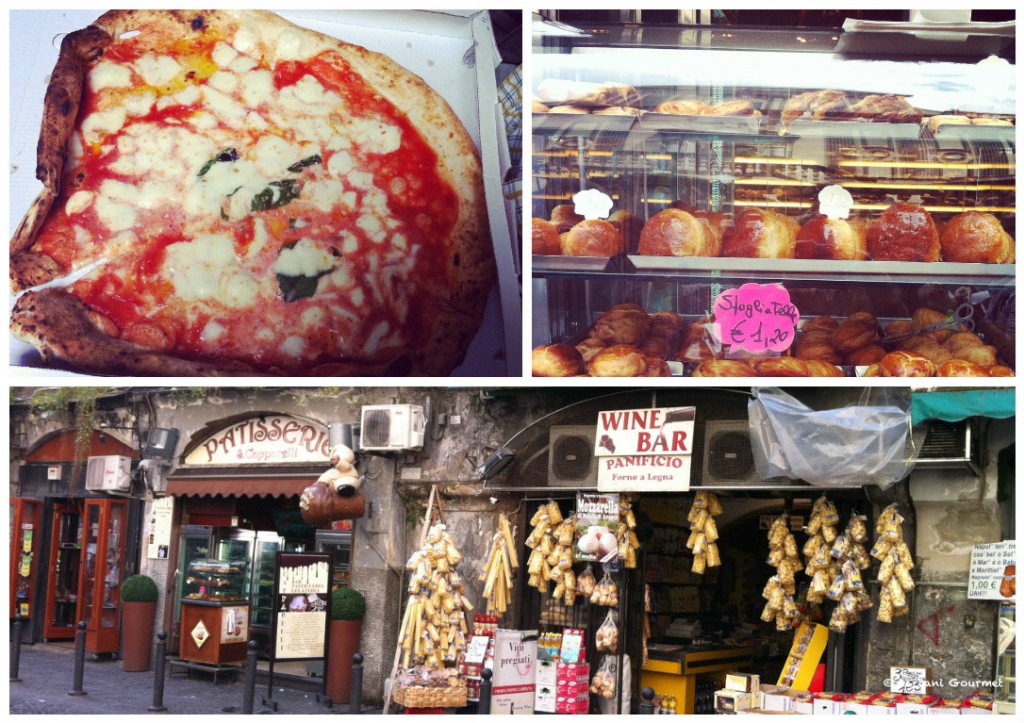 A few steps far from this pizzeria, you can find Pasticceria Capparelli, a reference for me in town for the best Babà. We have tasted many others, but this one wins hands down: always the freshest, soft and fluffy, soaked with a tasty rum mixture. The Bakery windows also displays sfogliatelle, the traditional pastries stuffed with ricotta cheese, babà in every sizes and other treats from the neapolitan tradition. 
From the chaos of the historic centre, we start discovering the main town of Campania region, following the same method I apply for every new city: wandering around, and trying to orientate myself, paying little attention to the map. We walk down Spaccanapoli, crossing Piazza San Domenico – where there's the historical pastry shop Scaturchio. We pass by the amazing Monastero di Santa Chiara, and we head to Via Toledo, the shopping street bordering the Quartieri Spagnoli.
If you bump into this area at lunchtime or for dinner, you should eat at Da Nennella, a crowded trattoria offering simple and tasty food from the neapolitan tradition, such as friarielli (broccoli rabe), zucchine alla scapece (fried zucchini seasoned with mint, evoo and vinegar), mozzarella in carrozza (fried mozzarella), pasta patate e scamorza (pasta with potatoes and scamorza cheese) and a lot more. The queue could scare you, but they are efficient and fast, and anyway it's well worth the wait.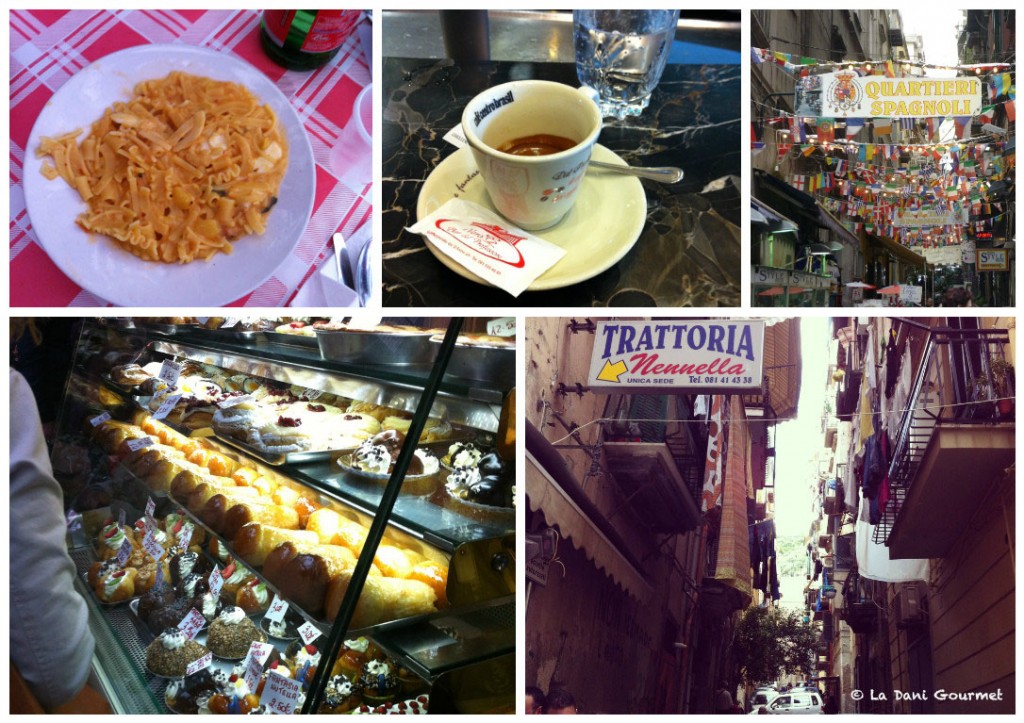 Let's go back to Via Toledo and heading to the sea, we meet Galleria Umberto I. At the corner there's another pastry shop with very nice sfogliatelle and babà, La Sfogliatella Mary.
Finally we get to the famous and lovely Piazza del Plebiscito,  a few steps far from the sea, and near here we stop at the historical Gambrinus to taste one of the best coffee in Italy. Coffee in Naples is something serious, which embrace traditions – "caffè sospeso" is an example – procedures and tools. Every respectful coffe bar in town use liver espresso machines, which guarantee quality and charm, and if by chance the barman knows how much sugar you want, it will be added before making the coffee. It is always served with a glass of fresh water, which must be drunk before, so you can taste coffee at best.
You can't come to Naples without seeing the Maschio Angioino, one of the city symbols, strolling along Lungomare Caracciolo, or taking the funicolare to get a panoramic view over Napoli and Vesuvio – as you could do at Certosa di San Martino in the rich Vomero district. And consider also visiting Napoli Sotterranea, the amazing underground built by Romans and used by refugees during the Second World War. A charming experience, with some adventure moments, such as crossing a long passage between tuff rocks.
I've just visited a part of this city, but Naples and its food can just fascinate with their strong taste and soul, swinging from folk to middle-class. À bientôt, Napoli!
Useful addresses:
Gino Sorbillo
Via dei Tribunali 32, Napoli
Tel. 081.446643
Pasticceria Capparelli
Via dei Tribunali 325, Napoli
Tel. 081.454310
Trattoria Da Nennella
Via Lungo Teatro Nuovo 103, Napoli
Tel. 081.414338
Gambrinus
Via Chiaia 1/2 – Angolo Piazza Trieste e Trento, Napoli
Tel. 081.417582
This post is also available in: Italian