It's not a secret that I am a big fan of seasonal products. As I explained in the Chestnut cake post, I'm particularly attracted by produces that can be found on the markets just when they are naturally available.
This period of the year is dominated by white, as cauliflowers and turnips, and by a complete Pantone range of green: Tuscan kale, cabbages, artichokes, broccolis, Bruxelles sprouts, catalogna chicory. The last one, catalogna chicory, is widely used in this period to prepare the traditional Roman puntarelle.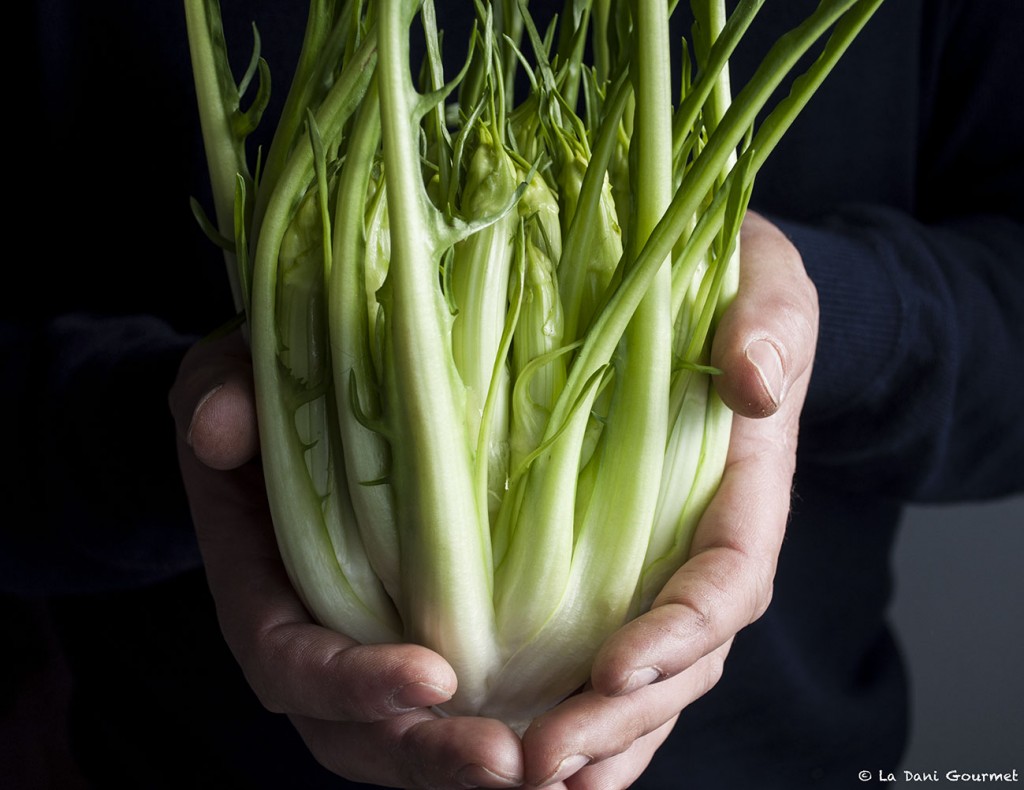 Puntarelle are the sprouts of catalogna chicory, and they are traditionally used to prepare a salad seasoned with an anchovy and garlic sauce. They are fresh, crunchy, tasty and slightly pungent thanks to the allicin, a substance produced when we crush garlic (more about this subject on Bressanini's blog).
This salad is perfect as a side dish, but here I want to give you an extra idea and I will put it on a focaccia bread together with some stracchino cheese and some olives of Gaeta, an excellent variety with a wine aftertaste that I discovered in Gaeta during my Italian food tour.
This will be perfect for an aperitivo with some friends and some good prosecco!
I've also prepared focaccia from scratch, using the pizza dough I usually prepare (and that I will share soon). A store bought focaccia from a good bakery will be perfect as well. It's better to chose a focaccia not too high and oily, as a Tuscan-style.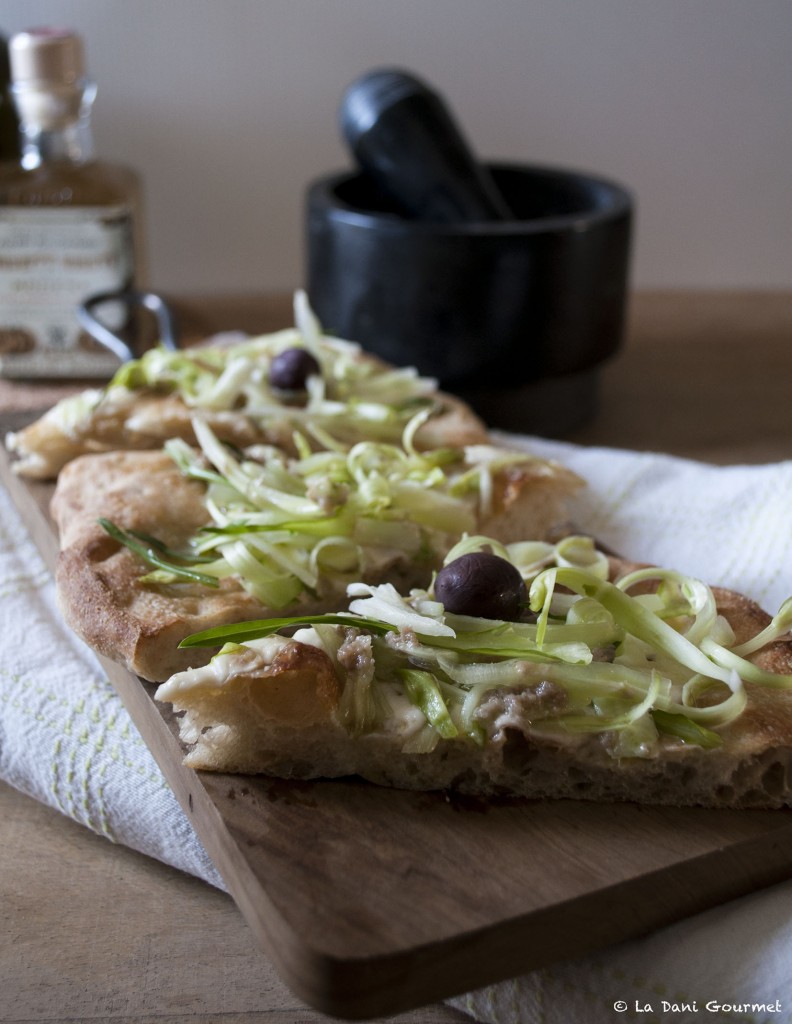 FOCACCIA BREAD, PUNTARELLE WITH ANCHOVY AND GARLIC SAUCE, STRACCHINO AND OLIVES OF GAETA
For the salad:
sprouts of one small Catalogna chicory
For the sauce:
40 ml extra vergin olive oil
1 medium-sized garlic clove
2 teaspoons white balsamic vinegar (you could use also a light apple cider vinegar)
3 preserved anchovies
My focaccia bread has a diameter of 28 cm and it weights about 500 g.
150 g stracchino cheese
olives of Gaeta
Using a good knife, separate the sprouts from the chicory. Remove the bottom of each sprout – it's the hardest part – and the biggest leaves.
Starting from the base of each puntarella, peel off the skin so that you get strips of puntarelle and put them in an ice bath. To better understand how to do that, please watch this video.
Once you've finished with the skins, thinly slice each stalks lengthwise, so that you end up with tender strips of puntarelle. Put them in the same ice bath and let them rest for about half an hour. The iced water will help to get the typical curly puntarelle.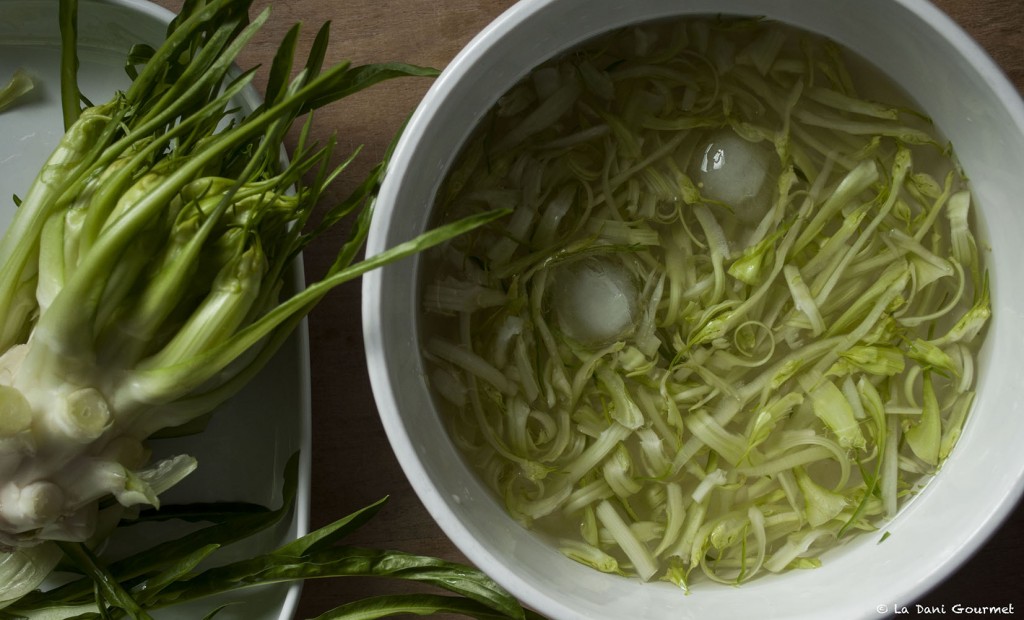 In the meanwhile prepare the sauce.
Remove the germ inside the garlic, slice it thinly and put it in a mortar. Pestle together with the anchovies, the vinegar and start adding one tablespoon of evoo at a time. Taste it and eventually add some more vinegar or anchovy.
Drain the puntarelle, and dry them carefully with a cleaned rag and season with the sauce, keeping two teaspoons of sauce aside.
Take the focaccia, sprinkle pieces of stracchino and bake it at 180° for a few minutes, until the cheese melts.
Remove the focaccia from the oven, cover with puntarelle, sprinkle the remaining sauce and complete with some olives of Gaeta.
Enjoy!
This post is also available in: Italian