Despite its 400-km-long coast, in Tuscany there's not a long tradition connected to fresh fish.
Tuscan people, indeed, don't have a great reputation as fishermen and in the historical recipe books, under the term "fish", you are more likely to find salted and dried codfish or eels.
Among my favourite fish dishes born in the latest 30 years, there's the famous "passatina di ceci con i gamberi" (chickpeas puree with prawns), created by Fulvio Pierangelini, chef and owner of Gambero Rosso restaurant in San Vincenzo, closed since 2009. I have never had the pleasure to dine at this restaurant, but I still remember the first time I tasted the version of Antonella, a friend in Viareggio who knows well the original dish of Chef Pierangelini.
I really appreciate the combination of chickpeas and fish, therefore when I found amazing small squids at the market, I prepared this pasta dish, simple yet scrumptious.
In the chickpea puree I added some lemon juice and some tahini, the sesame seed paste used in the hummus. If you don't find it, you could omit it.
I used good quality canned chickpeas, but if you have time please choose the dry one (you have to soak them for about 12 hours, and cook them for 2 hours until soft).
The nutty texture of chickpeas will combine perfectly with linguine, and its fresh and well-defined flavour goes well with squids. I have to admit it become one of my favourite pasta!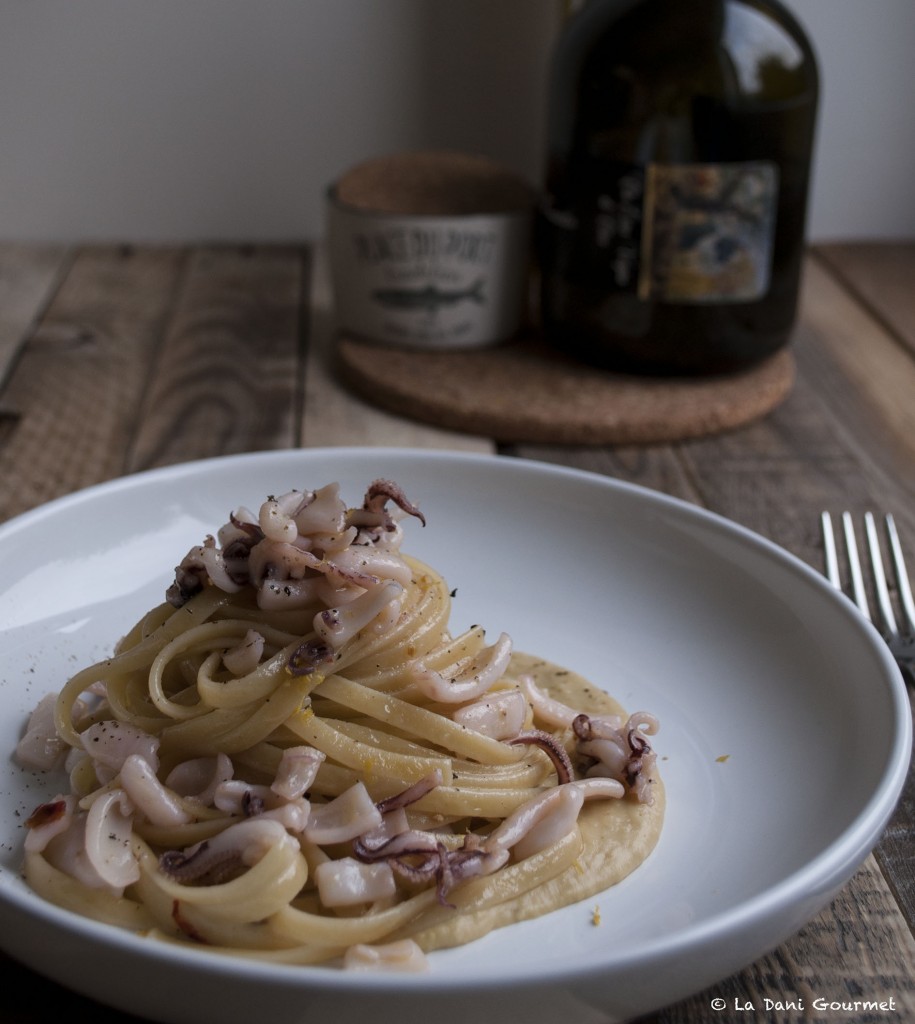 LINGUINE WITH SQUIDS, AND CHICKPEAS PUREE WITH LEMON AND TAHINI 
Ingredients for 2 people
Chickpeas puree:
100 g canned chickpeas (drained)
1/2 teaspoon of tahini paste
1 teaspoon of lemon juice
1 garlic clove (inside germ removed)
Salt of Cervia, black pepper, Evoo
water
Linguine with squids:
250 g linguine of Gragnano IGP
250 g squids (already cleaned)
generous evoo, about 80-90 ml
2 garlic cloves
salt of Cervia, red chilly pepper
organic lemon, black pepper
In a pan heat a tablespoon of evoo, and add the chickpeas. Let them cook for a couple of minutes and season with salt and pepper.
Put the chickpeas in a beaker and add a couple of tablespoons of evoo, lemon juice, tahini and start blending with a minipimer and add enough water, so that you get a dense but smooth texture. Taste it, eventually season with salt and pepper and put it in a small pot.
Cut the squids into strips, and divide each strip into two so that you end up with regular and small pieces. If the tentacles are too big, halve them.
Heat a wide pan with evoo, the garlic cloves (crushed under the palm of your hand) and some chilly. When the oil is pretty warm add the squids and cook them at medium-high heat for about 3-4 minutes. Remove from the heat, season with salt and pepper, and eliminate the garlic cloves.
Boil some water in a pot and cook the linguine very al dente. Drain them two minutes before ready, preserving some pasta cooking water.
At high heat stir the linguine together with the calamari, add a spoonful of pasta cooking water and finish to cook the linguine. They have to be al dente! In the meanwhile warm up the chickpeas puree.
Now pour three tablespoons of puree at the bottom of the dish, and place a nest of linguine with squids on it. Season with some freshly grated lemon zests and black pepper.
Enjoy!
This post is also available in: Italian