Pappa al pomodoro is a simple and satisfying dish coming from the cost-effective philosophy of cucina toscana. Also Paolo Petroni, the writer of  "Il Grande libro della vera Cucina Toscana" states that this tomato and bread soup fed whole generations of Tuscan people.
Here simplicity is the keyword: stale bread, ripe tomatoes from the garden, some basil, garlic and good extra vergin olive oil. A perfect dish, that needs nothing more to be complete.
But to be honest, it's also a dish who marries deliciously with seafood. I love it with clams and mussels, whose salinity makes pappa al pomodoro the ultimate start for a summer seafood dinner.
Compulsory to choose the best ingredients. Buy some good Tuscan bread, some ripe tomatoes, and the best seafood (in Italy I love the mussels from Arborea, in Sardegna), and a quality evoo. The dish will turn out terrific.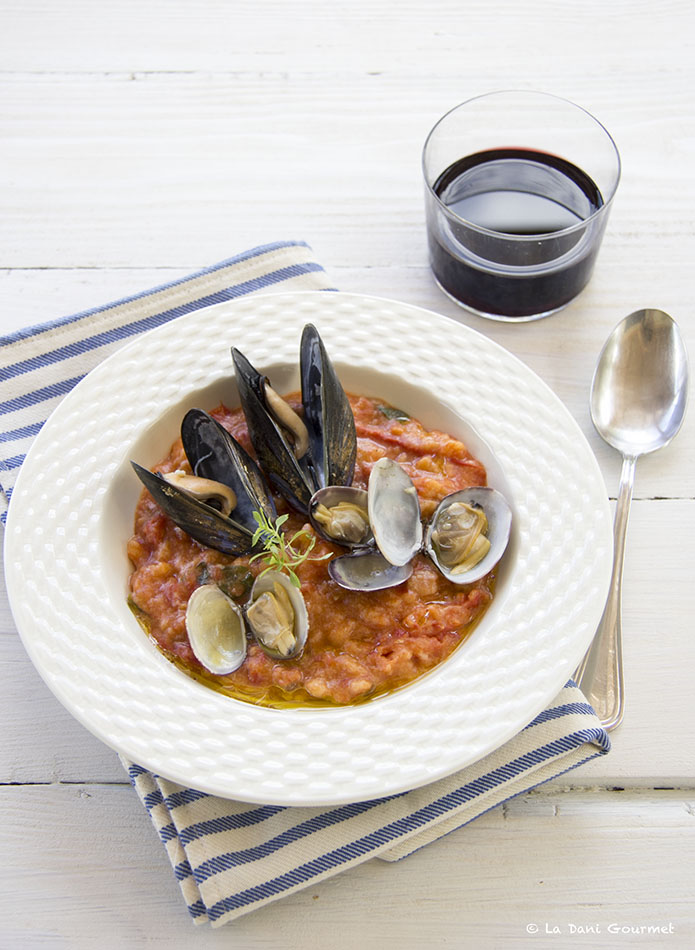 "PAPPA AL POMODORO" WITH SEAFOOD
ingredients for 4 people
for pappa al pomodoro:
300 g stale Tuscan bread, reduced into pieces
600 g ripe tomatoes (I chose the great varietal Costoluto fiorentino)
2 garlic cloves
1 liter vegetable stock (or simple boiling water)
chili pepper
extra verging olive oil
salt, pepper
basil
then you need:
about 300 g clams
about 500 g mussels
2 garlic cloves
evoo
1.Cut the tomatoes into pieces. I prefer to keep the skin on; if you dislike it, before reducing into pieces, make a cut on the skin and put the tomatoes in some boiling water for a minute, so you can easily peel them off.
2.Peel the garlic cloves, crush them under the blade of a large knife. Heat some evoo together with the garlic and chili in a pan for a couple of minutes.
3.Add the tomatoes and cook over a medium-low heat until they start to get mushy. Season with salt and pepper, add the pieces of stale bread and cover with the vegetable stock (or simple boiling water). Cook over a low heat for about half an hour, stirring from time to time and cook until you achieve a thick, porridgey texture.
4.While pappa al pomodoro is on the stove, carefully clean the mussels and wash the clams. Heat two separated pans with evoo and garlic, and add in one mussels and in the other clams. Cover with a lid and wait until the shells open. Remove the shells of some mussels and clams and keep their cooking water.
5.As soon as pappa al pomodoro is ready, add some hand-chopped basil, and some clams and mussels liquid, to get a more intense seafood flavour.
6.Let it rest for some minutes and then serve with a drizzle of evoo, a pinch of pepper and complete with clams and mussels.
Enjoy!
Summary
Recipe Name
Pappa al pomodoro with seafood
Published On
Total Time
Average Rating





Based on 1 Review(s)
This post is also available in: Italian