I think everybody will remember about the 8th June of this year.
At least all foodies, travelers and food travelers around the world that felt a shiver running down their spine when they heard the news of the loss of a man who inspired and guided many of us.
When I got the news I was having lunch in a small restaurant on the beach and I was waiting a for a spaghetto allo scoglio (spaghetti with seafood). When my dish came, I started to eat it and enjoy it, but I couldn't help but noticing that the garlic was smashed with a garlic press. I silently smiled thinking back to Bourdain's words, read on Kitchen  Condifential some years ago, about garlic and how people frequently disrespect it.
"Garlic is divine. Few food items can taste so many distinct ways, handled correctly. Misuse of garlic is a crime. Old garlic, burnt garlic, garlic cut too long ago and garlic that has been tragically smashed through one of those abominations, the garlic press, are all disgusting. Please treat your garlic with respect. Sliver it for pasta, like you saw in Goodfellas; don't burn it. Smash it, with the flat of your knife blade if you like, but don't put it through a press. I don't know what that junk is that squeezes out the end of those things, but it ain't garlic. And try roasting garlic. It gets mellower and sweeter if you roast it whole, still on the clove, to be squeezed out later when it's soft and brown. (…) Nothing will permeate your food more irrevocably and irreparably than burnt or rancid garlic. Avoid at all costs that vile spew you see rotting in oil in screw-top jars. Too lazy to peel fresh? You don't deserve to eat garlic."
I would have loved to meet him somewhere around the world, or why not here in Versilia where I live, at a table drinking lots of chilled beers and chatting for hours about food, travels, New York, fears (especially mine), adventures (especially his). I imaged we would have got hungry at some point in the middle of our chatting, and I would have prepared a dish based on garlic that for us Italian mean midnight food: spaghetti aglio olio e peperoncino (spaghetti with garlic, extra virgin olive oil and chili).
For the occasion I wouldn't have made the traditional version. Instead of sautéing the garlic in evoo, I would have roasted it in the oven, as Bourdain suggested himself, so that I could get a delicate and creamy texture in the sauce. I would have cooked a bit anxiously with the fear of making a bad impression and he would have disapproved how messy I am when I cook.
I have never made this version of spaghetto aglio olio e peperoncino before, but it turned out to be the best so far.
Thanks Tony, for everything, I'll miss you.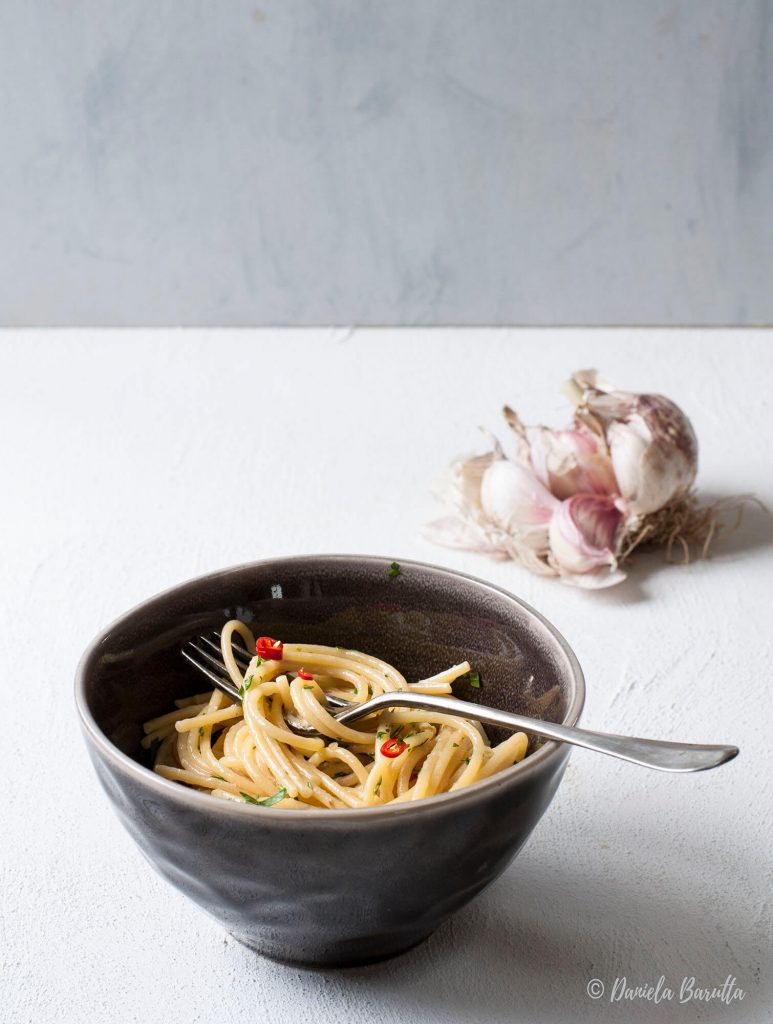 SPAGHETTO AGLIO, OLIO E PEPERONCINO
Ingredients for 2 people:
2 small whole heads of red garlic (better if Nubia varietal)
50 ml extra virgin olive oil + some extra for roasting garlic
1 fresh chili, if it's not too hot
fresh parsley
200 g spaghetti
1. Heat up the oven at 180°C. Wash the heads of garlic and cut them crosswise, without removing the skin. Put some evoo in a small baking tray and put the garlic heads, the cut side face-down.
2. Bake for about 30 minutes, paying attention to not burn the garlic too much. When it's ready garlic will be soft and you can easily pressed it outside their skin using a fork. Keep it aside.
4. Cook the spaghetti in generous salted and boiling water. While pasta is cooking, pour the 50 ml of evoo in a pan together with one thinly cut fresh chili and the garlic purée. When garlic starts sizzling in oil, add an half spoonful of pasta cooking water so that the sauce combine better together. Remove the pan from the heat.
5. When spaghetti are ready, toss them in the sauce over the heat. Serve immediately together with some freshly cut parsley.
Enjoy!
Summary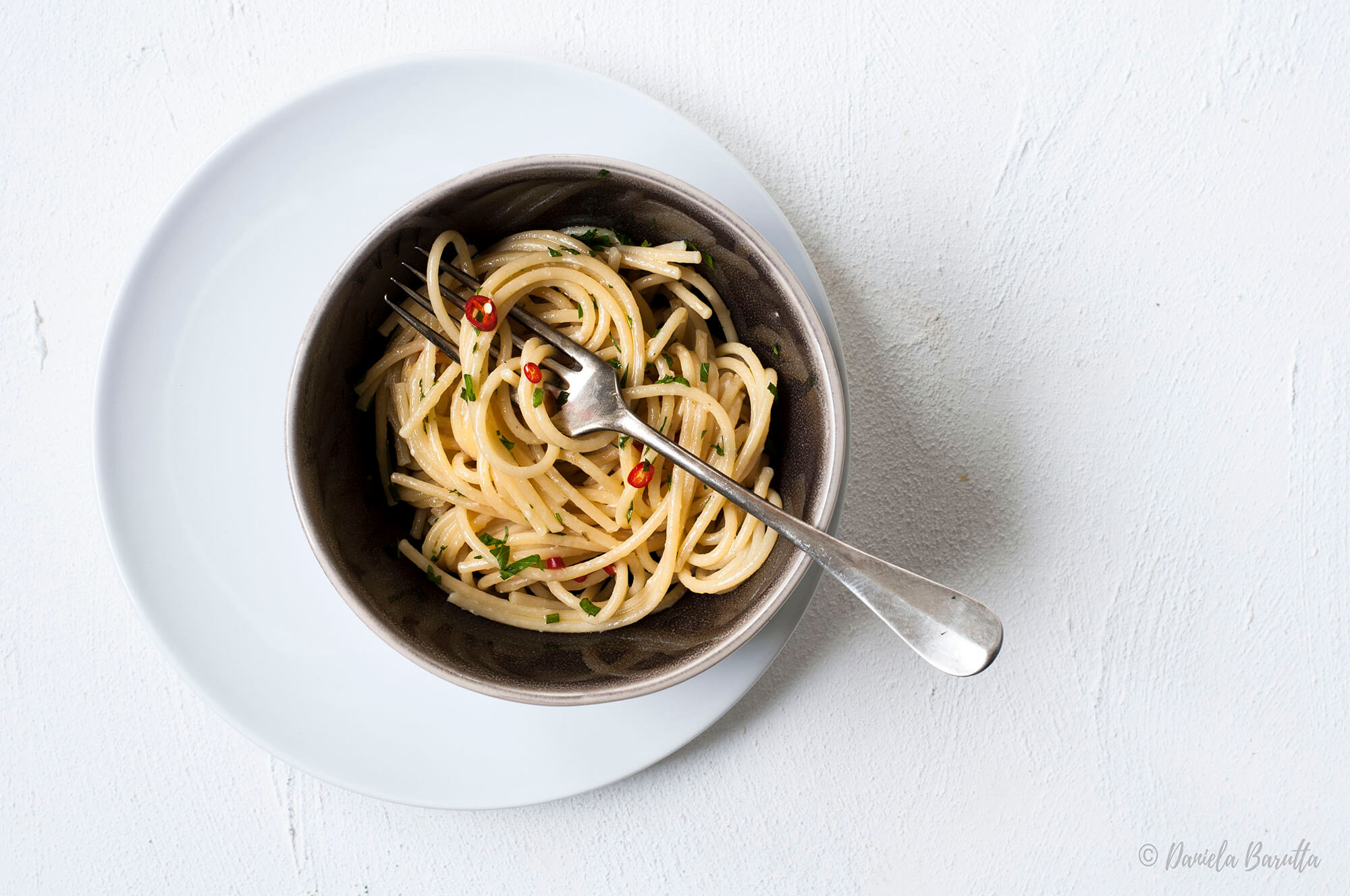 Recipe Name
Spaghetti aglio, olio e peperoncino for Tony
Published On
Total Time
Average Rating





Based on 0 Review(s)
This post is also available in: Italian