I remember this cake, still in its baking pan, laying at the left side of the tv in the kitchen. It was standing there for days, not because we didn't like it, but since it is a nourishing cake, we only needed a small piece to satisfy our sweet cravings.
I remember I didn't like the raisins in it, actually at that time I wasn't a big fan of raisins in general, but still today (that I do like raisins) I prefer this cake without them.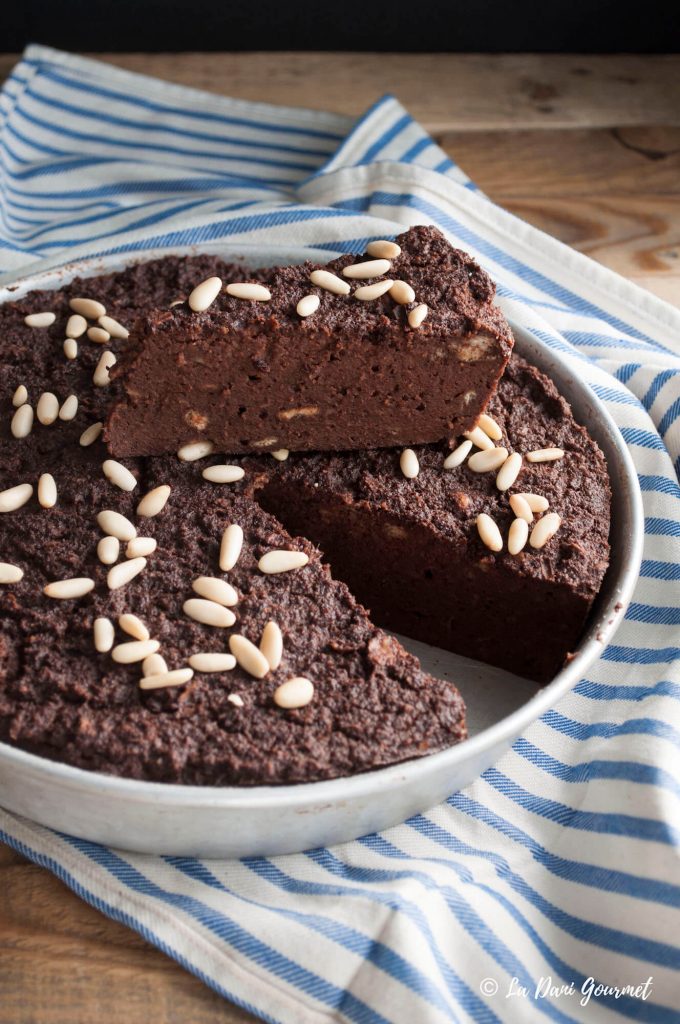 Paciarella is a simple  cake from the traditional cucina povera of the Martesana area near Milan, where I was born and raised, but typical also in other parts of Lombardy, as Brianza.
It is traditionally prepared for the local feste di paese that take place between September and November, and for this reason it is also known as torta paesana.
There's a village in Martesana which is more connected to this cake than the others. As indicated in "La Martesana e il cibo. Percorso fra storia, popolo e territorio", the town of Gessate celebrates this cake with a festival between September and October since the 1971 and in 2006 this cake got also the denomination De.C.O. (Denominazione Comunale di Origine) as 'Paciarèla di Gessate'.
Its ingredients are mainly stale bread and lots of milk, but as every traditional recipes, each family has its own version: someone only use stale bread, others add also some pan d'anice (a sponge cake flavoured with anise seeds); some people use only cocoa powder, others add some chocolate; someone would use only biscotti secchi, many people would only choose amaretti; the majority do not add eggs at all, but my mum used to add one (and so I did it).
The recipe I share with you is my mum's, but I made some slightly changes: I substituted some biscotti secchi with amaretti and I added two tablespoons of sambuca, to give this cake some stronger flavours.
It was more than ten years since the last time I had eaten this cake, I almost forgot its simple and lovely flavour. I will never ever make it pass such a long time before making this cake again, since it has the power to make e feel a child again.
I chose this recipe for the monthly issue of Cucina Conversations about stale bread and the "waste not, want not", a theme I care so much about. To read my fellow bloggers recipes, head to the end of this post.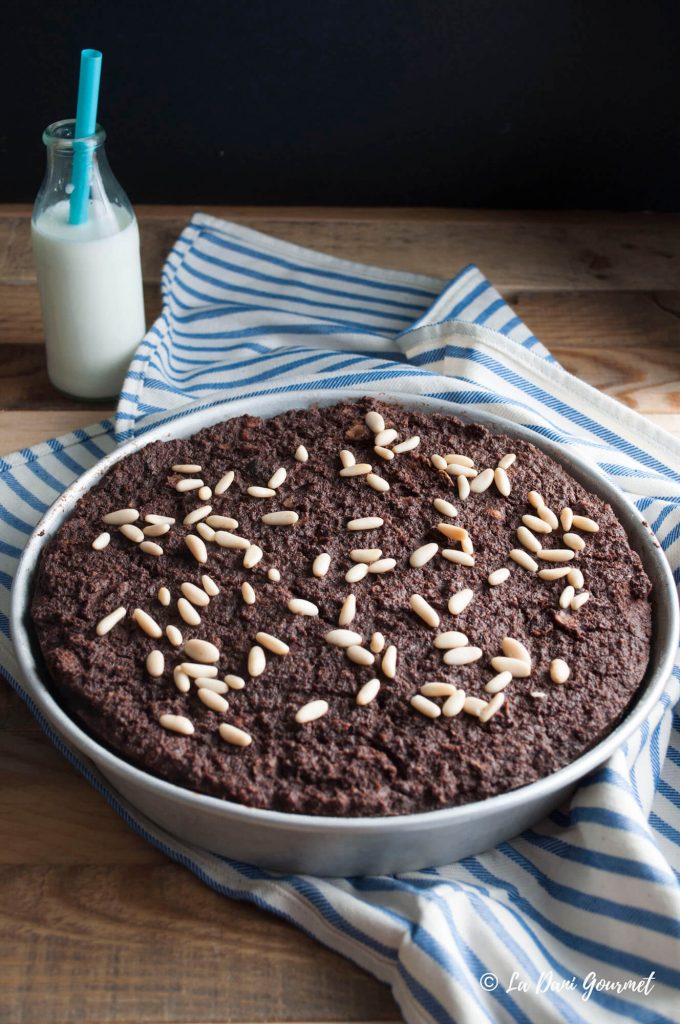 PACIARELLA
Ingredients for a cake pan of 23 cm of diameter:
300 g stale bread with a thin and light crust
1 liter of milk
20 g butter
60 g bitter cocoa podwer
50 g dark chocolate
50 g sugar
30 g raisins
50 g amaretti
50 g biscotti secchi, very crunchy and light biscuits we usually have with tea in Italy
2 tablespoons of sambuca
1 egg
30 g pine nuts
1.In a pan bring the milk to the boil, remove from the heat and add the butter and let it melt. Cut into pieces the stale bread, put them in a bowl and pour the boiling milk. Add the cocoa and the thinly cut chocolate. Stir from time to time, until you get a pappa, a mushy texture. The older the bread is, the longer this process will take.
2.Add sugar, amaretti and biscotti secchi, both broken into pieces with your hands. Then add sambuca and raisins, you previously soaked in water and squeezed and mix well. Taste the mixture and eventually adjust adding more sugar, more amaretti, more cocoa. In the end, add the egg and mix well.
3.Grease and flour a cake pan, pour the mixture in it, level a bit and sprinkle with pine nuts. Bake in a preheated oven at 150°C for about 1 hour. The cake can be stored for some days at room temperature, if well covered.
Enjoy!
Other Cucina Conversations recipes with stale bread:
– Pasta mollicata by The Heirloom Chronicles
– Pasta con tonno, pangrattato e pinoli di Pancakes e biscotti
– Polpettone del recupero di Marmellata di cipolle
– Bruschetta di radicchio di Italian Kiwi
– Fried artichoke polpette di Flavia's Flavors
– Stuffed onions di Turin Mamma
Sources: La Martesana e il cibo. Percorso fra storia, popolo e territorio, di Marcello Menni
Summary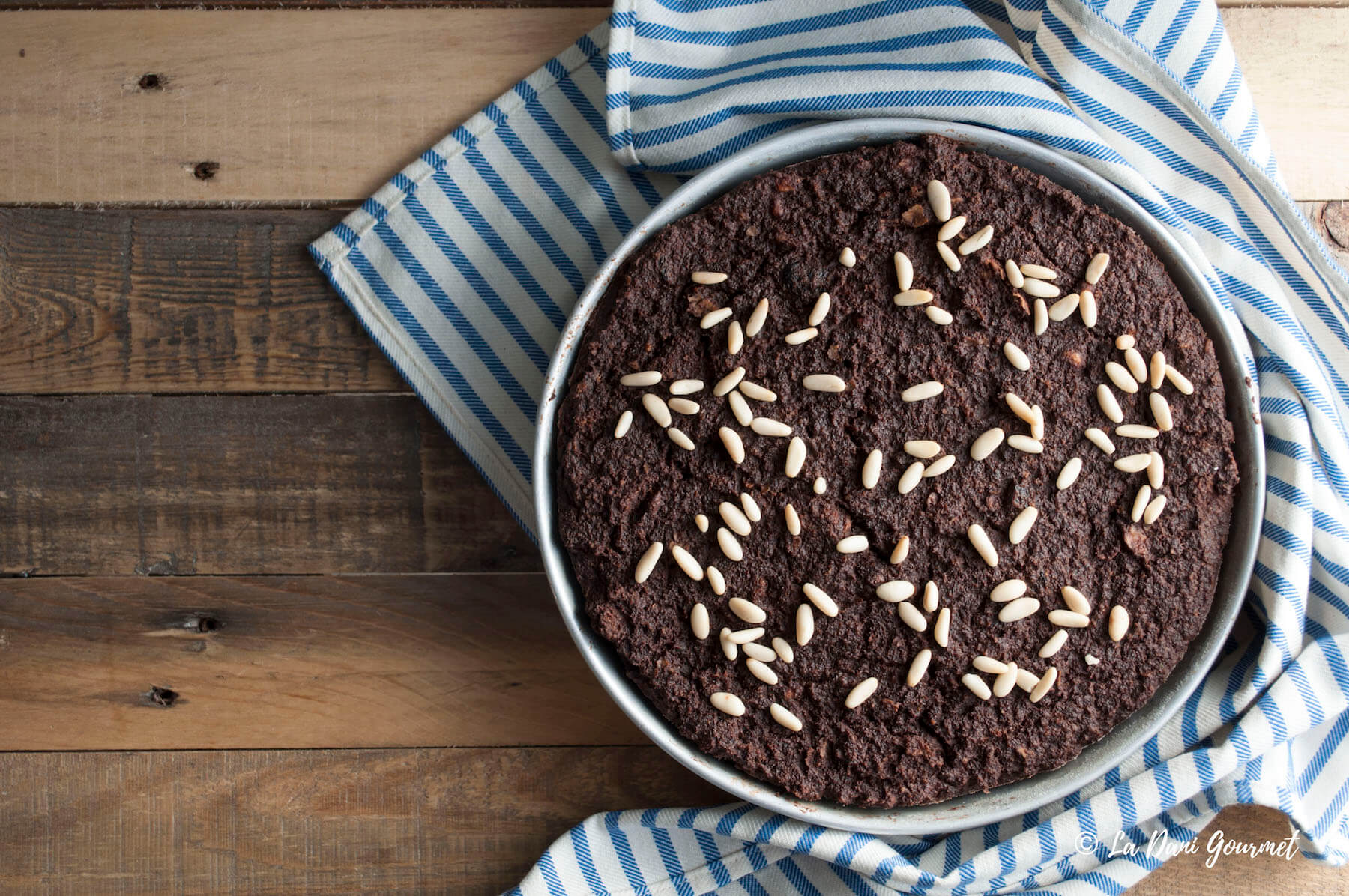 Recipe Name
Paciarella, stale bread, milk and cocoa cake
Published On
Average Rating





Based on 2 Review(s)
This post is also available in: Italian