Before taking (almost) every exit on the Italian highway, you would notice a sign showing an image or a graphic that features something typical in the town you'll reach at that exit. Approaching Viareggio in Tuscany, what you will find is the image of Burlamacco, the local Carnival mask, which immediately clarifies the importance and passion towards this festivity in town.
The past years I've already introduced you to the history of Viareggio's Carnival (when I shared the recipes for rice fritters and bomboloni), but I haven't spoken yet about rione, the night folkloristic street party.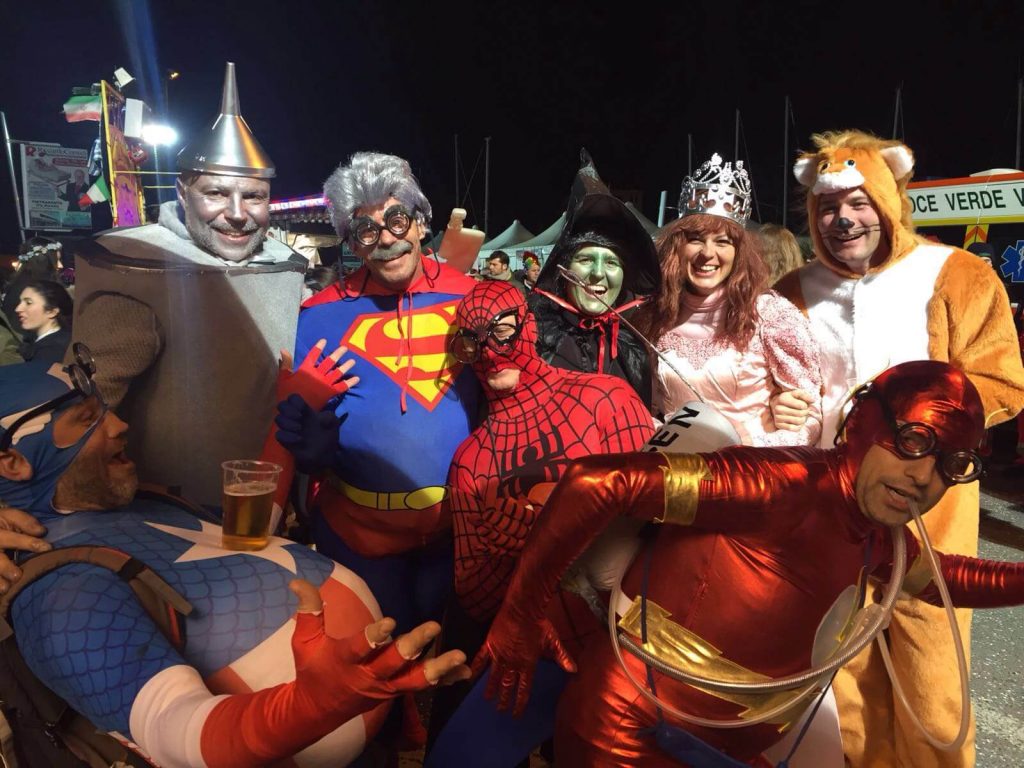 The huge Carnival floats parading along the Promenade on Sundays (or Saturdays, according to the program) are the real heros. Anyway, for many locals the true spirit of Carnival can be breathed during the night rioni, taking place on the weekend nights.
Every weekend the main streets of a neighbourhood (every week, a different one) are closed to traffic, so that people, precisely masked, can drink and dance listening to (not only) Carnival music.
Rione shows the creativity of local people, who are to able to design unique and weird Carnival clothes far from the opulent Carnival clothes of Venice. Here the protagonist is the folk, its desire to have fun and celebrate its own town.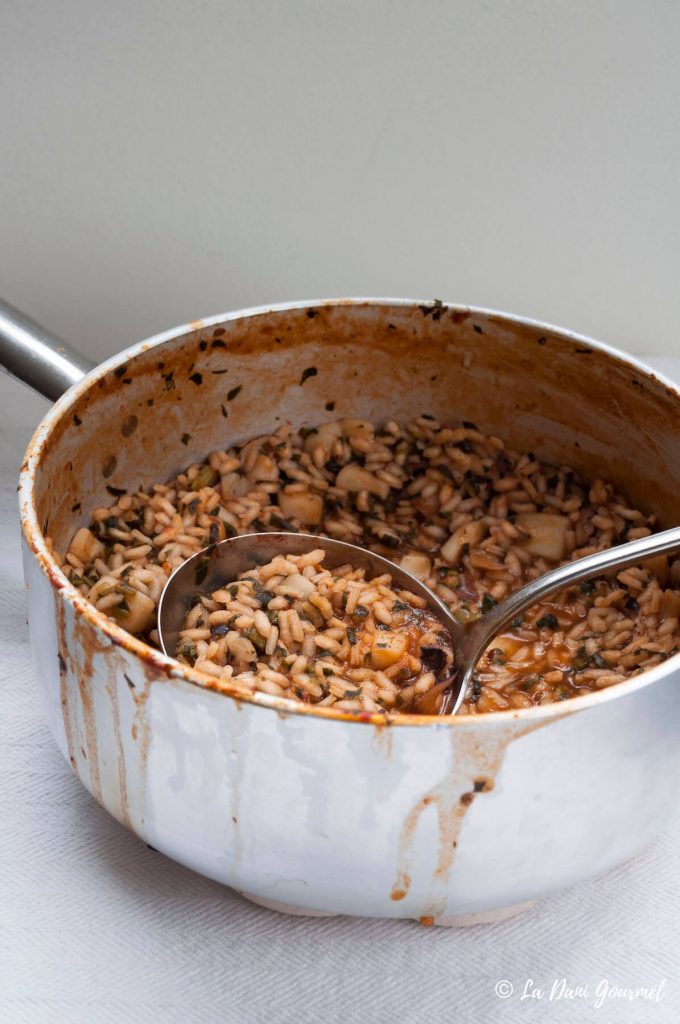 The first rione ever took place the 20th of February of 1971 in Darsena area, and still today it is the best and most engaging one. It takes places in Via Coppino for five evenings usually during the weekend that brings to Mardi Gras (from Friday to Tuesday, included).
When you go to a rione, you can also eat there, and Carnevaldarsena (as it is called this specific rione) offer the best food so far.
Simple but delicious dishes, such as insalata di polpo e patate (octopus and potato salad) or a classic fritto misto (fried seafood).
Theres'a dish that actually represents at most this rione, having a secret recipe and being only cooked during these five nights of Carnevaldarsena: it is a risotto with cuttlefish and chard, also called riso rosso, since the presence of tomato sauce.
As I said the recipe is secret, but after some attempts I came to a very good result that I'm sharing with you today.
If you want to try and eat the original riso rosso, come to Carnevaldarsena, this year it will take place from 9th to 13th of February.
Throughout Italy there are plenty of traditional recipes for this festivity, that's why at Cucina Conversations this month we chose this theme (as last year). If you want to discover some more recipes about Carnival in Italy, head to the end of this post.

RISOTTO WITH CUTTLEFISH AND CHARD FROM VIAREGGIO'S CARNIVAL
100 g chard
300 g cuttlefish
3 garlic cloves
150-180 g tomato sauce
vegetable stock (or simple water)
200 g Carnaroli rice
chili
black pepper
salt
extra virgin olive oil
1.Clean the cuttlefish, remove the bone and wash them carefully under running water. Cut them into pieces of about 1 cm per 3 cm.
2.Wash the chard leaves, and cut them thinly and keep them aside.
3.In a pan (or in a risottiera, a specific pan for risotti) put three whole garlic cloves together with three extra virgin olive oil tablespoons and some chili, and heat them up. Add the chard and let it sauté for a couple of minutes, then add the cuttlefish and toast them for about five minutes over medium heat. Season with some salt and black pepper.
4.In a pot heat up the tomato sauce, just until it simmers. In a separated pot heat up the vegetable stock (or alternatively regular water).
5.Remove the sautéed chard and cuttlefish from the pan. Put the pan over the heat again ,add a tablespoon of evoo and add the rice. Let it toast at medium-high heat for about 3 minutes, add a pinch of salt and stir constantly.
6.Add the chard and cuttlefish to the rice and start cooking the risotto, adding at first the warm tomato sauce. Cook over medium heat adding one spoonful of vegetable stock at a time, and waiting until the liquid are almost completely absorbed before adding other stock. Continue cooking for about 15-17 minutes, cooking time could vary according to the rice.
7.Remove the pan from the heat, when the rice is still al dente and the liquid are starchy, add a drizzle of extra virgin olive oil and let the risotto rest for some minutes, covered with a lid.
Serve with some extra black pepper.
Enjoy!
This recipe is part of the February issue of Cucina Conversations about Carnival. To discover my fellow bloggers recipes:
– Parmigiana di zucchine by The Heirloom Chronicles (who lives Down Under and has some great zucchini still in season)
– Ciambelle profumate all'arancia by Marmellata di cipolle
– Zeppole di patate by Pancakes and Biscotti
– Chiacchiere ripiene by Turin Mamma
– Livia's Crostoli by Flavia's Flavors
Summary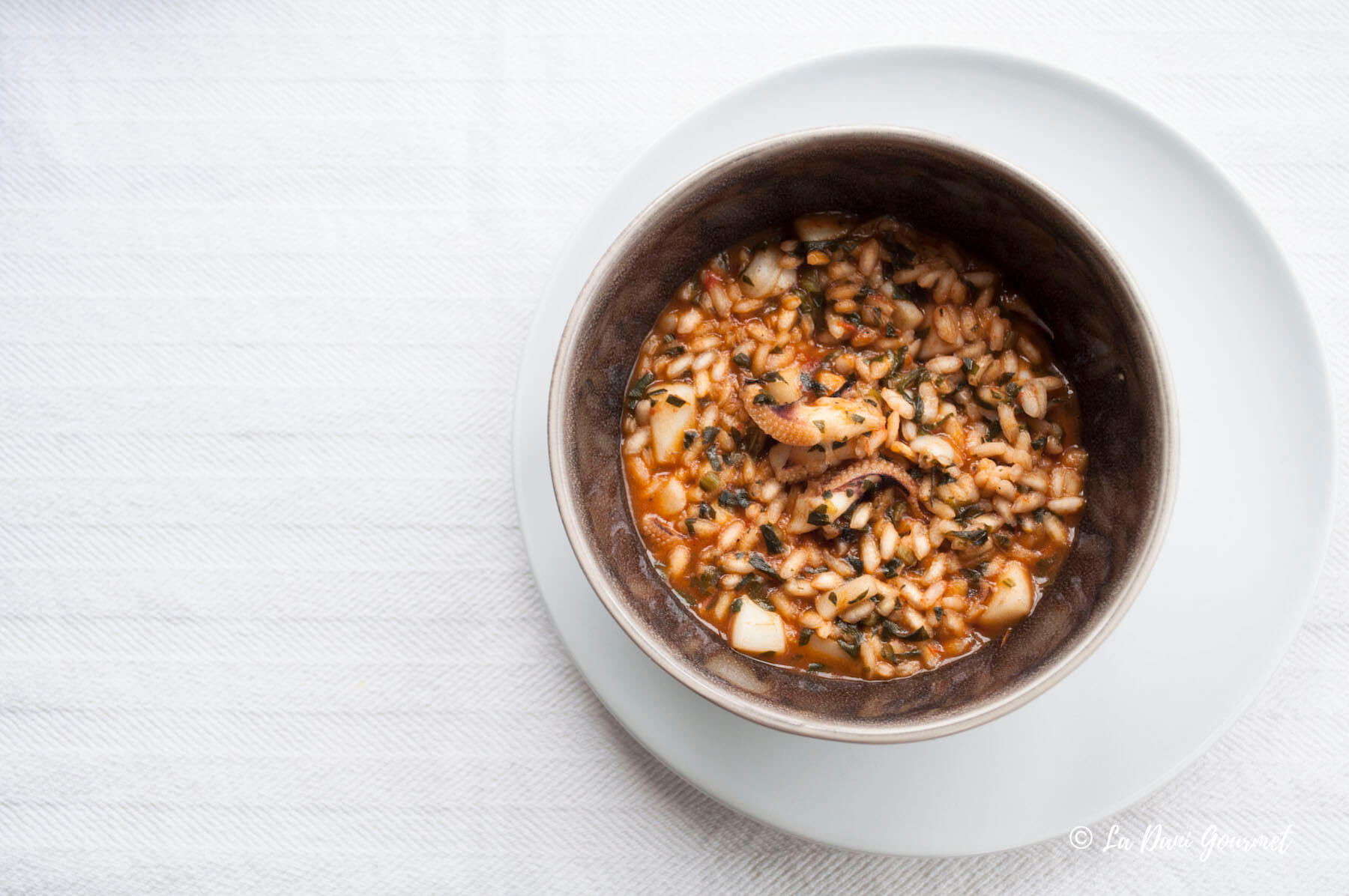 Recipe Name
Risotto with cuttlefish and chard from Viareggio's Carnival
Published On
Total Time
Average Rating





Based on 0 Review(s)
This post is also available in: Italian