On the Valentine's weekend it took place ExtraLucca, one of the most important events about Extra Vergin Olive oil in Italy.
In the royal location of Palazzo Ducale, in Piazza Napoleone in Lucca, 50 producers showed excellent evoos, supported by cooking shows, tastings and original cocktails.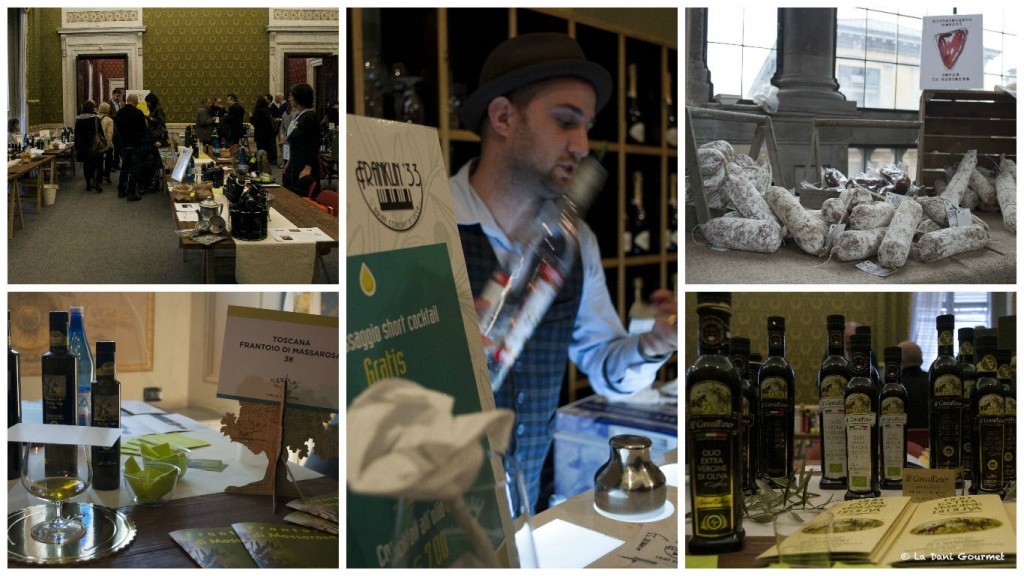 Looking around, I visited some great producers I already knew (as Frantoio di Massarosa and Il Cavallino), then I noticed Olio Sante, being attracted by the dried fava beans and orecchiette that revealed their origin. This EVOO producer comes from Ostuni in Puglia, and their olives grow on the country between "the white town" and the sea, a place I love and perfectly remember from the first time I visited Valle d'Itria last spring. I tasted some of their oils, and I bought the Ogliarola variety, delicate and with an intense artichoke aroma.
As it's stated in Extra Virginity (a must-read book by Tom Mueller), "oils made from different olive varieties, or from the same varieties grown in different places, can be every bit as diverse as wine from different grape varietals". Evoos can have the most different hints, from almond to kiwi fruits, from green tomatoes to artichokes and they're rich in polyphenols, as the variety "Leccio del Corno", as Fausto Borella (the man behind ExtraLucca) during the cooking show of Michelin-starred chef  Cristina Bowerman.
Chef Bowerman stated and underlined a key concept: "we have to start thinking about EVOO as a real ingredient, and no more just as a dressing or as a side-ingredient".
Thinking about her words and about the taste of the Ogliarola EVOO I brought home, I decided to use it for a simple yet tasty dish I frequently prepare at home, inspired by "Jamie at home" cookbook.
The perfect dish for an informal dinner with friends.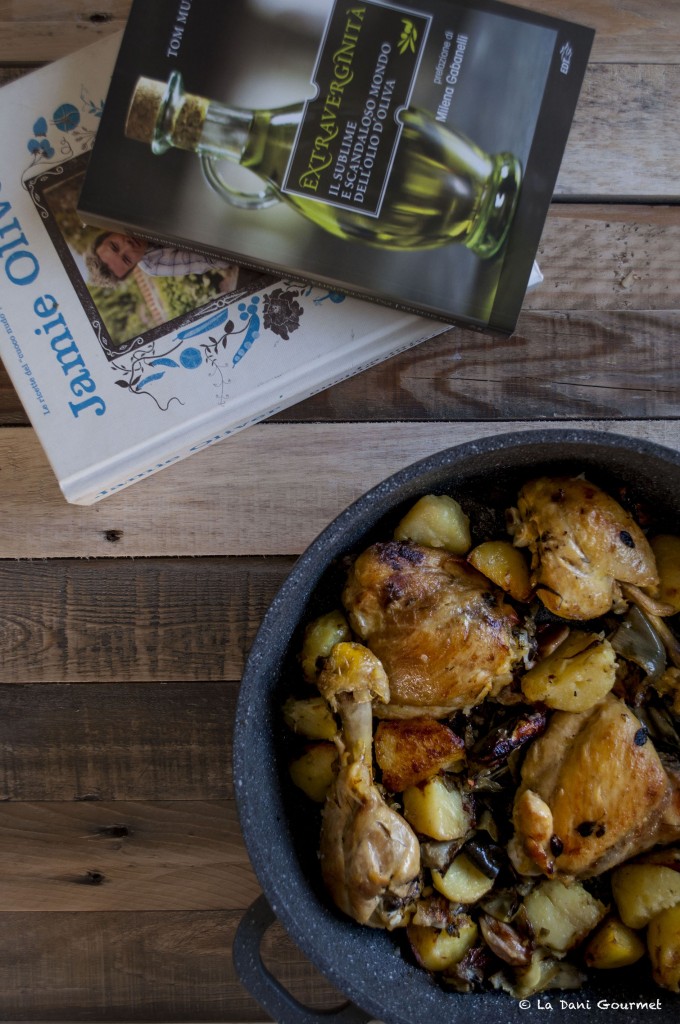 CHICKEN THIGHS, POTATOES, ARTICHOKES AND OGLIAROLA OLIVE OIL 
ingredients for 2 people, as single course:
600 g potatoes
2 artichokes
2 big chicken thighs
thyme, marjoram
3 garlic cloves
Ogliarola Extra Vergin Olive Oil
1/2 glass of white wine
salt and pepper
You could use both boneless or regular chicken thighs. In this recipe I chose the normal one; please consider that boneless chicken will be ready earlier.
I prefer to remove the skin, so I get a lighter meal, but it's not necessary.
Peel off the potatoes, cut them into big and regular pieces.
Clean the artichokes, halve them and remove the central "beard". Rub the surface with half a lemon, to prevent browning.
Heat up two pots with water. As soon as they boils up, put in one pot the potatoes and let them cook for about 8-10 minutes. Times varies according to potato type and size of the pieces. It's important they are partly cooked and still compact. In the other pot, put the artichokes and cook them for 3-4 minutes.
Drain well the veggies and put them aside.
Preheat the oven at 180-190°.
In a pan heat up some evoo together with the garlic cloves and place the chicken thighs. Cook for about 3 minutes each side, then simmer with white wine untile reduced. You could use a pan that can be used in the oven, otherwise, move the chicken into a casserole, big enough to contain in one layer the chicken, the potatoes and the artichokes. Season with salt, pepper, generous thyme and marjoram and add extra evoo.
Cook in he oven for about 40 minutes, turning the chicken halfway and switchen on the grill fro the last 5 minutes, so that the chicken and potatoes get a nice and crunchy crust.
This dish could be prepared some hours before; cook it 5 minutes less, and heat it up under the grill for some minutes when you're ready to serve.
Enjoy!
This post is also available in: Italian