Florence always worth a visit.
I live one hour far from Florence (by car) and a beautiful cold and sunny winter day is the perfect excuse to visit this town.
My true purpose of this visit is food-related. As frequently happens in my travels or daily trips, it's food or wine the true compass that orientates my choices.
This time is the turn of a Florentine dessert I've always heard about and which is exclusively made during the Carnival weeks, so in January and February.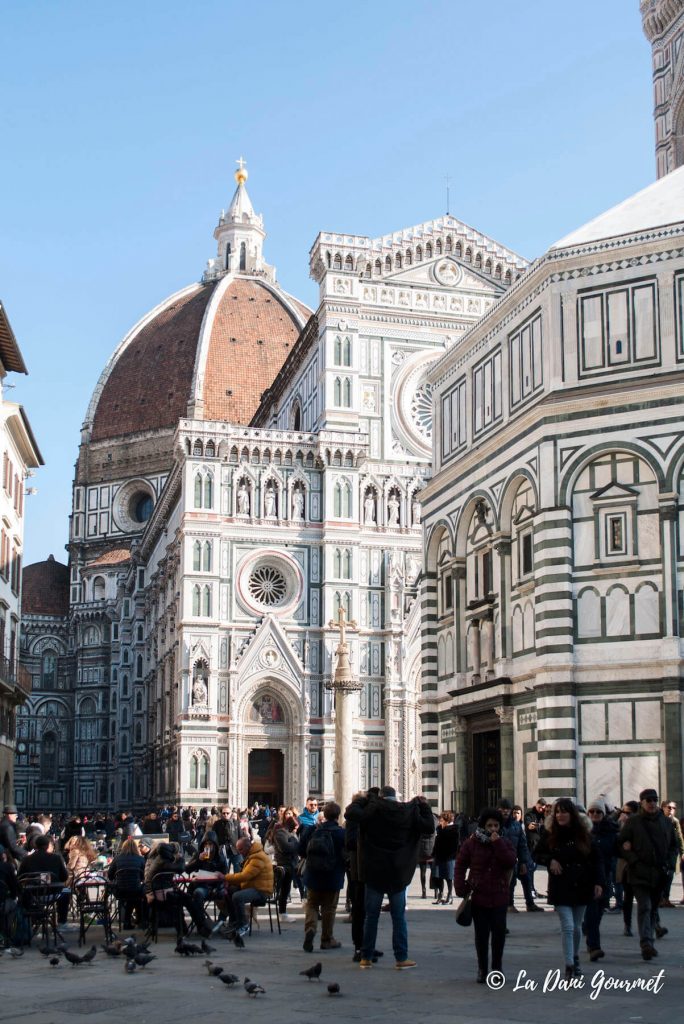 I'm speaking about schiacciata fiorentina, a yeasted cake dusted with icing sugar, and frequently also cocoa, and decorated with a lilium, symbol of this town.
It's a cake made of simple ingredients but it has a complicated process, almost similar to grandi lievitati (like panettone).
If you see a schiacciata, you could think it is a simple sponge cake, but the texture and flavour is completely different.
The first bite
I order my first slice of schiacciata at Pasticceria Giorgio, one of the best pastry shop where to buy this dessert. I take it in my hand and I immediately feel how soft it is and I could almost anticipate the texture in my mouth. I smell it and I can easily recognize orange and lemon flavours and a slight vanilla sweetness, which I will enjoy a lot when I eat it. It's delicious and I can't help to order another slice.
How is schiacciata alla fiorentina made?
As I told you, this yeasted cake is more similar to a simplified panettone rather than a sponge cake.
The process consists of making a first dough made from your starter (or from fresh baker's yeast) which, after many hours of rising, is enriched with sugar, eggs, butter and lard. Working with dough like this is very hard, and getting a soft and well flavoured crumb is not a goal that everyone can achieve.
That's why, as I've been told by many Floretines, it's difficult to find an excellent one if you try and make it at home you wouldn't end up with the same result of a good pasticceria.
It is served plain or stuffed with whipped cream or chantilly custard. I went for the plain one, to enjoy it natural; but I can feel you if you go for an indulgent slice of stuffed schiacciata.
Three addresses where to eat schiacciata
During my short food tour I tasted three schiacciata, following the advices of local experts, but if you want a more complete guide for good schiacciata alla fiorentina head to this post of a fellow blogger who lives in Florence and loves this dessert.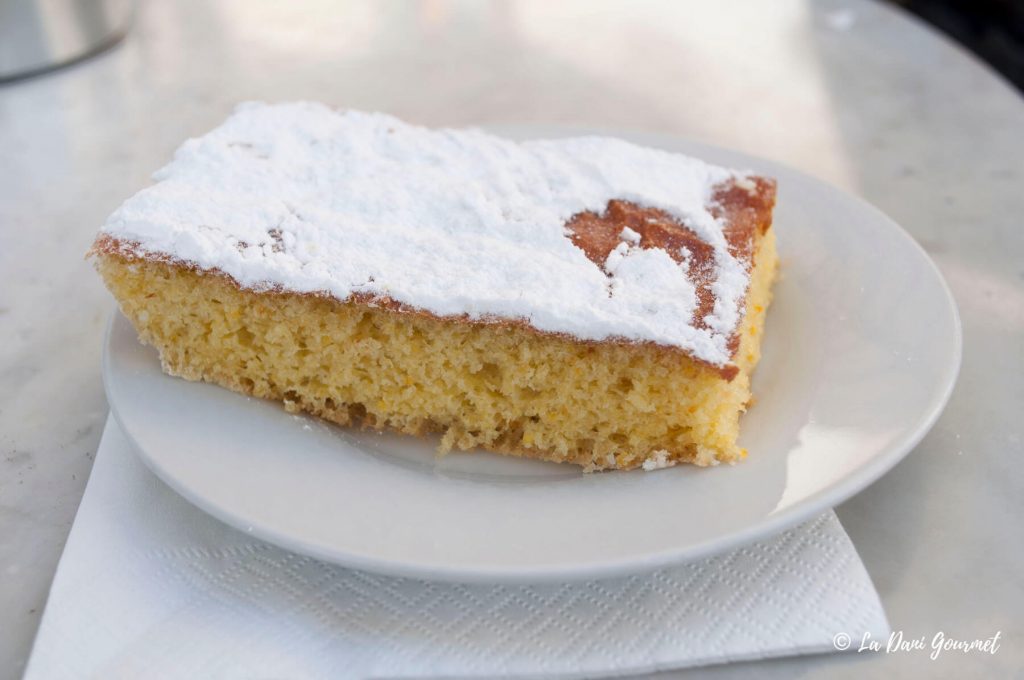 Pasticceria Giorgio
As you will never forget your first love, so the first bite of a food will be always impressed on my mind.
Giorgio, as I told you, is the pasticceria where I had my first slice of schiacciata and it is also the best among the three tasted.
The crumb is of an intense yellow, maybe due a little presence of saffron, sometimes included in the recipe, or a higher percentage of yolks.
It's very soft and moist, and heavenly flavoured with citruses and a lovely taste of butter.
How to get there: From the station you have two options. You could take bus 6 and get off at FM0188 stop, which is very near Giorgio or you could take the tramvia, get off at Arcipressi and reach the pasticceria with a walk of about 10 minutes. It really worth it! Pasticceria Giorgio – Via Duccio da Boninsegna 36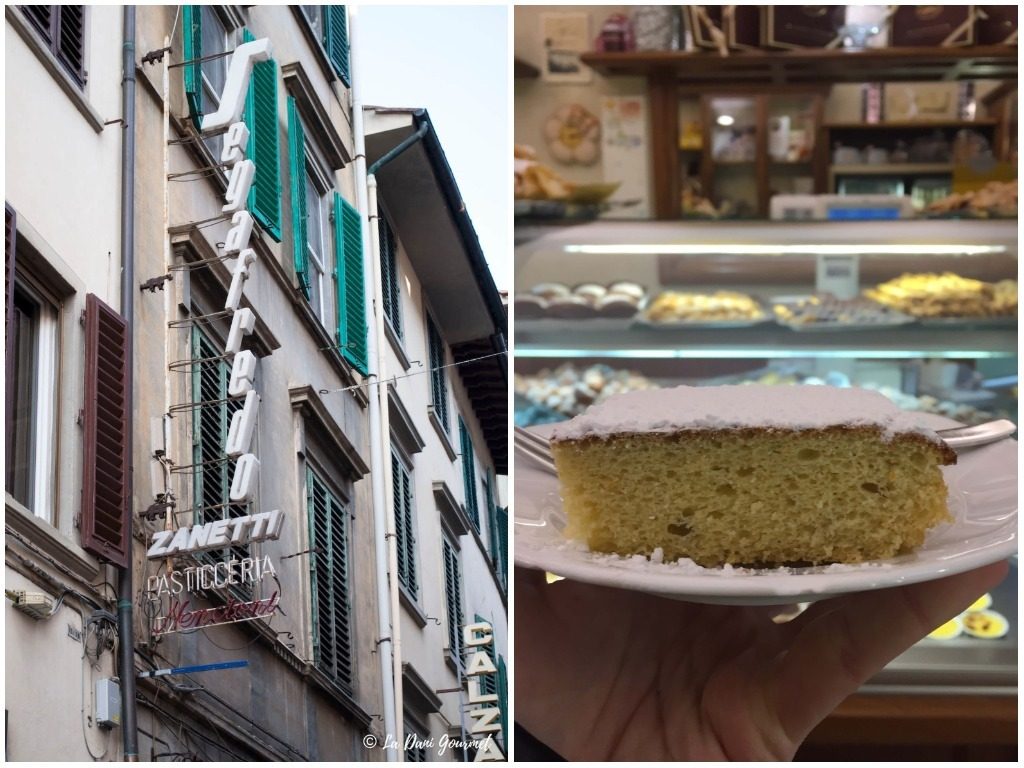 Pasticceria Nencioni
Here we are in small pasticceria in a lovely street of the center.
The crumb of Nencioni's schiacciata looks more dense and less yellow.
The taste is lovely, and even if it is slightly less moist than Georgio's, it is soft and fragrant. It is also a bit saltier, which is very pleasant and makes me want to have some more.
The main flavours are citruses and vanilla, with a subtle presence of spices.
How to get there: this pasticceria is in the center at about 10 minutes by walking from Palazzo Vecchio. Pasticceria Nencioni – Via Pietrapiana 24/r, Firenze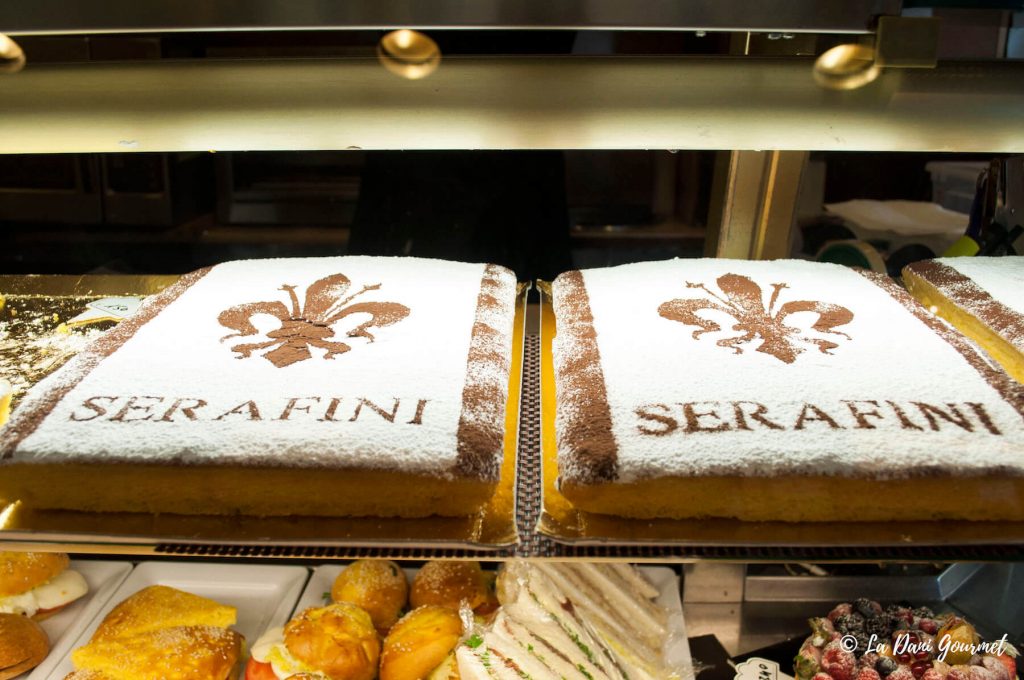 Pasticceria Serafini
At the entrance of this pastry shop we are welcomed by the well-known face of Burlamacco, the official mask of Viareggio's Carnival. We order a slice of schiacciata, not as yellow as Giorgio's, but I notice the main differences when I smell it. If I close my eyes I can easily recognize the same scents of panforte, the Senese Christmas cake. When I taste it the spices are not too heavy and well balanced with he orange flavour. It's delicious and soft, a very good schiacciata.
How to get there: this pasticceria is a few steps from Piazza Beccaria. If you visit Nencioni you could reach it in 15 minutes by walking; or from the train station you could take the bus 14, following these indications. Pasticceria Serafini – Via Gioberti 168, Firenze
Summary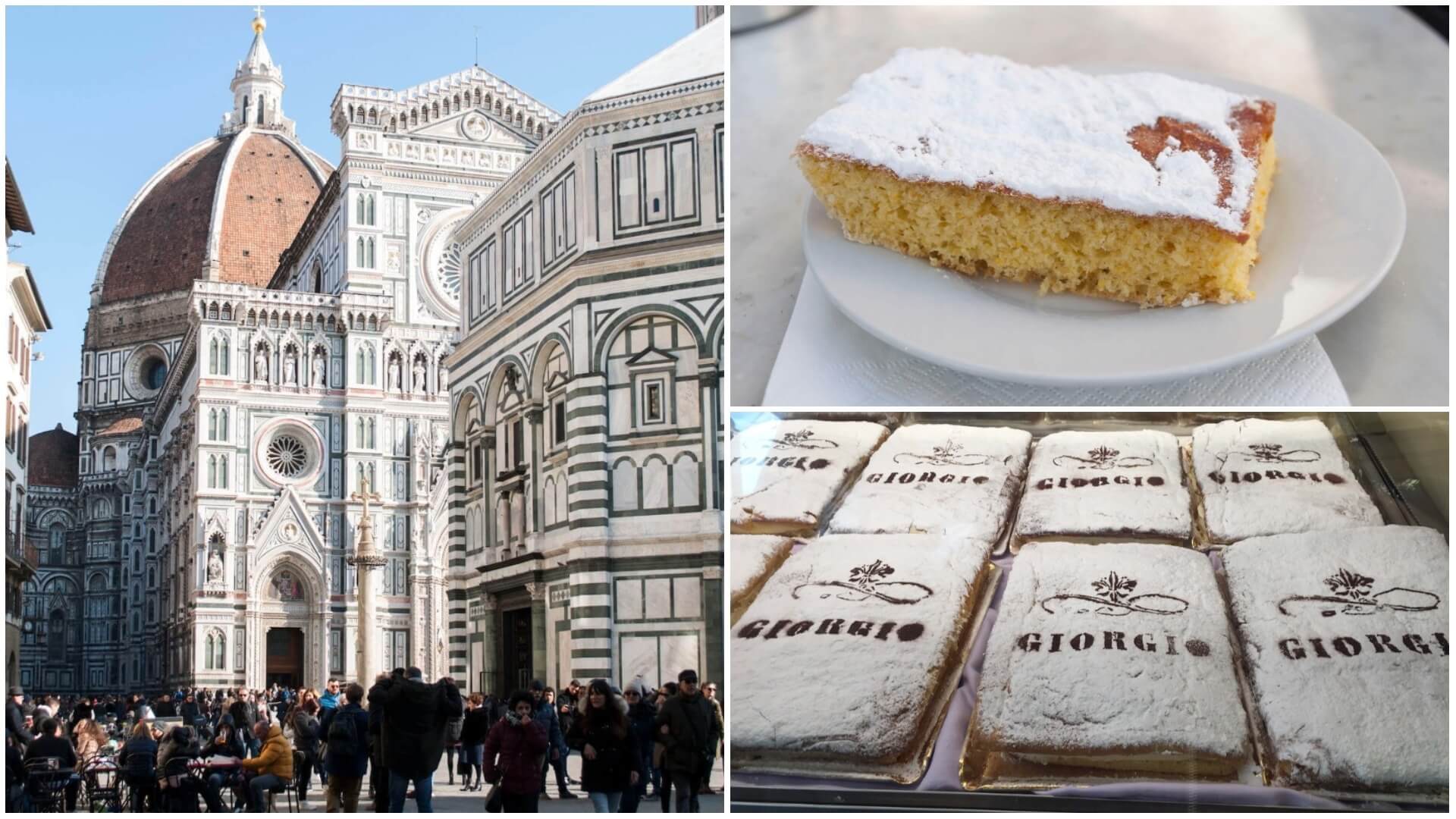 Article Name
Visiting Florence to taste schiacciata alla fiorentina
Author
Daniela Barutta
This post is also available in: Italian