Spring is close, and as the temperatures are rising in Italy, we are now looking for lighter and easier dishes to prepare at home.
These getting into the months of salads based on brown rice, barley, spelt and bulghur. This last one is particularly useful when you don't have enough time to cook. It is ready in fifteen minutes, it is tasty and delicious both warm or cold. Moreover a portion of about 70-80 g can really satisfy your hunger, which is really helpful during these pre-summer months.
The recipe I'm sharing today is really easy and you can prepare it in just one hour, even less if the squids and mussels have already been prepared for cooking by your fish seller. I chose to combine the seafood with artichokes, which are now in full season; but if you prepare this recipe during summer, try and substitute them with zucchini or cherry tomatoes confit.
To season I chose a Kampot black pepper, a fine and spicy quality Cambodian pepper with citrusy and floreal notes, that marries well with seafood.
[post in collaboration with Nuova Terra]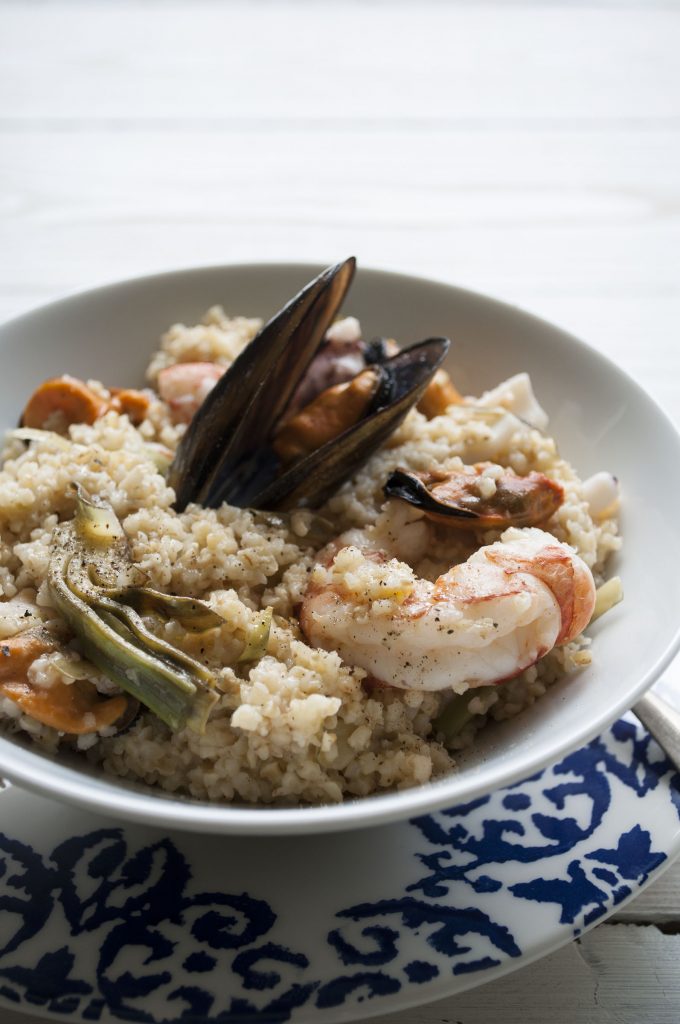 BULGHUR WITH SEAFOOD AND ARTICHOKES
ingredients for 2 people
150 g bulghur Nuova Terra
500 g mussels
250 g squids
8 prawns
1 artichoke
evoo
salt
Kampot black pepper
lemon juice
1.Cook the bulghur following the instructions on your packet. When it is ready, drain it well and put it aside.
2.While the bulghur is cooking, clean the mussels, removing the beard and scraping the shell's surface. Put them in a wide pan, where you previously heat up a tablespoon of evoo. Cover with a lid and let them cook some some minutes, just enough for the mussels to open. Remove mussels from their shells and keep them aside.
3.Carefully clean the squids: remove the skin, the eyes and the "tooth" within the tentacles. Wash them well under running water and cut them into slices. Remove the shell from the prawns.
4.Heat up a pot with abundant water. As soon as the water boils up, introduce both the squids and the prawns. Remove the pot from the heat, and let the seafood cook for 3 minutes. Drain well, put squids, prawns and mussels in a bowl and season with evooa and some lemon juice.
5.Remove the external leaves from the artichoke, and leave 3-4 cm of stem (and peel it off). Halve the artichoke, remove the beard and rub the surface with some lemon, to prevent it from turning brown. Cut into thin slices the stem and the artichoke heart and let everything sauté together with three tablespoons of evoo and a garlic clove. Cook for about ten minutes, or less, adding some water if needed. Season with salt and pepper.
6.Remove the garlic, and add the bulghur and the seafood in the pan and stir well. Serve lukewarm or cold, with a drizzle of evoo and some extra Kampot black pepper.
Enjoy!
Summary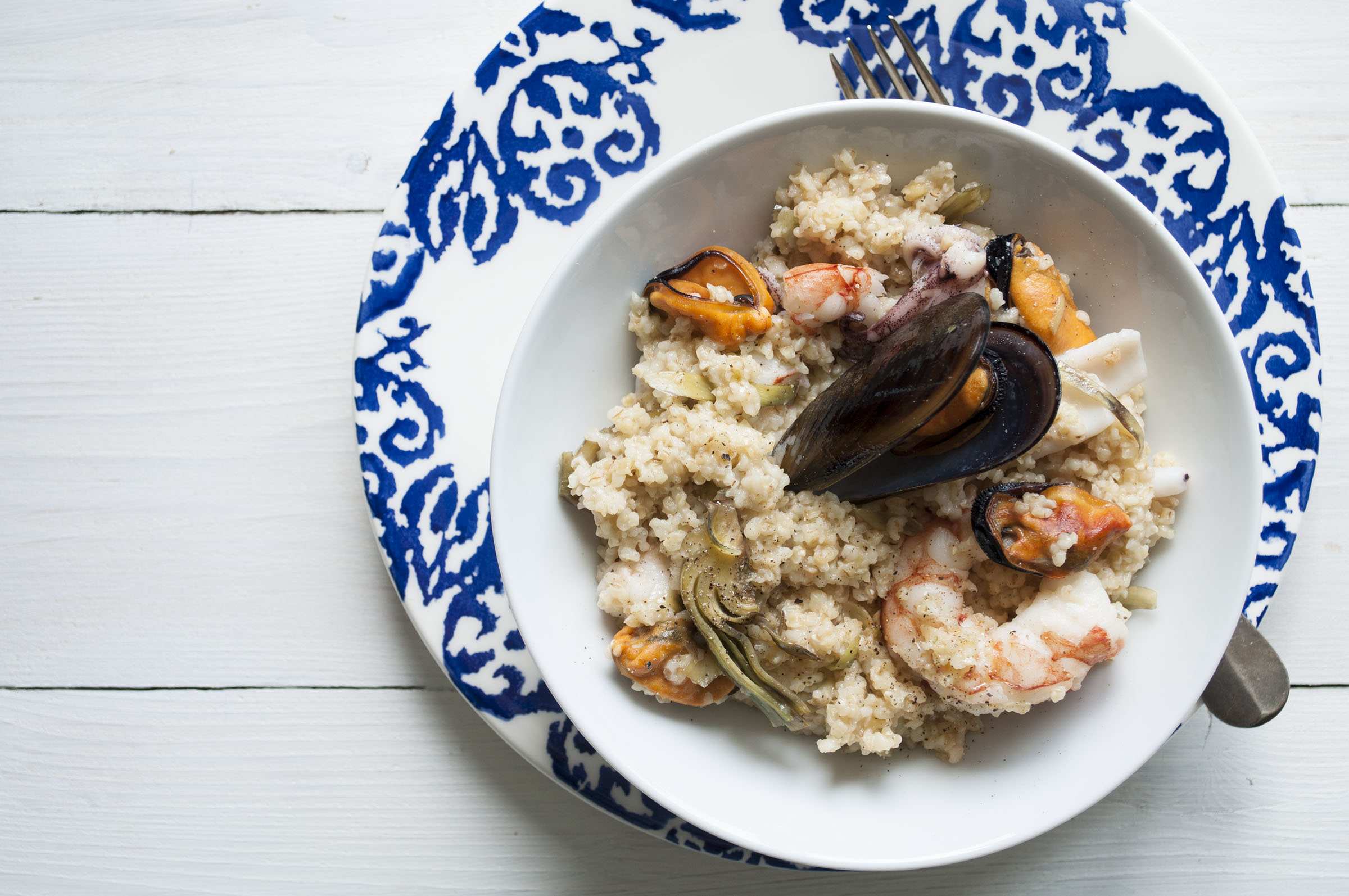 Recipe Name
Bulghur with seafood and artichokes
Published On
Total Time
Average Rating





Based on 0 Review(s)
This post is also available in: Italian