I know, I am not very much present on the blog lately.
I'm concentrating on my work: the 20th of April I sent the first newsletter related to my work as a digital strategist for food&wine (if you want, you can read it here) and I'm writing the second newsletter I'll be sending this Friday. I will speak about the beer producer 32 Via dei Birrai, and if you'd like to receive it, you can sign in here.
Likely once a month I participate at Cucina Conversations, the round table about Italian food thought for all English speaking lovers of Italy and its cuisine, a project I share with 6 fellow bloggers.
This month the topic is about salads, and when I had to decide which recipe to make, I started to think about all the options and my mind just stopped at insalata di mare.
Sure, this is not the first dish you imagine when you think about a salad, which is moreover about vegetables.
But I live close to the sea and at this time of the year all the beach clubs and their restaurants are reopening againg. One of the pleasures of good season here in Versilia is the possibility to have lunch on the beach even during working days. I usually chose an insalata di mare, since it gives me the illusion to be on holiday and lets me go back to work without feeling heavy.
The recipe for insalata di mare is the simplest, but for me there two secrets that make it a great one: the freshness and quality of seafood (of course!) and a very short cooking time of shrimps and squids which guarantee great flavour and tender texture.
So here it is, my version for the simplest insalata di mare. If you wish, you could add cherry tomatoes (I do add them when they are in season), olives, celery.
At the end of this post you'll find the other recipes for this month issue of Cucina Conversations about salads.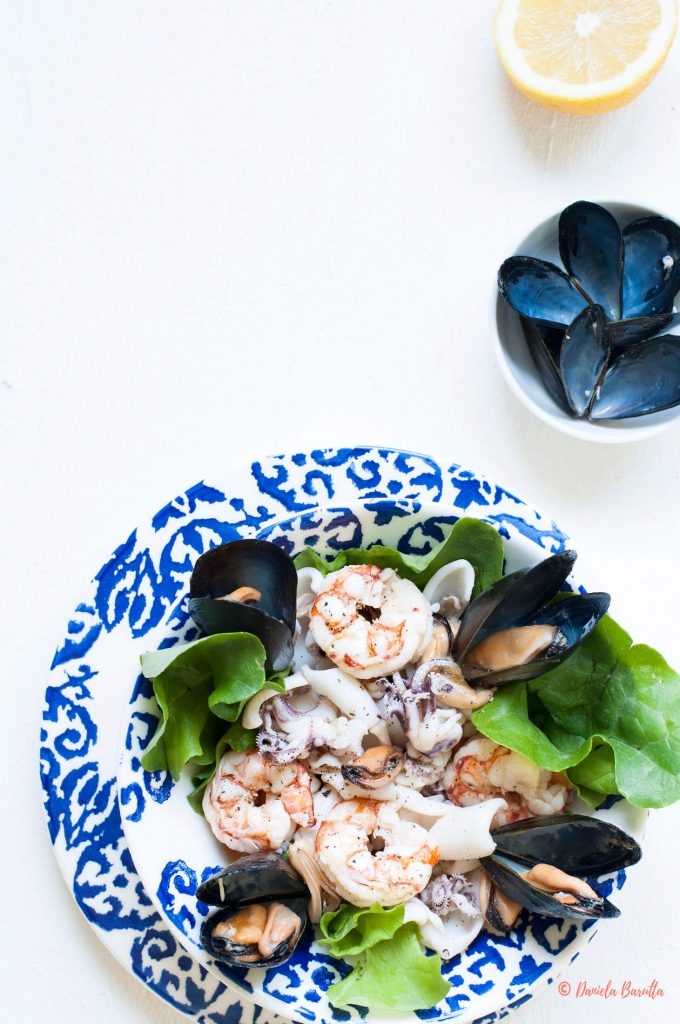 INSALATA DI MARE
For two people, as a main dish
12 medium sized squids, already cleaned
12 shrimps
300 g mussels
Gentilina salad
1 carrot
basilic
extra virgin olive oil
salt
black pepper
1. Wash some salad leaves, peel off a carrot and thinly slice it lenghtwise, using a mandoline slicer.
2. Carefully clean the mussels: remove the beard and all the dirt on the shell. Warm up a pan with a tablespoon of evoo, and when it's hot add the mussels. Cover with a lid for some minutes, until the mussels will be open.
3. Remove the shell of shrimps and cut the squids into 2-cm thick slices. Bring to a boil a pot of water, and when it's ready add the shrimps and the squids. Cook for about 2 minutes and drain it well.
4. Let the seafood cool down for a couple of minutes and put them in a bowl: season with evoo, some lemon juice, salt and freshly ground black pepper.
5. Compose the salad: put salad, carrot and basil in each dish and then add the mussels and the seasoned shrimps and squids. Add a drizzle of some extra evoo and a sprinkle of black pepper.
Pair it with a glass of chilled Vermentino di Luni and… Enjoy!
For the all the others Cucina Conversations recipes about salads, head to:
Summary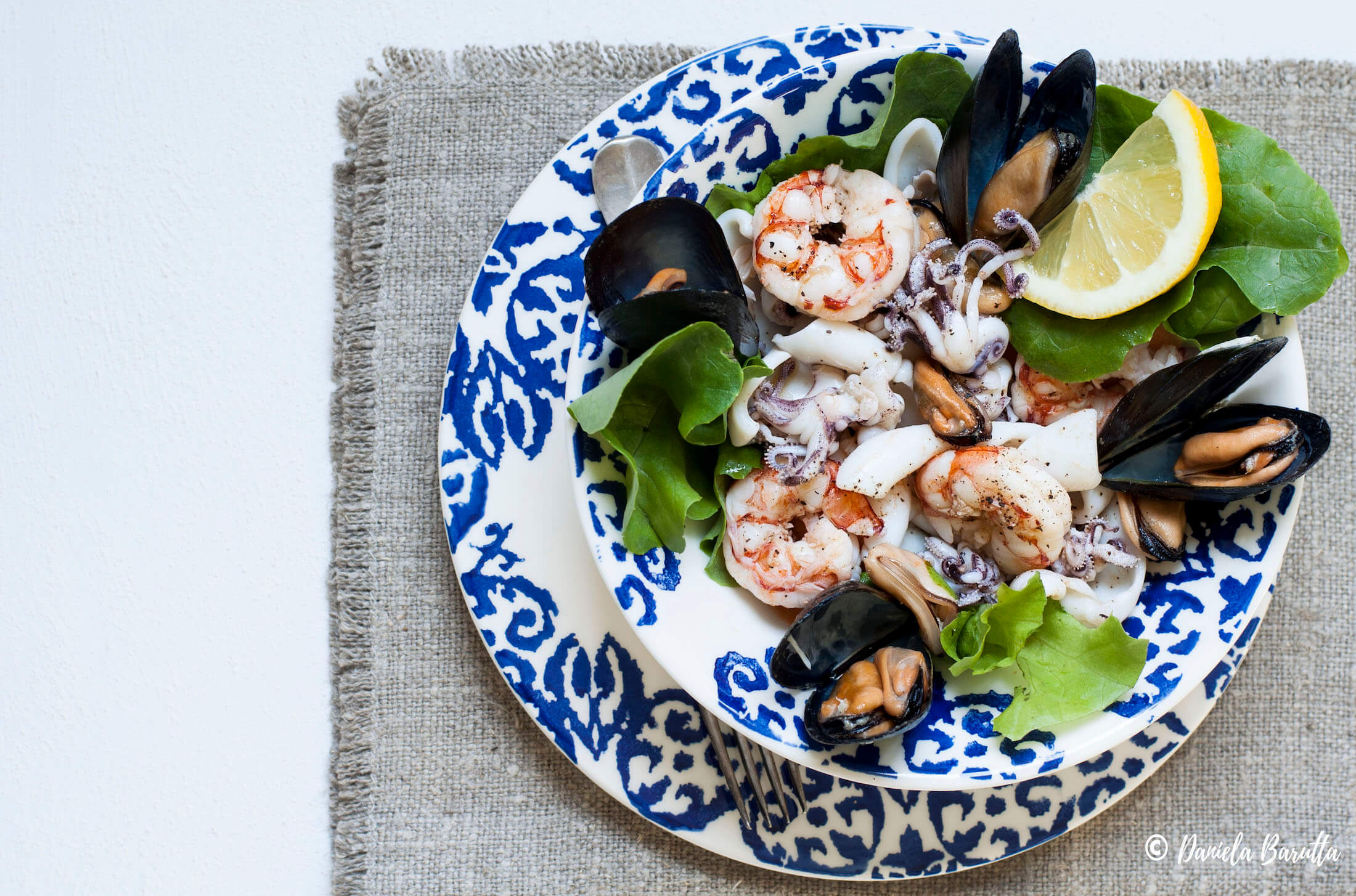 Recipe Name
Insalata di mare
Published On
Total Time
Average Rating





Based on 1 Review(s)
This post is also available in: Italian