I grew up with the certainty that spring begins the 21st of March.
As an adult I understood that reality is more complicated than it appears, and also the beginning of my favourite season could vary, even if only a bit.
So this year we welcomed spring the 20th of March.
I celebrated going at the market and buying the first asparagus of the season. I hoped to find also peas and broad beans so that I could prepare the Roman vignarola, but it looks like these beans haven't appeared yet on the market.
Every year I like to cook the first asparagus together with eggs in a simple yet delicious dish I grew up with, and that later I learnt on cookbooks to be called asparagi alla milanese (Milanese style asparagus). The traditional recipe consists of boiled asparagus, boiling them up-right (so that the asparagus tops do not overcook), and simple fried eggs, that we use to call uovo in cereghin or occhio di bue.
A sprinkle of grated Parmesan on asparagus and a couple of slices of bread make it a satisfying and scrumptious lunch during springtime.
For those who have never eaten this dish before, I give you a tasting advice: take an asparagus, dip it into the creamy yolk, and enjoy it. The bread is useful to absorb the delicious yolks leftover.
The recipe I share today, as you should have already understood, is inspired by this dish.
I thought to prepare a toasted bread and topped it with the same flavours of asparagi alla milanese. The main difference is the cooking style of asparagus, since here I preferred to grill them to preserve their flavour and for a better consistency.
Maybe it looks like it is difficult to be eaten, but the secret is to break at first the yolk, so that it coats the asparagus and the bread. You could end up with dirty hands, isn't it also one of the pleasures of eating?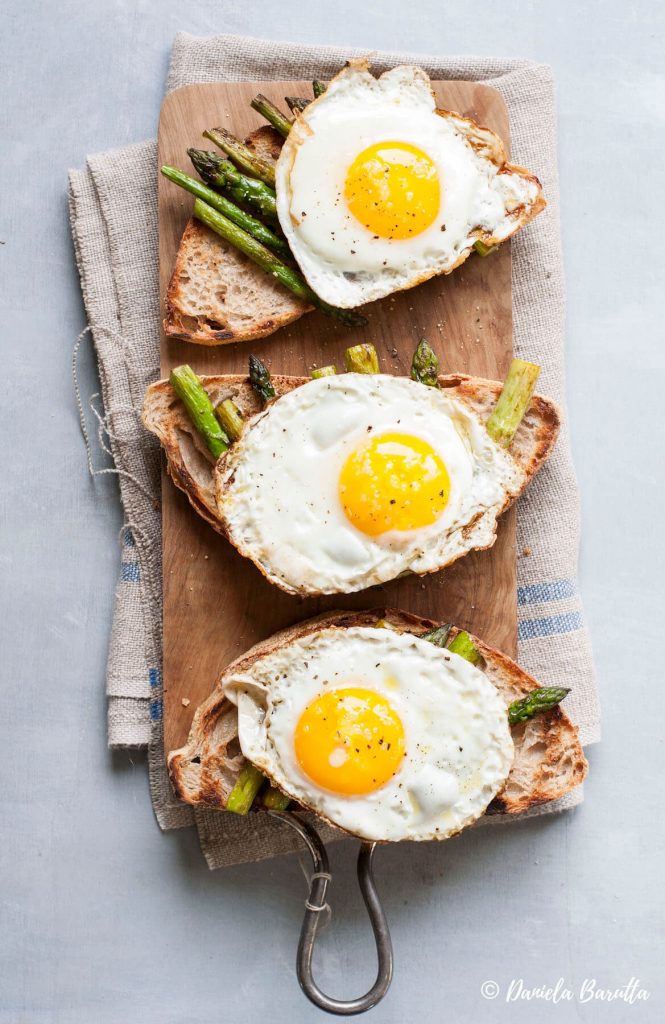 TOASTED BREAD WITH GRILLED ASPARAGUS AND FRIED EGGS
for 2 people
rustic bread, you need 4 slices
about 400 g asparagus
4 eggs
salt
black pepper
extra virgin olive oil
sunflower seed oil (or another seed oil)
1.Wash well the asparagus, remove the hard and white part at the bottom and cut the rest into two even parts of about 8-10 cm each;
2.Brush a non-stick pan (better if it is a grill pan) with evoo and heat it up well. Cook the asparagus for about 10-12 minutes, stirring them every couple of minutes. The asparagus have to turn out toasted outside. Season with salt.
3.Toast 4 bread slices over a hot grill pan. When they're ready, keep them aside.
4.In a non-stick pan pour about two tablespoons of seed oil and heat it up. Add the eggs, being careful not to break the yolk. Cook over medium heat and after a couple of minutes cover with a lid so that the eggs whites can cook.
5.Now take the toasted bread slices, put some grilled asparagus and on the top the fried egg. Season with salt and some freshly ground black pepper and eat immediately.
Enjoy!
Summary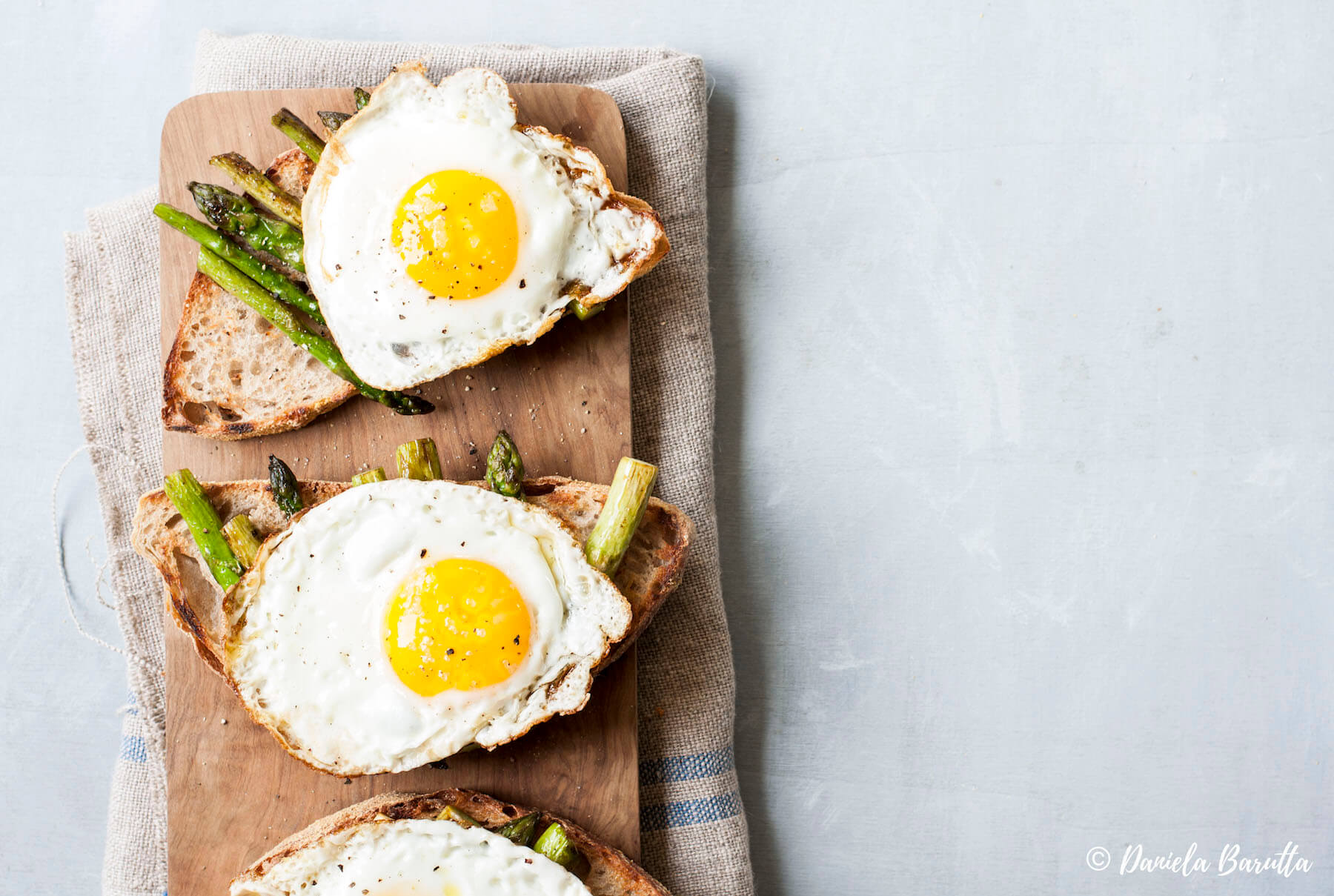 Recipe Name
Toasted bread with grilled asparagus and fried eggs
Published On
Total Time
Average Rating





Based on 0 Review(s)
This post is also available in: Italian