Here in Italy it's Lent time, and the Italian culinary tradition suggests we follow a special light diet during this period. We should avoid as much as possible meat and animal fats, and try to select economic ingredients, so we can give some money to charity.
Following the spirit of Lent, the theme of this month's Cucina Conversations will be about vegetarian recipes.
In reality, the so-called cucina di magro (the Italian name for the light food eaten during this period) is more pescetarian, because fish is traditionally consumed on Fridays during Lent time.
Anyway, if you say "cucina di magro", I immediately think about cannelloni ricotta e spinaci, a traditional main course made with sheets of egg pasta, stuffed with ricotta and spinaches, then rolled and covered with abundant white sauce.
For this recipe I was inspired by cannelloni, but with a lighter touch. I substituted egg pasta and spinaches with paccheri and chicory. The chicory with its bitterness balances well with the sweetness of ricotta and creates a tasty and not-boring filling.
It's a practical recipe, since you can prepare it in advance, and then finish to cook in the oven right before your lunch or dinner.
For the chicory, I used a technique called sbianchitura in Italian (how is it called in English?!), which consists in boiling vegetables for about one minute, then drain it well, and immediately put it in cold water with lot of ice cubes. Then you can proceed to cooking, but you will be sure that your vegetables won't lose their bright colour.
For other vegetarian options, have a look at my friends' blogs here below: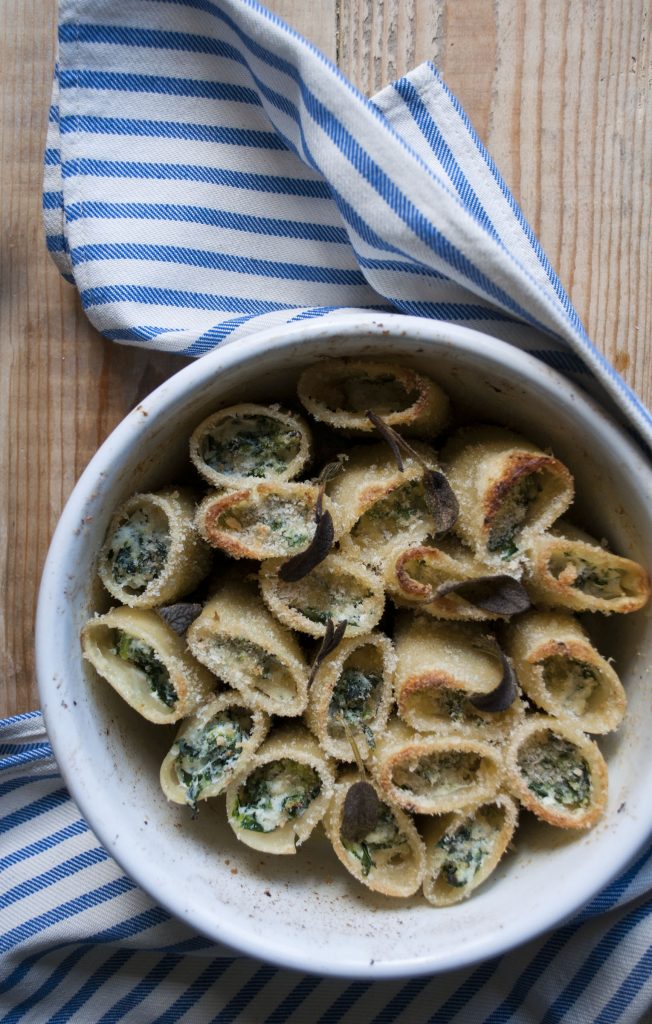 PASTA AL FORNO DI MAGRO, CON RICOTTA E CICORIA
Ingredients for 4 people:
1 kg of chicory
a garlic clove
evoo
chilli, black pepper, nutmeg
800 g ricotta
400 g paccheri
30 g di butter + butter for greasing the tin
breadcrumbs
sage
1.Carefully wash chicory and remove the hardest parts. Proceed with sbianchitura: put the chicory leaves in boiling water for about 1 minute, then drain them and immediately put in abundant water with ice cubes.
2.Squeeze out the chicory, chop it thinly and sauté in a pan with evoo, the garlic clove and some chilli, for about 10 minutes, or until it is cooked. Put aside and let it cool down.
3.Cook well paccheri in abundant boiling water. They don't have to be too much 'al dente'. Drain and put them in a bowl with a tablespoon of evoo, so they don't stick together.
4.Put ricotta in a bowl and mix it well with the sautéed chicory, season with salt and add some fresh pepper and nutmeg.
5.Grease a tin, big enough so you can place all the paccheri vertically (I made half portion, and I chose a tin of 20 cm of diameter). Place a pacchero in vertical position, and helping yourself with a sac à poche, stuff them. Proceed until you finish all the ingredients.
6.Before eating, melt butter and pour it over paccheri and cover with breadcrumbs. Put in the oven with the grill function at 200°C for about 15 minutes. Time varies depending on your oven. Maybe the first time you make this recipe, have a look every 5 minutes!
Enjoy!
Summary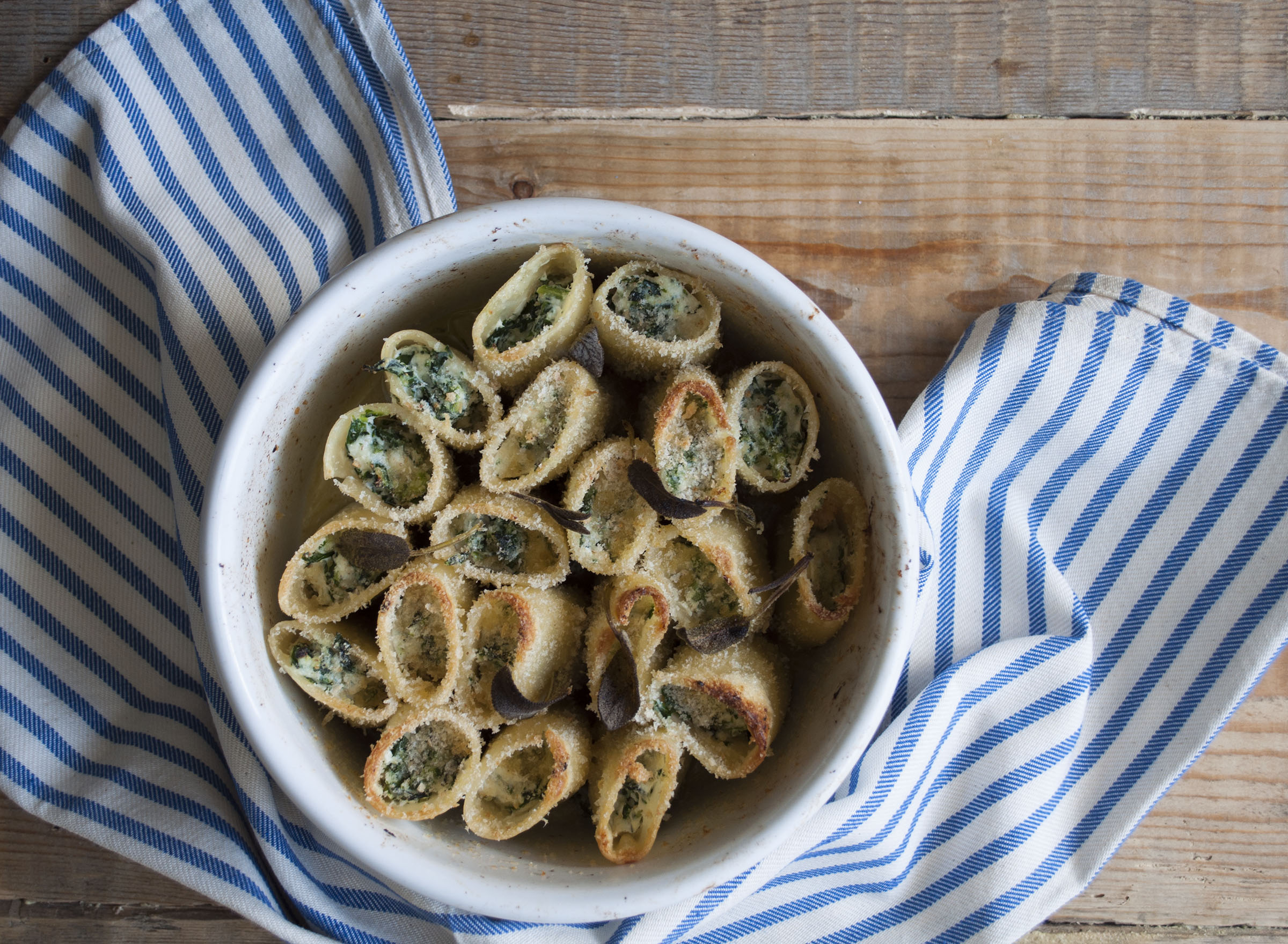 Recipe Name
Pasta al forno di magro with ricotta and chicory
Published On
Total Time
Average Rating





Based on 0 Review(s)
This post is also available in: Italian