During these days I'm reading the book "Gli Aristopiatti" (literally translated with "The Aristodishes" – now only available in Italian), a book written by Lydia Capasso and Giovanna Esposito about the history and the recipes around the Italian aristocratical cuisine. A travel through time in Italy to explore the origin of ingredients and dishes that we Italians know well.
In the chapter about Serenissima, I discovered that Venezia was crucial in the introduction of exotic products, like sugar, spices and stoccafisso, the Italian name for dried codfish.
The authors tell us tell that in the Fifteenth century, the Venetian nobleman Pietro Querini, while transporting goods from Crete Island to Flanders, found himself shipwrecked  together with part of his crew on one of the Lofoten Islands.
They were noticed by a group of local fishermen, who hosted and fed them. When it was time to come back home, the Norwegians gave them some of their stoccafisso, the codfish dried under the sun and wind.
Since then, the use of stoccafisso rapidly spread in Italy, also thanks to a regulation of the Council of Trent that suggested the consumption of dried cod at least twice a week.
In Italian stoccafisso and baccalà are often used as synonyms, but it's a mistake. In both cases we refer to cod fish, but while stoccafisso is dried, baccalà is salted. I love both, but I prefer baccalà for its delicate flavour.
Two incredible ingredients, full of nutrients and low in fat, that are deeply rooted in the Italian Cucina Povera. Here I decided to combine a fennel puree with some baccalà – salted codfish – and a crunchy bread crumbs flavoured with anchovies.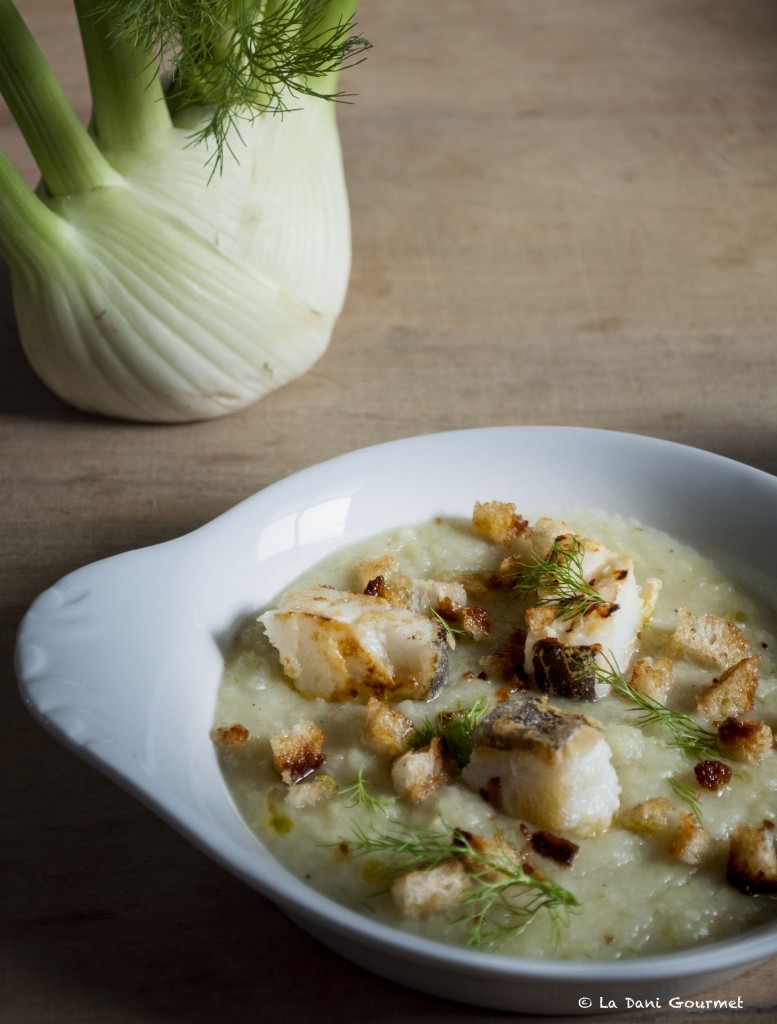 FENNEL PUREE, SALTED COD FISH AND CRUNCHY CRUMBS FLAVOURED WITH ANCHOVIES 
Ingredients for 4 people (as a starter)
1 small-medium size potato (peeled, about 120 g)
1 medium fennel, about 350 g
1 small shallot
1 thick slice of rustic bread
300 g already soaked baccalà
2 preserved anchovies
evoo
salt and pepper
Cut the peeled potato into cubes.
Wash the fennel, halve it and remove the hard central part and slice the rest roughly. Remove the beard and keep it aside.
Thinly shop the shallot and let it sauté with some evoo. Add the fennel, the potato cubes, season with a pinch of salt and let is cook at medium heat some a couple of minutes. Add enough water to cover the veggies and cook at medium low heat for about 20 minutes, or until the potato and fennel are tender.
Mix it with a minipimer or in a blender, eventually adjust with salt and pepper and keep it aside.
Reduce the bread slice into small coarse crumbs.
Heat up a non-stick pan with some evoo and anchovies. As soon as anchovies will be dissolved into the oil, add the bread crumbs and let them toast at medium-high heat for about 5 minutes.
Now take the baccalà, remove the fishbones and slice into pieces of about 3 x 2 cm.
Heat up a non-stick pan with a tablespoon of oil; when it's hot cook the salted cod fish cubes 1 minute (or a bit more) each side.
Take some small bowls and put some hot fennel puree, the baccalà pieces and sprinkle with fennel beard, the crunchy bread crumbs and some drops of evoo.
It's really a fast, light and delicious dish!
It could be perfect as a main course; this quantity would be ok or two people (maybe just add some extra cod fish!)
Enjoy!
This post is also available in: Italian