It's no news to people that know me, that Puglia is one of my favourite places in Italy.
Before last year (when I visited this region), my knowledge about Apulian cuisine was superficial and connected to the cliché of "orecchiette con le cime di rapa" (orecchiette pasta with rapini), a delicious dish, that once tasted in Puglia, I realised how scrumptious cime di rapa are in this region. Incomparable to the variety I can find in Tuscany.
I discovered many simple and straightforward dishes, with a lot of veggies and amazing cheeses. I discovered bracerie (typical grill houses), with local offers, such as 'gnumeredd or bombette di Cisternino.
A dish that I ordered many times at the restaurant (and that I prepared at home so often) is Favette e Cicoria,  a delicate fava bean purée served with sautéed wild chicory. A dish from the poor tradition, that it was offered as a starter, but I prefer it as a main course.
It can be prepared all year round, since you need to use dry fava beans. In this case, I served them with some sautéed chard, but you happen to find some wild chicory, go with them. The bitterness of chicory turns to be delicious with the sweetness of the broad been purée.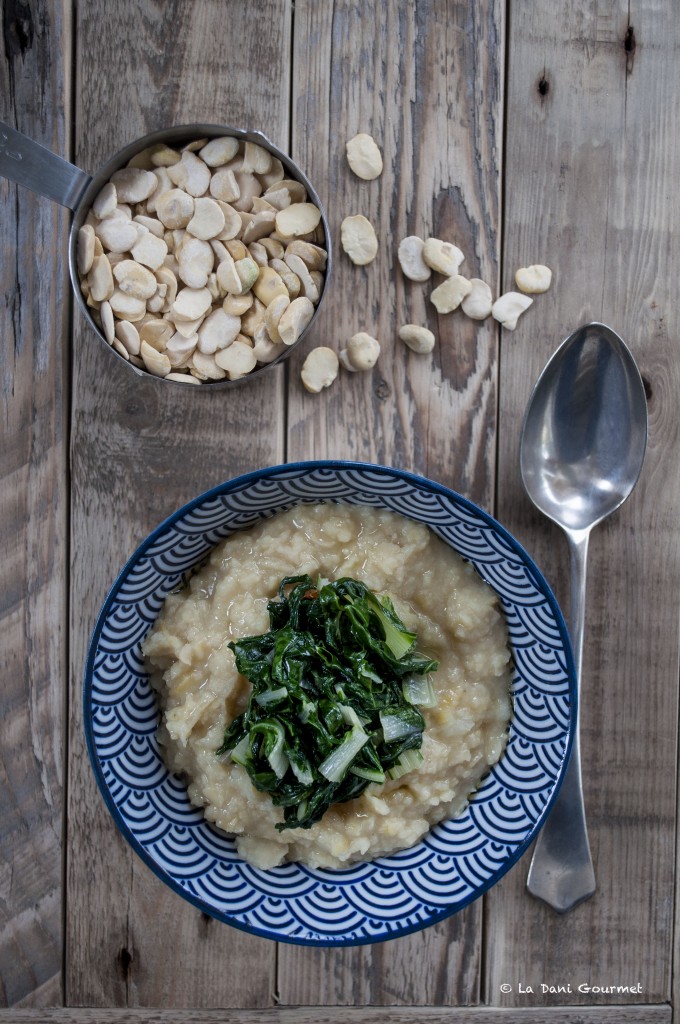 FAVA BEAN PURÉE WITH CHARD
Ingredients for 4 people:
500 g dry broad beans
2 small potatoes, or 1 big
500 g chard
garlic
chilli
good quality evoo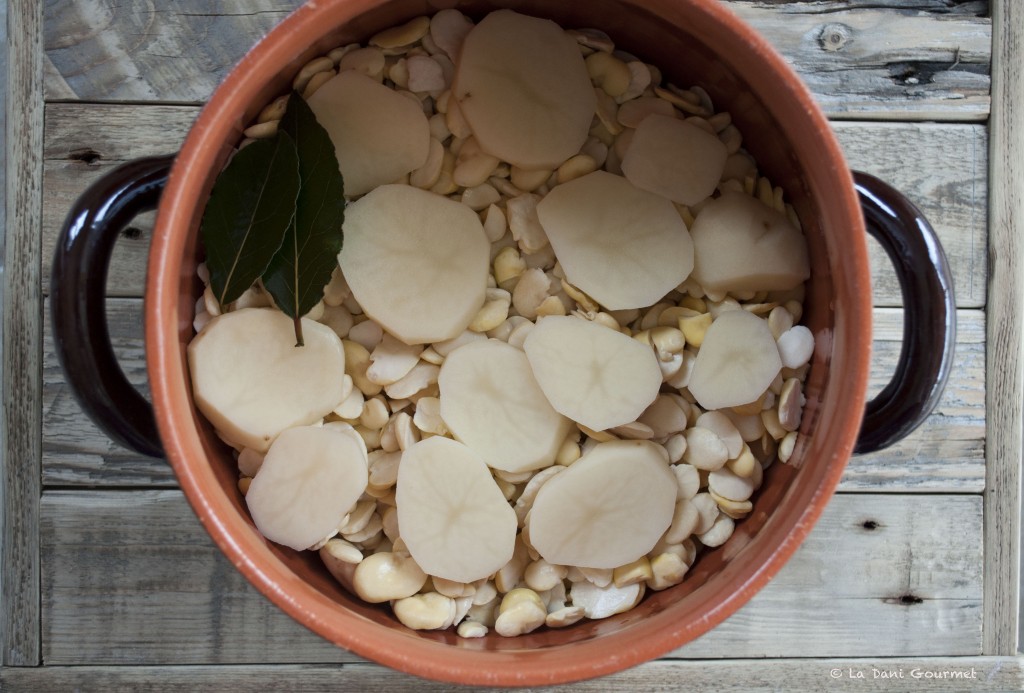 Soak dry broad bean in generous water for at least 12 hours. If necessary, add some extra water after some hours.
Drain the fava beans and wash them under running water.
Peel off the potatoes and slice them 1 cm thick.
In one big pot (ideally terracotta pot) put the fava beans and lean on the surface the potato slices. Cover with water, add a couple of bay leaves and bring to the boil.
Then reduce to a simmer and let it cook for about 1 hour and a half, or until the fava beans are soft.
Remove the bay leafs, and now you have two choices: if you want a smooth purée, mix everything in a blender or with a minipimer; personally I prefer a more rustic purée, and in this case you have to stir energetically the mixture with a wooden spoon, pressing the beans and potatoes against the border of the pot. Season with salt and pepper.
To prepare the chard, wash it carefully and remove the ruined parts.
Cut thick slices and let them sauté in a pan with evoo, a garlic clove and some chilli. If you use tender and young chard, it will be ready in 5 minutes.
Serve the fava bean purée warm with a generous drizzle of evoo, some freshly ground black pepper and a nest of sautéed chard.
Enjoy!
Summary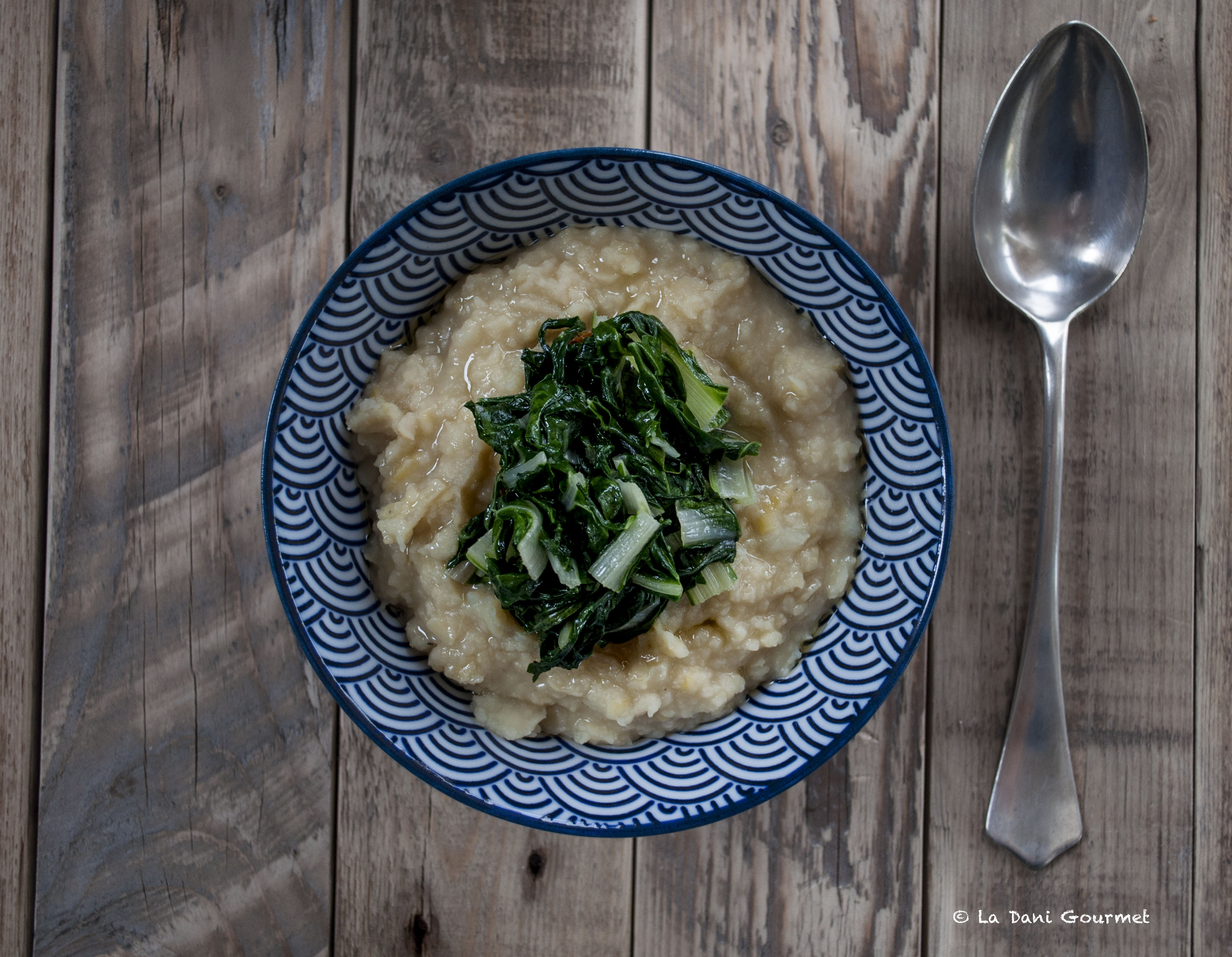 Recipe Name
Bread bean puree with chard
Published On
Average Rating





Based on 3 Review(s)
This post is also available in: Italian