Last month on my Instagram profile I decided to share photo and thoughts about food markets, one of those places I always try to visit while traveling in Italy or abroad.
In a market I can discover so much: for example which are the hero ingredients of the local cuisine, or the seasonal vegetables cultivated in that area and even learn local terms about food.
Farmers' market
Travelling abroad I extended my idea of food market, especially when I first visited an actual farmer's market, where you can find not only fresh produces – as vegetables, cheeses – but you can also enjoy some street food or some drinks, as a hot apple cider, a muffin or a burger.
Farmers' markets are not only a place where shopping food, but also a gathering occasion with family and friends.
In this post I want to speak about one of this farmers' market and one of my favourites in the US: the Burlington farmers' market.

Burlington
Burlington is a lovely town in the North-West part of Vermont, and it is situated on Lake Champlain.
As other towns of this US state, it is not too big but it is a lively place, also because it is the regional college town. For its strategic position and its atmosphere, it is often chose as the base for visiting the area during foliage.
Burlington farmers' market takes place on Saturdays during the good season.
As soon as we arrived there, we felt in love at once and here I tell you why.

The organic food
Vermont is known in the US for their attention towards organic food, as produces, cheeses, meat and lots more. Strolling through the stalls it's so common to find the "organic" word: from Grassfed meat, locally raised, to the scrumptious apple cider or to the everywhere-present maple syrup, everything is organic.
This attitude towards organic and healthy food is quite common in farmer's market, but in Vermont it is a true hero.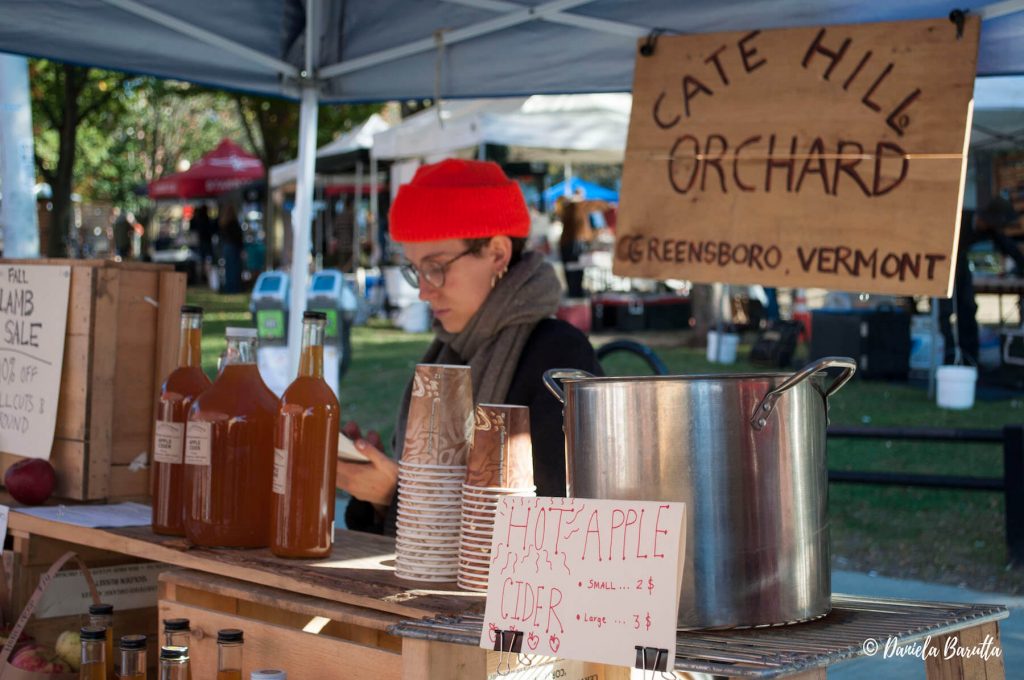 Things to eat
As soon as you approach the market, you are surrounded by lovely smells: the Grassfed meat seller also prepares freshly made burgers, and on the other side of the market, there's someone who's preparing eggs on a super hot griddle. There are also stalls with baked stuff, like muffins and cookies, and lots of stuff made with maple syrup. After all, we are in the state which is also the largest producer of maple syrup in the US.
I have breakfast with one of the best chocolate chip cookie of my life, a small maple doughnut and a hot apple cider. Everything is just too good, and I'm tempted to make a second round.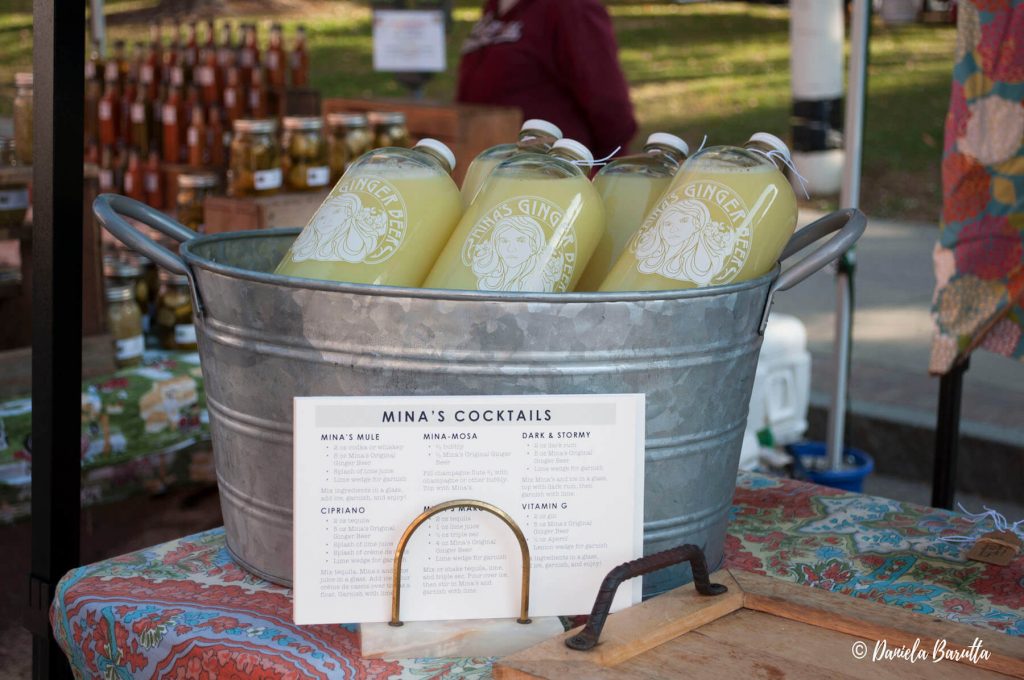 The beautiful food display
Something I was fascinated about in this farmers market (but also in other farmers' markets), it's the way food is beautifully displayed.
From apples, to homemade ginger beer, from maple syrup to cookies, it looks like that everything is placed to help you shoot beautiful pictures.
I'm the first who prefers substance over form, but when substance is excellent why don't care also about form?
The relaxed atmosphere
Generally in Burlington, but even more in this market, there's such a relaxed vacation-style atmosphere.
All producers are kind and available to hand you information about their products and let you have a taste. There's no rush to quickly sell something, but there's the will to share their knowledge and to let you understand the value behind what they do.
And moreover, the people around are cheerful, they chat, they gather with other friends and eat something taking advantage of the good weather.
From this farmers' market I brought home some maple syrup, to remember that I want to come back soon in this place.
Summary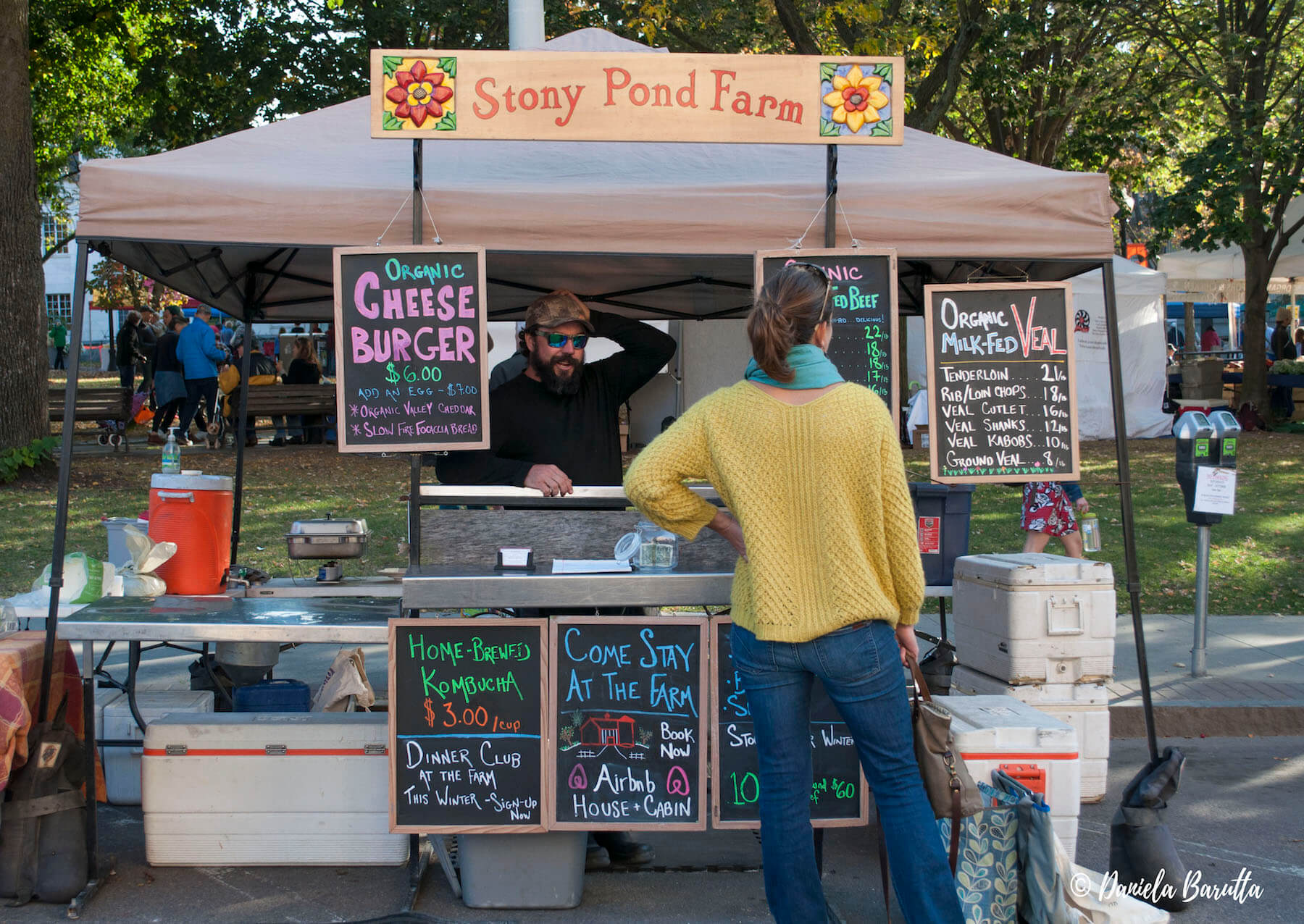 Article Name
The best farmers' market: Burlington, Vermont
This post is also available in: Italian