I don't have particular sport abilities, nor I consider myself such a lucky person. But some years ago, it happened that I went fishing together with some friends, in the Gulf of La Spezia.
To be honest I wasn't too-confident, and the true reason of being there was to be in good company and enjoy the sea from a different point of view.
Let's consider also that my friends were local and were enough familiar with fishing.
So, it was pretty weird when I fished 6 cuttlefishes and 2 octopuses of one kg and a half each; moreover, those were the only catch of the day.  Of course, my friends were pretty disappointed.
That was the first time I saw a live and juts-fished octopus.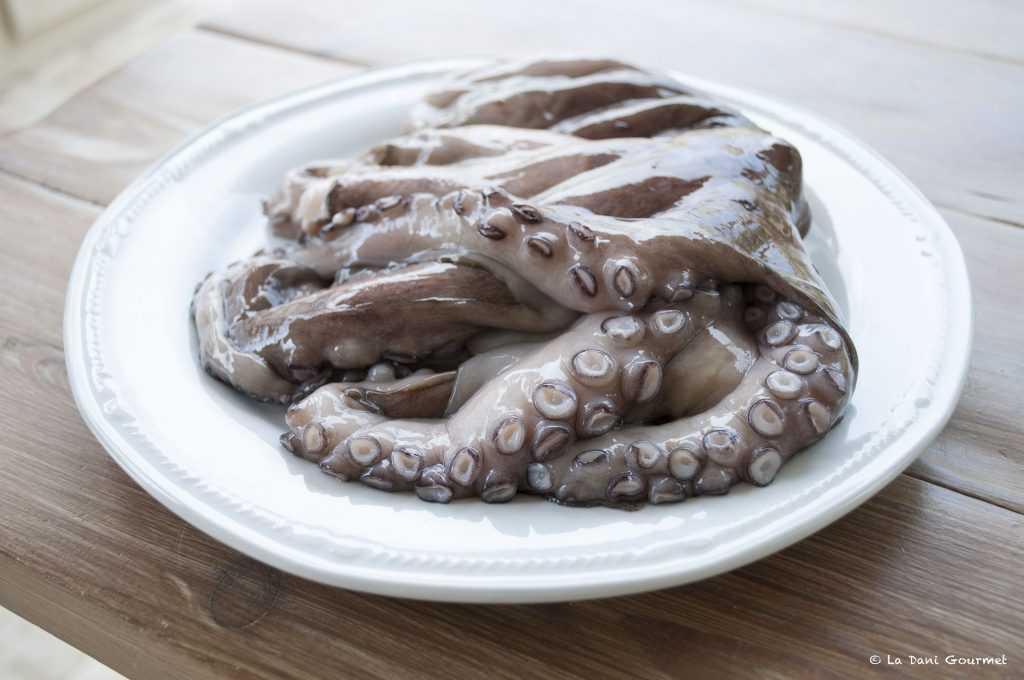 Remembering those nice days, I thought to cook this incredible marine animal.
The classic combination of octopus with potatoes, here it's represented in a more modern version. Potatoes are reduced to a creamy puree, while octopus is boiled and then slowly toasted in a pan.
The dish is amazing as it is, but I decided to give an extra kick, adding lemon zest and some Sichuan pepper.
That of Sichuan is a fake pepper, since it belongs to the same family of lemons. As a spice, we consume just the external shell of the berry, which has an intense peppery and lemon scent.
This is one of the few cases in which it's better to chose a defrosted octopus. Indeed the frosting and defrosting help the octopus flesh to be more tender, and not elastic.
Recently I watched a documentary on Netflix about Jiro, the Greatest Sushi Chef, who massages the octopus for almost one hour, to obtain the softest flesh ever. Who is willing to try?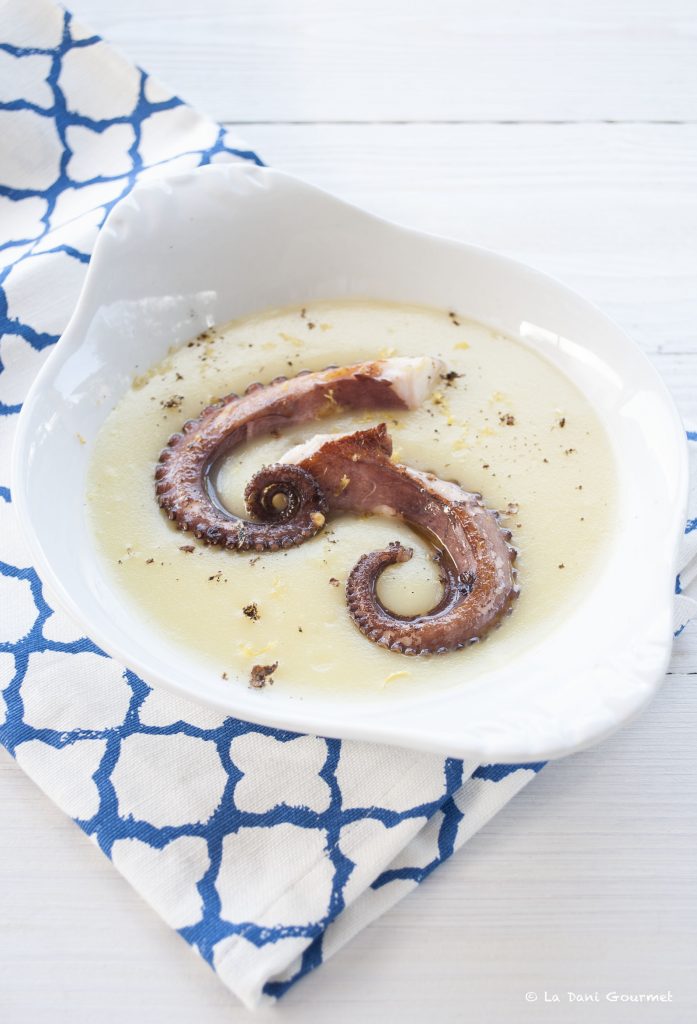 OCTOPUS, POTATO SOUP WITH LEMON ZEST AND SICHUAN PEPPER
ingredients for 4 people, as a starter:
an octopus of about 600 g, defrosted
celery, carrot and onion
bay leaf
600 g of potatoes, already peeled and cubed
1 shallot
lemon
Sichuan pepper
evoo
dry chili pepper
Cervia salt
Let's start with the octopus. 
Wash the octopus and remove the eyes and his tooth.
In a big pot, boil generous water with the "odori" (celery, carrot and onion) and the bay leaf.
When it boils up, plunge the octopus in and out three times; this helps the tentacles to curl up. Then add the octupus completely and let it simmer for about 25 minutes.
Cooking time may vary according to the octopus size.
Check the octopus tenderness using a toothpick; remove the pot from the heat and let the octopus cool down in its water.
Now let's prepare the potato thick soup. 
Slice a shallot and let it sauté with some evoo.
Add the cubed potatoes, season with salt and add water, not too much, just enough to cover the potatoes.
Let it cook for about 20 minutes, o until potatoes are soft.
Now take a minipimer or a blender, and reduce to a dense soup, paying attention there's not too much water.
The soup doesn't have to be too liquid nor too dense as a real puree. In case of doubts, remove some water from the pot before mixing and eventually add some water afterwards to get the perfect texture. If needed, add some salt.
When ready to serve, separate the tentacles and cut into thin slices the rest of the octopus.
In a non stick pan toast at high heat the octopus together with some evoo and some chili.
Serve the potato thick soup with a couple of tentacles and some of the rest of the octopus. Sprinkle with lemon zest and Sichuan pepper.
Enjoy!
Summary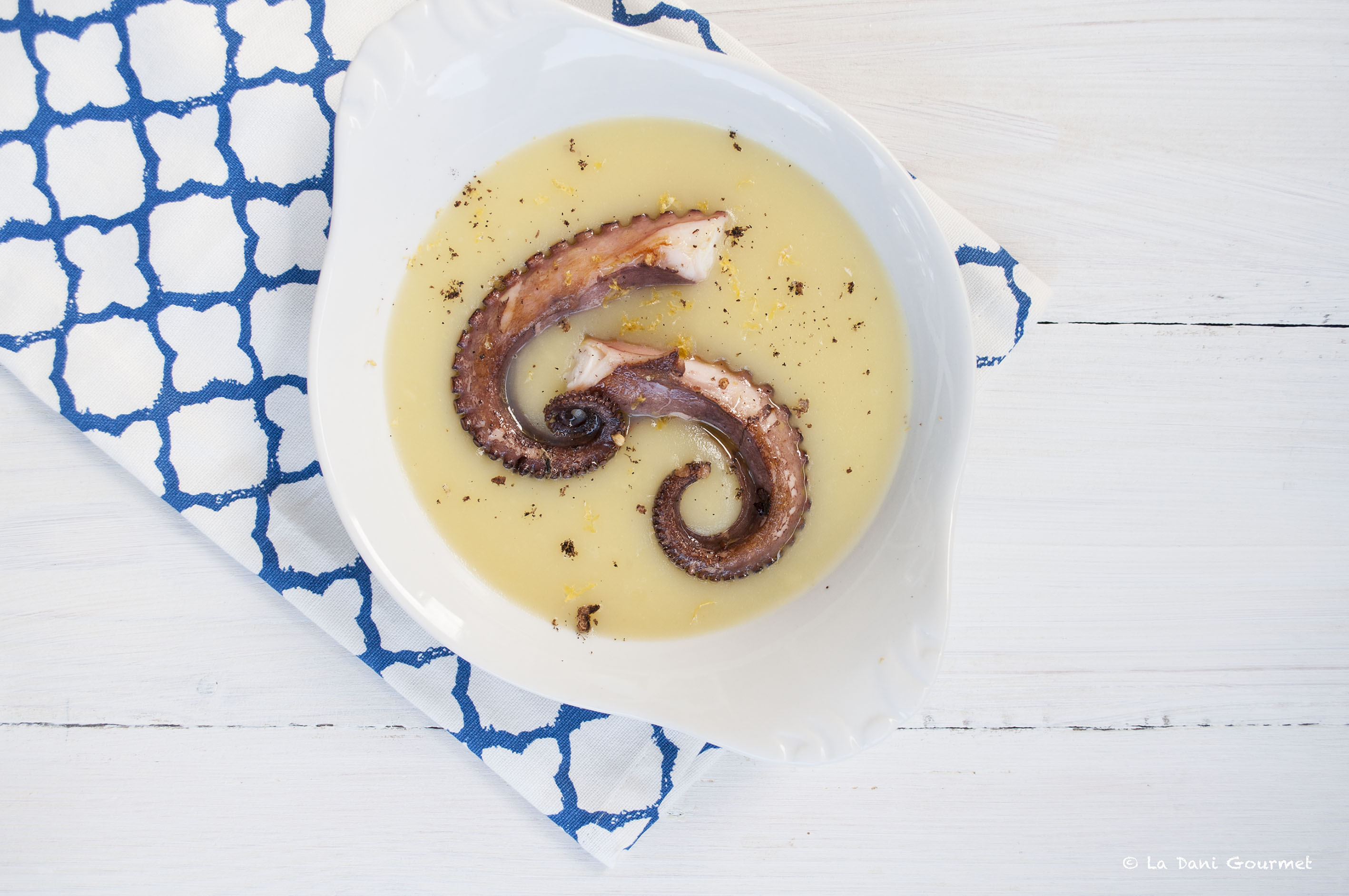 Recipe Name
Octopus, potato soup with lemon zests and Sichuan pepper
Published On
Average Rating





Based on 0 Review(s)
This post is also available in: Italian