In September, tourists gradually dissapear and our town slowly regain its time and space.
Lifeguards, tired but happy that "la stagione" ("the season" in this case refers to "the working season") is coming to its end, are removing umbrellas from the beach and cleaning all the equipment belonging to their beach club, so that it can be stored till next summer. And so the beach is slowly, day after day, taking its identity and loneliness back, and it's getting ready for the long months to come.
September at the seaside has that bittersweet flavour of the last day of holidays, when you're suspended between the happy memories of the past days and the commitments and projects you'll be into back home.
Summer, I say you goodbye with this dish that makes me feel still on holiday, before cuddling myself into Autumn.
For this recipe I chose "lanzardo" (Atlantic Chab Mackerel), who belongs to the family of oily fish and who's really similar to regular mackerel, but with a more delicate flavour. I served it together with some aïoli, a sauce of French origin, which is technically a mayonnaise based on garlic, and some provençal vegetables coming from my garden.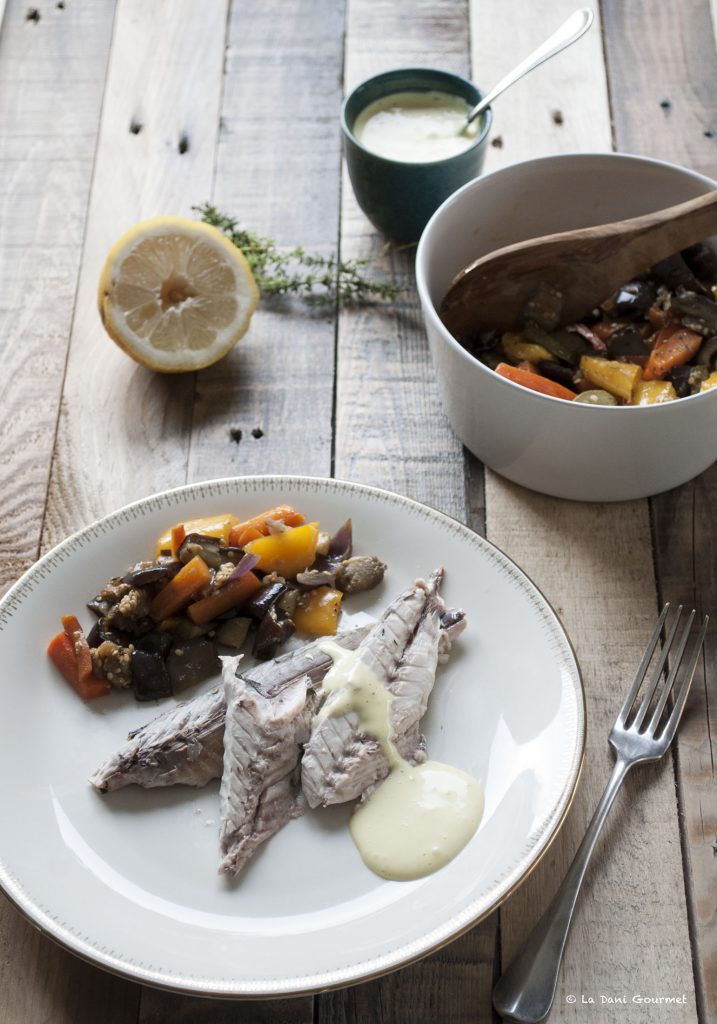 ROASTED MACKEREL, PROVENÇAL VEGETABLES AND AÏOLI SAUCE
ingredients for two people:
2 mackerels of about 350-400 g each
fresh thyme
garlic
for the Provençal vegetables:
2 aubergines
4 small zucchini
2 carrots
1 capsicum
half Tropea onion, or another good varietal
dry provençal herbs
garlic
evoo
salt and pepper
for the aïoli:
1 medium garlic clove
1 egg
100 ml corn oil
1/8 of teaspoon of Dijon mustard
two teaspoons of lemon juice
Start with vegetables.
Carefully wash, dry and cut all the veggies. Place them on a baking tray, covered with baking paper and drizzle with evoo. Bake at 200°C for about 45 minutes, giving them a stir from time to time.
In the meanwhile, prepare aïoli sauce.
Using a hand blender, mix all the ingredients: garlic (after removing the green germ inside it),  corn oil, egg, lemon juice, salt and Dijon mustard. In less than a minute, the sauce will be ready. Eventually add extra salt and lemon juice.
For the fish.
Ask the fishmonger to remove the guts, but to keep the mackerel whole.
Wash it carefully under running water, and then let it dry on some paper. Put into its belly a garlic clove and some fresh thyme and put on a baking tray covered by baking paper.
As soon as the vegetables have cooked for 45 minutes, season them with salt and the provençale herbs and put them again in the oven.
Add the baking tray with fishes and cook for about 15-17 minutes, until the fish skin can be easily removed.
When ready, remove the skin and the bone, and serve together with some aïoli, and the provençal vegetables.
Enjoy!
Summary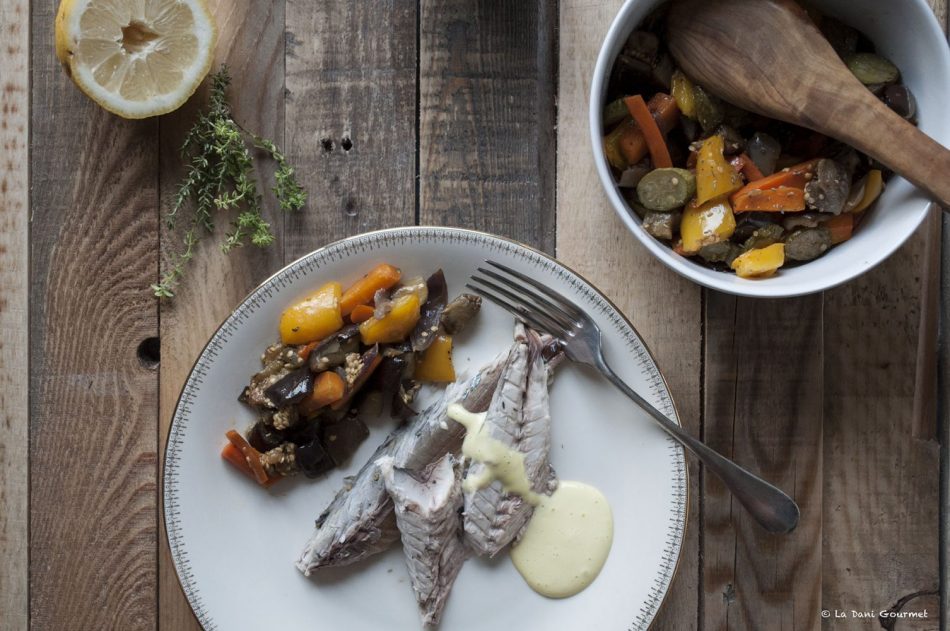 Recipe Name
Roasted Mackerel, provençal vegetables and aïoli
Published On
Total Time
Average Rating





Based on 0 Review(s)
This post is also available in: Italian