Every year in February in the lovely main town of my province there's an event about high-quality extra vergin olive oil, called ExtraLucca.
This year among the guests there was Cristina Bowerman, the one-Michelin starred chef of Glass Hostaria in Rome.
After her Law Studies in Italy and in the US, Chef Bowerman started to dedicate her life to cooking with a degree in Culinary Arts at the Culinary Accademy in Austin, Texas.
Her cooking style is not linked, or at least not so much, to traditions. It is rather guided by the will to experiment and analyze the complexity of ingredients and cooking techniques, in order to achieve depth of flavours.
Indeed, on her menu you won't find traditional Roman dishes, such as cacio e pepe or carbonara, but creative dishes reflecting her culture and knowledge of ingredients and innovative techniques. If you have a look at the September menu of Glass Hostaria, you could get an idea; just to quote a couple of dish I would devour: Smoked Riserva San Massimo risotto, tomato, cumin, candied ginger and turmeric and Scented sumac lamb, stilton cheese carrots and fennel pollen.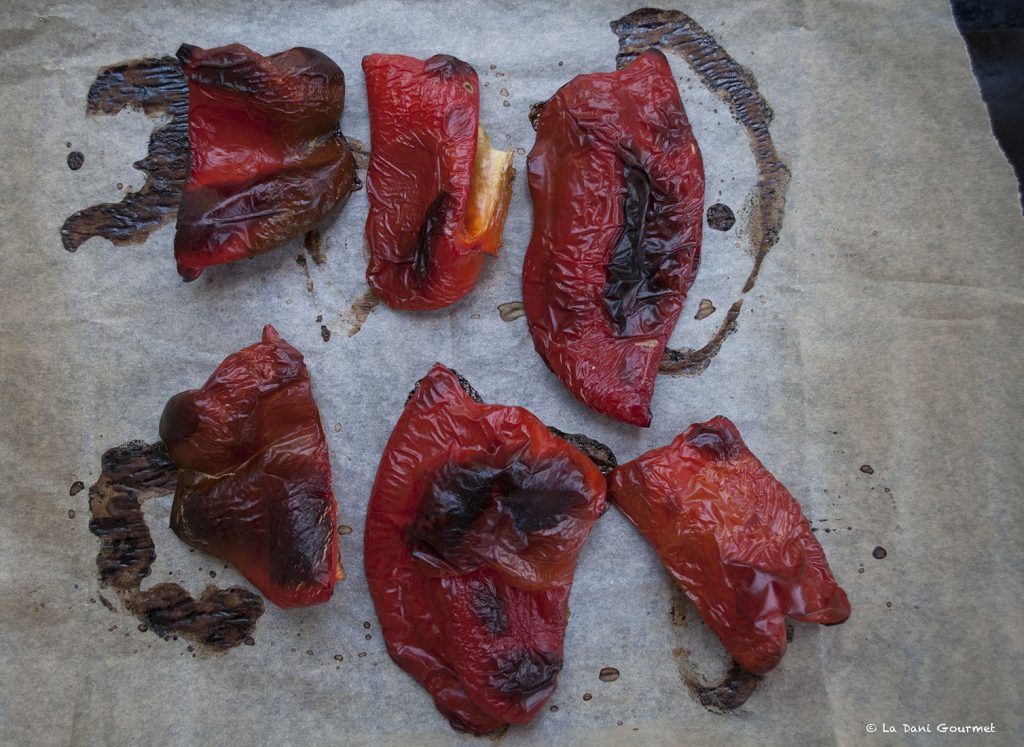 Chef Bowerman gave us lots of precious information during ExtraLucca, among which there was the instructions to make a linguina (similar to spaghetti, but in flat strips) cooked in the water released by roasted peppers, and combined with Cetara anchovies and some fresh coriander.
During summer I often prepare roasted peppers, which are more delicate and digestible. And so I decided to try out this dish, using whole wheat spaghetti, and combining them with some stracciatella cheese. If you prepare roasted peppers the day before, it's also a very quickly dish!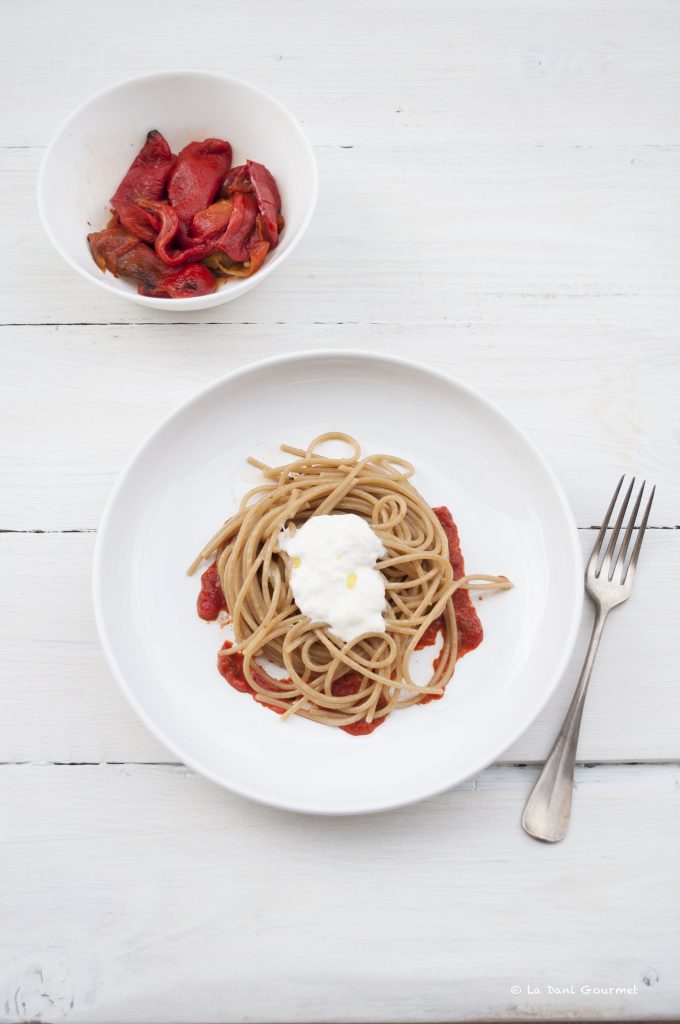 WHOLE-WHEAT SPAGHETTI, ROASTED PEPPERS WATER, ANCHOVIES AND STRACCIATELLA
ingredients for 2 people
4 red peppers
extra vergin olive oil
garlic
2 good quality anchovy fillets
220 g whole-wheat spaghetti
stracciatella cheese
To prepare the roasted peppers water:
Halve peppers, remove the seeds and put them on a baking tray covered by some baking paper. Drizzle with some evoo, and roast in the oven at 180°C for about 35-40 minutes.
Save the liquid that peppers released on the tray, and drop it in a bowl; in the meanwhile put the roasted peppers in a food plastic bag and let them rest for about 5 minutes. In this way it will be much easier to peel them off.
Once you have removed the skin, move them into a small colander and place it on the bowl you used previously, where you put the peppers cooking water. Leave them for some hours, or better overnight, so you can get a nice quantity of liquid.
For the peppers puree:
Take 3/4 of a pepper, and mix it with some evoo and eventually some water. Keep the puree aside.
Per the pasta:
Cook pasta in abundant salted boiling water.
In the meanwhile prepare the sauce. Sauté two big garlic cloves in generous evoo and add two anchovies fillets. As soon as anchovies are melted, add the peppers liquid and remove from the heat; in case you have a lot of peppers liquid, you can reduce it on the stove for a couple of minutes, before tossing in the pasta.
Drain the spaghetti a couple of minutes before they're ready, and save a glass of pasta cooking water. Finish to cook the spaghettis in the pan with the sauce, and eventually add some of the water you have saved.
To serve, put a tablespoon of peppers puree at the base, then add the spaghetti, and some stracciatella cheese.
Season with some evoo and serve it at once.
Enjoy!
No waste advice:
Put the leftover roasted peppers in a jar and season with salt, abundant evoo, and some capers. You can store them for some days in the fridge and use them as a delicious aperitivo on some toasted bread.
Summary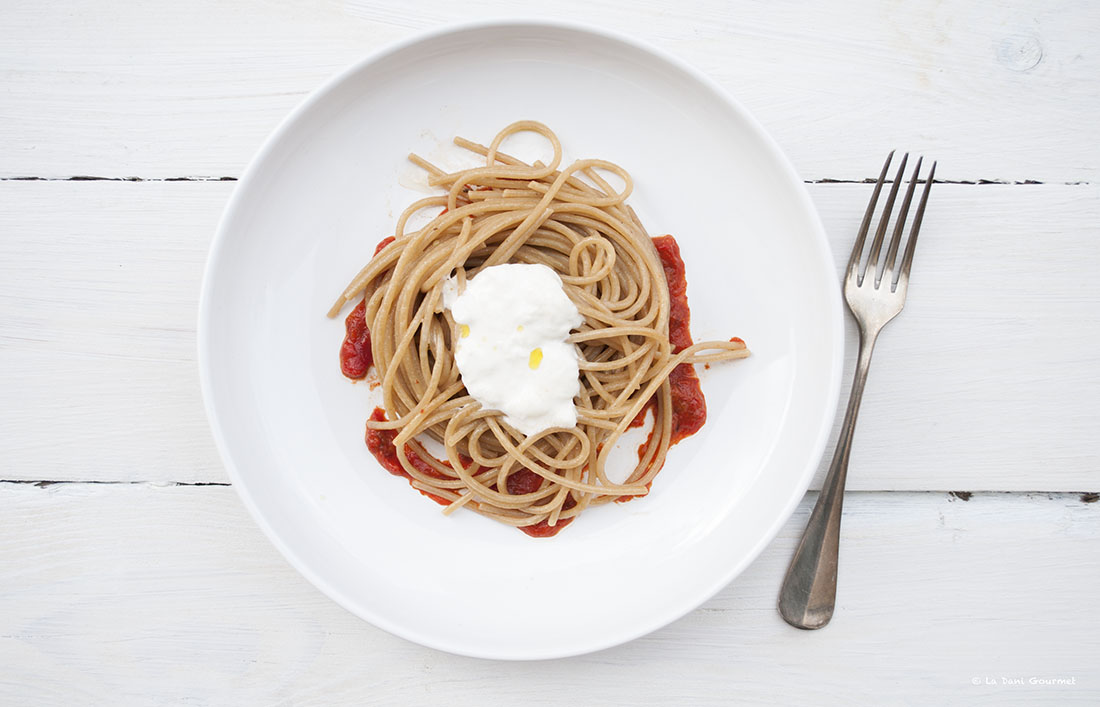 Recipe Name
Whole-wheat Spaghetti, roasted peppers water, anchovies and stracciatella cheese
Published On
Average Rating





Based on 0 Review(s)
This post is also available in: Italian