When I plan a travel, I spend a lot of time searching what's the best food I shouldn't miss.
In New York it was a tough task: the city is huge and so it is its food offer. As I usually do (and I did for Nice, Naples, Singapore) I concentrate on not fancy but amazingly good food.
So, come with me in New York, let's discover together the Big Apple through ten amazing stops, among markets, street foods, burgers and bakeries.
UNION SQUARE GREENMARKET
If you too have a weakness for food markets, you shouldn't miss the Union Square farmer's market.
Farmer's markets in the US are completely dedicated to food and drinks, and they are slightly different from the markets we have in Italy. Apart from the vegetables stalls, you can find bakeries with breads, muffins and other good stuff, spirits producers, cheeses, maple syrup and the best apple cider. Each stall is lovely set and you will be frequently invited to have a taste of their products.
Taste a hot organic apple cider, and marry it with a nice muffin for the mid-morning break.
Union Square Greenmarket, E 17th St & Union Square
Nearest metro station: 14 St-Union Square, line L
What to see around: not far from Union Square you can find the Flatiron building.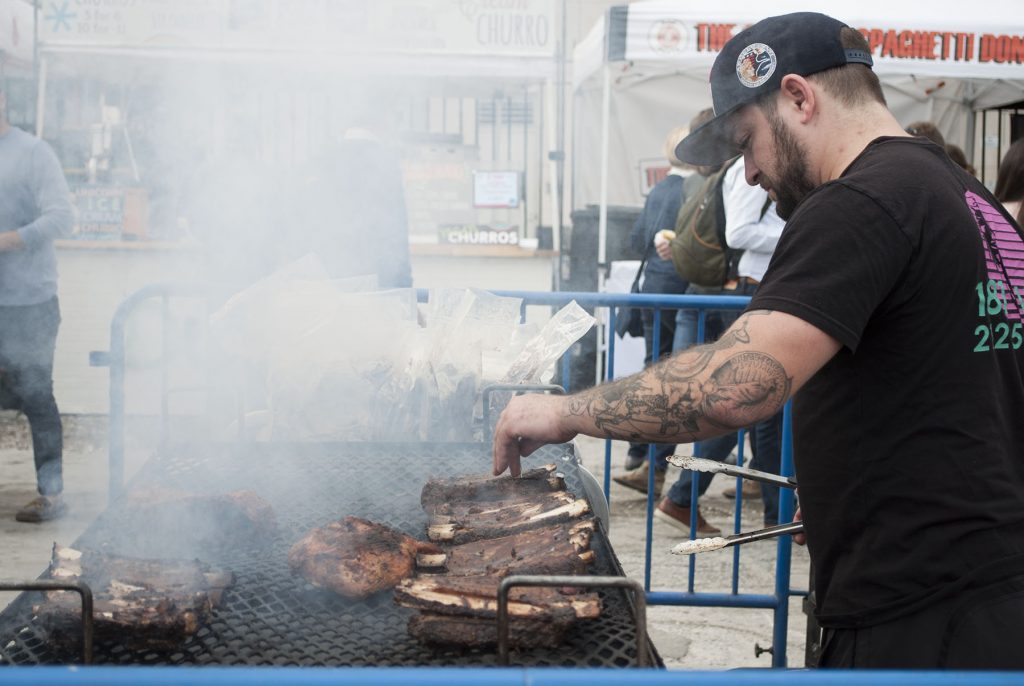 Street food lovers, this is our heaven!
Every Saturday from 11 am to 6 pm, in vibrant Williamsburg in Brooklyn there's this market dedicated to street food.
The location is fabulous, at the East River State Park where you can enjoy an outstanding view over Williamsburg Bridge and Manhattan.
Many of the about one hundred food stalls have also actual restaurants nearby; a good way to have a taste of some of their food.
You'll find everything: from oysters to burgers, from French fries to vietnamese cuisine, ot donuts and other sweet stuff.
We had the short ribs, slowly smoked for about 15 hours and then grilled briefly before serving. The meat was moist and juicy and it had such a delicate smokey flavour.
This food market grew so much, it now has more locations. Here all the details.
Smorgasburg (da aprile a ottobre), East River State Park, Williamsburg
Nearest metro station: Bedford Ave, line L
What to see around: discover the lovely streets of Williamsburg; you will fall in love with its murals, shops and arts.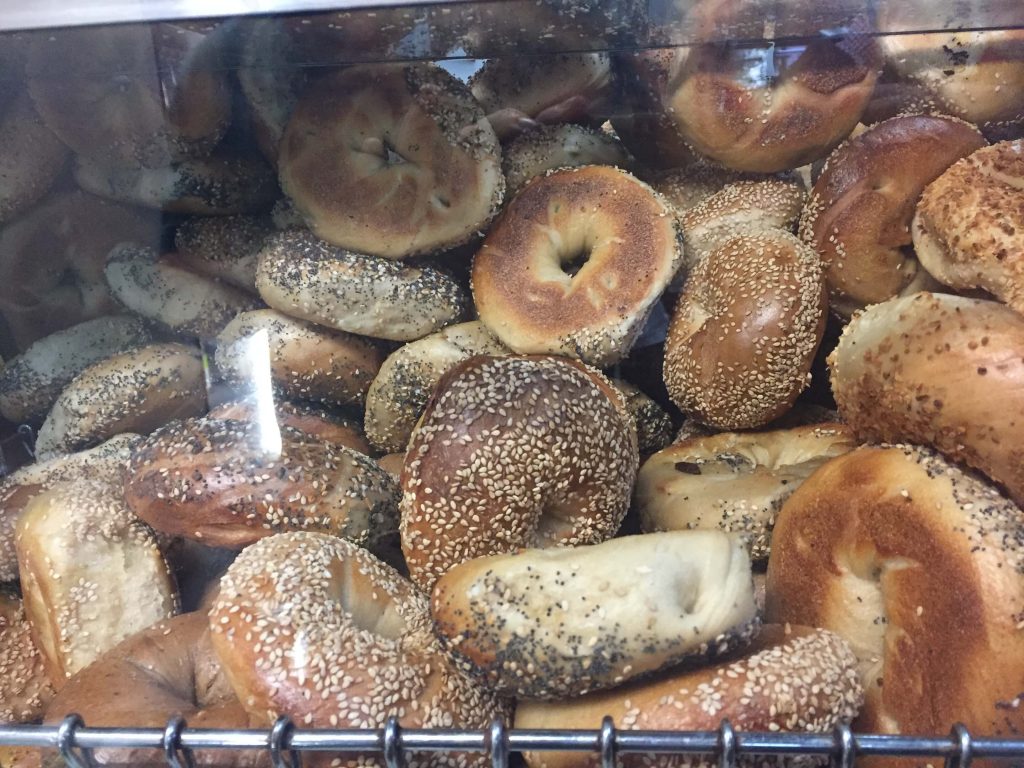 ABSOLUTE BAGEL
Bagels are dense bread roll in the shape of a ring which feature a double cooking: first they are boiled and then baked in the oven.
Newyorkers use to have a bagel stuffed with cream cheese for breakfast, but tens are the available stuffings.
Absolute Bagel offers some of the best bagels in town: here you will find them plain, sesame, whole grain, with everything and some other options. There's frequently a queue, but they serve fast.
Absolute Bagel, 2788 Broadway
Nearest metro station: Cathedral Pkwy (110 St), line 1.
What to see around: we are at the northers part of Upper West Side. Near here you find Riverside Park and we are not far from Columbia University. If you take the metro, you can easily reach Harlem, too.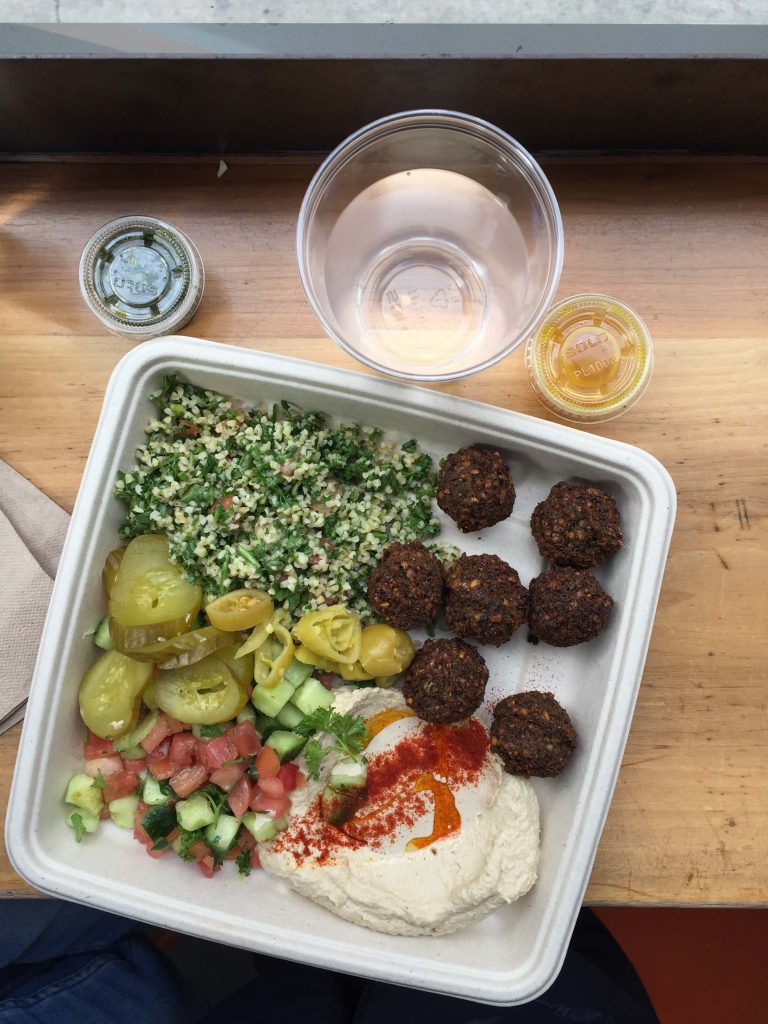 TAÏM
If thinking about falafels makes you mouth-watering, you shouldn't miss this place with two locations in NYC.
Falafels are delicious fried balls made from soaked chickpeas, parsley, garlic and spices. They are usually served with hummus, pita and tahina, a sesame-based sauce.
Here falafels are simply perfect: a soft inside, a crunchy crust outside and a balanced flavour. Pita is also soft and flavouful.
Taïm, 45 Spring St (Soho) oppure 222 Waverly Place (Greenwich village)
Nearest metro station: Spring St a Soho, or 14 St in Greenwich Village.
What to see around:near the Soho location you could have a walk in Little Italy and Chinatown. If you are in the Greenwich Village shop, go to the Highline or do not miss to grab a cupcake at Magnolia Bakery.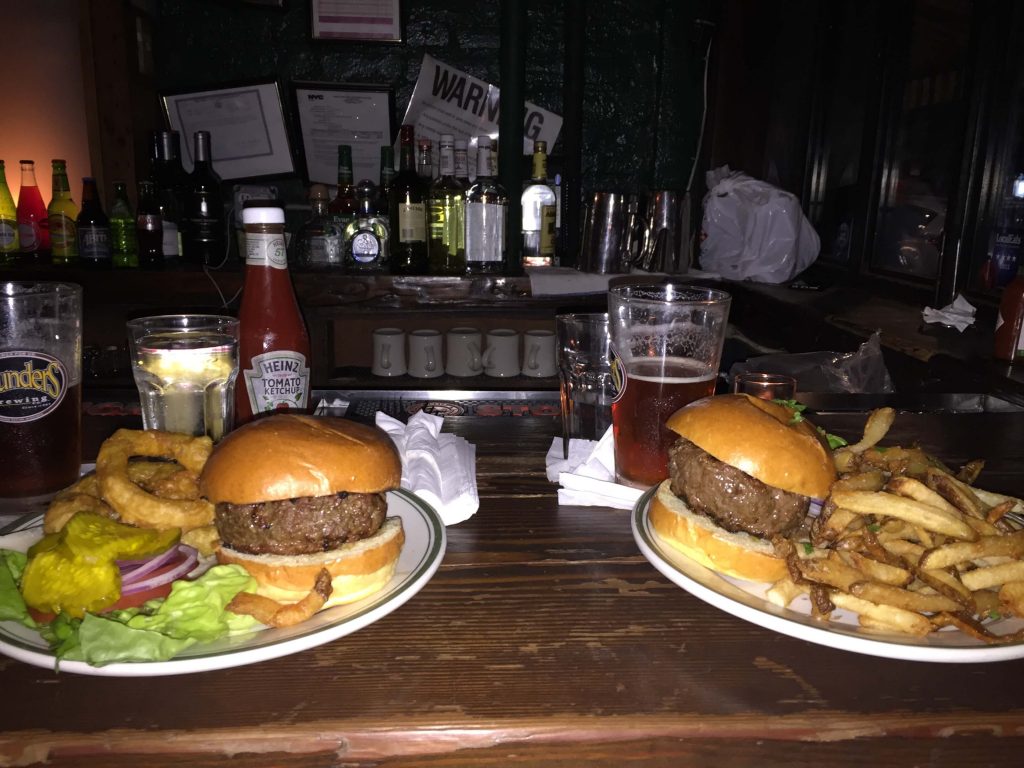 DUMONT
On the guide New York Low Cost, DuMont is considered the best burger in town, according to the authors. We had this place just a few steps from our Airbnb, and we can just confirm it was an amazing burger.
The bun was a soft brioche bread, halved and toasted, served with a generous patty of 230 g. The basic burger costs 14$ and it is served with pickles, salad and tomatoes, and combined with lots of French fries or onion rings.
The place is small and cozy; we ate at the counter, an informal solution quite popular in the US.
Very nice also the beer selection.
DuMont, 314 Bedford Ave
Nearest metro station: Bedford Av, line L.
What to see around: we are in Williamsburg, so I renovate my suggestion to discover this neighbourhood, simply walking in its streets.
TWO LITTLE RED HENS
NY cheesecake has Greek origins and it's a cake based on cheese and eggs, cooked in the oven in a water bath. During my week in NYC I tasted some of them, following the tips of local bloggers and websites (as Serious Eats), but the verdict was easy for me.
The NY cheesecake of Two Little Red Hens in Upper East Side wins hands down: the base is thick and crunchy, the cheese layer is high, creamy and light with a melt-in-your-mouth balanced sweetness. What a goodness!
The bakery is small and makes no services, but there are some tables where you can sit and enjoy your dessert. We also tasted a Pecan Pie, which was also delicious.
Two Little Red Hens, 1652 2nd Ave
Nearest metro station: 86 St, lines 4, 5, 6.
What to see around: some blocks from here you find both the Guggenheim and the Metropolitan museums. If you prefer nature to culture, just behind the museums you can enjoy Central Parl.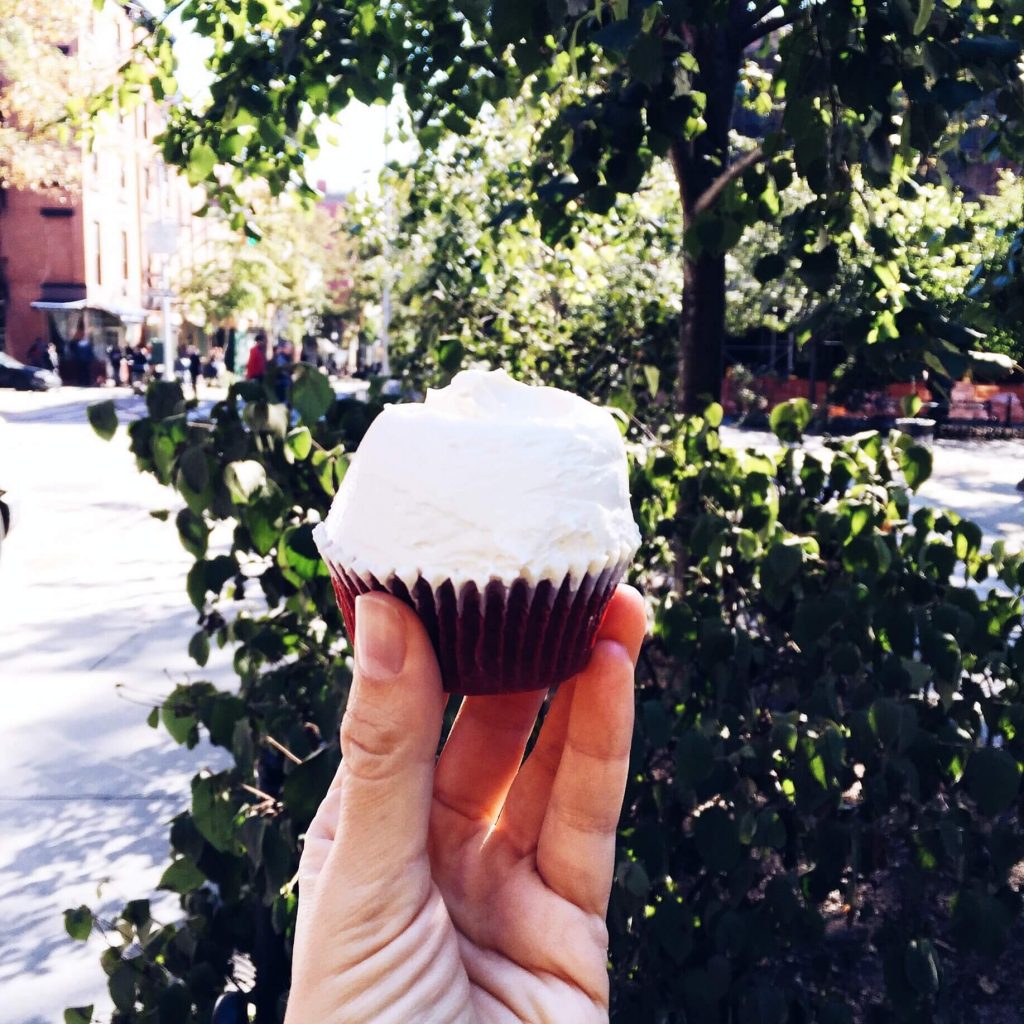 MAGNOLIA BAKERY
As many of you, I wished to visit this bakery the first time I saw Miranda and Carries having one of their cupcake, sitting in front of the shop.
Magnolia Bakery needs no presentations, and its fame is well deserved.
If you visit the Village, you have to come here and try one of their cupcakes. I had a classic Red Velvet topped with a fluffy vanilla meringue frosting.
This bakery is also famous for its banana pudding. A rich vanilla custard, bananas and vanilla biscuits make the best treat.
Magnolia Bakery, 401 Bleecker Street (ci sono altre due sedi in città)
Nearest metro station: 14 St/8 Av, line L; or 14 St line 1, 2, 3.
What to see around: if you are a Sex and the City fan, go to 66 Perry Street. You will recognize the entrance of Carrie's apartment. A bit further, at the corner between Bedford and Grove Street, there's the building that will recall you one of the best tv series of all the time: Friends.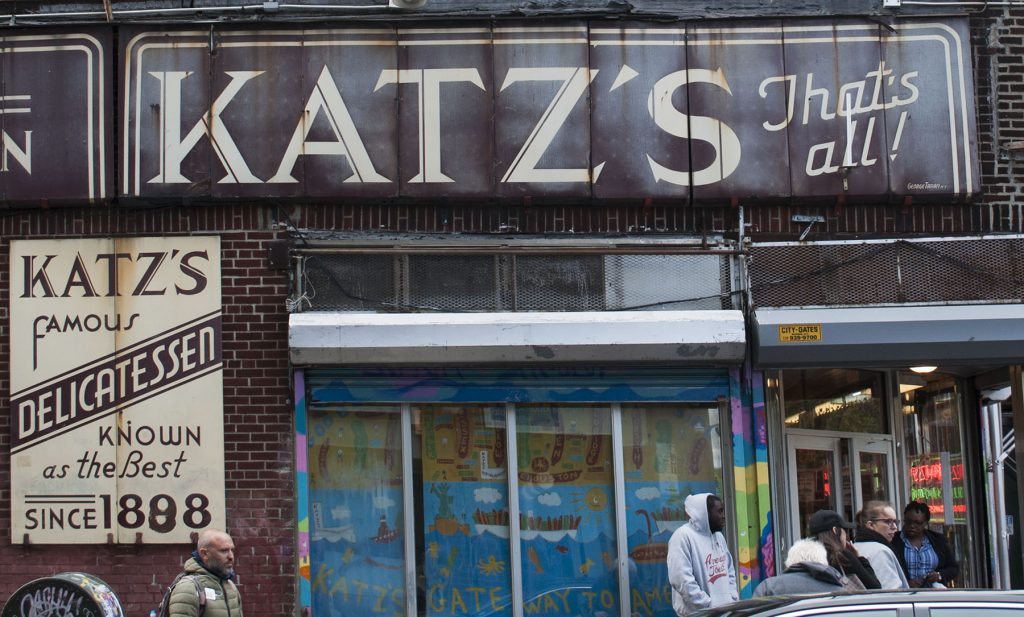 KATZ'S DELICATESSEN
Do you remember the famous scene of When Harry met Sally? This is the place where it was set.
Apart from this detail, Katz's is an institution in NYC when it comes to pastrami.
The preparation of this dish of Rumanian origin is long and complicated: the beef is first brined, then smoked slowly and finally steamed. To discover the whole process, you can read this article on Serious Eats.
Katz 205 E Houston Street
Nearest metro station: 2 Av, line F, or Delancey, lines F, J, M, Z.
What to see around: a few blocks from here you can visit Saint Patrick's Cathedral and Little Italy.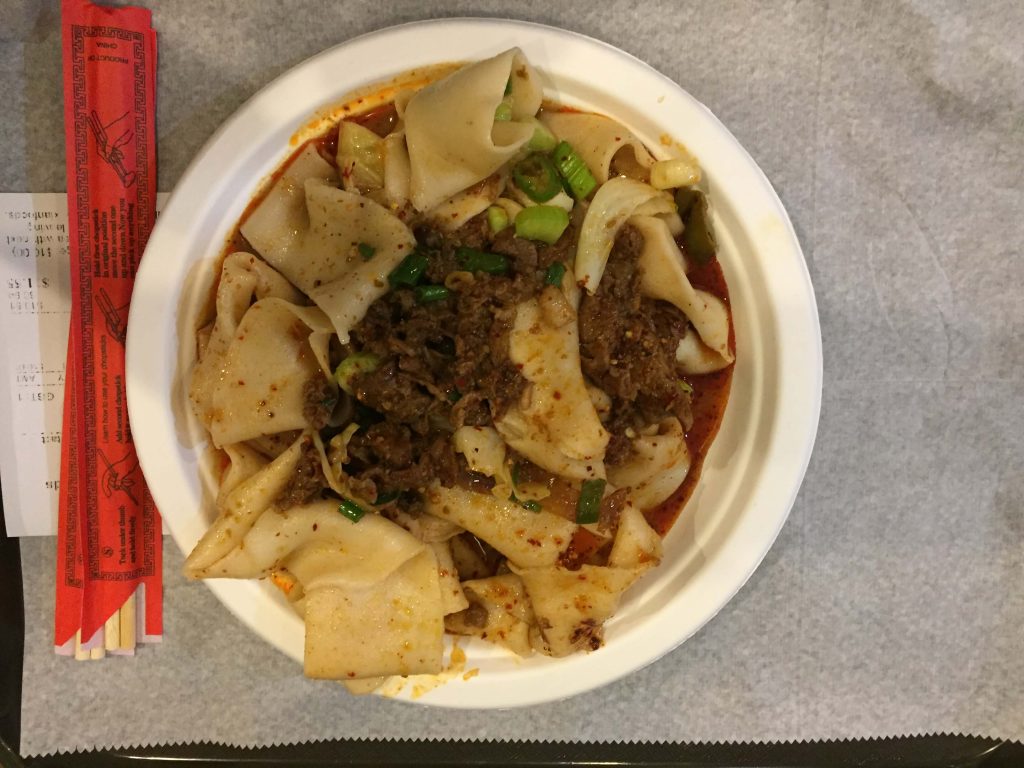 XI'AN FAMOUS FOODS
I found this place on Lonely Planet guide, but I was completely convinced when I saw a picture of Anthony Bourdain enjoying one of its famous food: the cumin lamb burger.
This burger is absolutely worth the visit, as are the noodles combined with the same ingredients.
Prices are affordable and in town you'll find many locations; I leave the contacts of the one we visited in East Village.
Xi'An Famous Foods, 81 St Marks Place
Nearest metro station: 1 Av, line L or Astor Pl, lines 4, 5, 6.
What to see around: East Village is full of restaurants and pubs. Not far from here you can find Mc Sorley's Old Ale House (15th East 7th Street), the oldest Irish pub of NYC, which was also one of the sets in Once upon a time in America.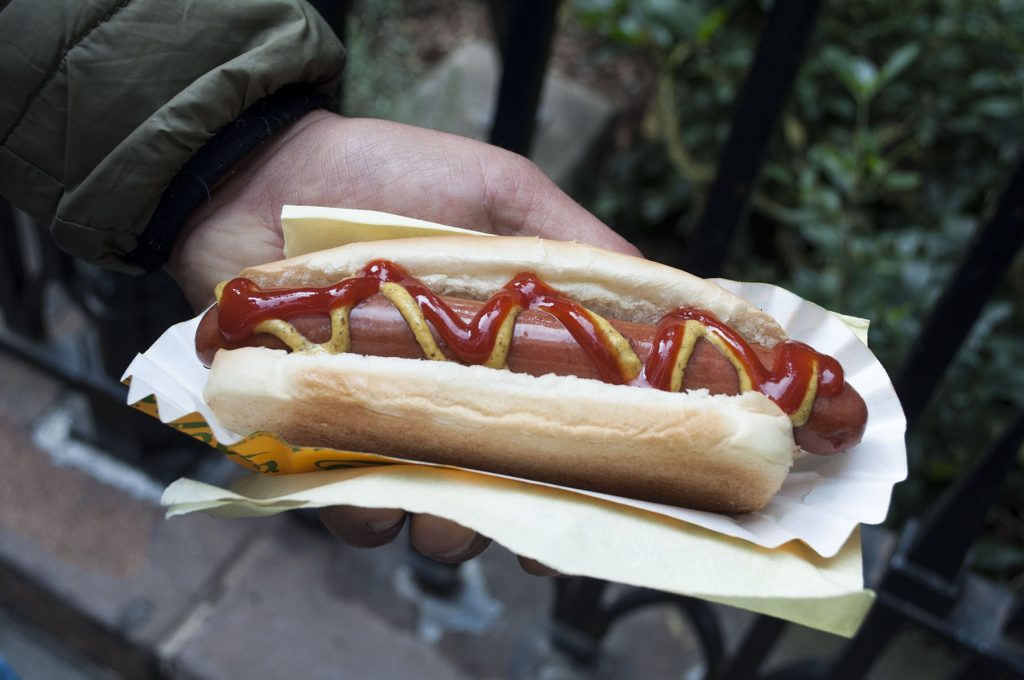 NATHAN'S FAMOUS
Founded in 1916 in Coney Island, Nathan's means hot dog in New York.
If you don't have the chance to visit the famous beach of The Warriors, you can find many food trucks around Manhattan (you can have a look here).
This is not gourmet food, but you can't visit NYC without eating an hot dog.
Nathan's famous, 1310 Surf Avenue, Coney Island
Nearest metro station: Coney Island, lines D, F, N, Q.
What to see around: have a walk on the promenade on the beach or visit the famous Luna Park, open during the warm season (from April), and enjoy another NYC side.
Summary
Article Name
New York food tour: what to eat in the Big Apple
Author
Daniela Barutta
This post is also available in: Italian