I've recently come back from an intense travel in New York and through the states of New England. I've spent two incredible weeks, in places I've always dreamt about. But there's one thing that I miss when I travel during the month of October: the chestnut harvest.
I love living the seasons and enjoy what nature offers in the area where I live.
Chestnuts are the hero of autumn, but the harvest (in this area) concentrates in the middle weeks of October.
As soon as I came back from our trip, I couldn't help but buying some expensive marroni, a specific variety of chestnuts, and cook two of my favourite chestnut-based dishes: the chestnut cake and the chestnut spread.
Both recipes are made with boiled chestnuts, or as they are called here ballotte. They are a true act of love (or madness), because removing the chestnut skin is boring and painful, and it takes a lot of time.
This year it was a bit easier, since I found marroni at the market: this variety is known for being big, tasteful and featuring a thin skin that can be removed more easily than regular chestnuts.
In the blog archive you can find the recipe for chestnut cake, while today I share my version of chestnut jam or spread. I usually prepare a small batch, so I do not need to pasteurize the jam jars, I simply put them in the fridge. If you want to make a nice quantity of this precious spread, I suggest you to boil the spread jars fo 45 minutes and then let them cool down. So you will be sure they will seal perfectly.
This recipe is part of the October's Cucina Conversations theme, which is all about preserves. To discover more preserves recipes, head to the end of this post!
CHESTNUT SPREAD
for two medium-sized jars
400 g fresh chestnuts (better if marroni variety)
180 g sugar
200 ml water
1.Cut a cross on the skin of each chestnut and let them boil until soft. Cooking times may vary according to the fruit dimension; anyway, roughly 20 to 30 minutes.
2.Remove the skin when they're still warm (it's easier) and push the soft chestnuts through a food mill. This operation is quite long and boring, but necessary if you want to get a perfect puree.
3.In a pot add chestnut puree, sugar and water. Cook ove medium-low heat for about 20 minutes, stirring continuously. Please consider that the spread will thicken after cooling, so you should stop cooking when it is thick but still liquid.
4.Pour into sterilized jars and close with a lid. If you want to store them, you have to pasteurize the jars, otherwise let them cool down and put them in the fridge. The spread can be stored in the fridge for about two weeks.
Enjoy!
Other Cucina Conversations' preserves recipes:
Summary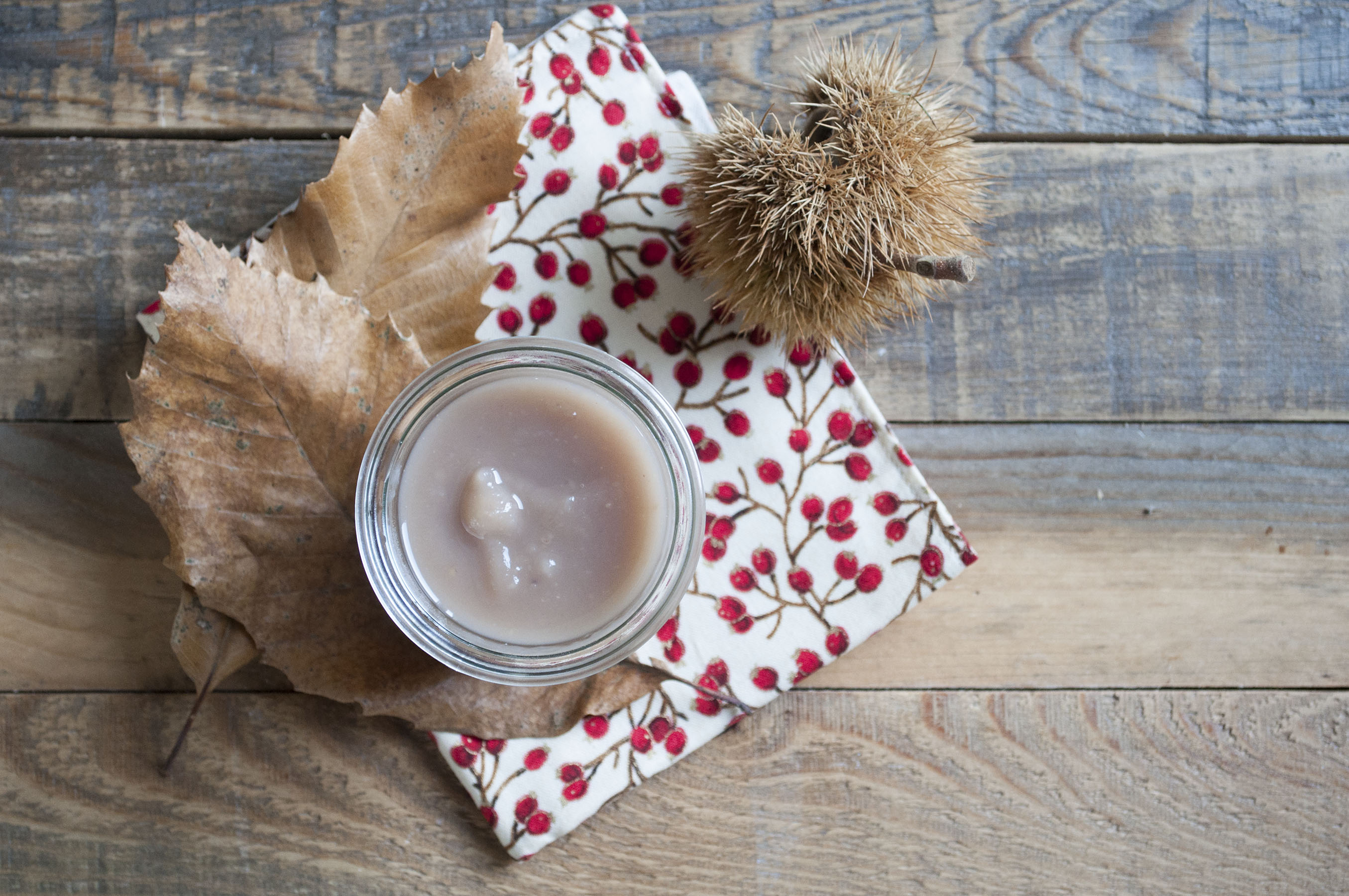 Recipe Name
Chestnut spread
Published On
Average Rating





Based on 0 Review(s)
This post is also available in: Italian