Kuala Lumpur has been the first place we visited during our travel in South-East Asia.
This city is frequently underrated by international travelers and, I have to be honest, we ourselves chose it because of a cheaper flight, compared to the one to Singapore. And so, almost by chance, Kuala Lumpur became the first place I saw in Asia.
Landing at KLIA, I noticed a never-ending multitude of palm trees, and I suddenly realize that I am finally far from home, in a complete new land to explore. As my anxiety of flying lowers, the excitement of traveling increases and makes me find again energies, despite of my tiredness. Let the travel begin!
We visited KL in one day and a half, but it would be better to stay longer to enjoy the city without rushing from one side to the other, as we did.
Here below a list of ten places you could visit in Kuala Lumpur, if you have one or (better) two days.
KUALA LUMPUR IN 10 PLACES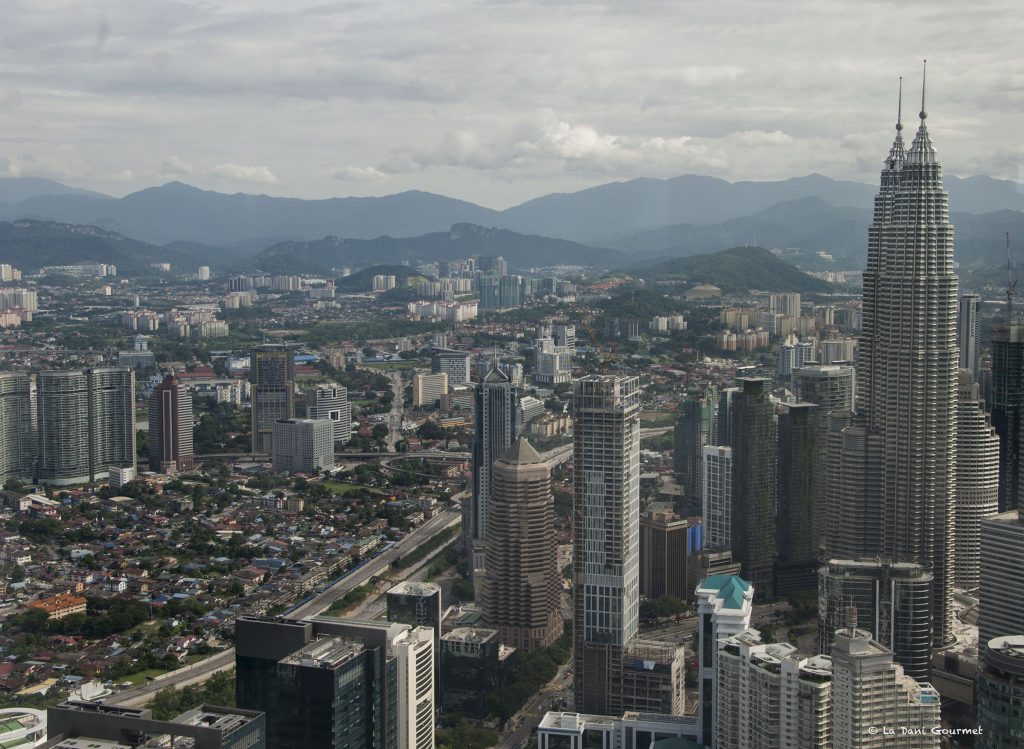 1. MENARA TOWER
KL is a modern, multicultural and huge city. Enjoying a panoramic view from above is the best way to be immediately fascinated by its charm.
Many tourists chose to go up the Petronas towers, but we preferred the Menara Tower. Ok, it is not as high as the Petronas (the observation deck is "just" 276 m high), but you don't have to make a queue. Moreover, you will be able to see Petronas towers right in front of you.
Menara Tower, also called KL Tower, is about 10 minutes on foot from the monorail station Raja Chulan. It's easy to get there, but there's no indications. You could follow the shape of KL tower, you will see just looking up, or you could ask somebody. Malaysian people are friendly and helpful. Ticket for one person is 52 RM (about 12€) for the observation deck, and 105 RM for sky deck, which permits you to go up higher (at 300 m) and enjoy KL in the open air.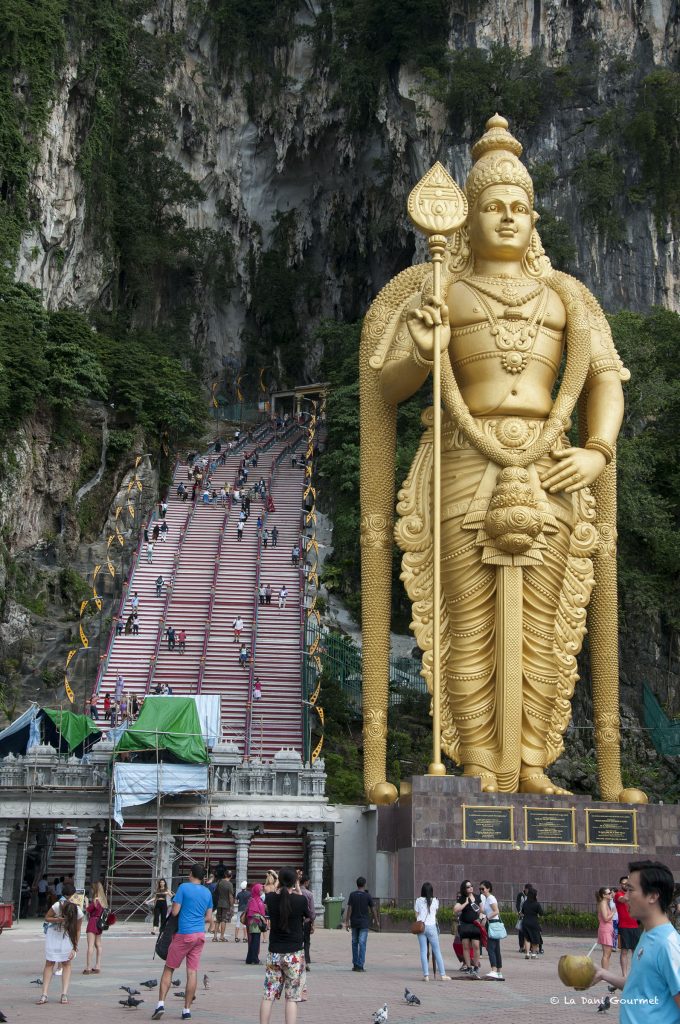 2. BATU CAVES
Discovered in 1878 by the American naturalist William Hornaday, Batu Caves are one of the most visited sites in Malaysia.
Sacred to the Hindu religion, these caverns are placed 13 km north KL and you reach them in 30 minutes by train from KL Sentral (KTM line).
The most known is Temple Cave (free entrance), that you can recognize thanks to the huge golden statue of God Murugan, erected in 2006 and said to be the largest in the world.
The area is inhabited by hungry monkeys, that will try to steal you drinks and snacks. So, do not bring anything with you, unless you're willing to get in touch with them!
I suggest you to pay a visit also to Ramayana Cave (ticket 5 RM), that you can find right at the entrance of Batu Caves, arriving by train. This a tiny and charming cave, decorated with statues telling the story of Ramayana, one of the most important Hindu poem.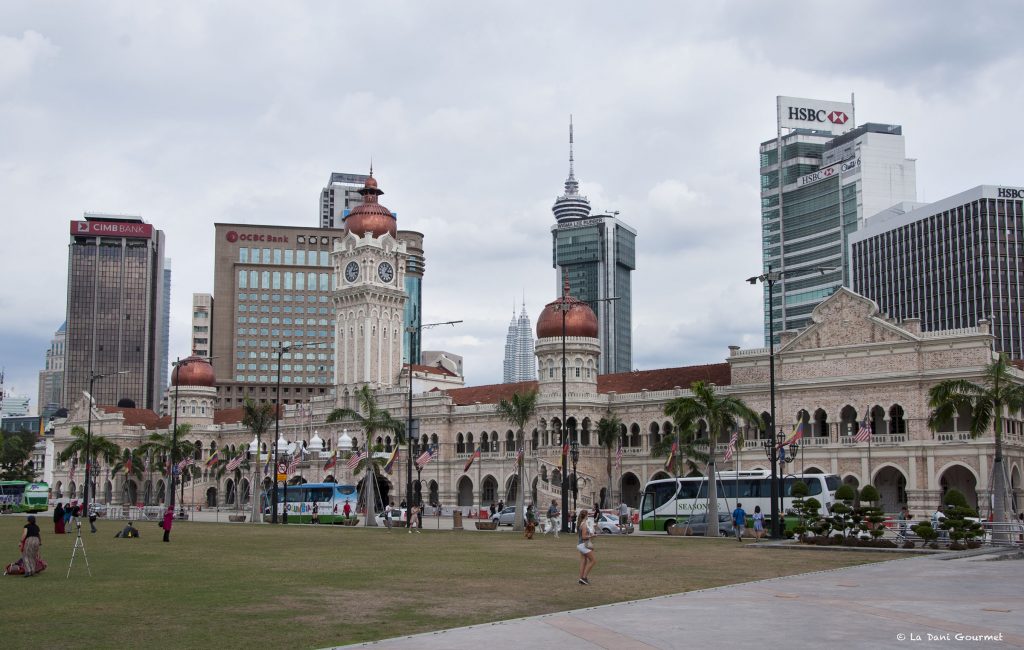 3. MERDEKA SQUARE
Many people start to visit Kuala Lumpur right from here.
This wide square tells a lot about this modern, multicultural, yet run-down city. Dataran Merdeka literally translates with "independence square", since it's here where the independence was declared in 1957.
You just need to look around to notice an Anglican church, the Sultan building, and raising your eyes you will see the top of both Petronas towers and KL tower, among the skyscrapers.
Stop for a while on the staircase of this square, and enjoy the view. Here you can also find a free wi-fi!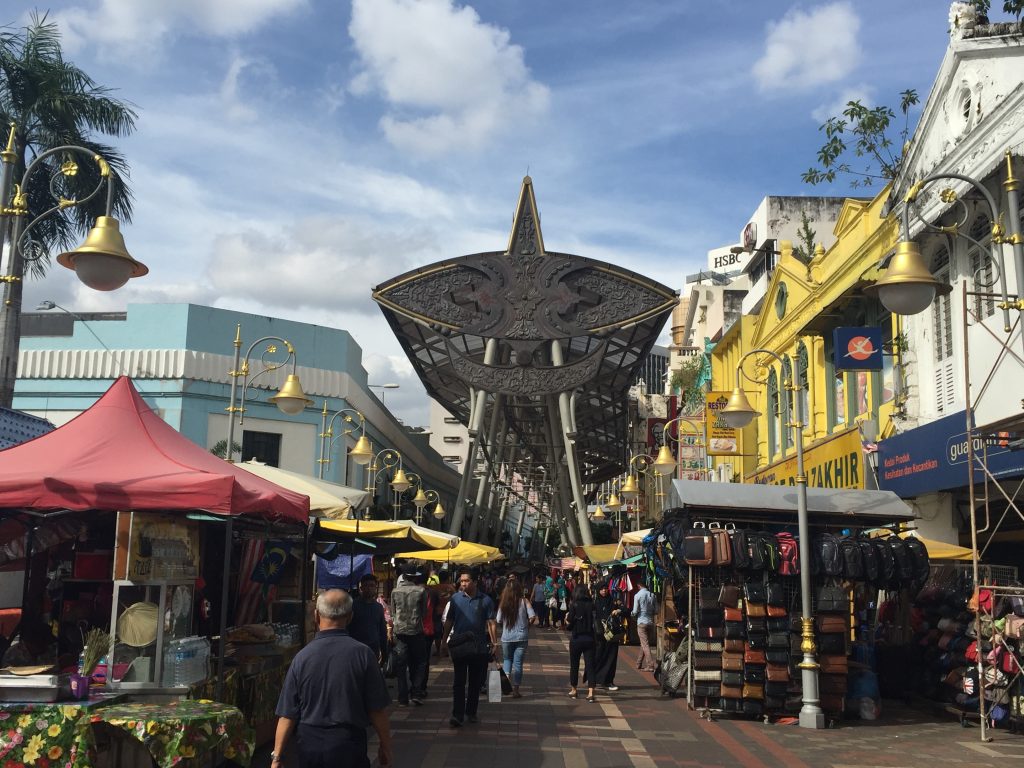 4. KASTURI WALK
A few steps from Merdeka square, you will find Chinatown. Before rushing into Petaling Street, have a look at Kasturi Walk, a colourful street with colonial buildings, with lots of stalls selling fake stuffs, some fruits and some coconut treats.
At the side of this street, there's Central Market, a covered market famous for shopping souvenirs.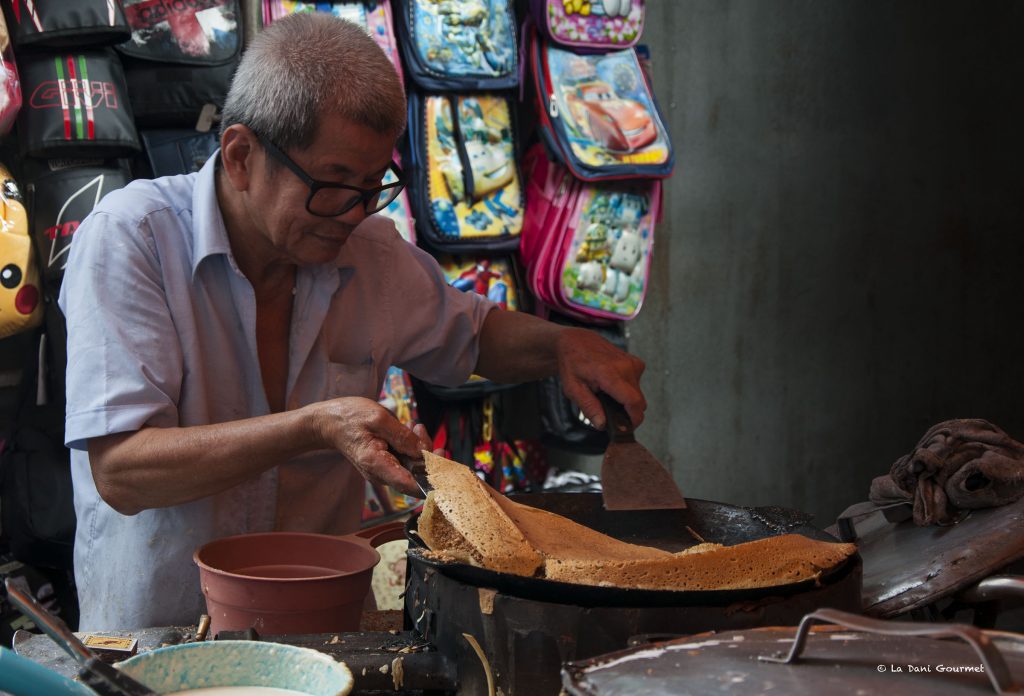 5. PETALING STREET
This is the main street of Chinatown in KL, and we have been so lucky to see it decorated for the Chinese New Year.
You can find anything, from technology to cloths, but do not expect to find original stuff.
In the street crossing Petaling street, you will find some street food, as dumplings, rambutan juice (too sweet for me) and fresh coconut.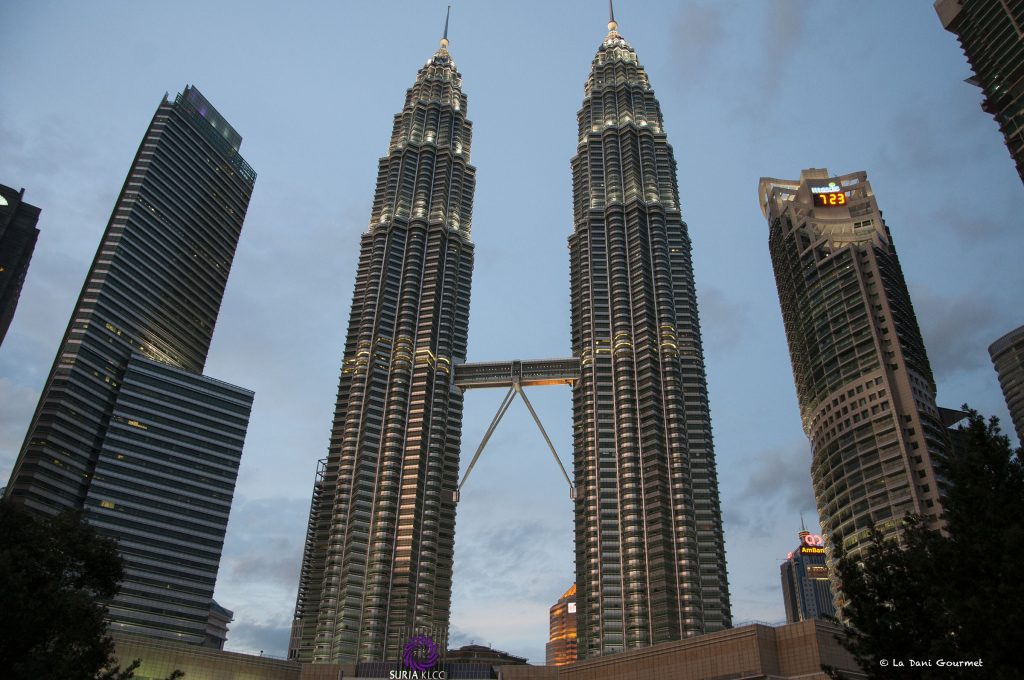 6. PETRONAS
Being built at the end of 90's, they soon became a symbol of the Malaysian capitol.
They are truly wonderful, and if you can, go and see them twice: when it's dark, so you see them in contrast with the black of the night. It's worth to see them also before sunset, especially from the KLCC park, the park you find behind the Petronas towers. There you can sit and relax after a long day strolling around KL and enjoy the view of the towers.
7. MONORAIL
Opened in 2003, monorail connect KL Sentral and Titiwangsa Station in Kuala Lumpur. As a monorail, it is elevated and in the open air, so you can enjoy a small tour of the city, through malls, skyscrapers and more traditional areas. Bring with you a jacket or a scarf, since temperature here – as in the malls – is really low.
If you're passionate, as me, of markets, get off at Chwo Kit where every day you can find the largest wet market of KL. Unfortunately we hadn't enough time, and we missed it.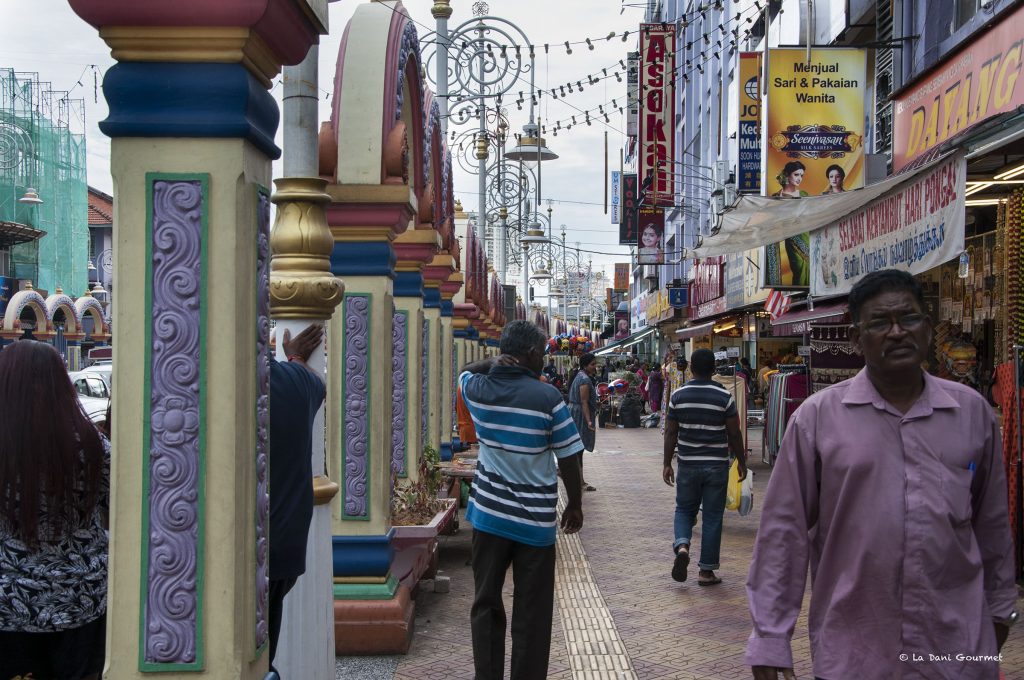 8. LITTLE INDIA
I was not sure whether to insert Little India in this list or not, since it didn't impress us so much.
This is the street where the Indian community lives and concentrates. You will find shops, restaurants offering Indian food (that you can find in other areas of KL too) and some groceries. Maybe it was the food we tasted, which wasn't amazing, or the street itself, which is nothing special, but Little India disappointed us a bit. Anyway, if you have enough time in KL, pay a short visit.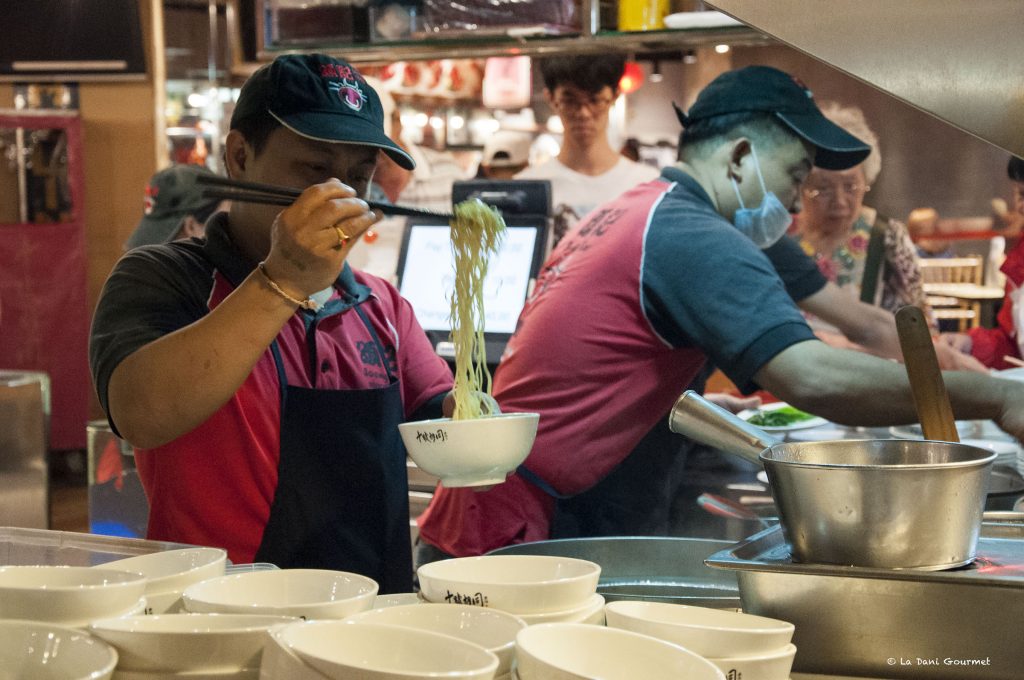 9. LOT 10 HUTONG
I left food tips at the bottom, but I also will write a dedicated post.
LOT 10 is the mall opposite the monorail station Bukit Bintang. In the basement you will find a big foodcourt with tens of booths cooking from the morning till 10 pm. Here you won't find many Western tourists, but mainly locals and Asian tourists. This means good Asian food.
If you come here for breakfast, taste kopi with kaya toast, an amazing coffee with a bit of condensed milk served with a soft toast stuffed with coconut jam.
Be inspired by the photos of the dishes, and if you don't know what to order, just go where there's a queue. I suggest you to try the Hokkien Mee of Kim Lian Kee (flat noodles with shrimps, scallops and thick dark soy sauce), the Five Spices Beef Stew noodles and the dumplings.
The entrance is not well indicated, but you can find it just at the left of the small Starbucks place a few steps far from Bukit Bintag's station.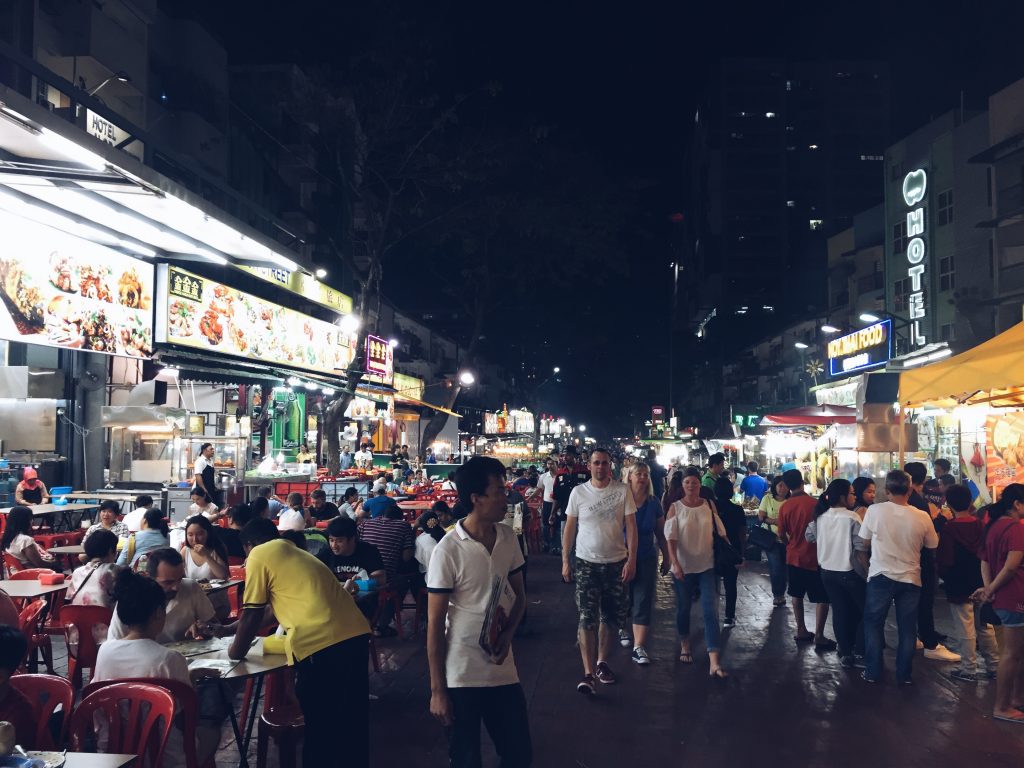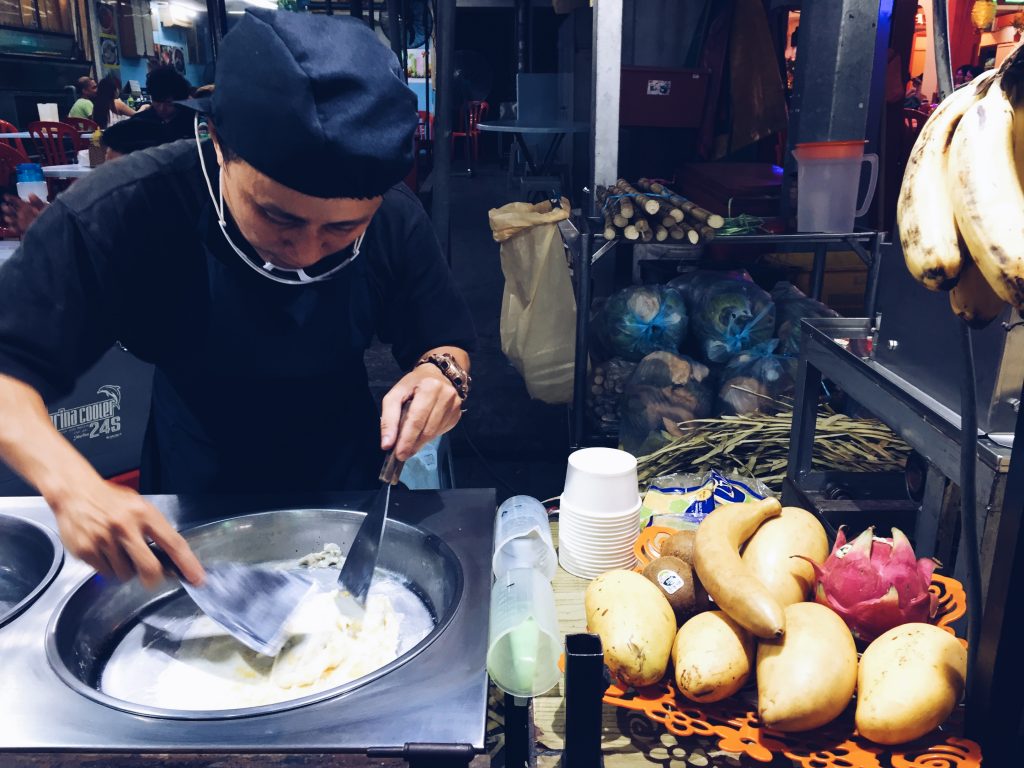 10. JALAN ALOR
Jalan Alor is the most famous place for street food in KL.
You will find anything, a part from a chilled beer (here they don't know what it is, despite the heat). We tasted our first satay, the amazing chicken skewers marinated in lemongrass and turmeric, then grilled and served with peanut sauce. Delicious (even though, we had the best satay in Singapore). Try the fried ice-cream, which has nothing to share with the Chinese fried ice-cream. It is made from coconut milk mixed with fresh fruits, then it is worked on a chilled surface until they get some iced rolls, they will put in a cup for you. Yum!
What do you say, would you visit Kuala Lumpur?
This post is also available in: Italian