Do you know that seafood has its own seasonality?
We are so used to find any kind of fish every day at the market, that we completely forgot that , as peaches and tomatoes, also mussels and cuttlefish have their season, when they are locally caught, tastier and normally cheaper.
Now anchovies are in season here in Mar Ligure, and you easily find them super shiny, big and with a compact and white flesh. This incredible pesce azzurro, as we call it in Italy, is delicious yet cheap, and that's why it is frequently used in regional Italian recipes.
In the area where I live, called Versilia, but also around Livorno, anchovies are frequently prepared "alla povera" which underlines the few ingredients you need for this recipe. The freshest anchovies are cleaned and then marinated in vinegar (or half water, half vinegar) for some hours and then seasoned with evoo, lemon juice, salt and some onion slices.
This month's Cucina Conversations is about Italian rituals before and after the meal: aperitivo and amaro. If we say aperitivo, we think about something to drink, maybe a glass of wine or a proper cocktail, paired with something to eat which has the aim to whetting your appetite before the meal. But it's not a complete description. An aperitivo is a moment to indulge after an hard working day or week, it's a moment of joy to be shared with friends and family.
For my Cucina Conversations aperitivo I prepared acciughe alla povera and I paired them with a Tuscan rosé wine, a Bolgheri Rosato made from Cabernet Sauvignon, Merlot and Syrah grapes. Rosé is perfect for an aperitivo and in this case, it's enough smooth to balance the acidity of the recipe.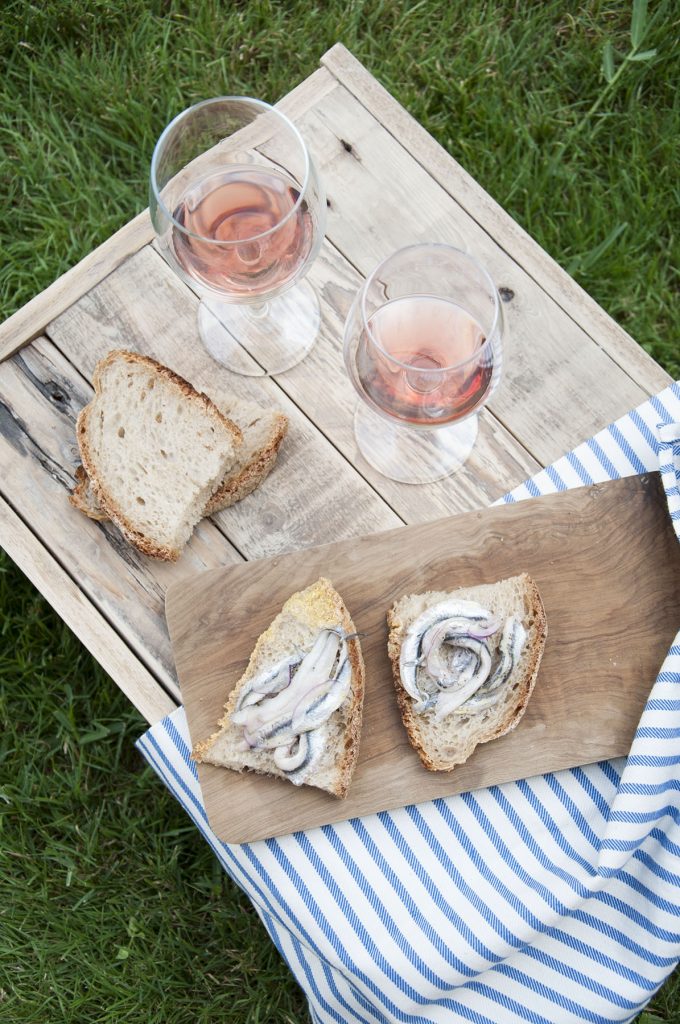 ACCIUGHE ALLA POVERA – MARINATED ANCHOVIES
500 g anchovies
half glass of water
half glass of white wine vinegar
extra virgin olive oil
lemon juice
salt
pepper
Tropea onion
parsley
1.Remove the head, the offal and the bones of the anchovies and wash them carefully under running water. Try to save the tiny tail, so that the anchovies fillets will stay together.*
2.Place the anchovies in a flat bowl and cover with water and vinegar, so that the anchovies are completely covered. In case liquid is missing, add extra vinegar.
3. Cover with plastic wrap and let it marinate in the fridge for at least 8-10 hours. In case you use only vinegar (so no water) you only need to marinate anchovies for two or three hours.
4. With a spoon whisk some evoo together with salt, lemon juice so that you get an emulsion. Drain the anchovies from the marinade, do not wash them and then place them again in a flat bowl. Now cover with the emulsion and sprinkle with salt and pepper.
5.Slice thinly a piece of Tropea onion and put them on the anchovies. Cover with plastic wrap and let it rest in the fridge for at least an hour.
*to avoid the risk of Anisakis, at this stage dry the anchovies with kitchen paper and store them in a sterilized food container at -18°C in the freezer for about 96 hours. Then defrost it and continue with the recipe.
Enjoy!
To discover other recipes of Cucina Conversations about aperitivo and amaro rituals:
– Limoncello by The Heirloom Chronicles
– il Negroni by Turin Mamma
– le polpette di melanzane by Pancakes and Biscotti
Summary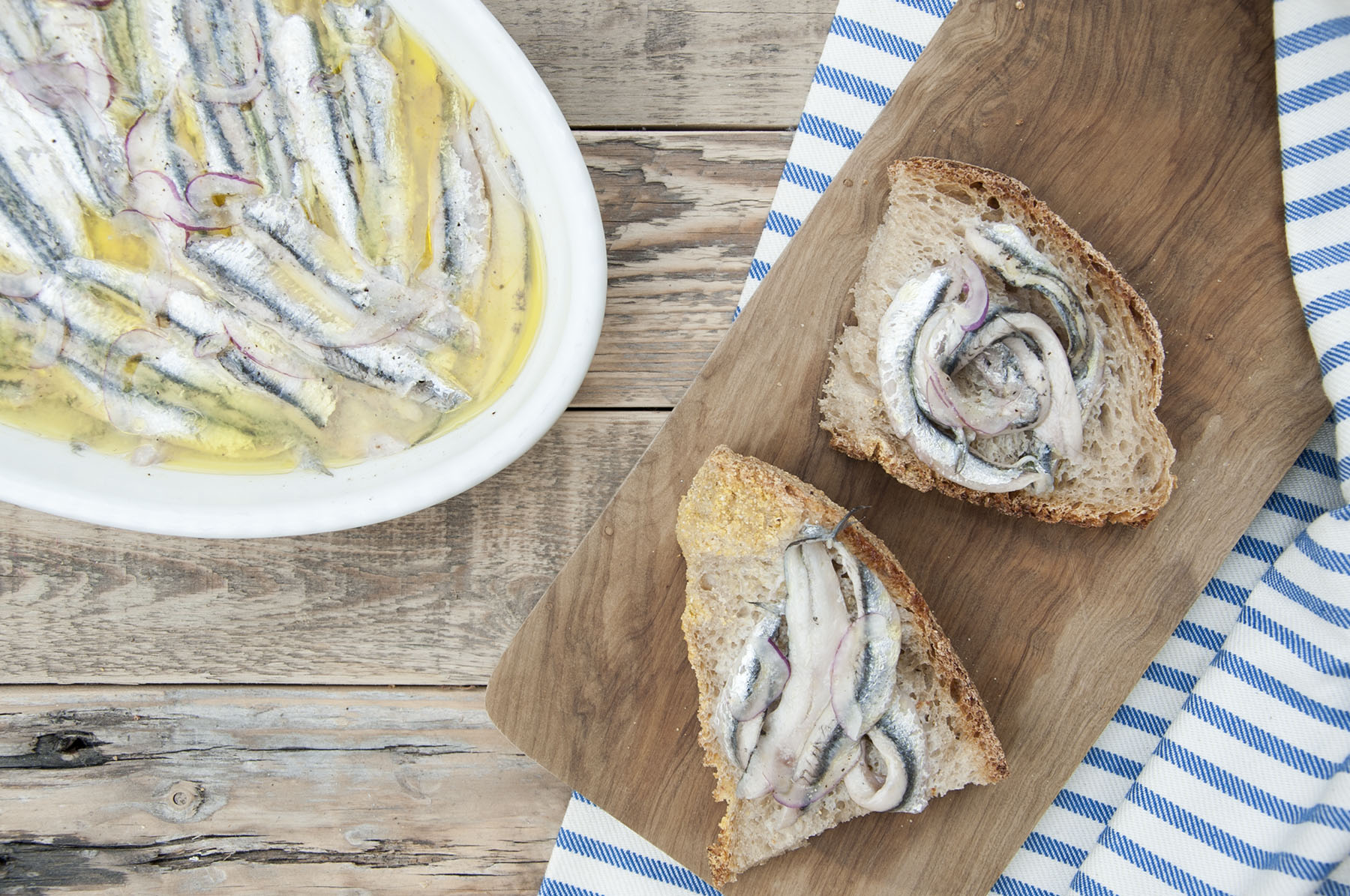 Recipe Name
Acciughe alla povera - marinated anchovies
Published On
Average Rating





Based on 0 Review(s)
This post is also available in: Italian