If you like Christmas or not, it's likely you will be involved in many pre-Christmas dinners in the next two weeks.
"I don't eat meat, but no problem with anything else", "Please, not too many carbs; there's Christmas, then", "Ah, could I invite Paola?! Yes, you well remember, my vegan friend". This year it's my turn to host lots of friends, with the most different eating habits, and I've already planned something that could be fine for everybody.
Browsing through some American blogs, I frequently found these crackers. They're simply made from quinoa and chia seeds, healthy ingredients coming from South and Central America, whose nutrients are known and appreciated also in Italy.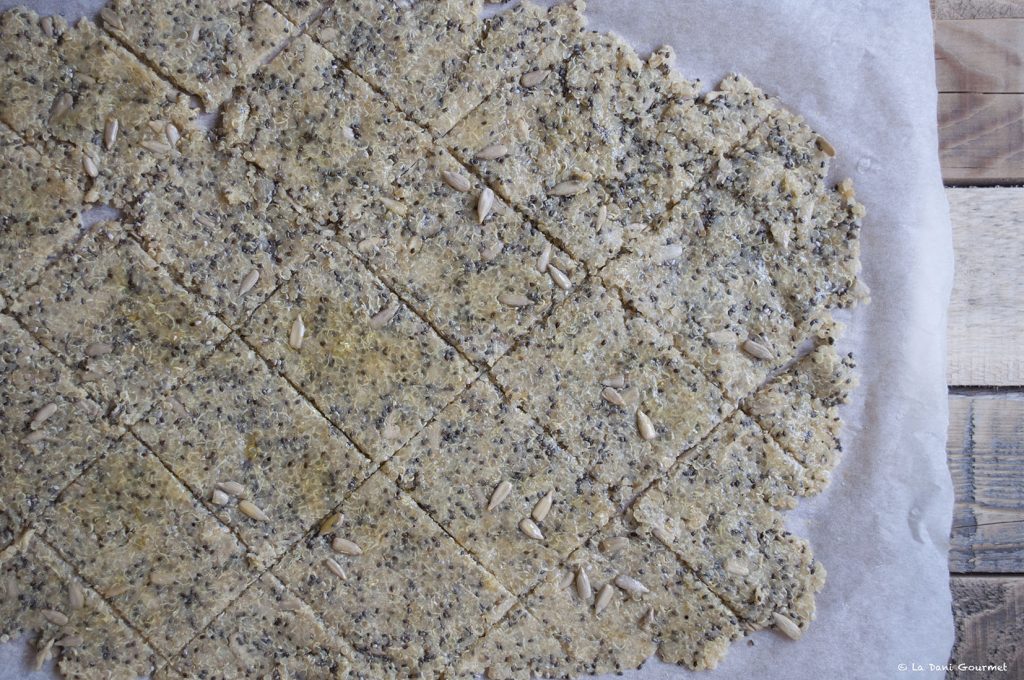 I've tested a recipe with the addition of sunflower seeds, and I married them with a spiced kabocha sauce, I saw on Jerusalem by Yotam Ottolenghi.
They are crunchy, flavourful, and really healthy. These crackers are the perfect starter of an informal and not-too-heavy pre-Chistmas dinner with friends.
If you don't like cinnamon in savoury dish, you could go for paprika, maybe a smoky one. It marries so well with this sauce.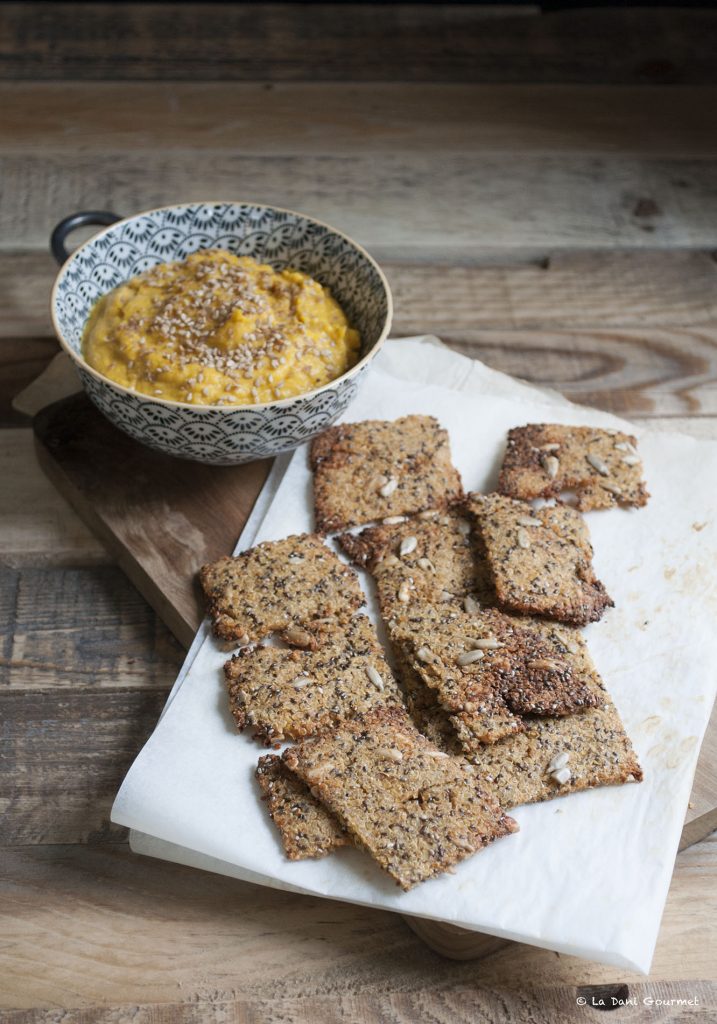 QUINOA CRACKERS WITH SEEDS, AND A SPICY KABOCHA DIP
ingredients for 4 people
For the crackers:
100 g of organic quinoa Nuova Terra
240 ml of boiling water
20 g of organic chia seeds Nuova Terra
20 g di organic sunflower seeds Nuova Terra
salt, pepper
1 tablespoon evoo
For the kabocha dip:
500 g of kabocha, to be peeled
salt, evoo
1 teaspoon of cinnamon
1 garlic clove, skin on
50 g of Greek yogurt
30 g of Tahini sauce
1 teaspoon of coriander seeds
1/2 teaspoon of organic sesame seeds Nuova Terra
For the kabocha dip:
1. Peel off the skin off the kabocha and cut it into 1-cm thick slices. Place them over a baking tray covered with baking paper and sprinkle with evoo, cinnamon and salt.
2. Put a garlic, with its skin on, on the baking tray. Cover with a foil and put in a preheated oven at 180-200°C for about 30 minutes.
3. Take it out of the oven, let it cool down and mix the kabocha together with the Greek yogurt and the tahini sauce. Taste, and eventually adjust with salt. Place the dip in a bowl and sprinkle with toasted sesame seeds and freshly crushed coriander seeds.
For the crackers:
4. Toast quinoa in a pot for one minute and then cover with 240 ml of boiling water. Let it simmer for about 15 minutes, until the water is completely absorbed and the quinoa is cooked.
5. Let the quinoa cool down. In a mixer, blend 3/4 of the cooked quinoa with a tablespoon of evoo, so that you get a sticky mixture.
6. In a bowl combine quinoa (blended and not blended) together with chia seeds, sunflower seeds, salt and pepper.
7. Place the mixture between two sheets of baking paper, previously brushed with evoo. Spread the mixture evenly and as thin as possible (the thinner, the crunchier). Remove the top paper and with a knife score the dough, so that you can easily divide crackers after baking.
8. Bake at 180°C for half an hour, but check them already after 15 minutes. They'll be ready, when they get golden brown. Serve them still warm, together with the kabocha dip.
9. I noticed that after some hours, these crackers lose their crunchiness. You just need to place them back in the oven, at high heat (about 220°C), for 2-3 minutes and they will be back crunchy.
Enjoy!
Summary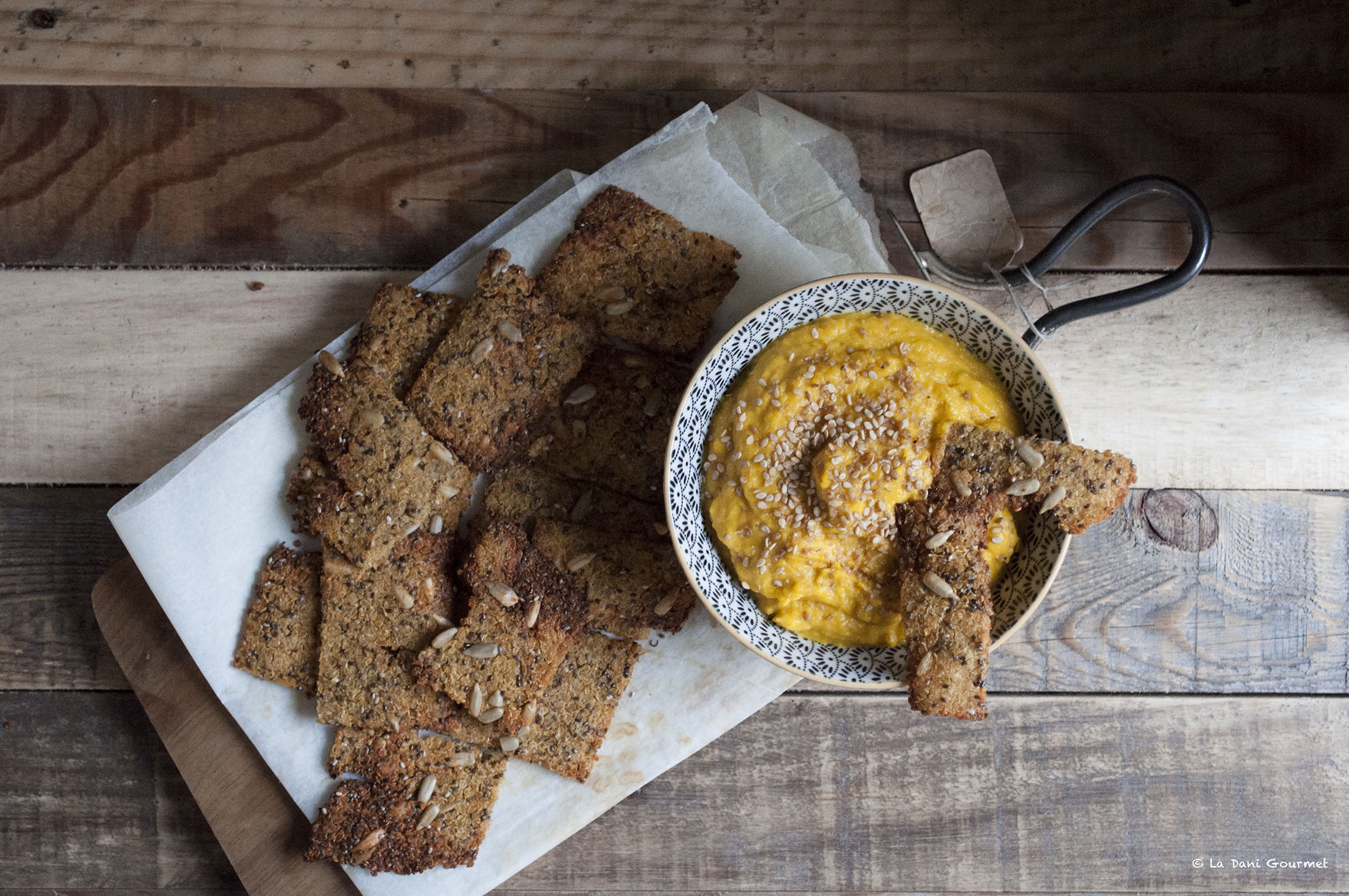 Recipe Name
Quinoa crackers with seeds, and spicy kabocha dip
Published On
Total Time
Average Rating





Based on 0 Review(s)
This post is also available in: Italian