Do you remember when I prepared puntarelle? I promised I would have shared the recipe I use every week for my Sunday pizza. And now I am honouring.
I am pretty attached to this recipe, since I've been preparing it every week for years, and it always gives me a special joy.
For sure, It's nice to go out and eat pizza, above all when you live just a few minutes from an amazing "tre spicchi" Gambero Rosso pizzeria ("tre spicchi" is the highest evaluation), as the Kambusa of Massarosa, or from the gourmet pizzas of Apogeo in Pietrasanta. But I just love that feeling of feast and lightness that preparing this dough gives me.
With this recipe, you'll get a dough similar to the crunchy Roman pizza, but if you stretch out the dough not too thinly you'll get an amazing Tuscan-style focaccia, soft and airy inside and crunchy outside.
The bread world is fascinating, complex and deeply regulated by chemical and physical processes. To success with this recipe, you need to choose the right flour.
Flours are classified according to the W index, which indicates the "strength" of the flour, i.e. the capability of the proteins of flour to develop gluten, when combined with water thanks the mechanical action of kneading. For example, flours with an index between W90 and W160 are called "weak", since they develop less gluten, and they are indicated for cookies and shortcrust. For pizza and focaccia we need a flour with a medium strength, between W160 and W250.
Actually the subject is far more complicated. In case you want a deeper insight, I suggest you to read articles and books of Dario Bressanini (like this, only in Italian) to have a clearer idea.
With the quantities and rising time indicated in the recipe, I use a flour with index W210.
Having a small yet amazing garden, in this period I have so many zucchini blossoms. Therefore I decided to give an extra kick to this focaccia, using some zucchini flowers and an amazing Toma from Piedmont DOP. Perfect as an aperitivo, together with some spumante wine.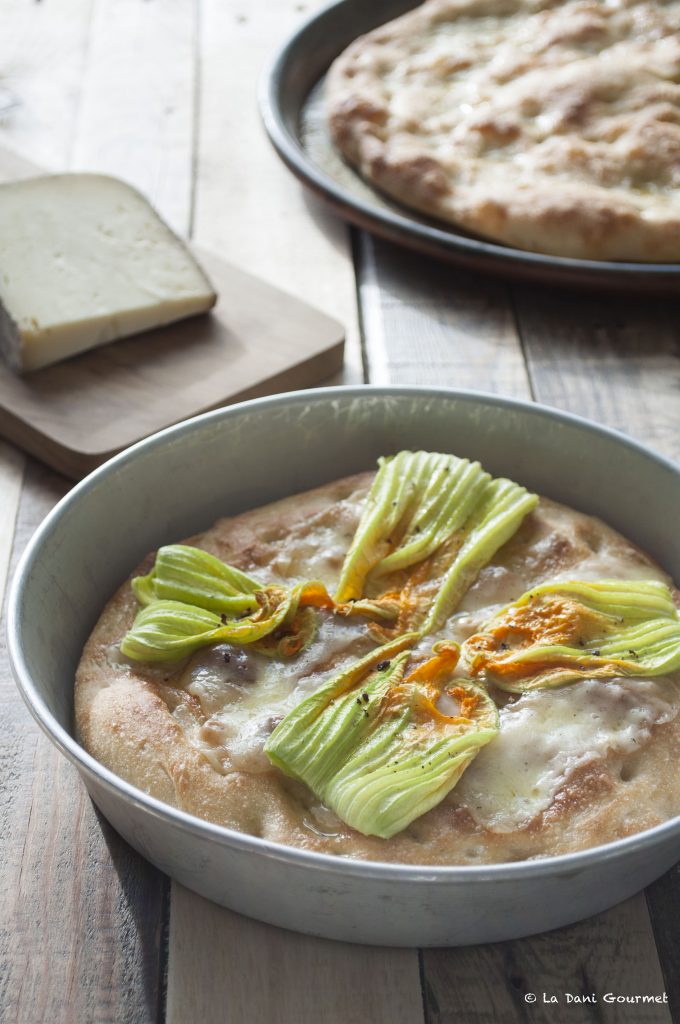 FOCACCIA WITH TOMA CHEESE, ZUCCHINI BLOSSOMS AND PEPPER
Dough:
435 g flour, W210
290 g water
8 g (2 teaspoons) malt
3 g (1/2 teaspoon) dried yeast
2 tablespoons evoo
4 g Cervia salt
Salamoia for focaccia:
4 tablespoons evoo
4 tablespoons water
salt
On the focaccia:
Toma cheese Dop
Zucchini blossoms
pepper
Kneading:
In a stand mixer, dissolve yeast and malt into 150 g of water (taken from the total 290 g) and combine with 150 g of flour (taken from the total). Cover and let it rest for about 30 minutes.
Add the remaining water, 3/4 of the rest of the flour and start kneading at low speed, using the flat beater.
After a few minutes add the salt and the last batch of flour for some minutes, until the gluten starts to develop. The dough will get more elastic and smoother and it will detach from the bowl of the stand mixer.
At low speed, slowly add the evoo and continue kneading, until the dough is elastic again.
Now change the flat beater with the dough hook and continue kneading until the dough is nice and smooth.
Rest:
Cover the bowl with a plastic wrap and let it rest at room temperature for about 30-45 minutes.
Oil a bowl and place in it the dough. Cover with double plastic wrap, one touching the dough, the other sealing the bowl.
Place in the fridge at 6°C for about 8-9 hours.
Remove the dough from the fridge, place it on a board previously floured with semolina. Gently stretch with your hands and fold it into three and then back into a ball (similar to this photo, taken from Anice e Cannella blog).
In my case, I divided the dough into 2 pieces: one bigger for a pizza tin of about 35 cm, the other for a tin of about 25 cm.
Shape a ball with each portion of dough and cover with an upside down bowl. Let it rest for one hour.
Baking:
Heat up the oven at maximum temperature (my oven reaches 250°C); in the meanwhile oil the pizza tins.
Place the dough on it, and gently stretch it with the hands. Brush the surface with an emulsion of oil, water and salt, and place the tins in the fridge until the oven is ready.
Bake for about 9 minutes in the lower level of the oven, then move the pizza tins to higher level for a couple of minutes.
I decided to enrich one of the focaccias. So after the 9-minutes baking, I covered the focaccia with thin toma cheese slices, some zucchini blossoms and some freshly grated pepper. Then I put this focaccia back in the oven for 2-3 minutes.
Enjoy!
This post is also available in: Italian