If you say patisserie, France comes immediately to my mind.
When it comes to pastries and amazing desserts, we do owe a lot to our "neighbors", but if we have a look at the history, it turns out that some of their famous treats were originally introduced from Italy.
Macaron is an example.
This biscuit made from almond meal, egg whites and icing sugar was born in the Maghreb area and then spread across Italy. In mid Sixteenth-Century, Caterina de' Medici introduced this maccarone into the French court, and since then it spread all over the country.
Macaron's most traditional shape is simple and quite rustic, with a crunchy and cracked outside and a soft inside. It wasn't until the early 1900s that Pierre Desfontaines, Ladurée's nephew, had the idea to combine two biscuits and stuff them with a ganache.
I have to be honest, making macarons on your own isn't easy. There are a few technical and tricky steps, that could compromise the success of the aesthetics, not the flavour (which would still be delicious).
I followed Philippe Conticini's method. He prepares a French meringue, to which he adds a small quantity of sugar syrup at 30° Baumé, which indicates the concentration of sugar, and not the temperature.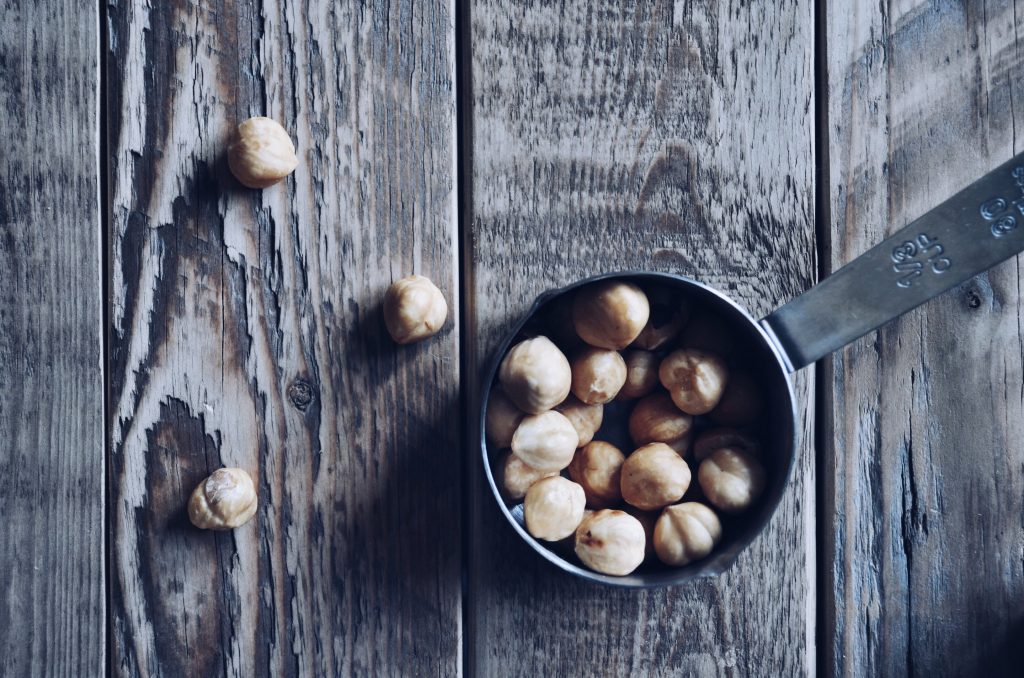 Instead of using almonds, I chose the Piedmontese Tonda Gentile hazelnut. This excellent variety is protected by IGP certification and it comes from an area at the South-East of Turin, called Langhe (famous also for their amazing wines, such as Barolo). These hazelnuts have an incredible taste, providing that they have been correctly dried and toasted by the producer.
In honor to Gianduia, the combination of hazelnuts and chocolate that was created right in Piedmont at the beginning of Eighteenth-Century, I decided to stuff this macaron with a dark chocolate ganache.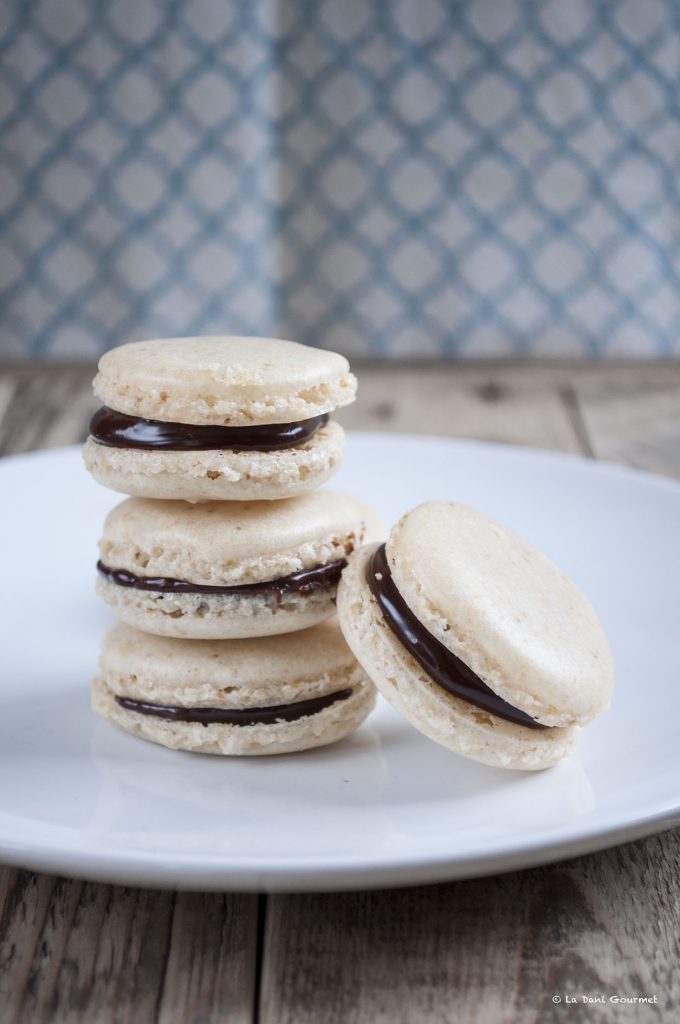 HAZELNUT MACARONS WITH DARK CHOCOLATE GANACHE
ingredients for about 30 macarons:
135 g toasted hazelnuts
210 g icing sugar
110 g egg whites, at room temperature and 3 days old (i.e. 3 days at least separated from the yolk)
35 g sugar
15 g sugar syrup at 30° (how to make here below)
sugar syrup at 30°
57 g sugar
43 g water
chocolate ganache:
150 g dark chocolate at 70%
120 g fresh cream
Pulse the hazelnuts together with some tablespoons of icing sugar, until they are finely ground. It's very important that hazelnut don't release their oil. Then mix together with the rest of icing sugar.
The sugar syrup at 30°
Put water and sugar in a pan over low heat, stirring constantly. As soon as the liquid starts simmering, and the sugar has completely dissolved, remove the pan from heating and let it cool down. You don't have to use the whole quantity, but just weigh 15 g from the total.
The French meringue
The egg whites have to be whisked increasing progressively the speed, and the sugar has to be added in three batches.
So, let's start whisking the egg whites at low speed, and add the first third of sugar immediately. After a couple of minutes, they start to foam; you can now add the second part of sugar and increase the speed.
After a couple of minutes, you can add the last batch of sugar, and continue whisking, now at maximum speed.
The 15 g of the 30° sugar syrup will be added at last, when egg whites are firm. Whisk for another minute and your French meringue should be ready.
The Macaronage
At this point, you need to combine the hazelnut meal/icing suagr mixture together with meringue. This passage is called macaronage.
Slide the spatula under the batter, then lift and drop the batter back on itself, always working in one direction and turning the bowl by 1/4 turns. In this way the meringue will partially loose air, and the batter will turn out smooth, soft (but not liquid), and shiny.
The Croutage
Now put the batter into a pastry bag with a 2-cm wide tip. Shape 3-4 cm circles on a baking sheet, placed over a perforated tray (if you have it).
Let the macarons dry at room temperature for about 20-30 minutes (croutage step).
Baking
In the meanwhile, preheat the oven at 140°, keeping a baking tray inside.
When the oven reaches the temperature, and macarons have rested enough, place the perforated tray with macarons on the hot tray. Alternatively, if you don't have a perforated tray, carefully slide the baking sheet and place it over the pre-heated tray.
Bake for about 14-15 minutes. Remove from the oven and let them cool.
La Ganache
Thinly chop chocolate and put it into a bowl.
Heat up cream in a small pot; as soon as it boils up, throw it into the bowl with chocolate. Whisk well, until the chocolate has completely dissolved and the ganache is shiny and smooth.
Let it rest for twenty minutes and use it to stuff the macarons.
When to eat them
If you want to get the best flavour out of your macarons, you have to put them into the fridge (already stuffed with ganache) for at least 24 hours. Then, you just need to leave them at room temperature half an hour before eating.
Enjoy!
Summary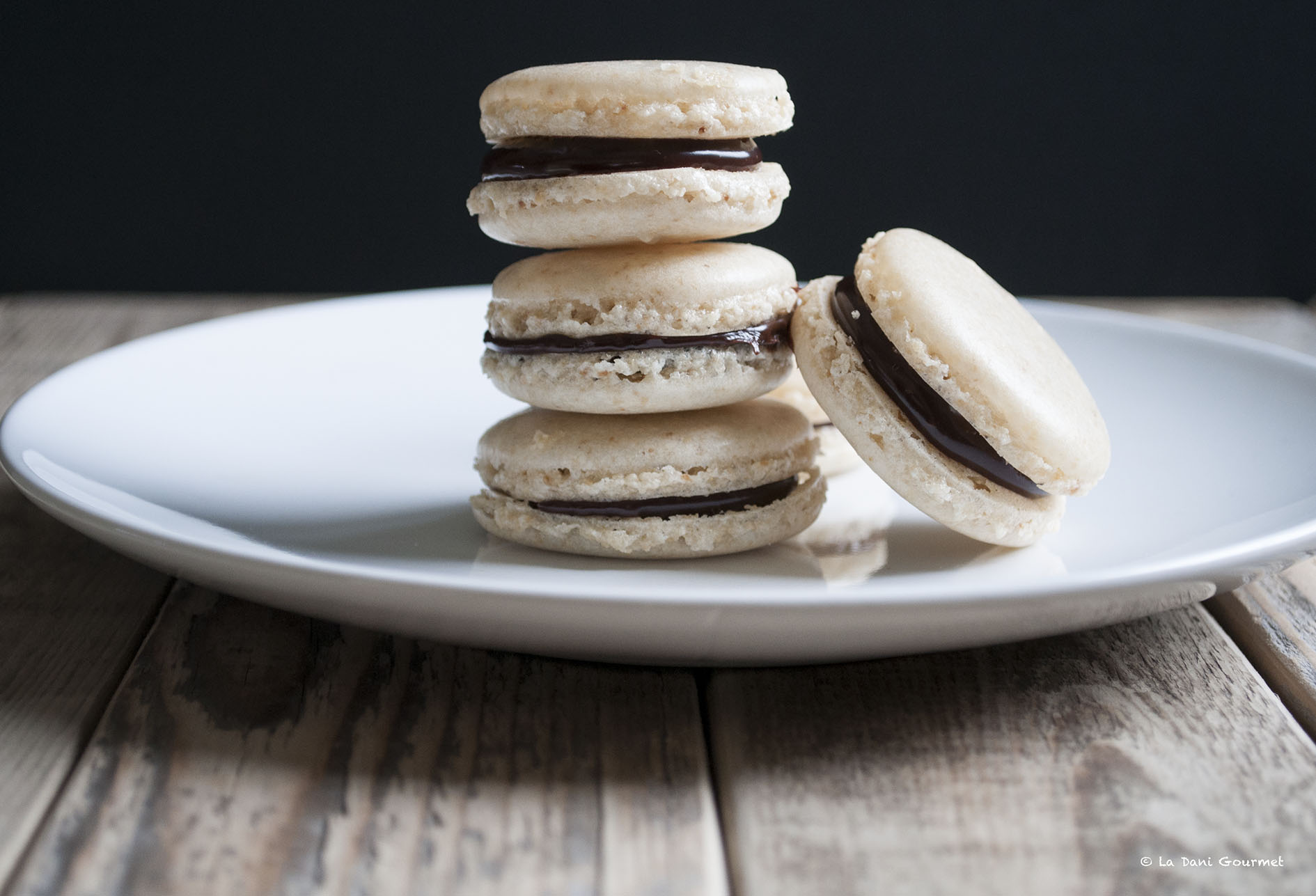 Recipe Name
Hazelnut macaron with dark chocolate ganache
Published On
Total Time
Average Rating





Based on 1 Review(s)
This post is also available in: Italian